---
---
November 2019 @WAKE Newsletter
---
---
October 2019 @WAKE Newsletter
---
---
September 2019 @WAKE Newsletter
---
---
August 2019 @WAKE Newsletter
---
---
July 2019 @WAKE Newsletter
---
---
June 2019 @WAKE Newsletter
---
---
May 2019 @WAKE Newsletter
---
---
---
---
---
---
---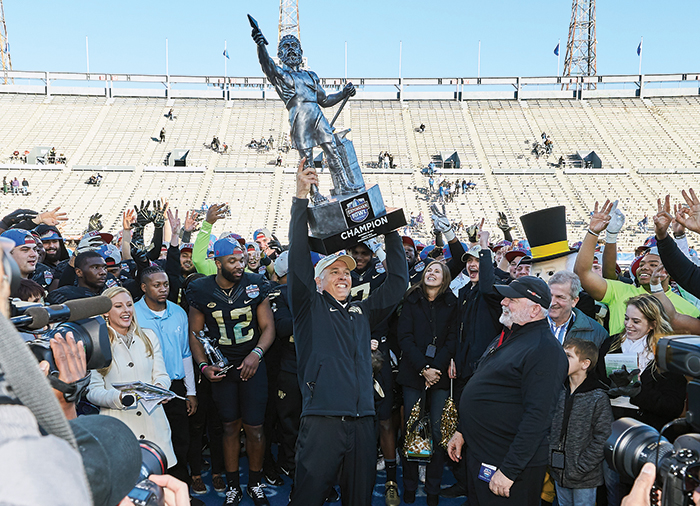 Photo by Brian Westerholt / Sports On Film
AND DON'T MISS THESE STORIES:
---

December 2018 @WAKE: The Alumni Newsletter:

Lovefeast: A Beloved Tradition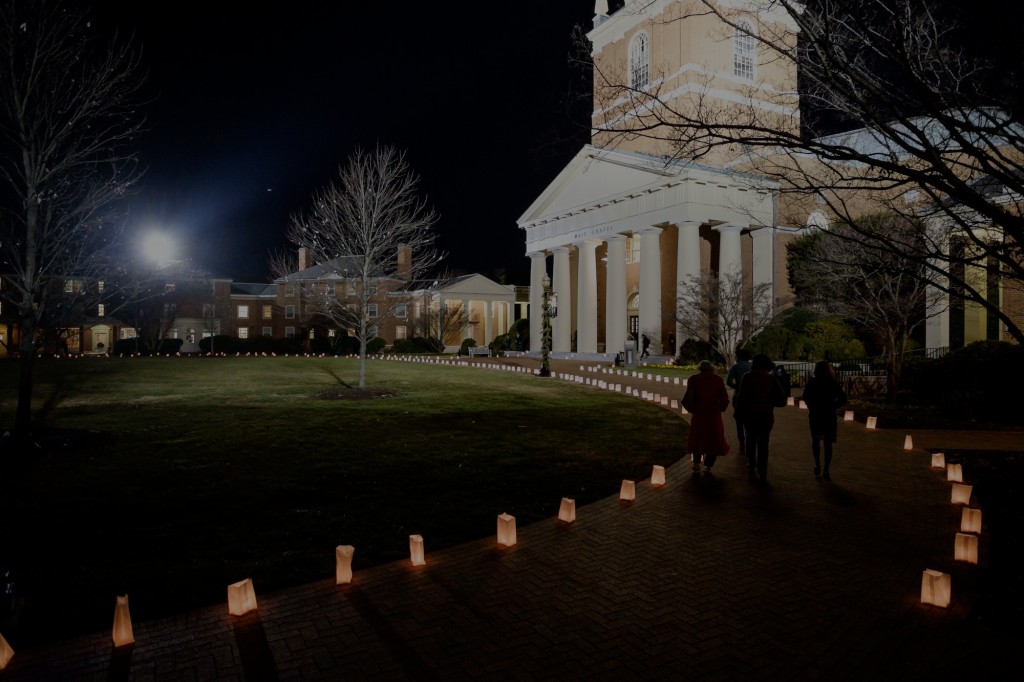 Like Wait Chapel's steeple, many campus traditions stand steady through time, pointing us to our best selves and bonds of community. On Dec. 2, a message at Wake Forest rang out again, as it has every year for more than half a century: "Morning Star, O cheering sight! Ere Thou cam'st how dark earth's night." In fellowship, our students, faculty, staff and friends from the area raised their lighted candles to the heavens and sang the Moravian hymn of hope. Lovefeast had come again.
At Wake Forest the tradition began in 1965 when Jane Sherrill Stroupe ('67) wanted to share the Christmas ritual of her Moravian community in Winston-Salem. The first Lovefeast drew 200 people to Davis Chapel. Today, Wait Chapel overflows with thousands of people to worship, sing and cast their eyes on the Moravian Advent Star illuminated in darkness. Each person lights a neighbor's candle, down the line. University Photographer Ken Bennett and Riley Herriman ('22) captured the beauty of the event in these photos. And do you wonder whether 95-year-old Mary Dull still makes those candles? She does indeed. Here's an encore story about how she gets chills thinking about Lovefeast.
Enjoy the peace of the season,

Maria Henson ('82)
Associate Vice President and Editor-at-Large
magazine.wfu.edu
AND DON'T MISS THESE STORIES:
September 2018 @WAKE: The Alumni Newsletter:

Wake Forest receives high marks again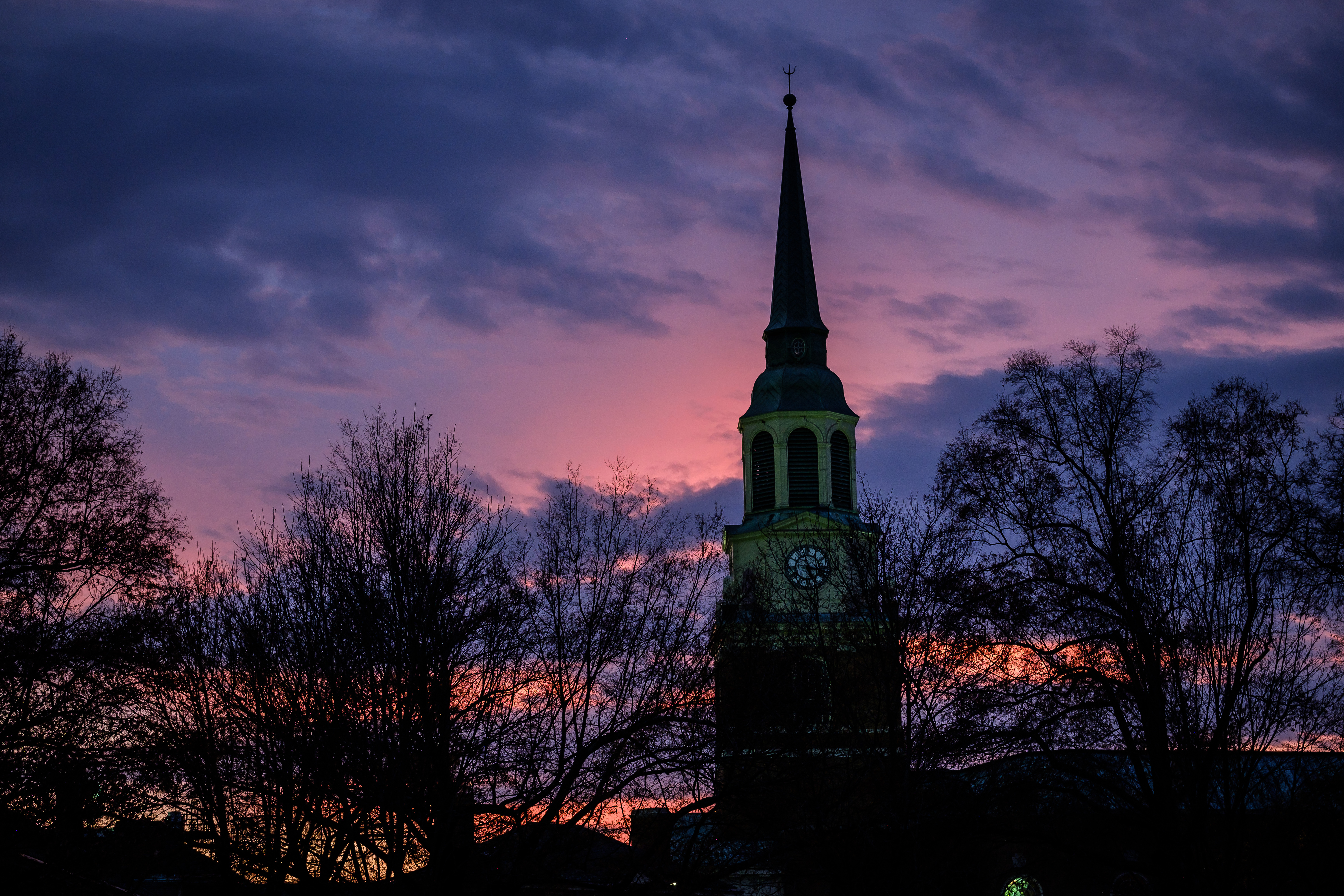 Every year, on campuses all over the country, people await the U.S. News and World Report's Best Colleges guide. Consistently, Wake Forest has not disappointed. This year the report ranked the University 27th overall among 311 national universities and 12th for its commitment to undergraduate teaching. You can read about the report here.
Rankings spark plenty of debates about their accuracy and usefulness. But it's still a point of pride for Wake Forest to remain ranked in the top 30 in the national category for 22 consecutive years. Our tradition that embraces excellence dates back long before two decades ago. What I find vital is the point President Nathan O. Hatch made in the news release — that pride extends to other commitments the University makes, including "calling students to live lives for the common good."
That has been on my mind as so many of us have been watching scenes of devastation in the Carolinas after Hurricane Florence. Walk this campus. Check social media. You will see students and alumni stepping up to offer help, answering the call for the common good. Some folks I work with helped register pets brought by evacuees to Lawrence Joel Veterans Memorial Coliseum in Winston-Salem. Our student-athletes volunteered by serving meals there, too. On their own, alumni have created food and supply drives. Tomorrow, Wake Forest athletics and the Red Cross will be collecting backpacks, pencils, paper, notebooks, diapers and cleaning supplies at the home football game with Rice. The Fill The Truck opportunity means our fans will be sending a truckload to New Bern, North Carolina.
Pro Humanitate has no ranking and no metrics. It is lived. In this time of rebuilding, look for the helpers. You will be sure to see a Deac.
Spike Lee enlisted this Deac to create the look of "BlacKkKlansman"
Dean of Admissions Martha Allman ('82, MBA '92) will join the provost's office
Professor Linda Nielsen's take on the memoir by Steve Jobs' daughter
Mark Schnably ('92) and his students devise a winning plan for saving lives
---
August 2018 @WAKE: The Alumni Newsletter:

Back to school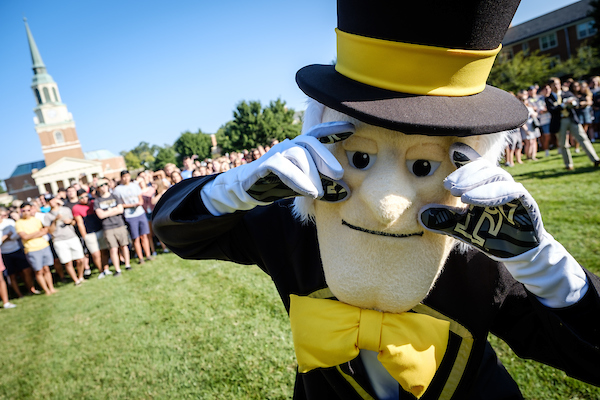 Remember that move-in feeling? I heard a dad last week who was struggling to juggle two laundry baskets filled with his daughter's mountain of stuff joke, to no one in particular, "This is the WHOLE amount I had when I went to college!" His daughter was not a first-year student, so dad knew the drill, but he could have been speaking for a lot of us. Where did the time go? Didn't we have only a bag or two, a clock radio and a clunky stereo system to tote?
At Wake Forest Magazine, our team members enjoy watching move-in days unfold. We always find poignant (and funny) moments with parents who went to Wake Forest and are moving their sons and daughters to campus for their first year of college. They remember when dorms were "girls only" or "boys only." They remember their favorite places — Snack Pit, aka Snake Pit, anyone? Some recall falling in love on campus with the one they would marry. They all wonder where the time went. And now those alumni parents hope their children will love Wake Forest as much as they still do.
From our vantage point, the odds are excellent. For now, take a look at some of the move-in highlights and memories. Send good thoughts to #WFU22. Most of all, enjoy!
Our NCAA champs share secrets to success
Wake Forest's humanities programming wins a splendid grant
Basketball superstar Chris Paul ('07) makes a donation for the record books
"Mean Girls" counts a Wake Forest mover and shaker in the mix
---
July 2018 @WAKE: The Alumni Newsletter:

No. 50: Rest in Peace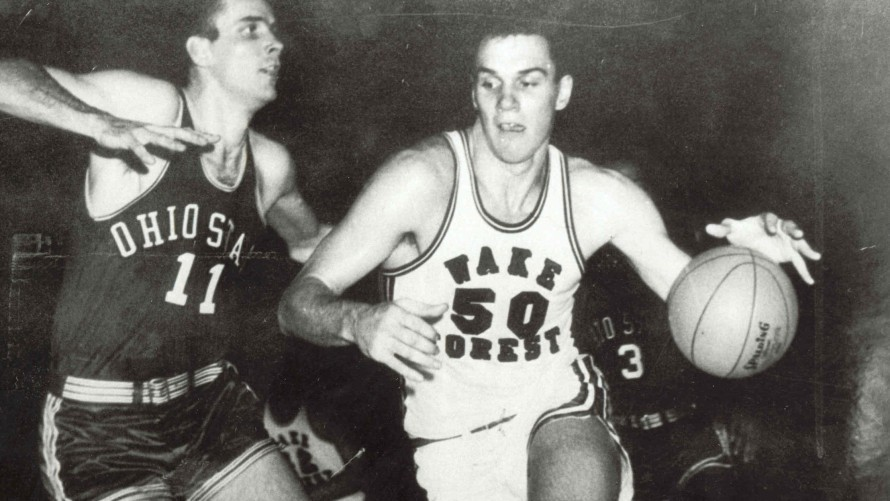 A tweet this month delivered news nobody was ready to hear. "We are saddened that one of the greatest players in @WakeMBB history, Len Chappell ('62) has passed away," announced Wake Forest Sports.
Chappell died July 12 at age 77. He was a basketball legend, a 6-foot-8 All-American who led the Demon Deacons to two NCAA championship tournament appearances, including a spot in the Final Four in 1962. In 1961 and 1962, he was the Atlantic Coast Conference's men's basketball player of the year and ACC athlete of the year in 1962. He then went on to be a first-round draft choice — the fourth player chosen overall — to play for the Syracuse Nationals.
Watch this video from the NBA to see the powerful player in action. Here is his obituary from The New York Times. Chappell's retired No. 50 jersey will continue to celebrate the University's first consensus All-American and forever honor a legendary Demon Deacon. We wish his family peace and comfort.
Robert Wilkie ('85) wins confirmation to lead second-largest federal department: Veterans Affairs
Why do people feel the need to escape? Elise Wallace ('11) walks the talk
Conservationist Millie Kerr ('03) is certain 'you can find a profession you love'
In this war tragedy an alumnus died, and his friend lived to seek redemption
---
June 2018 @WAKE: The Alumni Newsletter:

Regaining a sense of 'we'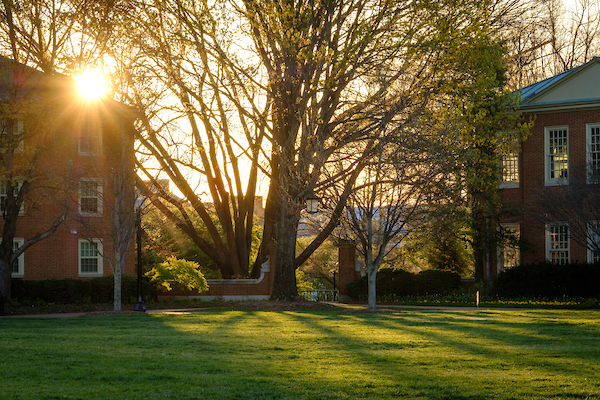 Do you have days when you wonder how can we disagree as citizens without being disagreeable? I know I do. What happened to the days when many politicians could be true, caring friends and get things done together despite their differences and opposing political parties?
President Nathan Hatch has observed the deterioration of our ability as citizens to listen and search for common ground. I'm linking to his Commencement speech "Both … And" today because it thoughtfully lays out the challenges of our era and offers ideas for escaping ideological islands.
Hatch says our "split-screen view of reality" creates a danger — "that we jump into advocacy without fully understanding the best arguments of the other side, and we leap to ridicule their positions and disparage their motives. We compare the best side of our own position with the worst side of the other — often a mere caricature."
As the son of a Presbyterian minister and as an historian who wrote what is considered one of the most important books on the history of American religion, Hatch brings to the conversation a generous view of human nature, the importance of listening and what is essential to democracy. He sees listening as far more persuasive than arguing. Take a few minutes to read his vision for the common good. It's worth your time.
Behind retiring golf coach Dianne Dailey's amazing record
Suzanne Reynolds (JD '77) announces her last year as law dean
What will these alumni sailors eat? 'Hopefully not each other.'
Thanks to these five, Wake Forest now boasts 116 Fulbright winners
---
May 2018 @WAKE: The Alumni Newsletter:

A Song for Commencement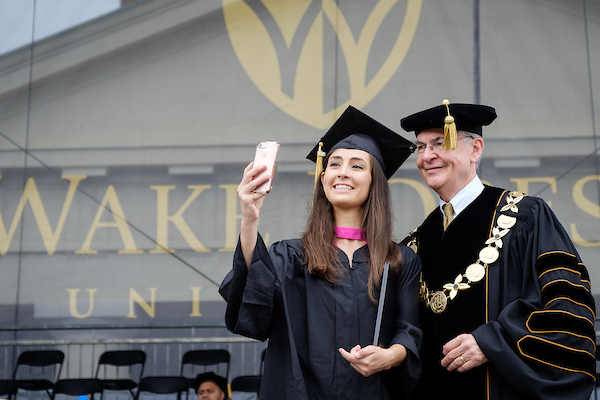 About 1,800 students received diplomas Monday at a Commencement ceremony that featured more music than what we typically hear from our trusty carillon bells.
Carla Harris, an executive at Morgan Stanley, gave the Commencement address about "choice, chance, change and courage" and punctuated the occasion by singing the chorus of a song. "Expect to win, no matter what you're up against. Don't give up; don't give in, oh, yes, you can," sang the banker/gospel singer who has sold out Carnegie Hall five times.
She provided a highlight for one of our favorite days of the year, even though the 2018 Commencement weekend had us holding our breath. Perpetual rainstorms lately have made Winston-Salem feel like the Amazon, and we wondered until Sunday night whether graduates would need to move to Joel Coliseum for the ceremony. Ponchos were handy, but the rain held off, allowing friends, family and faculty to celebrate graduates on Hearn Plaza.
What will our newest alumni miss? Among their answers: Incredible friendships, study abroad and seeing Wait Chapel every morning on the way to class. Read more about graduates' "Memory Lane" here.
Meet Wake Forest's Distinguished Alumni Award winners for 2018
Former soccer standout Amir Lowery ('04) aims to change young lives
Known for a passion for community, José Villalba will join the Cabinet
A small but mighty school: Deacs triumph!
---
April 2018 @WAKE: The Alumni Newsletter:

Jump in!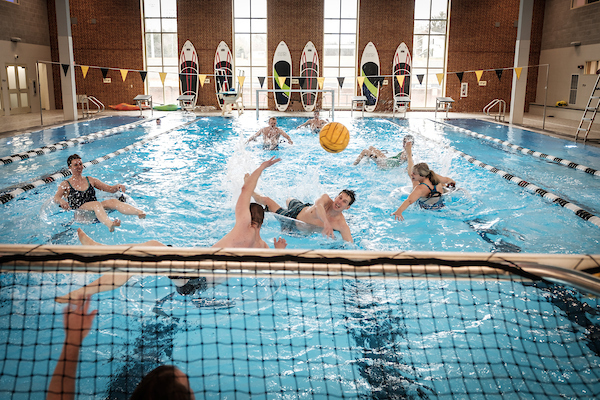 I'm partial to swimming pools, surf riding and dipping my toes in ice-cold Sierra lakes. One of my favorite spots is in West Texas, near Marfa. At Balmorhea State Park more than 15 million gallons of spring water flow through a giant pool each day, delighting swimmers, scuba divers and tiny endangered Comanche Springs Pupfish who make it their home.
Now there's another swimming pool for me to recommend. Gone is the pool from my undergraduate days in the dark Reynolds Gym. Wake Forest has a glistening new pool — eight lanes, surrounded by glass walls and three-story arched windows. It's a signature feature of the transformed gym.
During a recent open house, faculty, staff and students appeared awestruck by the beauty and modern touches of the building, which managed to maintain architectural sensitivity to the gym's history. We toured state-of-the-art spaces for fitness, recreation and social activities. Read about the transformation, and check out the photo of our Demon Deacon playing lifeguard.
What's up with Millennials? Provost Rogan Kersh ('86) dishes
Alumna salutes professor who inspires students to 'dream anew' Christian ministry
National champs! (P.S. Don't argue with these lawyers in the making)
From a chance encounter in 1999, Mash Bill rocks on
---
March 2018 @WAKE: The Alumni Newsletter:

Well Played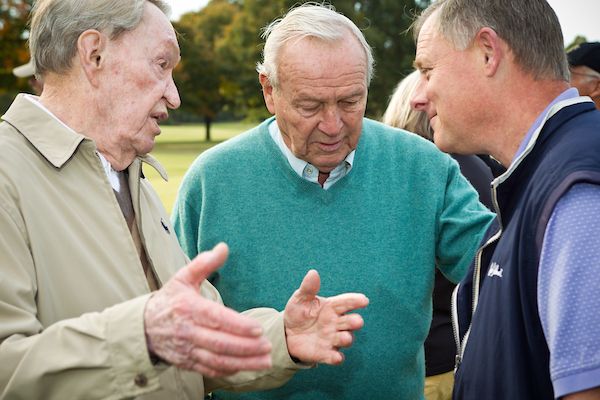 Let's raise an Arnold Palmer, beverage of champions, to honor a Wake Forest legend. Jesse Haddock ('52, P '68) died March 14 at age 91.
Even those of us who came to Wake Forest and weren't duffers knew about the University's men's golf program. We had heard of Arnold Palmer ('51, LL.D. '70), of course, and Curtis Strange ('77), Lanny Wadkins ('72, P '96, '10), Jay Haas ('76, P '04, '09), Jerry Haas ('85) and so many others whose names have flashed across TV screens during PGA tournaments. What all Wake Foresters should know is how after being named head coach in 1960 Haddock shaped the program and the young men who became golf's stars. He led Wake Forest to three national titles and 15 ACC titles. He was national coach of the year three times.
"Jesse Haddock was a coach who cared in equal measure about academics and the game of golf," said President Nathan Hatch. "It was not enough for Coach Haddock's players to have skill on the course; they were to be gentlemen, who competed with courage and lived with honor."
Jerry Haas called him "a master at handling players and knowing all the right buttons to push," the embodiment of coaching. He was "there for the players but he let you become your own man."
Here's a tribute making the rounds from Golf Digest's website. It's worth your time.
U.S. Sen. Richard Burr ('78) to donate his congressional papers to WFU
Can you name the 2007 grad who was up for a Grammy this year?
An expert on Southern culture, this alumna helped launch the Oxford Conference for the Book
Starting April 14, join fellow Deacs in service during Pro Humanitate Days
---
February 2018 @WAKE: The Alumni Newsletter:
Research. Write. Repeat.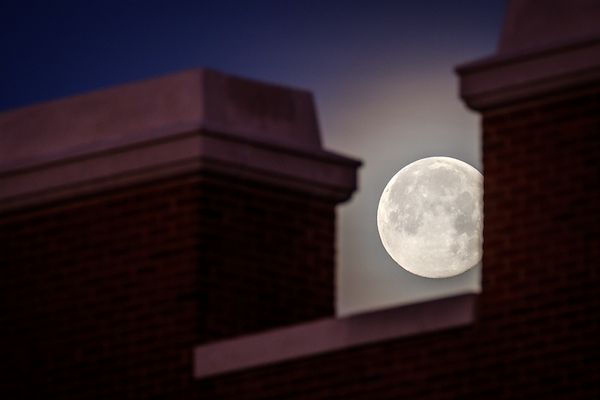 Chemistry Professor Rebecca Alexander, director of academic programming at Wake Downtown, led a group of students who chose "Hidden Figures: The American Dream and the Untold Story of the Black Women Mathematicians Who Helped Win the Space Race" as their summer-reading project. The book came to life earlier this month when its author, Margot Lee Shetterly, appeared in Wait Chapel. Alexander told the Winston-Salem Journal she was "excited to have some younger women see their discipline celebrated."
To a packed house, Shetterly said, "'Hidden Figures' has a particular resonance for people who are black, or female or scientists – and particularly black female scientists. But this history is ours, it is all of ours."
She described her painstaking research process to mine the annals of public documents and African-American newspapers to write the book. Even her website's heading, "Research. Write. Repeat.", could serve as a guidepost for our students.
Shetterly is the latest in a long line of eminent speakers throughout Wake Forest's history of welcoming writers, thinkers and orators vital to the national conversation. Read more about her popular visit to Wake Forest.
Mike Ford ('72) receives Wake Forest's highest honor
Partner stressed? Forget saying, 'Don't worry about it.'
Dixon Douglas ('06) promotes good health, good causes at CycleBar
How did the Super Bowl get so big? Thank this Deac, a 1975 MBA grad
---
January 2018 @WAKE: The Alumni Newsletter:

Basking in that Belk Bowl win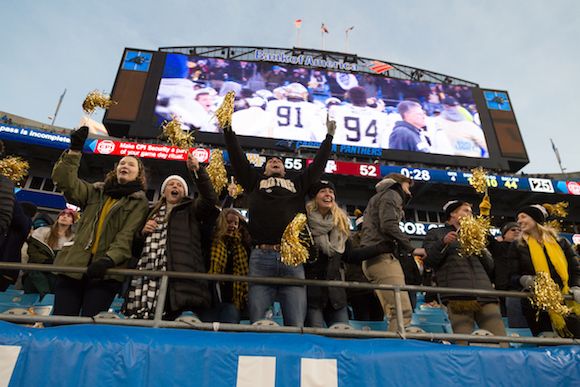 "It was really cold … and really awesome," proclaimed @audreyhood on Instagram. She did a fine job describing a victory that Demon Deacons still savor 29 days later: the 55-52 win over Texas A&M in the Belk Bowl in Charlotte.
Whether you cheered on the Deacs in person or at home in front of the TV, you couldn't help but marvel at MVP John Wolford, a senior standout, throwing for 400 yards and four touchdowns in his final game of the season. The team took the Aggies to school, and the fans loved it. We celebrated finishing the year with eight wins and hopes for more in the fall.
You'll want to read about the game highlights and the impressive performance of Wolford and his teammates. You'll also get a kick out of the gallery of social media posts. A few of my favorites: "Deacs win = happy husband." "WFU brought us together, bowl games keep us coming together." "Today's the day to get that last item on our Christmas list: a @belkbowl win for @WakeFB!" Which ones are yours?
Speaking of football, a daughter offers this ode to Prof. Julian Burroughs ('51)
Aaron Fossas ('15, MAM '16) gives back on and off the field
What WFU researchers say about healthy weight loss in 2018
Prof. David Finn on making the City of Arts and Innovation a better place
---
December 2017 @WAKE: The Alumni Newsletter:

A star of 'Morning Star'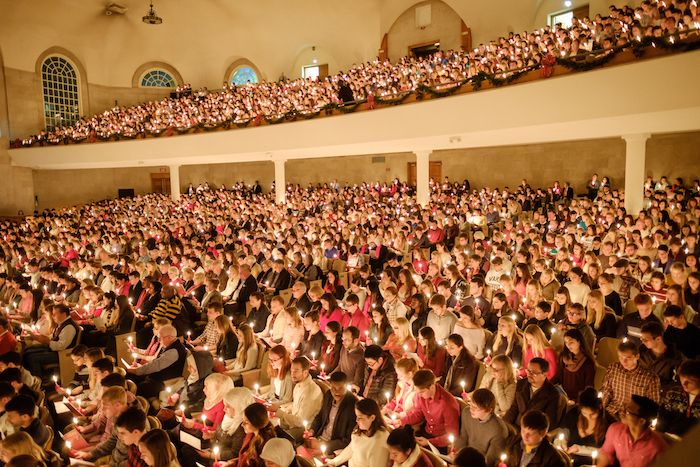 Earlier this month, Wake Forest community members gathered in Wait Chapel for a traditional Moravian lovefeast as they have every year since 1965. Among them sat 94-year-old Mary Dull, overdue in being recognized by Wake Forest Magazine as a volunteer in the habit of letting her light shine. (And ours, too, in Wait Chapel.)
"There's nothing dull about us" proclaims the print on one of her favorite shirts. It doesn't take long for anyone to see why. She is the candlemaker, leading a group of volunteers with precision as they march through the paces of making thousands of candles for Moravian churches and the University.
"We run it like a business, you can't just stand around and talk about your latest grandchild," she quips in her way of dropping one-liners. She's been making lovefeast candles as long as she can remember, causing her late husband, Carl Dull ('39), to observe that her blood was made of melted beeswax. Once you read about Mary you will never again hold a beeswax candle in Wait Chapel without thinking of this remarkable, big-hearted volunteer who, before the Christmas season, is as busy as a … well, you know.
ESPN basketball analyst LaChina Robinson ('02) aims to make a difference
How good are we as people? Professor Christian Miller has an answer
Student engineers are "Sensing the City" for real-world work
Wake Forester named top senior student-athlete, Division 1 men's soccer
---
November 2017 @WAKE: The Alumni Newsletter:

A Thanksgiving greeting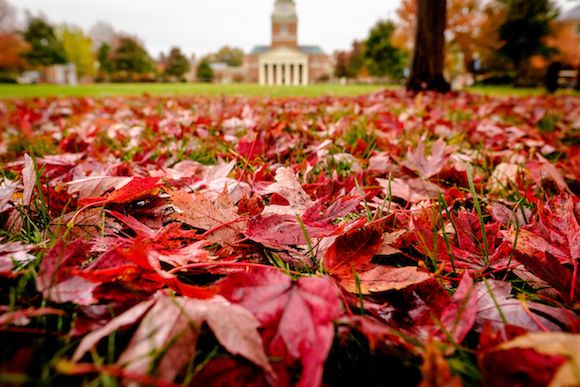 If we stretch ourselves to open our minds, to see our shared humanity with others, we allow ourselves to see the existence of community and generosity in unexpected places." — Sharon Salzberg
Amid the autumnal leaf-fall in the Forest, we at Wake Forest Magazine are marking the season of gratitude once more, extending heartfelt thanks to you for being a part of our community.
Looking back on the year, our gratitude list could unfurl the length of the Quad, but here are just a few highlights to consider: A new group of military alumni, Decorated Deacs; our campus community, delivering 350 holiday meals to Winston-Salem residents in need; Rethinking Community, underscoring the University's commitment to free speech and open dialogue; Project Pumpkin; the Wake Washington Center, a new hub for D.C. Deacs and undergraduate study; the generosity of the late Porter Byrum (JD '42); a transformed Reynolds Gym; a new engineering program enriched by liberal arts; a third straight ACC debate championship; back-to-back ACC men's soccer championships; the dedication of Maya Angelou Hall; the shuttling of undergrads to classes at Wake Downtown; and presidential historian Jon Meacham's Commencement address, challenging us "to be broad-minded and big-hearted."
When rolling with Wake Forest takes on a sweet meaning
A "storybook scenario" that brought two Deac families together
Celebrate the creativity of these student-scholars
Allie Kieffer ('09): a new U.S. marathon star
---
October 2017 @WAKE: The Alumni Newsletter:

Proud to the end to be a Deacon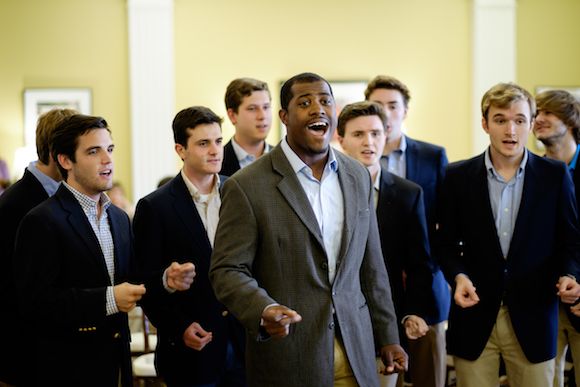 If you can spare two minutes and 48 seconds this weekend, I invite you to watch a YouTube video about a man who grew up in a rural area where people typically didn't go to college. His father told him he would not be able to give him much of an inheritance, but if he gave him an education he would give him more than anything else. That child, born in 1920, was our alumnus Porter B. Byrum (JD '42). He went on to become an attorney, a businessman and the most generous benefactor to Wake Forest – more than $120 million – all of which he gave for scholarships.
"Regardless of the circumstances I was in," Byrum said a few years ago, "I was always proud to say, 'I'm a Wake Forest man.'"
He died this year at age 96. I urge you to watch this little video that captures his reminiscences and his delight in being surrounded by Wake students for whom his generosity made all the difference. Watch to the end for his jolly moment, and be reassured that there is good in the world
D.C.: nation's capital and now a Deacon HQ, thanks to splendid new center
Club of stars: Chris Paul, Michelle Sikes, Lauren Crandall, Steve Vallos, John Gerring
Comfortable with conflict: how faculty help students navigate across differences
From history major to cheesemonger? Restaurateur Kate Ward Leeder '98 dishes
---
September 2017 @WAKE: The Alumni Newsletter:

An enthusiastic welcome for Chris Paul ('07)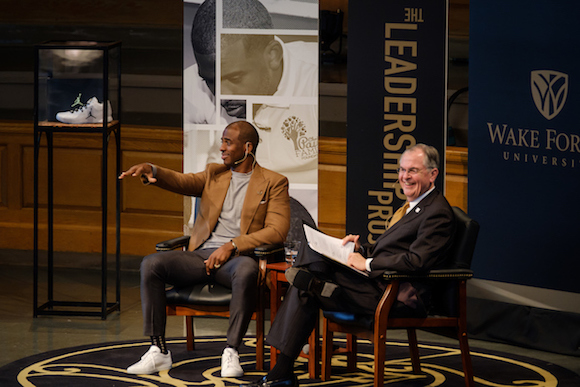 Want to know what it's like to be president of the National Basketball Players Association? NBA superstar Chris Paul ('07), president since 2013, has the answer. It's like being in a "business class on steroids."
Chris offered insights into leadership and personal memories when he returned to campus this month as part of the University's Leadership Project. Nearly 2,000 students, faculty and staff were on hand to hear President Nathan Hatch conduct a Q&A session with the famous guard for the Houston Rockets. Chris has led on the court and off, most recently helping victims of Hurricane Harvey and lighting up his Twitter account frequently with positive messages. One from this summer: "Always remember, kids are watching US and learning from US. It's our responsibility to be better role models and teach them LOVE."
Wake Forest Magazine featured Chris in "The Pro Humanitate Issue" in 2013. He told us then, "Pro Humanitate means helping others … it means giving back and paying it forward." You'll want to read what he had to say about leadership in Wait Chapel and how his work to pay it forward continues.
Kudos for teaching, value & a #27 rank for Wake Forest by U.S. News & World Report
A new tree discovery grows on WFU research plots in the Andes
This alumna's Kidolences help children cope when the unthinkable happens
An alumnus traded 'politics for pantyhose,' then a porch and an inn
---
August 2017 @WAKE: The Alumni Newsletter:

Here's to our newest Wake Foresters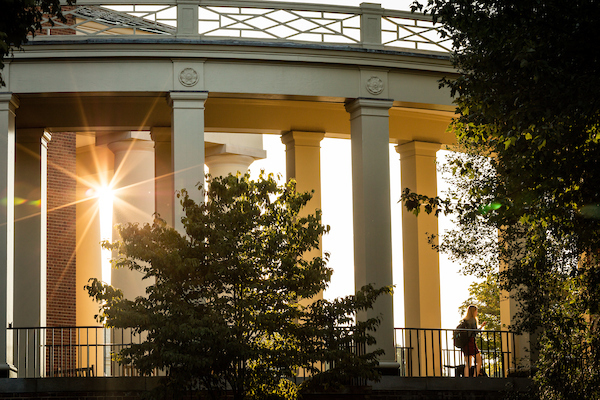 Hampers. Rugs. Matching bedspreads. Photos of Deacon dogs. They should be in place now that freshman move-in has ended. Welcome to our 1,350 first-year students, an impressive lot, hailing from 45 states and 29 countries. Three-quarters were in the top 10 percent of their class, and they competed in an applicant pool of more than 13,000.
Seventeen left last week to spend the year in Copenhagen, Denmark, for a first-year abroad experience taught by Wake Forest and Danish faculty members. Fifty are headed to Wake Downtown for classes in the new engineering program. And Maya Angelou Residence Hall welcomed our newest Deacs Wednesday.
The entire student body is sure to be dazzled by the renovation of Reynolds Gym and an addition at Spry Stadium whose touching backstory represents a family's tribute to a faithful alumnus. Let the school year commence!
Campus was buzzing with high school students. Here's why
Alumna's diagnosis "meant I wasn't a freak." It inspired her book
Want better grades? Close that laptop, advises West Point's Susan Payne Carter ('06)
Faculty in Wake's new engineering program? Seventy-five percent are women
---
July 2017 @WAKE: The Alumni Newsletter:

Thank you, Mike Ford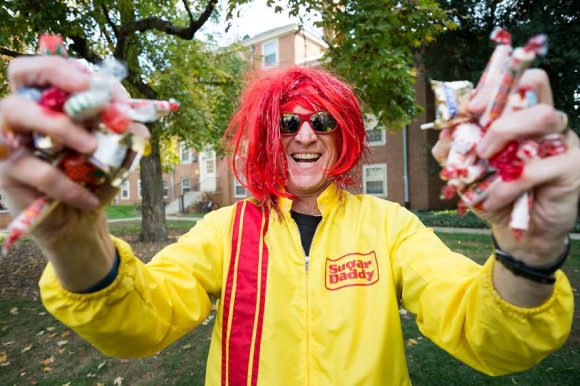 Many of us hoped the day would never come, but it did. Mike Ford ('72) retired in June after 36 years as a student life administrator and campus leader. At his retirement reception, he made a speech tracing his beginnings as a Wake Forester, from his freshman year in 207B Kitchin Residence Hall to falling in love with his campus sweetheart to the joys of a "Gentleman's C" to his life's calling as teacher, guide and mentor to students.
He told his colleagues, "We have laughed together … we have cried together. We have cheered on our Demon Deacons together through the good years and the bad. We have shared our lives together as professionals and as friends … bound together by the common purpose of enhancing the lives and the learning of our students while promoting their personal growth and well-being in the spirit of Pro Humanitate."
You will want to read his lovely parting words. Mike, if you're reading this, thank you for the profound difference you made on this campus and in lives the world over.
This alumnus gained access to armed protesters for his documentary
One goal his entire WFU hoops career? That was enough
David Sonntag's ('00) event team is making some noise
The Rev. Dr. Jill Crainshaw ('84) speaks of bread, water, gratitude
---
June 2017 @WAKE: The Alumni Newsletter:

Home Run!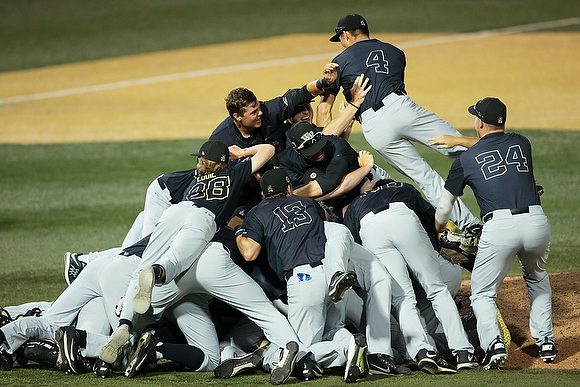 What a year it has been for Wake Forest athletics, and the baseball team capped it with a thriller of a showing earlier this month at the NCAA Baseball Tournament's best two-out-of-three game Super Regional in Gainesville, Florida.
The Florida Gators clinched the victory that sent their team to the College World Series, but they did not — and could not — crush Demon Deacons' pride. This Wake Forest home-run-hitting team had heart all year — and won respect with its 43-20 record. "It was a special group of guys," Coach Tom Walter told Winston-Salem Journal sports writer Dan Collins. "These seniors, they grew up together." Enjoy reading Collins' take on "the season of a lifetime." Congratulations, team! You will be back on that road to Omaha next season.
A history professor got Brock Jobe ('70) hooked — on furniture
Need a summer read? Literary alumni have suggestions
Look what's headed to 1 Dupont Circle NW in D.C
The Economist ranks this master's program #4 in the U.S., #21 in the world
---
May 2017 @WAKE: The Alumni Newsletter:
Commencement call to reflection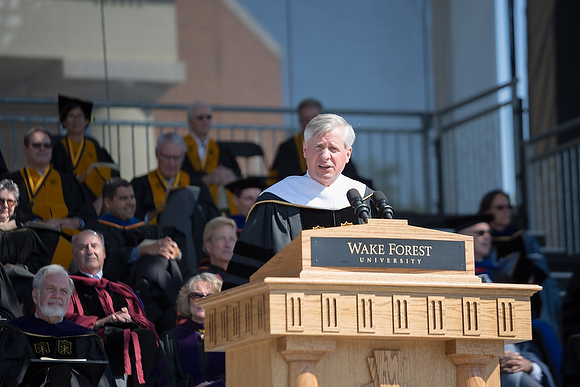 Historian and Pulitzer Prize-winning author Jon Meacham asked nearly 1,900 undergraduate, graduate and professional school students at Commencement last week to consider that the times we are living in are marked by pervasive partisanship. Partisanship in itself is not a bad thing, he said, but what's worth avoiding is "reflexive, rather than reflective" partisanship.
"The point of America is not for all of us to agree; that's impossible and undesirable in any event," he said, pointing to the "total agreement" or "at least total submission" in autocracies. His plea: be reflective about public life and "broad-minded and big-hearted" — "the American republic is founded on the notion that even the person with whom I most stridently disagree might have something to say worth hearing and heeding."
Meacham's address — serious, witty, patriotic — underscored how history has the capacity to bring people together. It seemed perfect for a day celebrating the march forward, across the stage, for our graduates. Surrounded by family, faculty, staff and administrators on a morning punctuated with heartfelt applause, our graduates had to feel the embrace of a generous community, constant and true. We've got the photos to prove it. Enjoy!
Our Distinguished Alumni Award winners for 2017
Alumnus John Wood's dark rides: E.T. Adventure to "The Walking Dead"
Havells India's Anil Rai Gupta (MBA '92): "You are not here to serve yourself alone."
---
April 2017 @WAKE: The Alumni Newsletter:

Living the motto
By the time you receive this newsletter you can be sure that big-hearted Wake Foresters will be making themselves known in communities around the country. Beginning last Saturday through tomorrow (with a few dates in May) this is the time we celebrate Pro Humanitate by raising awareness about hungry children and families. Deacs have volunteered to help. "Excited to show the world that #GoodWearsBlack," said one tweet. "Over 1k sandwiches made & we went for more bread," said another in D.C.
Chelsea Klein ('14, MA '16), one of Alumni Engagement's drivers of the 42-foot Airstream RV known as the Streakin' Deacon, reported from Charlotte at the Second Harvest Food Bank of Metrolina. Thirty alumni, parents and friends showed up Saturday to sort and package donated food. "At the end of the day, after the work was done, laughs shared and memories made, we were fortunate to reflect on our many blessings and thankful to be a part of a University that commits itself to humanity each and every day," she wrote on the blog for The Streakin' Deacon tour. Read more here, and check out #GoodWearsBlack on Twitter. If I know you, you're wearing it now.
Men's tennis team claims ACC regular season title outright
Meet the Deacs behind Fonta Flora craft brewery
This MFA student's documentary will screen at Cannes
"He made golf cool." Students toast "The King"
---
March 2017 @WAKE: The Alumni Newsletter:

And the speakers are …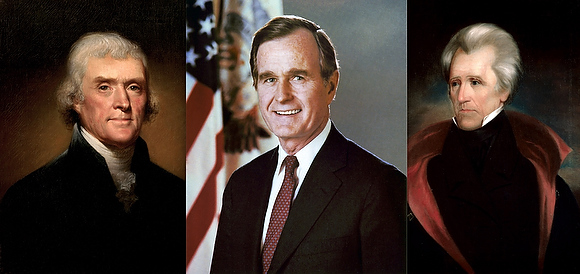 If your answer to the question posed in the cutline above is the biographer who will be Wake Forest's Commencement speaker, you are correct. Pulitzer Prize winner and presidential historian Jon Meacham will deliver the address to the Class of 2017 on May 15. "There is no better time for us to understand how the past informs the future," said President Nathan O. Hatch in lauding the choice of an historian. (The president is himself a noted historian.)
Meacham's books include "Destiny and Power: The American Odyssey of George Herbert Walker Bush," which became a #1 New York Times bestseller; the Pulitzer Prize-winning "American Lion: Andrew Jackson in the White House" and "Thomas Jefferson: The Art of Power." The latest biography underway is about James and Dolley Madison.
Kathy "Killian" Noe ('80), a Distinguished Alumni Award winner and an exemplar of Pro Humanitate, will be the Baccalaureate speaker. Wake Forest Magazine features her in the current issue for her work as founder of the Recovery Cafe in Seattle, Washington. Read more about the speakers here.
Porter Byrum, generous alumnus, Charlotte leader, dies
Why our alma mater gave six students $100,000
One alum's path from The Flaming Moes to Shark Dad
Business and law schools gain in U.S. News & World Report rankings
A page's life: Devin Williams ('16) from the Oscars to "SNL" at NBCUniversal
---
February 2017 @WAKE: The Alumni Newsletter:

Here's to Wake Forest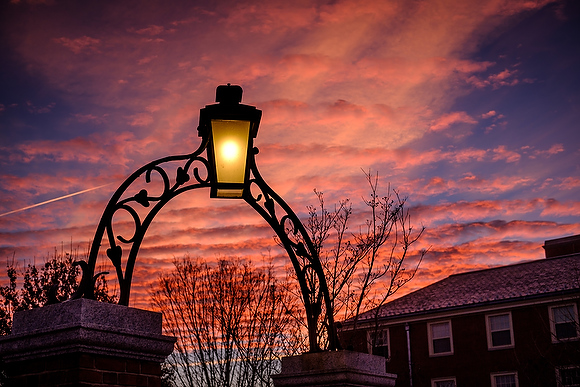 It's time to raise a glass of the finest to beloved faculty members Jim Barefield and Herman Eure (Ph.D. '74). At Founders' Day Convocation, both received the Medallion of Merit, the University's highest honor for outstanding achievement and distinguished service to Wake Forest.
Demon Deacons will be celebrating the recognition for these two teacher-scholars. Barefield, a historian known for his "Art of Comedy" class, taught full-time from 1963-2004 and continues to help select top scholars. "To the Yeats lament, 'Things fall apart/The centre cannot hold,' Jim's riposte was, 'The center cannot hold — Whoopee!,' " according to Joy Goodwin's ('95) memorable story about him.
Eure, now retired from the biology department, confidently blazed trails for African-American faculty and students. Former Dean of the College Tom Mullen remembers being impressed from the moment he met him. Read about Eure's journey from rural North Carolina to the biology classroom.
The Princeton Review: WFU gives you bang for your buck
National Science Foundation's Olga Pierrakos will lead engineering dept.
Mattel's Barbie campaign employs WFU professor's research
Our alum was the Ringling Bros. Clown Boss, and he's still clowning
---
January 2017 @WAKE: The Alumni Newsletter:

Wake-up Calls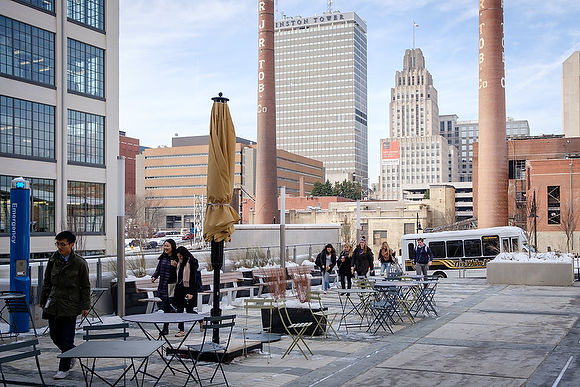 Those alarm bells this month weren't just the signal for students to jump up and hustle toward classes on campus. For some students, they meant get ready, head outside, hop the shuttle and motor over to classes at Wake Downtown. The transformed tobacco building in Wake Forest Innovation Quarter opened for undergraduate students on Jan. 10.
It marked a historic moment in the life of the University. For the first time medical school and undergraduate student education occurred under one roof, the beginning of enhancing closer collaboration and deeper engagement. The opportunities extended beyond science classes. Classes include historic preservation, entrepreneurship and a first-year seminar on Sherlock Holmes.
This is Wake Forest history not to be missed. Follow along.
Big Daddy's finale
Alumnus John Kane named Tar Heel of the Year for transforming Raleigh
MLK Building the Dream award winners
Elliot Berke ('93): From Churchill to Bono to Trump
---
December 2016 @WAKE: The Alumni Newsletter:

A beloved Moravian tradition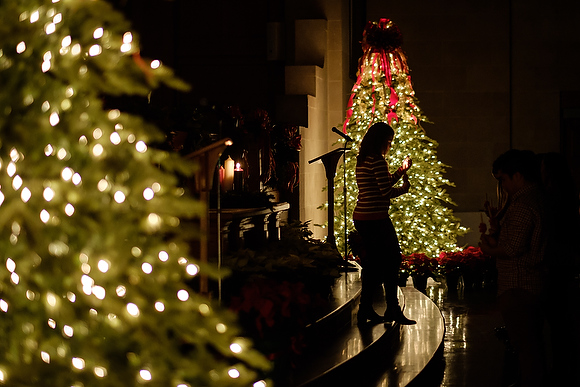 What could be better than one Lovefeast service? How about two?
The 52nd annual Lovefeast at Wake Forest added an early service for families before the traditional evening service, livestreamed to alumni, parents and students studying abroad on Dec. 4.
In this season babies and children "call us out of our own self-interest," University Chaplain Tim Auman told the congregation. "Our children invite us and bring us into relationship — relationships that are based on love and compassion and mercy." He added, "We have within us, I believe, a deep capacity to love. Perhaps that's the reason that we're all here — not just (for) our own children and not just our families and our own friends — but a world groaning for hope and for healing."
We offer this link to send you greetings of the sacred season. You will find video of the evening service and photos of the congregation's lifting the flickering beeswax candles heavenward.
Wake Forest men's soccer zooms to the College Cup
Opening in January: Maya Angelou Hall
Ben Steere's ('03) long quest to aid the Cherokee
Do you know the Pancake Man?
---
November 2016 @WAKE: The Alumni Newsletter:

A Thanksgiving greeting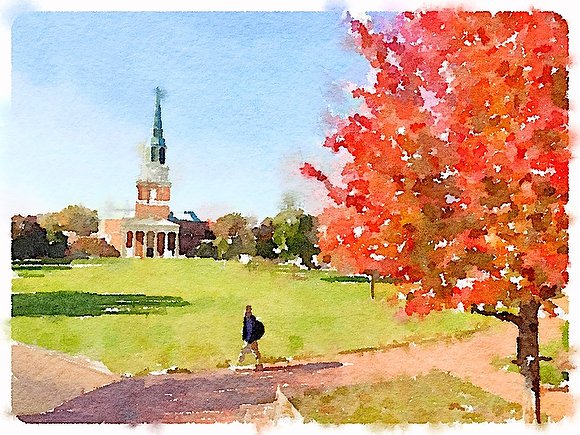 "A community is the mental and spiritual condition of knowing that the place is shared, and that the people who share the place define and limit the possibilities of each other's lives. It is the knowledge that people have of each other, their concern for each other, their trust in each other, the freedom with which they come and go among themselves." — Wendell Berry
As we mark this season of gratitude with family and friends, we at Wake Forest Magazine want to extend our thanks to you for being a part of the Wake Forest family.
We find many reasons to be thankful this year. Some days a quiet walk around the Quad at twilight tops the list. Other days we count the raucous, jubilant leaps of joy to celebrate rowdy victories in soccer and football. A few highlights of 2016: an ACC Debate Championship with Jarrod Atchison ('01, MA '03) leading his students; a new life for old tobacco buildings in downtown Winston-Salem that will serve as a center for University learning; Medallions of Merit — the University's highest honor for distinguished service — awarded to Jenny Robinson Puckett ('71, P '00) and Life Trustee Jim Williams ('62, JD '66, P '89, '92); ACC titles for the men's tennis and soccer teams; Wake the Vote, which gave students front-line experience in a presidential election; the 100-year anniversary of the Old Gold & Black; the 10-year anniversary of Campus Kitchen; the rallying cry to feed hungry children on Pro Humanitate Day as alumni from Boston to Los Angeles volunteered in 30 cities; the world's appreciation and outpouring of love and respect for the late great Deacon Arnold Palmer ('51, LL.D. '70); a bountiful Wake Will campaign; and the widely reported Admissions essay question that asked hopeful applicants to write about an unsung historical figure who "deserves the 'Hamilton' treatment" — a question that caused the world to smile.
Tell us what you're grateful for, and we will hope to share it on Wake Forest Magazine's social media platforms. Email magazine@nullwfu.edu.
---
October 2016 @WAKE: The Alumni Newsletter:

Unforgettable: A record-breaking Hit the Bricks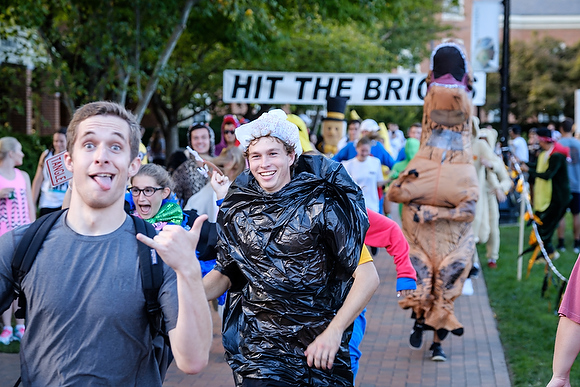 On a blue-sky day this month on Hearn Plaza, the beloved Wake Forest tradition Hit the Bricks attracted 118 teams — a record. And no, your eyes do not deceive you: that was a running banana followed by a dinosaur back in the pack during the Wacky Costume portion of the event. The daylong, relay-style race drew 1,400 walkers and runners from the ranks of faculty, staff and students. Babies in strollers and dogs joined the fun, too.
Preliminary totals — donations are still arriving — show over $50,000 raised for the Brian Piccolo Cancer Research Fund to support the nationally recognized Wake Forest Baptist Medical Center's Comprehensive Cancer Center. The annual event raises money and cancer awareness, and it concludes with participants' final, silent lap around the Quad in remembrance of those whom cancer has affected. University photographer Ken Bennett captured the joyful and poignant moments during the day. I invite you to take a look.
Deacon Tower will be renamed tomorrow for Bob McCreary ('61)
'Big time' WFU undergraduate research celebrates 10 years
Hot dog aficionado John Champlin's ('06, MBA '15) #TourdeFrank
Football legend Peahead Walker: An unvarnished take
---
September 2016 @WAKE: The Alumni Newsletter:

Unforgettable: Arnold Palmer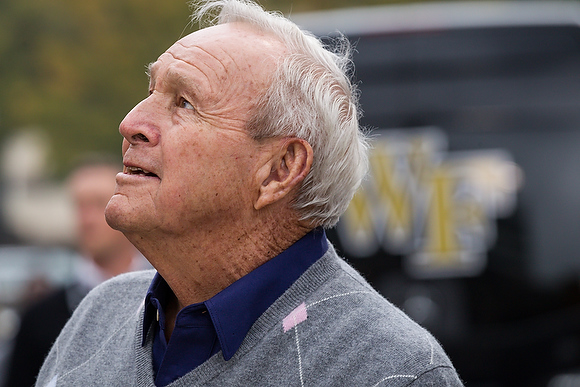 On Sept. 26 when the BBC broadcast its top stories and included the passing of Arnold Palmer at age 87, it was a reminder of the global gravitas of the legendary golfer and Wake Forester. He was a charismatic champion and gentleman remembered around the world as "The King."
"No alumnus ever has had a bigger impact on the University as an ambassador, role model, benefactor and friend than Arnold Palmer," as President Nathan O. Hatch wrote this week to the Wake Forest community. "Mr. Palmer's charm and genuine care for others transcended his legendary status as one of golf's greatest champions. He lived humbly in his beloved home in Latrobe, Pennsylvania, yet influenced people around the globe. He was a remarkable man who embodied our motto, Pro Humanitate, and we will miss him dearly."
Palmer ('51, LL.D. '70) once spoke about his upbringing to a Wall Street Journal reporter, saying, "Grace mattered — win or lose." Wake Foresters saw how he lived his ideals until the end — and loved him for it. Read their reminiscences here and remember one of the greats.
P.S. Homecoming is Oct. 28-29; register
U.S. News ranks WFU fifth in undergraduate teaching
Peggy Noonan on the U.S. presidency and civic life
These star athletes and 'Mr. Wake Forest' make history
Wake parent's Instagram account sparks a canine crush
---
August 2016 @WAKE: The Alumni Newsletter:

On tour with the Wilsons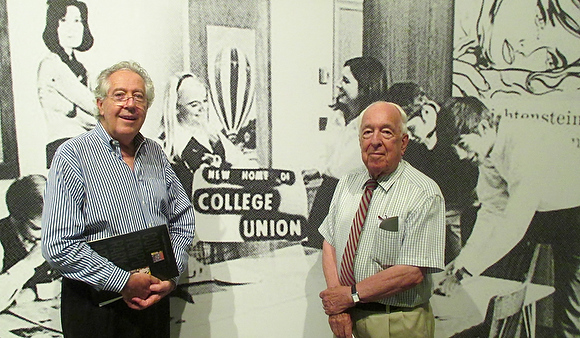 Have you ever studied or attended a reception in Reynolda Hall's Green Room and glanced around at the art? Surrounding you were pieces from the Student Union Collection of Contemporary Art, thought to be the only university art collection in the country developed by students. It began in 1963 when students traveled to New York City galleries to buy artwork. To this day, they remain in charge of the shopping.
Provost Emeritus Ed Wilson ('43), who was along on the first trip, and — no relation — J.D. Wilson ('69, P '01), a member of the 1969 art-buying excursion, recently toured the Southeastern Center for Contemporary Art, where nearly 60 pieces of the collection are on display through Oct. 2. Kerry M. King ('85) of Wake Forest Magazine writes of the Wilsons' tour and the marvel of a collection that includes art by Jasper Johns, Pablo Picasso, Roy Lichtenstein and Robert Rauschenberg. Enjoy!
Alumnus Steve Nedvidek's graphic novel is 'part diesel punk'
Look what's being crafted from your dorm's old bed frame
Standing ovation for WFU's take on 'Hamilton'
Justice Ruth Bader Ginsburg teams up with WFU official in Venice
---
July 2016 @WAKE: The Alumni Newsletter:

Congratulations, Tim Duncan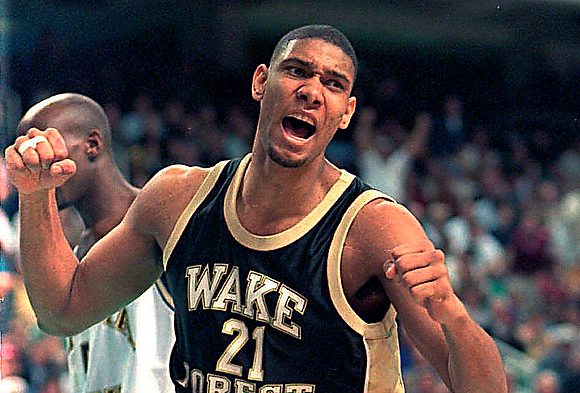 After a 19-year career, Tim Duncan ('97) exited professional basketball this month as he entered: a superstar for the NBA record books. He didn't make a big fuss about his retirement, but sports fans did. Popular sportswriter Bill Simmons summed it up in a tweet: "ALL HAIL THE GREAT TIM DUNCAN."
Duncan finally granted an interview — to his friend at ViVid Streaming — sharing his retrospective on his career: "So I'm not a yeller and a screamer, a jumper and a pusher. I'm not gonna do all that stuff with my teammates or opponents. But I've been competitive from Day 1. Whether people recognize that or not, I don't know how they can't. I'm not gonna go out there and try to hurt somebody or win at all means. But if it's up in the air, I'm gonna try harder than you to get it done."
Before Duncan was a legend in the NBA, he was a legend at Wake Forest. He got it done. Read about it here.
Check out how the building boom improves campus life
Alum Chris Paul named Sports Humanitarian of the Year
These three alumni have big hopes for little Belmont
Vern Pike ('58) watched the Wall go up — and guarded it
---
June 2016 @WAKE: The Alumni Newsletter:

Band of Brothers
The Pro Humanitate spirit prevails in rising junior Lins Barwick, as well as in the friends and family who lined the corridors of a nearby hospital, where Lins was recovering from injuries sustained during an off-campus shooting on June 11. Support for Lins and his family has taken myriad forms, including a social media fundraising campaign organized by his Kappa Alpha (KA) fraternity brothers.
As he continues on his painful recovery process, Lins is being praised for his "IVtitude," a reference to his name, Plato Collins Barwick IV. (He is one of a long line of Wake Foresters.) His family has expressed gratitude for the Wake Forest community's support, which is so vast that an orphan in Ghana whom Lins befriended earlier this year has been remembered through the fundraising. Please keep Lins and his family in your thoughts and prayers.
Fan-atic? Wait until you see what's in Jackie Murdock's ('57) Deacon Den
Bringing home gold: Magazine takes 2 of WFU's 8 CASE awards
Will Landon and his childhood hero will share alma mater — 22 years apart
Home run: Will Craig named D1Baseball Player of the Year
---
May 2016 @WAKE: The Alumni Newsletter:

Hats off to the newest alumni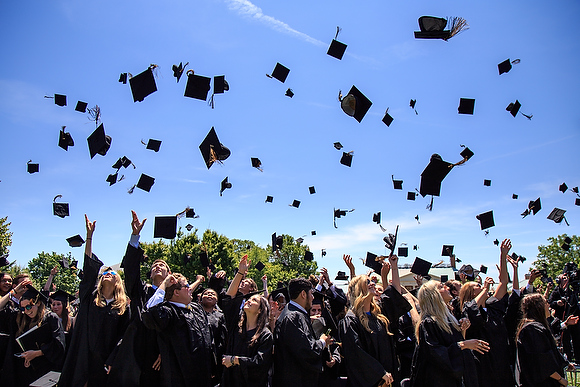 Hollywood could not have scripted a more gorgeous day for our 1,934 University graduates. After "sauna weather" in 2015, this year's Commencement boasted blue skies, a smattering of clouds and — dare we say it? — an array of sweaters, jackets and a down vest or two. It was one for the record books.
Eboo Patel, a leading voice for interfaith cooperation, spoke to graduates about their burden of uncertainty. Citing stories of jazz icons Louis Armstrong and Wynton Marsalis, Patel encouraged graduates to follow those musicians' leads and improvise. "You are at a jazz age in your lives, and we are at a new jazz age as a nation."
The graduates had put in their time dedicated to practice and foundational learning. On May 16, they left campus, ready to start the improvisation. Here's to their success! Check out Ken Bennett's Commencement photos.
Prof. Miles Silman leads $9.5 million effort for Amazon sustainability
CollegeHumor co-founder Ricky Van Veen's ('03) best business advice
Lauren Wright's ('10) new book shows that First Ladies matter most
Prof. Katy Harriger named director of Wake Washington program
---
April 2016 @WAKE: The Alumni Newsletter:

Across the country on April 9, Wake Foresters showed their spirit by participating in Pro Humanitate Day. The goal remains to turn the table on childhood hunger. Demon Deacons responded to the challenge. They organized food at food banks, cleaned up community gardens, collected money for a national food organization and bagged rice at a food assistance center, to name but a few sleeves-up endeavors.
On hand to boost efforts on campus was Lauren Bush Lauren, honorary spokesperson of the World Food Programme and founder of FEED, a social business that sells tote bags as a means to eradicate childhood hunger. Take a look at the video to enjoy the spirit of Pro Humanitate that ruled the day.
Distinguished Alumni Award winners announced
Whom would Mr. Wake Forest invite to dinner?
Wake debaters bring home second ACC Championship
Charles Best's guiding principles: hustle & humility
---
March 2016 @WAKE: The Alumni Newsletter:

A Practical Joke Remembered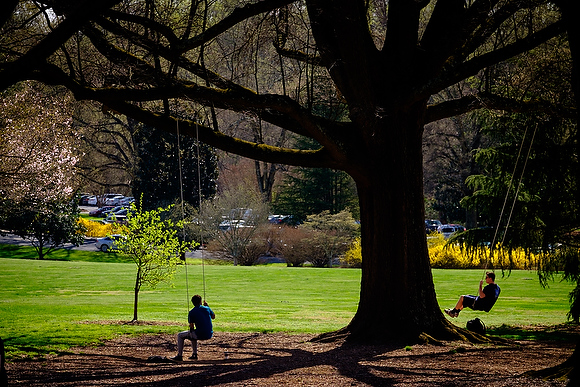 What is April Fools' Day without pranks? We tip our hat to the Old Gold and Black, which in April 1974 morphed into the "Old Scold and Smack" of Wake Farce University and offered these gems: 1) "A new record for dryer riding was set Tuesday night by President James Ralph Scales, who made 700 revolutions in a new dorm dryer, open-door style. 'It cost me a lot of dimes, but it was worth it,' Scales said." 2) To stop the muddying of students' feet, facilities director Pete Moore announced the quad would be paved with the biggest green concrete slab in the country. "Plans are underway to field a roller derby team," one official said, adding, "Women are going to get on the quad one way or another." 3) Our favorite: The Wake Forest water tower — really a space ship from Jupiter — "blasts off with two aliens abroad [sic]," casting off into the bushes Theta Chis painting it at the time. They were reported "in great condition." The aliens had been disguised as R.A.s.
For the serious news of the day, be sure and check out two upcoming events of interest to alumni and friends. Join Deacs April 9 for Pro Humanitate Day to fight childhood hunger. Words Awake 2! will celebrate writers and writing April 8-9.
"Ouch, My Toes!" cried this legendary Demon Deacon
Biomedical sciences, engineering will anchor Wake Downtown
This Charlotte alumni pair hires, serves veterans through JDog
An Old Gold and Black cocktail? Right to your door
---
February 2016 @WAKE: The Alumni Newsletter:

From WFU, with love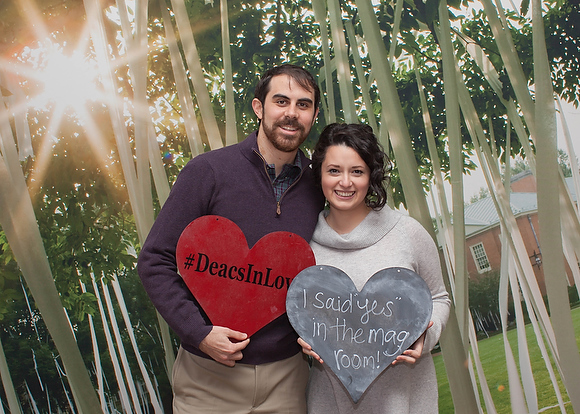 Imagine the Mag Room, once upon a time dubbed "the sandwich factory," as the setting for tearful, heart-pounding romance. Thanks to a Feb. 6 event, I can attest it will forevermore be known as a romantic dining destination. Seventy-seven couples gathered there for a champagne brunch called Deacs in Love. These couples met and fell in love during their years at Wake Forest or after graduation. They married, and carry with them their courtship stories, including ones set in the Pit or in Reynolda Gardens.
Deacs in Love had it all: a reading by Provost Emeritus Ed Wilson ('43) of Shakespeare's sonnets, a serenade by Chi Rho and — "Bull's-eye, Cupid!" — a surprise proposal by a 2013 alumnus. He dropped to one knee to pop the question, and the crowd of lovebirds in the room burst into applause. (She said 'yes.') You'll want to read more about these Deacon valentines and their love stories over the decades.
Alum's Bank of America job: Paul Revere's account, Bunker Hill musket
Super Bowl's NFL dads' hairstyling ads were based on WFU research
Alumni Jim Williams, Jenny Puckett receive WFU's highest award
TEDxWakeForestU: Oracle's Mark Hurd on cybersecurity
---
January 2016 @WAKE: The Alumni Newsletter:

'Town and Gown' links grow stronger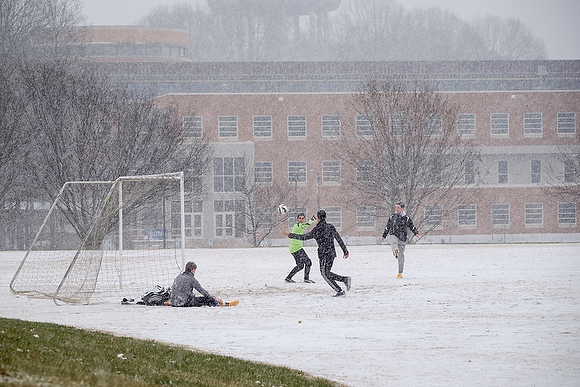 If you're like me, you might have been an undergraduate who referred to Wake Forest as "the bubble." Everything you needed was at hand unless you made occasional trips for nachos at Los Amigos, a dance or two at TOG, a formal at Benton Convention Center or Sunday night spaghetti at the Rose and Thistle. Town and gown hardly felt connected. That's not the case today. Students seek out meaningful experiences beyond the bubble, not only in semester-abroad programs but also in the heart of Winston-Salem.
A number of new ventures in refurbished spaces will support those efforts, connecting the campus more intentionally with city life. Provost Rogan Kersh ('86) says the transformation of these buildings will create ideal settings for education and community gathering spaces alike. From Brookstown to Reynolda Road to the Innovation Quarter, students will have more choices for engaging with community. Read more about the promising settings and the potential for strengthening connections.
"The Young and the Restless" united two Deacs
Heart Math Tutoring in Charlotte: 10% of tutors are alumni
These entrepreneurial Deacs don't run cold
Wake Forest student wins China's "Rhodes Scholarship"
---
December 2015 @WAKE: The Alumni Newsletter:

Lovefeast: A beloved tradition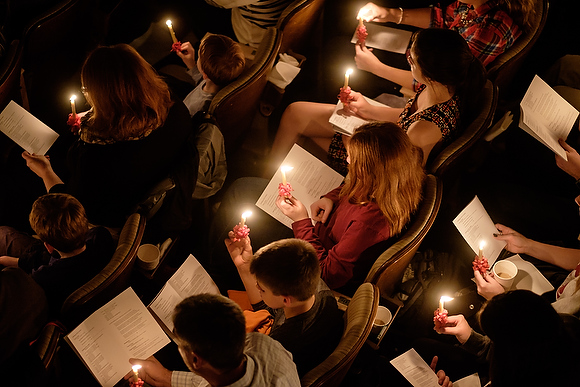 As the world reeled from unfathomable tragedy in Paris, Beirut, Syria, Colorado and California, a message at Wake Forest rang out again, as it has every year for a half-century: "Morning Star, O cheering sight! Ere Thou cam'st how dark earth's night." In fellowship, our students, faculty, staff, alumni and friends from the area raised their lighted candles to the heavens and sang the Moravian hymn of hope, a song for these times. Lovefeast had come again.
At Wake Forest the tradition began in 1965 when Jane Sherrill Stroupe ('67, P '97) wanted to share the Christmas ritual of her Moravian community in Winston-Salem. The first Lovefeast drew 200 people to Davis Chapel. Today Wait Chapel overflows with 2,000 people who attend the worship service of scriptures and song, which culminates with all eyes on the Moravian Advent Star illuminated in darkness. Each person then lights a neighbor's candle until points of light fill the chapel — an exquisite reminder of community and a renewed hope in the unseen. Read more here.
The 'Perfect' life of Young Life's John Wagner ('81, P '15)
Trailblazer/Prof. Beth Hopkins ('73, P '12): "I never give up."
Two professors attend Paris climate talks
Vegas showgirl, '92 grad's encore career — in a hospital
---
November 2015 @WAKE: The Alumni Newsletter:

Soccer's been a ball!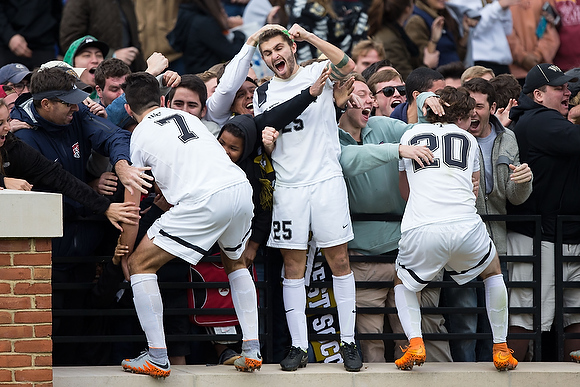 Guess which team is the overall No. 1 seed in the 2015 NCAA Men's Soccer Championship this week? Wake Forest! On Sunday, when Wake Forest takes the field, come on over to Spry Stadium at 1 p.m. to watch the game, or follow the updates on Twitter @WakeMSoccer.
This amazing team has garnered unwavering hometown support this year. Spry Stadium packed in 5,009 spectators for the Nov. 11 ACC semifinal game against Notre Dame, a postseason record. While the Deacs didn't win the ACC title, they finished the season 6-0-2 and amassed an impressive list of accolades. Jack Harrison became the first player in ACC history to earn Offensive Player and Freshman of the Year in the same season. The Demon Deacons had six players named All-ACC performers, and Head Coach Bobby Muuss won Coach of the Year. Read about Bobby's No. 1 fan here: his dad, an avid Facebook messenger. And, get your Deac-on as you read more about the team's accomplishments and NCAA appearance here.
Give this blogger/entrepreneur a veggie; she'll make a noodle
White House-WFU Summit on women & girls of color
Lauren Jensen ('02) wins the $25k "Oscars of teaching"
Doug Waller ('71) recounts tales of spies who would lead CIA
---
October 2015 @WAKE: The Alumni Newsletter:

Historic move downtown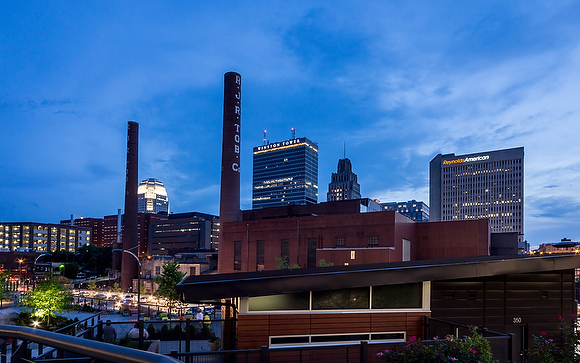 The buzz this month concerned an announcement that the University plans to offer some undergraduate programs alongside scientific and clinical graduate programs in the Wake Forest Innovation Quarter. The plan has not received final approval and many details remain to be addressed, but suffice to say it would be historic for the Reynolda Campus to offer undergraduate classes downtown.
For those of you who have not been downtown in the last decade, you would be amazed to see the revitalization of Winston-Salem. New restaurants, shops and festivals abound; and residents are living in lofts in former factories. The Innovation Quarter sits on what was once a cigarette-manufacturing complex owned by R.J. Reynolds. It is a hub for biomedical science and information technology and, by next summer, a medical education building for the Wake Forest Baptist Medical Center. Here's the announcement. Stay tuned.
Mag 7: Boxer shorts but no husbands allowed
'04 grad with donated heart runs marathon
LGBTQ Center welcomes alumni home
WF's original 'tiny house' — a chicken coop
---
September 2015 @WAKE: The Alumni Newsletter:

A brotherly love story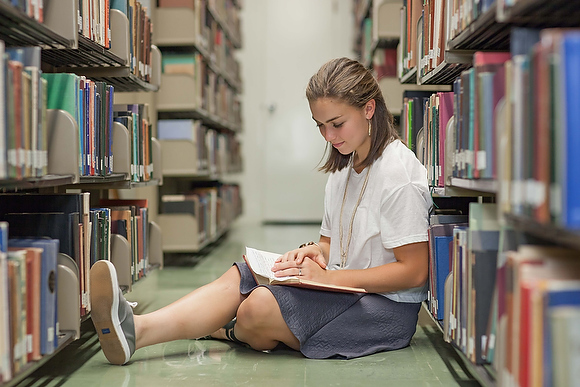 Imagine our excitement at Wake Forest Magazine a few weeks ago when we heard about a secret letter, tucked away in the Z. Smith Reynolds Library by a big brother for his little sister. It turns out the letter was meant to be from one Demon Deacon to another, although nothing about such a destiny was clear when the secret was sealed and hidden under a shelf, in 2013.
You won't want to miss reading Cherin C. Poovey's (P '08) story about Blake Briggs ('13) and his sister, Morgan Briggs ('19). We like to think of Wake Forest as family, and theirs may be one of the most endearing Wake Forest family stories I've encountered. I expect you will come away, as ever, Proud to be a Deacon and impressed by the Briggses' bond. You'll find the story here.
U.S. News ranks Wake Forest 27th
Wake leadership on Capitol Hill addresses sexual assault
Ex-cheerleader Joette Seniff ('90) receives Navy public service award
Confederate flag subject of event initiated by KAs

---
August 2015 @WAKE: The Alumni Newsletter:

Ring the carillon. It's that time again!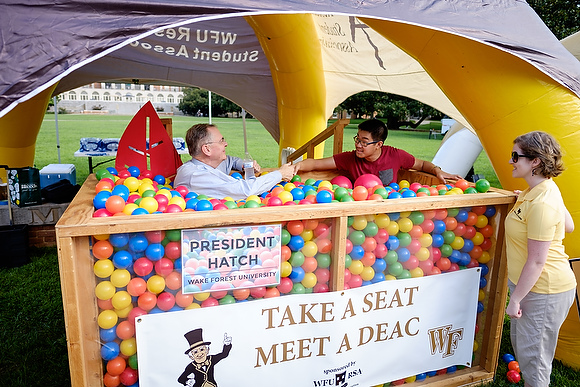 The Class of 2019 arrived last week, 1,291 strong and hailing from 43 states and 18 countries. It's a happy time to welcome all of the first-year and returning students. As is our habit, we keep an eye out for legacy Demon Deacons. Do we ever have some to welcome this year!
Among them is Jack Runge of Greenville, South Carolina, who, despite perhaps a bit of familial pressure, had his own reasons for coming to Wake Forest. He based his decision on the reception he got when visiting physics and math professors. As a Reynolds Scholar in the new class, he will be heralded for his academic leadership. But he also deserves a tip of the Deacon hat for carrying on a magnificent legacy that began in the 1880s when his ancestor, William Sidney Olive, enrolled on the Old Campus. Since the time when Thomas Edison, Alexander Graham Bell and Clara Barton were making history, Runge's family tree has boasted 35 Wake Foresters. We welcome Jack, other children of alumni and all of the students who call our community home. Read more about legacy Deacs here.
The Oregonian's Steve Duin ('76, MA '79): Truth makes great fiction
Odds-defying comeback at Kitchin, Suite 104
Job 1 for these grad students: Feed Winston-Salem children
Ex-lineman Wes Bryant's ('05) "Wes Got Range" show
---
July 2015 @WAKE: The Alumni Newsletter:
Be 'the expert' on your life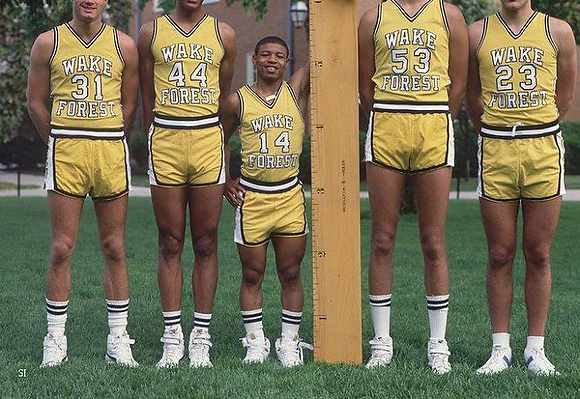 A record-breaker at Wake Forest and in the NBA, Tyrone "Muggsy" Bogues ('87) remains one of the most popular Demon Deacons of all time. It's hard to imagine that the former basketball star is 50 and a grandfather now, perhaps better known by a younger generation for his appearance in the "Space Jam" movie than for his athletic moves as a 5-foot-3-inch player on the court. In Charlotte these days he's known for another starring role, one he shares with daughter Brittney Bogues ('09). They are working with at-risk middle and high school students through their Always Believe nonprofit.
Senior Editor Kerry M. King ('85) visited the Bogues family recently to learn about the lessons they impart to young people. "Don't let anyone get you off (your) path and destroy the dreams and vision that you have," Muggsy says. He has lived that lesson. Read about their latest venture here.
How is Cuba policy changing? Ben Barron ('07) is on the front line
Nate Witmer's ('06) path from Iraq to "The Daily Show"
Athletic Director Ron Wellman: season highlights and what's next
Jaw-dropping momentum for the Wake Will campaign
---
June 2015 @WAKE: The Alumni Newsletter:

Claims to fame
Who are the latest Demon Deacon athletics stars for all time? The Wake Forest Sports Hall of Fame named its newest members on June 17. The six inductees include a pair of All-Americans, an ACC Player of the Year, a National Player of the Year, a Super Bowl champion, an Academic All-American and a former ACC Coach of the Year. Their sports range from field hockey to football to women's basketball to track and cross country, among others.
Congratulations to the latest inductees, who will join the Hall of Fame on Oct. 23 and continue a tradition that began in 1970. The first class included former basketball Coach Murray Greason (LLS '26, P '59), the late football star Brian Piccolo ('65, P '87, '89), former football Coach Peahead Walker and former Director of Athletics Jim Weaver. Read more about this year's honorees.
Here's what happened to your old P.O. Box
Cathe O'Connor Dykstra ('84): "chief possibility officer" in Louisville
Disaster comeback: Alum in tornado's path pays it forward
Five alumni writers recommend books for summer
---
May 2015 @WAKE: The Alumni Newsletter:

Commencement's wit and wisdom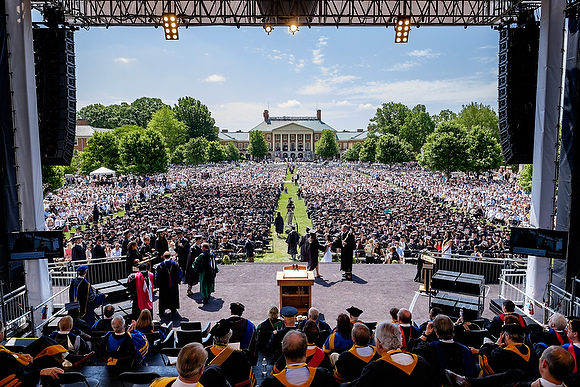 Stephen Colbert, the comedian who spoke at Commencement, got his share of laughs May 18, but the Rev. Jonathan L. Walton of Harvard University brought down the house with this one at Baccalaureate: "Whether you're graduating summa cum laude; whether you are graduating magna cum laude and some of you are just graduating 'thank the laude' — whatever category you fall in, you cannot forget the people who made it possible." The applause for parents resounded throughout Wait Chapel (or maybe it was from the students 'thanking the laude').
The academic year ended with ceremonial splendor and such high notes — gratitude for parents, hugs for professors, bittersweet moments of joy and farewells. Commencement weekend showed off the best of Wake Forest to the thousands on campus and to viewers in more than 100 countries who watched Colbert poke fun at our traditions and even our president, "Nate Dawg" or "the Hatchet." Don't miss the spirited highlights and photos: Enjoy!
Our Distinguished Alumni Award winners for 2015
Video: Wake athletes get funky
Anna Whiston-Donaldson's (MA '93) reflection on love and loss
Innovators, entrepreneurs win accolades
---
April 2015 @WAKE: The Alumni Newsletter:

Good wears black (not only in spring)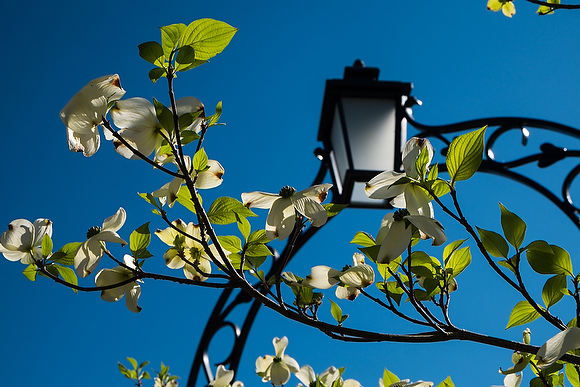 It's my pleasure to urge you to mark your calendars for May 9. Demon Deacons in your local communities across the country will be linking arms for Pro Humanitate Day, with this year's focus on childhood hunger. One in five children in the United States lives without consistent access to food. The Wake Forest community plans to help.
My colleagues in Alumni Engagement have established three ways you can serve. If your local Wake Forest club is participating, you will be able to work with the club that day to make a dent in childhood hunger. A second option: you can gather and collect food for your local food pantry, or, third, you can publicize Pro Humanitate Day successes on social media through #GoodWearsBlack. This site will give you the registration details and the list of food suggested for the children's bags. The site also has a must-see video that lasts one minute and will make you prouder than ever to be a Deacon. Spread the word: Good Wears Black.
Lu Leake will be remembered for ushering in change for women
The late Maya Angelou honored with a USPS Forever Stamp
Wake baseball in Argentina? A new Smithsonian exhibit explains
Carter Via's ('83) Cross-Cultural Thresholds builds schools in Kibera
---
March 2015 @WAKE: The Alumni Newsletter:

I am Wake Forest (and So Can YOU!)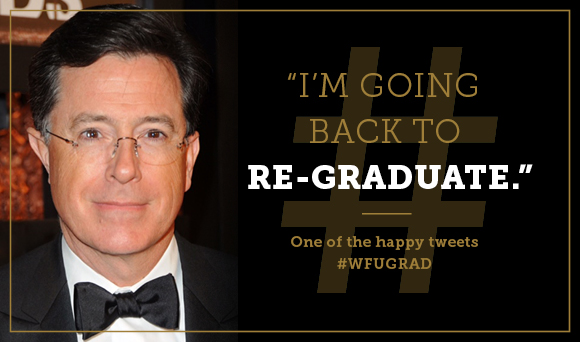 Yes, citizens, I'm taking liberties with Stephen Colbert's bestseller to celebrate our graduation "get." March will be remembered for the announcement that Colbert, the comedian and political satirist, will be our Commencement speaker.
"OMG! OMG!" "#WFU wins the local commencement speaker sweepstakes." "Major score." "Wow WFU you rock." "10 years too late, dang!" "I'M GOING BACK TO RE-GRADUATE." So said the tweets.
I expect Colbert to be a cultural commentator with a healthy dose of inspiration. "Well, you are about to start the greatest improvisation of all. With no script," he told Knox College graduates. At Northwestern University, he was happy to report dreams can change, noting, "If we'd all stuck with our first dream, the world would be overrun with cowboys and princesses." Read more here. And for those who want to rush the stage and "re-graduate," take heart. A livestream webcast of the May 18 ceremony will be available.
Prof. Michele Gillespie named dean of the College
Prof. James Otteson on the moral role of business
Stan King ('94) stands tall for Brooklyn's youth
At PBS, Susan White Frazier ('89) asks what you watch and why
---
February 2015 @WAKE: The Alumni Newsletter:

Instant insider at the Oscars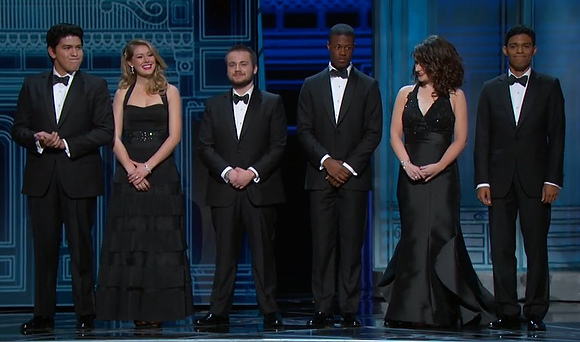 Kelly FitzGerald, a sophomore from Geneva, New York, scored one of the hottest seats in the world at the 87th Academy Awards Sunday night. She was part of Team Oscar, one of six young people selected by Oscar producers and the Academy after submitting 60-second videos about the best advice they had ever received. FitzGerald's video was about sharing a smile.
Members of Team Oscar had the job of handing the Oscar statuettes to celebrity presenters onstage. The Associated Press reported there were 1,100 aspiring filmmakers who submitted films; the winners' perks included a private tour of Disney's Animation Research Library, a visit to the Disney lot and a preview screening of "Cinderella." Team Oscar "offers an exclusive learning experience," FitzGerald told People magazine. Read more about FitzGerald's honor and watch her video. She showed us that black, gold and the red carpet make a glitteringly good combination.
Janice Marie Collins ('86) is an ACC Legend
Stan Meiburg ('75) nominated as EPA's No. 2 official
With $5,000, how would students change the world?
N.C. authors found a friend, admirer in this alumnus
---
January 2015 @WAKE: The Alumni Newsletter:

'Best Christ Man I Ever Knew'

On Christmas Eve Wake Forest lost Ed Christman ('50, JD '53), the University's chaplain emeritus. The family's online guestbook is a testament to how beloved he was by people across the miles and generations. As Dotty Reinhardt-Alspaugh ('70, PA '88) wrote, "Ed Christman is the best Christ Man I ever knew. This humble, witty, caring personality carried me through the greatest tragedy in my life and although he could not see well, he never forgot a voice."
Because of the holidays you might have missed the news of his passing. Many of you who graduated after his retirement in 2003 never had the pleasure of seeing him around campus regularly. With that mane of white hair, he couldn't be missed. For more than 30 years he served as chaplain, an advocate for social justice, a counselor and a witty friend. President Nathan O. Hatch said, "Ed's life really embodied what is best about Wake Forest and our spiritual heritage." Wake Forest mourns one of its best. Read about his rich legacy.
Buck Cochran ('82) and WFU friends work Peacehaven miracles in one year
A biologist walks up to a computer scientist with a batty idea. Genius!
Bobby Muuss returns from Denver as new head coach for men's soccer
Hu Womack ('90, MBA '00) honored; lives "good days and great days"
---
December 2014 @WAKE: The Alumni Newsletter:
A Lovefeast for those far and near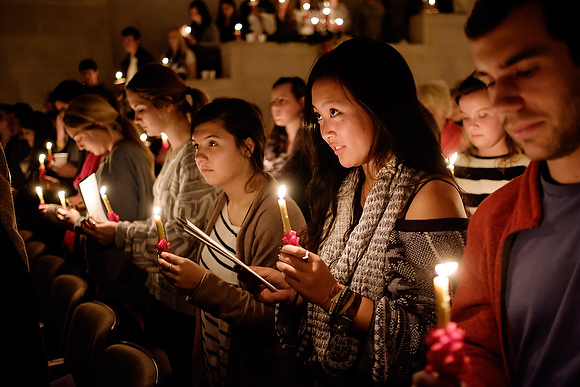 What remains a glorious sight? The Moravian star that shines at the entrance to Wait Chapel, beckoning people of all ages and faiths to come inside and pray, sing hymns and celebrate the Moravian Christmas tradition that is Lovefeast.
This year marked the 50th annual Lovefeast, made all the more special by Jane Sherrill Stroupe ('67), who organized the first Lovefeast on campus in 1965. She offered this year's blessing, one shared by Wake Forest community members watching by livestream. Available for the first time, Lovefeast kits for 10 were shipped to 32 states, Mexico, Uganda, The Netherlands, Great Britain, Belgium, Canada and Ireland so alumni could light the candles and serve sweetened coffee and buns while watching at home. Alumni groups gathered in Charlotte, the Old Campus, Austin, Houston and Hickory for viewing the service. At Salemtowne Retirement Community, retired Wake Forest faculty and staff members joined in, among them former University Chaplain Ed Christman ('50, JD '53) and his wife, Jean ('51). It was a perfect, joyful night. Read more about this beloved tradition.
Education programs for med students to move to Innovation Quarter
A car accident put San Diego's Rick Gentry ('70) on a heartfelt path
The Deacon meets The Dragon thanks to Joy Liu (MSA '14)
The No. 1 CPA pass-rate streak continues for Wake Foresters
---
November 2014 @WAKE: The Alumni Newsletter:
ACC Champs!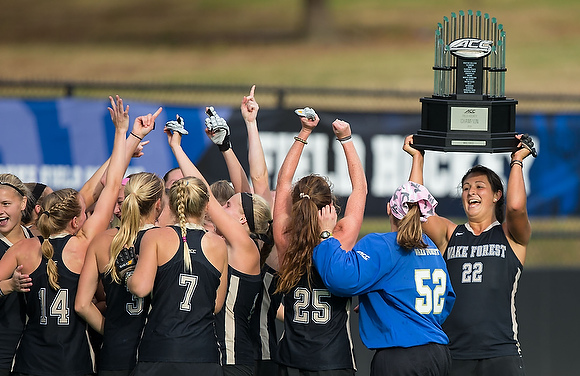 Photo by Brian Westerholt / Sports on Film
Autumn leaves fell and so did ribbons of toilet paper adorning the Quad's trees as Wake Forest celebrated its first ACC Championship in four years. Congratulations to the Wake Forest field hockey team, which defeated Syracuse University 2-0 on Nov. 9.
It was the team's first ACC championship since 2006, and the first ACC title for the University since the women's soccer team won in 2010. Anna Kozniuk and Georgia Holland were named ACC Players of the Year, while head coach Jennifer Averill was named ACC Coach of the Year for the 7th time.
"It's just surreal," Averill told the Old Gold & Black after the championship win. "It was the longest sixteen minutes (of the game) in our lives, but hats off to the group, they just killed it. They executed the game plan to the best of their abilities. … It was such a great team effort and I'm so proud of them." Read about the impressive victory.
Ed Wilson ('43) receives top award from N.C. Humanities Council
With "@War," spy expert Shane Harris ('98) explains U.S. cyberwar
Allison Orr ('93) choreographs a common language from Austin to Kyoto
Ashley Brown Armistead ('91) connects boys sole to soul with Let Me Run
---
October 2014 @WAKE: The Alumni Newsletter:
Golden autumn days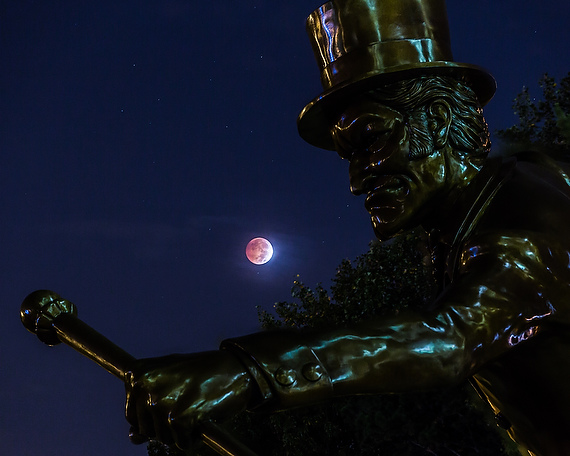 Ken Bennett's photograph of the full moon during the lunar eclipse on Oct. 8 could serve as a galactic exclamation point for this, one of my favorite times of the year at Wake Forest. Think back to your days here — to that first splash of yellow on the trees, the crisp fall air at football games, the tailgates where a steaming drink is appreciated (finally) after those other games that brought sunburns and sweat; and, above all, remember the campus traditions. October. Is there a better time at Wake Forest?
On the last day of an exceptionally fine month, you'll be happy to know our traditions are intact. More than 1,000 members of our community clocked more than 24,500 laps around the Quad. Here's to Hit the Bricks, still going strong for cancer research, still honoring Brian Piccolo ('65, P '87, '89). Check out the highlights.
Wake Forest's MBA redefined for a changing market
Meet eight new members of the University's Sports Hall of Fame
William Roebuck ('78, MA '82): Our man in Bahrain
Faculty craft ways to help a blind Wake student pursue her dream
---
September 2014 @WAKE: The Alumni Newsletter:
Thrive is alive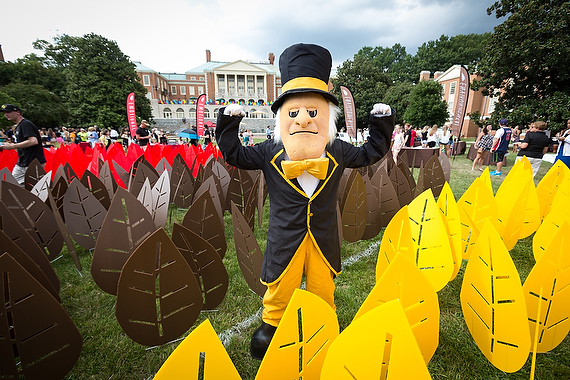 The marching band played, cheerleaders cheered, healthy water flowed and the line dancers rocked their Zumba. Oh, and there was the ultimate stress reliever: puppies.
I wish you could have been there, on Manchester Plaza, for the launch of Thrive, the University's comprehensive approach to well-being. The hope is that the new program will become another homegrown national model — this one for holistic well-being — following the lead of Wake Forest's nationally recognized personal and career development programs that set a new path for universities. Thrive's multifaceted approach goes beyond physical and emotional health. Think work satisfaction, spirituality and financial planning. On Manchester Plaza brightly colored leaf cutouts symbolized for students, faculty, staff and the greater community how even small decisions make a difference to someone's overall well-being. On hand for the festivities was an alumna who will return to campus as the first director of well-being. Welcome back, Malika Roman Isler ('99)! She starts Oct. 1. Read more about Thrive's launch and the goals for the program.
Anthropology professor names swamp-creature fossil for Mick Jagger
"Smiling Through the Apocalypse" recounts VIP life of alum, Esquire editor
Five things (and more) to know about new prof. Melissa Harris-Perry ('94)
The Boodle Inn near the Old Campus was a place for "pitching woo"
---
August 2014 @WAKE: The Alumni Newsletter:
Move-in memories, new and old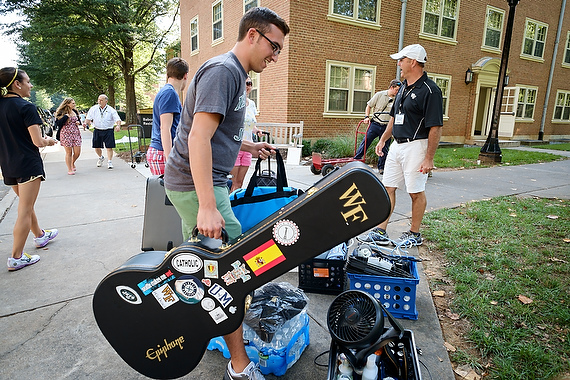 On freshman move-in day Kerry M. King ('85) of Wake Forest Magazine wandered through a maze of boxes, suitcases and racks of clothes in search of legacies. Did he ever find them!
Here were first-year students with at least one parent who graduated from Wake Forest. Sue Rheaume Leadem ('86) of Charleston, South Carolina, described the "magical experience" of her undergraduate years as she and husband, Rich ('86), moved their daughter, Madeline, into a room on South Campus. Crystal Leonhardt Sellers ('89) of Charlotte settled her son, Will, into Johnson Residence Hall, which prompted her recollection of the tunnel that once connected Bostwick and Johnson. Those of a certain age will remember that the tunnel led to the laundry room, aka "Vegas," home to infamous vending machines that served as first stop on the road to the freshman 15.
As one parent put it on this joyous day, new students were arriving "to experience what mom's told him about." Read more about the big moment for the Class of 2018 and alumni parents.
Forty years after Watergate, these alums describe their connections
Kevin Shorter (MBA '06) moves to China, combats human trafficking
Cassie Freund ('10) puts her biology degree to work in Borneo
Wake Forest goes Hollywood
---
July 2014 @WAKE: The Alumni Newsletter:
Bright lights, big city pajama party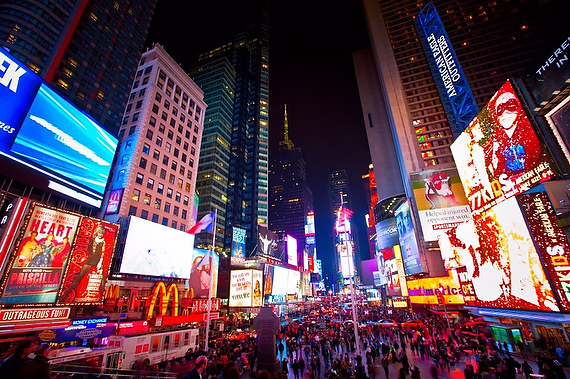 I always like to hear how college pals have stayed in touch over the years, getting together for golf outings, beach weekends, wine tastings, you name it. The Wake Forest mystique can be defined in innumerable ways, but one that rises above all is friendship.
The other day I heard one of those stories from journalism professor Mary Martin Niepold. She met with three of her friends from the Class of 1963 in New York City for Broadway shows and a reunion of women who hail from Maryland, Texas, California and North Carolina. She writes, "All of us are back together again after so many years, and all of us are English majors and joined irreparably at the hip, it seems, from the days when we lived either in Johnson or Bostwick dorms and struggled through endless 'Strings' meetings." You'll read how they spent five days reminiscing and seeing the city, never skipping a beat. It also might serve as a reminder to see details about Homecoming Sept. 19-20.
The late Karen Beasley's ('84) legacy: Save sea turtles
Sara Creighton ('05) rolls as a San Francisco dentist on wheels
Wake Foresters tell Forbes why ours is #MyTopCollege
Smithsonian Libraries: Check out this scrap of 1898 WFU ephemera
---
June 2014 @WAKE: The Alumni Newsletter:
He's Number 1
University Photographer Ken Bennett has done it again, garnering an award for a photographic portfolio exemplified by the gorgeous image you see above. Earlier this month the Council for Advancement and Support of Education named him Photographer of the Year, honoring his work in the annual national competition in which portfolios are judged on creative visuals, good technical quality, appropriateness and how well the photography expresses the institution's mission. The latest accolade comes on the heels of his Master of the Profession award from the University Photographers' Association of America last year.
Any photographer might be bored after nearly two decades of shooting scenes from the Quad or graduation. Not Ken. He is always looking to top his best efforts. He arrives before daybreak or sets up at dusk to capture a perfect Wake Forest moment in perfect light. I'm proud of faculty and staff who continually strive for excellence. Ken is one of those people. I encourage you to see his winning portfolio.
Former baseball star makes wishes come true
Kate T. Parker ('98) celebrates girls: 'Strong is the New Pretty'
Your snaps from Pro Humanitate Days #4Good
'Happy' video stars Deacs & Coaches Manning, Dailey, Clawson
---
May 2014 @WAKE: The Alumni Newsletter:
Hats Off to Graduates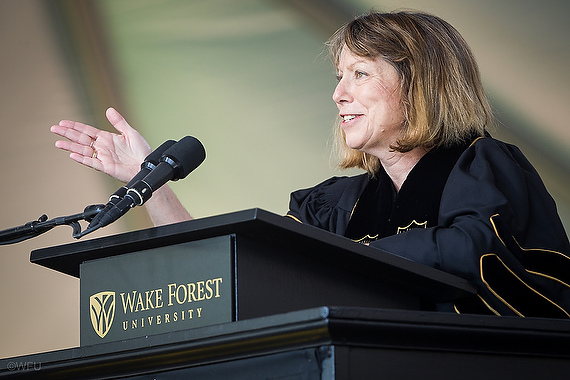 "I'm impressed that your achievements have attracted so much media attention."
Jill Abramson's first lighthearted observation came early in the Commencement speech on May 19 that drew national media attention. The previous Wednesday she had been sacked as the executive editor of The New York Times, the first female executive editor in the Times' history. Wake Forest would end up being the setting for her first public address. While she did not divulge details about her firing, she used her 11-minute speech to emphasize resilience and establish common ground with graduates: "What's next for me? I don't know. So I'm in exactly the same boat as many of you. And like you, I'm a little scared but also excited."
The day was picture-perfect for the 1,100 undergraduates and 800 Wake Foresters leaving the University's graduate and professional schools. Abramson made sure the media spotlight stayed on them, surprising many by shaking hands with every undergraduate crossing the stage. Read about Abramson's speech and see photos from one of our favorite days of the year.
Congrats, Class of 2014!
Remembering Prof. Maya Angelou, Renaissance woman
President Hatch elected to the American Academy of Arts and Sciences
Alumna Candide Jones: a "hippie" and reluctant Wake Forester finds home
Prep Queen Lilly Pulitzer didn't sleep here, but I did
---
April 2014 @WAKE: The Alumni Newsletter:
'DMann Deacon' enthusiasm!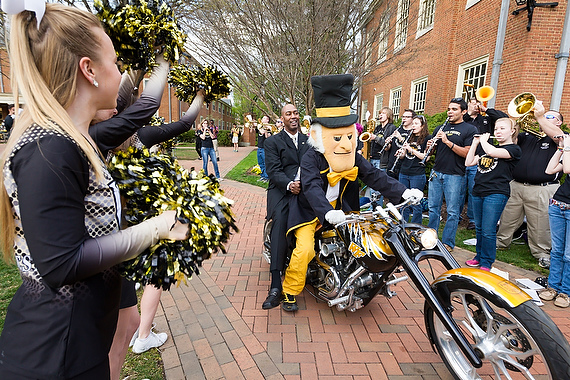 He climbed aboard the motorcycle to sit behind the Demon Deacon, and then the duo roared onto the Quad. Tots sporting their finest Wake Forest garb, students, faculty and staff cheered at this picture-perfect scene on April 8. The celebration was on for Danny Manning, the leading scorer and rebounder in University of Kansas history, the 6-foot-10-inch NBA veteran and Wake Forest's new head basketball coach.
"We plan to cut down nets," he said. You can guess the crowd's reaction. Manning's first official press conference also cheered the Forest: "First and foremost, we're in the education business. We want to make great young men. This is a wonderful University. When you leave here, you will be prepared for life." Many of us can attest to that statement and noted how the coach embraced the paramount mission. Watch the five-minute video of Coach Manning's first day here. (Look for the YouTube link.)
Introducing the 2014 Distinguished Alumni Award winners
Bobby Burchfield ('76) wins McCutcheon v. FEC Supreme Court case
Melissa Harris-Perry ('94) will return as a Presidential Chair
Plan ahead for Pro Humanitate Days May 30 – June 2
---
March 2014 @WAKE: The Alumni Newsletter:
No greater honor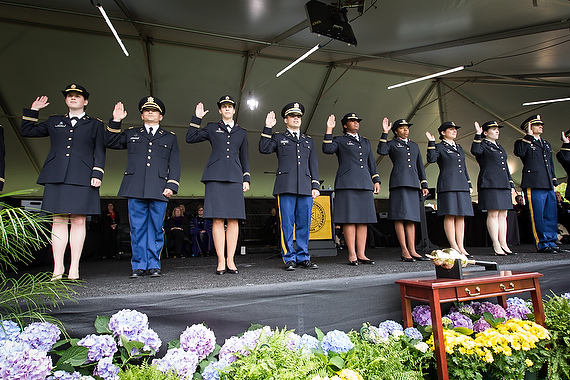 With just weeks remaining in the academic year we're looking forward to Commencement. It is a festive occasion with smiles and tears aplenty as we honor new alumni embarking on life's next passage. There is no more moving moment than the ROTC Commissioning Ceremony, when the U.S. Army's newest officers pledge to honor and defend their country. Nearly 27 years after he took that oath, Col. John C. "Jay" Waters ('87) leads the Army National Military Cemeteries program and has no greater honor than to serve military families navigating another of life's passages. Read his story here. And to Mother, so dear, "All honor now be thine."
Illustrator Martha Napier ('07) captures Fashion Week's street style
These Fideles' snail-mail packet nurtures 30-year friendships
Smithsonian's Pete Daniel ('61) chronicles the South's transformation
Wake researchers measure coal ash spill with unmanned aircraft
---
February 2014 @WAKE: The Alumni Newsletter:
Snowstorms, admissions news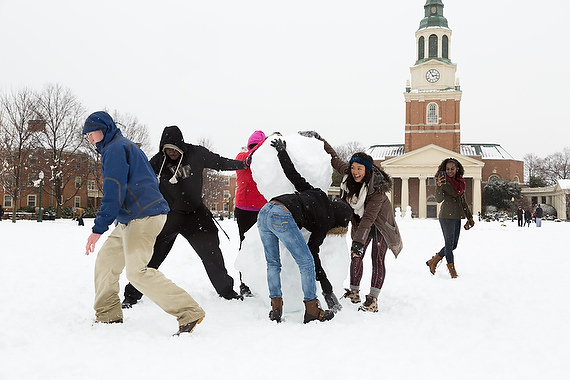 As the photo above shows, February 12-13 brought big snow to campus. Winston-Salem's official total was 8 inches. Reynolda Campus shut down for 2½ days, but the work of admissions officers hardly missed a beat during their busiest time of year. After the roads cleared, they returned last week to national news affirming their test-optional admissions approach. In short, "Defining Promise: Optional Standardized Testing Policies in American College and University Admissions" found "trivial differences" between the long-term performance of students who submitted test scores and those who didn't.
On the admissions website, prospective students learn that Wake Forest was the first top-30 national university to make submitting SAT and ACT scores optional in the admissions process. I talked with Dean of Admissions Martha Allman ('82, MBA '92) about the policy that took effect with the freshman class of 2009 and what the findings in this unprecedented study of test-optional policies mean for Wake Forest. Read about our conversation here.
Lauren Gaston ('09) at Kansas City Rep stars in costume design
Durham mayor lauds Rev. Mel Williams ('65) for anti-poverty work
Alumnus Alan Fox kicks off the Clawson era with $2 million
'Snowmageddon' brought this alumnus snow, fire and a bundle
---
January 2014 @WAKE: The Alumni Newsletter:
Our Professor's 'Hoop Dreams' at 20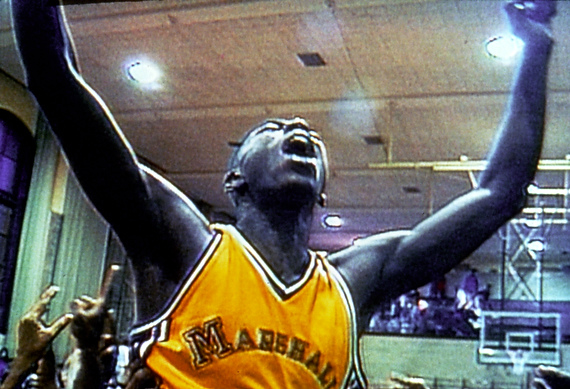 Maybe you're one of the lucky cultural mavens who trek to Park City, Utah, every January for the Sundance Film Festival. If you were there this month, you had the chance to see a digitally remastered "Hoop Dreams," the landmark documentary that won the festival's Audience Award in 1994. Highly acclaimed by film critics across the country, the documentary tracks two inner-city Chicago teenagers, William Gates and Arthur Agee, who dream of NBA stardom. The filmmakers follow the basketball players for five years, capturing the highs and lows and the loving support of families who dream of more fulfilling lives for the boys.
Peter Gilbert, one of the film's producers and its director of photography, was on his way to Sundance this month but not before discussing the film's 20th anniversary. Gilbert teaches in Wake Forest's Documentary Film Program, where he stresses "we're in a storytelling renaissance." Read more about his memories of making "Hoop Dreams" and his teaching here.
Dean Steve Reinemund to step down at the School of Business
"Cool Runnings 2": Deacons help Jamaicans return to the ice
Want to publish your e-book? ZSR has a free online course for alumni
Travis Manning ('93): ex-football player, librarian, employee of the year
---
December 2013 @WAKE: The Alumni Newsletter:
A positively sparkling time of year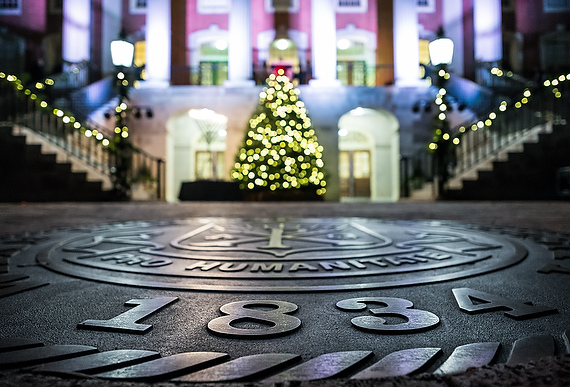 Admit it. When the lights twinkle around the Quad, luminaria glow to light the path to Wait Chapel and the massive holiday tree outside Reynolda Hall exudes that fresh forest scent, you long to be back here. Minus the exams.
The holiday traditions bring students, faculty, staff, alumni and the community together in ways that strengthen our bonds on campus and off. The largest single lovefeast in North America happens here. The Messiah Moravian Church Band strikes up the brass, the choir leads us in sacred carols and the candles are lit one by one, illuminating our common bonds. You will always be welcomed back to your Wake Forest home, but for those who missed the celebrations, this link offers an array of elegant black-and-white photographs by University photographer Ken Bennett and a short video that I hope will bring back your own December memories from around the Quad.
James M. O'Connell ('13) of Tampa, Fla., wins a Rhodes Scholarship
VIDEO: Introducing Dave Clawson, our new football coach
James Beshara ('08) on how to launch a startup and face failure
Banjo. Guitar. Singing: The Kingston Trio's George Grove ('69)
---
November 2013 @WAKE: The Alumni Newsletter:
'You belong here' — in dialogue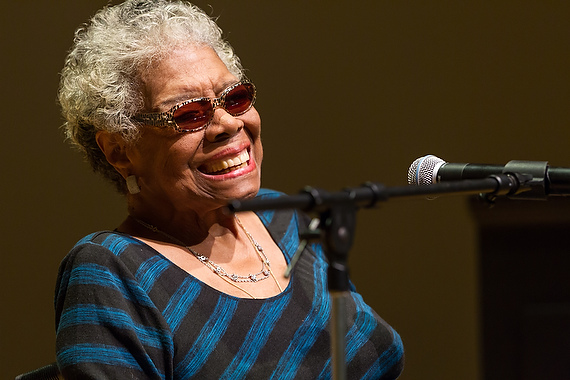 I know how it feels when the volume is turned up in the national conversation. Across the political aisle and on social media, who is yelling at whom today? Our differences can create a chasm that seems impossible to cross.
That is why I found it so encouraging this month that a standing-room-only crowd gathered in Brendle Recital Hall to challenge the prevalent notion about our country's lack of civil discourse. "Three living legends" — Reynolds Professor of American Studies Maya Angelou, Provost Emeritus Edwin G. Wilson ('43) and Johnnetta B. Cole, director of the Smithsonian Institution's National Museum of African Art, gathered to urge individuals to take responsibility for creating a culture of kindness and respect. Focus on what we have in common, not our differences. By striving for that change in perception, we might just change the world. Being the change one wishes to see is something Wake Foresters know how to do, and for that I am grateful. Read more here.
Tommy Norman's ('66) heroic work for Charlotte vets
Farrell Hall's dedication: a dream realized, 'Wake Will' success
Students, alumni say special 'thank you' to professors
South Korea vs. Japan? Not in this alumni friendship
---
October 2013 @WAKE: The Alumni Newsletter:
Under the big tent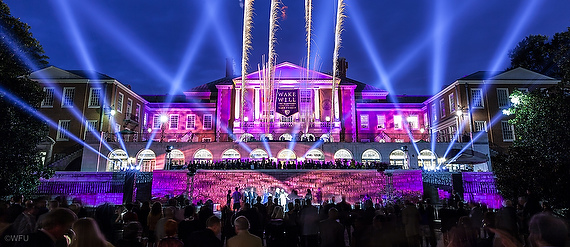 My students were buzzing about the construction of the big tent on Manchester Plaza. What was up? Last week came the answer, complete with fireworks over Reynolda Hall, the "Fight Song" and happy toasts under an autumn moon. "Wake Will: The Campaign for Wake Forest" officially launched, the largest mobilization of support for the University and the Medical Center in Wake Forest's 179-year history. The goal is $1 billion.
Skies cleared on Friday for faculty, staff, students and alumni arriving for the start of Homecoming festivities to gather at the big tent for a cookout celebrating the launch. You couldn't help but feel the camaraderie of people of all ages coming together at a place that always feels like home, with or without a big tent as an assembly point. Sitting on the "front porch" of the tent, I spied all things Deacon, from little footballs sailing through the air to Tie Dye Nation T-shirts, even a professor returning "home" from Salemtowne Retirement Community. I felt the blessings of heritage and the thrill of what might be next for my alma mater. Read about the launch and view videos here.
Alumni who moved into 'a dangerous nest of subversives'
Revered Prof. Peggy Smith's long-awaited book on ski resorts
VIDEO: Portraits of alumni making a difference
Prof. Paúl Pauca's done it again, building on Verbal Victor
---
September 2013 @WAKE: The Alumni Newsletter:
Homecoming. Who's in?!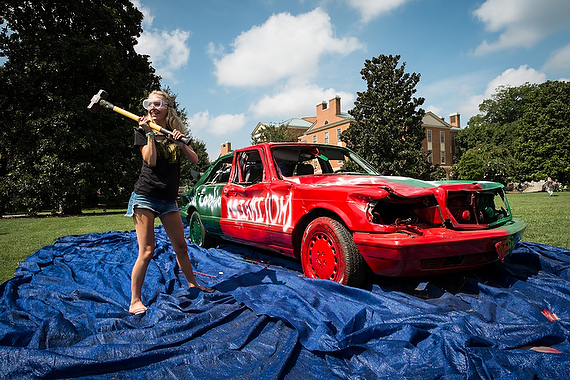 I've been happy to hear that friends from my 1980s "Thriller" era are making their party plans to return for Homecoming weekend, Oct. 18-19. As far as I know there are no plans to smash a car on Manchester Plaza, but if you want to hear Provost Rogan Kersh ('86) talk about Gen Y, that's on tap. So is a tour of the Day of the Dead exhibit at the anthropology museum. How about Jenny Puckett's ('71) class on Wake Forest traditions, where you can get an insider's history of Mother, so dear?
Those events and more all happen before the Friday night reunion parties (Beach Boys? R. Kelly? Whitney Houston? Who will be your party soundtrack?) and the football game against Maryland Saturday. Whatever your class year, come back to celebrate campus memories and your pals. Here's the full list of events with a link to registration.
WFU receives its highest ever U.S. News and World Report ranking
Nikolai Vitti ('00, MAEd '01) is transforming the 22nd largest school district
NYT features WFU's innovative approach to career development
Med school admission guaranteed for up to five humanities or arts majors
---
August 2013 @WAKE: The Alumni Newsletter:
Move-in Day: New friends for life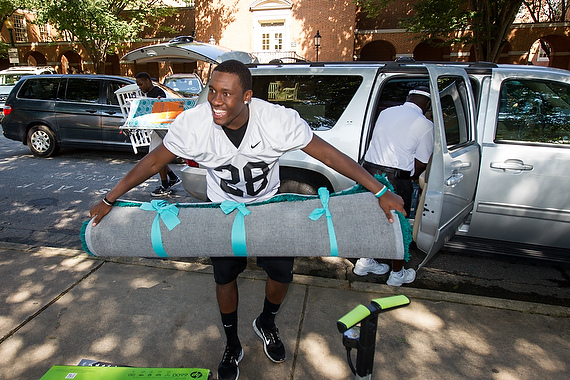 When Barb Gehlert Lederer ('87) attended Wake Forest, she lived in what was then New Dorm on Fidele hall. On Aug. 22 she moved her daughter, Anne-Levert, into a room just a couple doors down from her old room in the dorm now known as Luter Hall. Hers is a familiar story. Each year teary-eyed and beaming alumni show up with their children to enroll, hoping the next four years will create equally cherished memories. "These are going to be friends she'll know the rest of her life," Lederer said. "When she was accepted, people I haven't seen in 25 years reached out to her."
For alumni families, move-in day signified looking back and looking ahead. The Spirit of the Old Gold and Black struck up the fight song on Manchester Plaza, and a new class of Wake Foresters found a home. Read Kerry M. King's ('85) story about alumni families on move-in day, one of our favorite days of the year.
Filmmaker Richard DiPatri ('93) on finding his joy
What Audrey Caison Bridger ('52) unearthed in the attic
Prof. David Carroll's new take on solar technology
Deacs football! Inside the huddle video
---
July 2013 @WAKE: The Alumni Newsletter:
Thanks for the memories!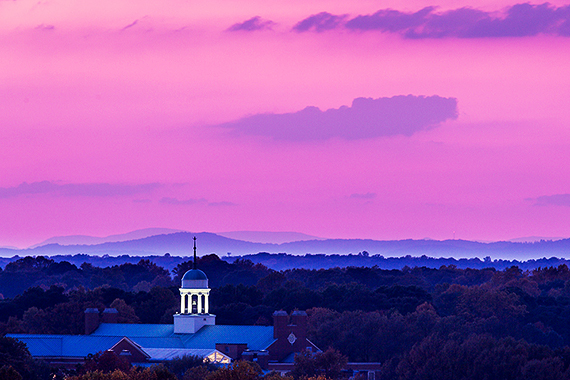 Chances are if a Wake Forest photo of Project Pumpkin made you smile or a picture of Wait Chapel moved you to nostalgic tears, those images — and emotions — were brought to you by Ken Bennett. The University's photographer since 1997, Ken has climbed high and low, far and wide — always with a camera around his neck and a hefty gear bag over his shoulder — to creatively capture campus life through a Canon lens. The University Photographers' Association of America recently honored him with its Master of the Profession award for consistently high quality work (follow his photo blog, Focus on the Forest). He also won awards for individual images including the one above of the Z. Smith Reynolds Library cupola. Congratulations, Ken, and thanks for the memories!
Her semester in Turkey translates to FOX News story
They're 'Paying it Forward for Fred'
Fan Fest: Are you ready for some Deacon football?
Casa Artom welcomes art lovers to La Biennale
---
June 2013 @WAKE: The Alumni Newsletter:
Oh, The Places They've Gone!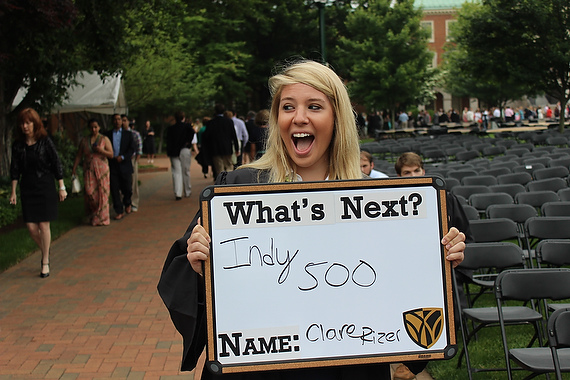 Thirty-eight days after graduation, the seniors who crossed the stage to receive their diplomas and emerge as our newest alumni are never far from our thoughts. I've heard from some of them about jobs, traveling adventures and plans to stay on campus for graduate school. One of the many treats that arose from Commencement is a gallery of celebratory photographs shot by roving social media experts — led by Gretchen Edwards ('10) from Advancement. "What's Next?" for the Class of 2013 brings you a taste of an impressive list of destinations and pursuits for post-grad living. From "Med School" to "Love, Work, and Public Policy," the writing on the white boards confirms that the Class of 2013 will be a globe-trotting, world-changing group. I know you will enjoy seeing the graduates and their white-board 'bon voyage.'
Can you become more honest, kinder by reading a book?
Rodney Rogers: 'I'm just glad I'm still alive'
Younger brother's Down Syndrome inspires senior's research
Remembering alum Will D. Campbell, civil rights renegade
---
May 2013 @WAKE: The Alumni Newsletter:
Graduates make a splish-splash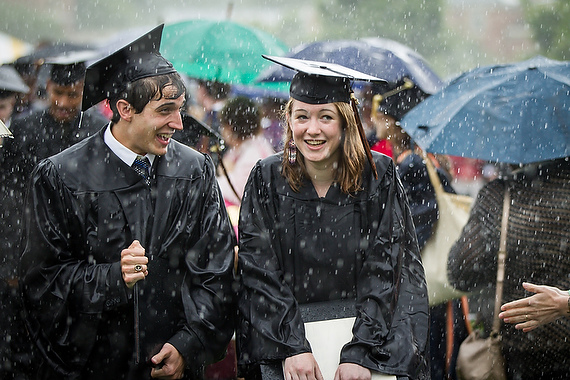 Talk about timing. Because of tricky and occasionally ominous weather forecasts, students, families, faculty and staff on campus wondered whether Commencement 2013 on May 20 would occur on the Quad or in the Joel. The graduates I talked with were clear about what they wanted: an outdoor Commencement. That's what the 1,700 graduates got, plus decent weather until the end.
After listening to journalist Gwen Ifill of PBS deliver the address and receiving diplomas, graduates marched, tassels on their mortarboards now on the left, through the receiving line of faculty members toward Reynolda Hall. As if on cue, the clouds burst, dousing our newest alumni with a celebratory drenching. The day's festivities, despite the rain, inspired the "Wake!" cheer and the "Forest!" answer. Here's to Commencement.
The Wake We Were: pictures from the past
Students wowed Wake with giant art project
Different 'landscape' of leaders' brains
WFU college-to-career approach goes national
---
April 2013 @WAKE: The Alumni Newsletter:
Introducing Distinguished Alumni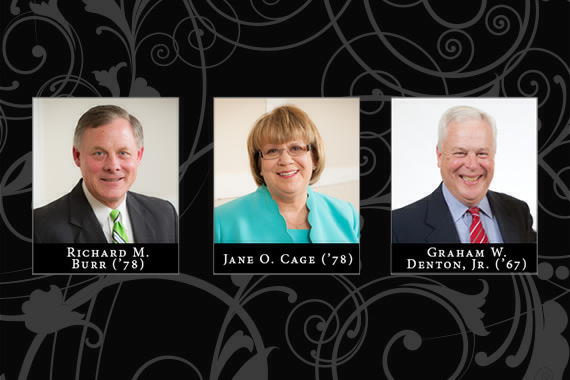 University leaders, trustees and graduates celebrated the newest recipients of Wake Forest's Distinguished Alumni Award at a gala dinner Friday night.
U.S. Sen. Richard Burr ('78) of Winston-Salem, Jane Owens Cage ('78) of Joplin, Mo., and the late Graham W. Denton Jr. ('67, P '93, '97, '10) of Charlotte were honored for service to community and their alma mater.
Read about these honored alumni and their love for Wake Forest. Videos and photos also tell their story.
Jane Freeman Crosthwaite ('59) salutes 'ghosts' of ZSR
Daveed Gartenstein-Ross ('98) on losing the war on terrorism
Sunshine? Mag Quad? Perfect day to paint a desk for wee ones
Scott family pledges $6.5 million for first-generation college students
---
March 2013 @WAKE: The Alumni Newsletter:
"Retirement" for Chris Paul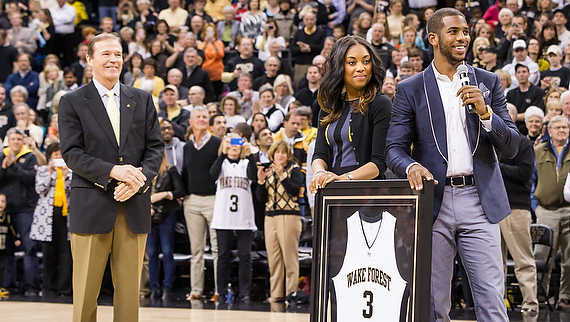 As Rob Daniels writes for Wake Forest Demon Deacon Athletics, "You can hang your hat on the numbers and the memories. Sometimes, you hang a jersey on something more." That something more refers to the rafters in The Joel, which now display Chris Paul's jersey No. 3.
On March 2 Olympic gold medalist, NBA superstar and local philanthropist Paul became the 11th Demon Deacon to have his jersey retired and the first since Josh Howard in 2004. He received a standing ovation during a rocking celebration on Chris Paul Day (CP3 Day). The Wake Forest basketball point guard from Lewisville, N.C., turned pro after his sophomore year in 2005 but continues to return to campus in the summers to work on finishing his degree. Read about CP3 Day, the triumphant return of the Los Angeles Clippers guard and famed Demon Deacon.
Gwen Ifill of "Washington Week" on PBS to speak at Commencement
Arkansas' Wade Murphy ('00) makes history with Humanities Institute gift
In 1948 the Demon Deacon was a mascot in search of an identity
Melissa Rogers to lead White House's Faith-Based office
---
February 2013 @WAKE: The Alumni Newsletter:
The lure of Reynolda Gardens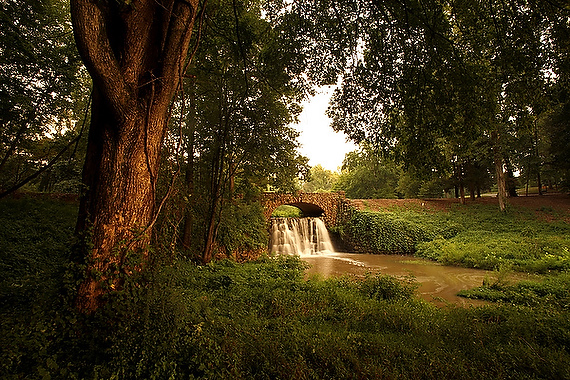 The spring issue of Wake Forest Magazine celebrates Reynolda Gardens, a serene place many of us love. We ran there after we stayed up all night to finish papers. We walked there with our friends to chat about the day's news. It was our peaceful getaway for enjoying trees and birdsong.
We are pleased to bring you photographs by Travis Dove ('04), who studied communication and studio art and now works as a popular freelance photographer in North Carolina and nationally. Space prevented us from featuring all the photographs he shot for us in the print issue, but we don't want you to miss a single image. Click here to see a slideshow (with music) of all his Reynolda Gardens photos.
Combat inclusion for women? Brig. Gen. Pat Foote ('52) welcomes it
Missy Malkush's ('06) "Bodies and Objects" led to help for amputees
Even Paul Newman pulled for our 1983 "College Bowl" team
Love letters still matter to the digital natives at Wake Forest
---
January 2013 @WAKE: The Alumni Newsletter:
Who Inspired Mr. Wake Forest?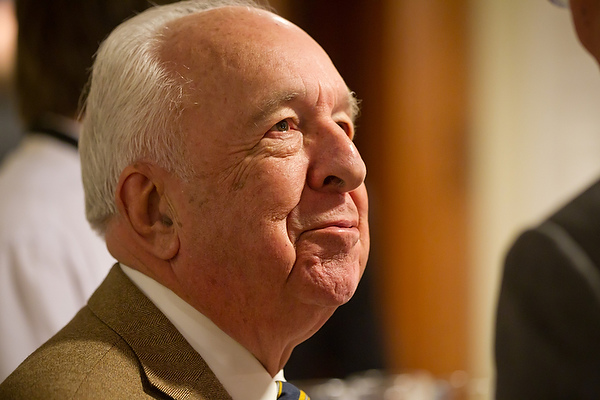 Provost Emeritus Edwin G. Wilson ('43) enchanted generations of students with his recitations of the poetry of William Butler Yeats, William Blake and Dylan Thomas. It's hard imagining him as a young man seeking out a mentor of his own. But he did just that. Read here about Edgar E. Folk Jr. (1921) and how he mentored the 16-year-old Ed Wilson with what Dr. Wilson calls "a mysterious quality that I've seldom encountered."
Soccer star Marcus Tracy ('08) pays tribute to his resilient Newtown
Marc Palmieri ('94) on baseball, playwriting and 'this crazy life'
Had your flu shot? Game-based research assesses your behavior
University Photographer Ken Bennett's photo blog will take you back
---
December 2012 @WAKE: The Alumni Newsletter:
Lovefeast and community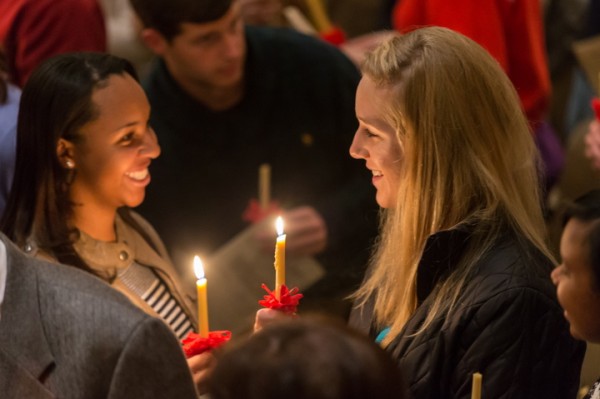 Earlier this month in Wait Chapel, more than 2,000 of us gathered for the beloved campus tradition, the Christmas Lovefeast. As we sang "Morning Star" and touched beeswax candle to beeswax candle to spread light amid darkness, we were engaging in a sacred Moravian ritual about hope and marking the advent of the holiday season for the Wake Forest community.
Read about the Lovefeast. May the story bring back happy memories and may you have holidays worthy of song.
President Hatch reflects on the Newtown tragedy
What's poet Dave Johnson ('90) creating at the NYC probation office?
Dr. Jim Jones ('55, MD '59), a Lumbee, broke barriers on and off campus
Confused about Wake Forest and MOOCs? The provost explains
---
November 2012 @WAKE: The Alumni Newsletter:
New twist on Pro Humanitate: Welcome, human!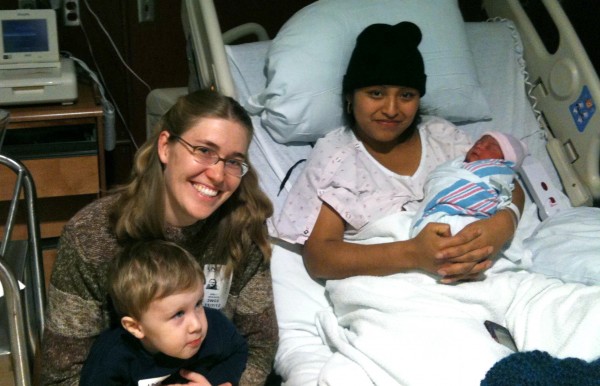 We are always searching for stories to celebrate Pro Humanitate, the Wake Forest motto that encourages us all to serve humanity. Emily Brewer ('98, MA '03) spread the spirit in a global way when she helped deliver a baby girl at a UNC Chapel Hill bus stop this month. Her story went viral, with Brewer, a Ph.D. student at Chapel Hill, now referred to in some circles as the "delivery angel."
She wrote about the experience of suddenly becoming famous and — spoiler alert — welcoming a wee little girl namesake into the world for Wake Forest Magazine online. Read about the good Samaritan.
Look, up in the sky! Alum headed to International Space Station
Legal eagles Bobby Higdon ('85, JD '89), Frank Bradsher ('82) guide Kosovo
N.C.'s highest civilian honor goes to Susan P. Brinkley ('62)
"Contagion." It's what's for dinner, topped with ethical quandaries
---
October 2012 @WAKE: The Alumni Newsletter:
Pro Humanitate: close to home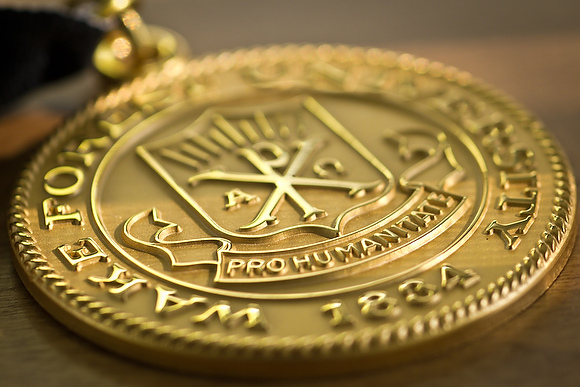 When Linda Tuttle, a staff assistant in the Department of Chemistry, was diagnosed with breast cancer, she never imagined her experience would inspire colleagues to develop a new treatment for the disease. Tuttle's use of the drug tamoxifen inspired medicinal chemist Uli Bierbach and research colleagues Song Ding and Xim Qiao to develop a targeted therapy — one that sneaks up on breast cancer like a "Trojan Horse" attack.
Their inspirational story, where innovative research meets real life, reaffirms Wake Forest's commitment to Pro Humanitate — whether halfway around the world or right here at home.
Mobile apps help students find everything from parking to washing machines
Billy Packer ('62) remembers Bones, Lenny and the 1962 basketball run
Fifty years after integration, Edward Reynolds ('64) has emotional reunions
Think of what you owe, not what you want, says TIME columnist Joe Klein
---
September 2012 @WAKE: The Alumni Newsletter:
Fore! More gold for Arnold Palmer
In the Rotunda of the U.S. Capitol, golf legend and Wake Forest luminary Arnold Palmer ('51, LLD '70) received the Congressional Gold Medal on Sept. 12, two days after his 83rd birthday. Congress recognized his service to the country in promoting excellence and good sportsmanship. Along with the Presidential Medal of Freedom (Palmer received that honor in 2004), it is the highest civilian award in the United States and dates back to 1776, when the Second Continental Congress awarded the medal to George Washington. Read more about Palmer's honor here.
An update on that dancing, head-spinning Deacon Jeff Dobbs ('77)
Frame issues of character on the field and off. Q&A with Pres. Hatch
TV host Melissa Harris-Perry ('94) asks, "What difference does that make?"
Ben Sutton Jr. ('80, JD '83) champions new Reynolds Gym
---
August 2012 @WAKE: The Alumni Newsletter:
Alumni on Move-In Day: Back to the Future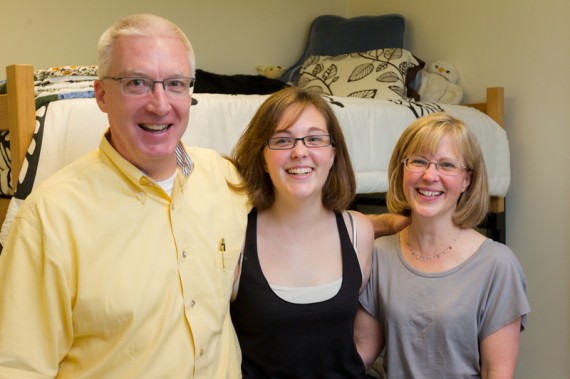 The "snake pit" is long gone, formal parlors for greeting suitors are passé and no one is expected to yell "Man on the hall!" But alumni who arrived last Friday to help their children move onto South Campus for freshman year could not have been more pleased about the positive qualities that endure at Wake Forest.
Read more about continuing the legacy as alumni pass on the Wake Forest experience to their children.
President Hatch elected NCAA Division I board chairman
Blogger Ashley Swenson Hackshaw ('99, MBA '03) finds joy through cancer
Where's Vegas? Friends ('64) come home to Johnson, their first-year dorm
Sportswriter Tommie O'Toole ('78) on the Olympics, Penn State and golf
---
July 2012 @WAKE: The Alumni Newsletter:
Wake Forest Olympians going for the gold — and black!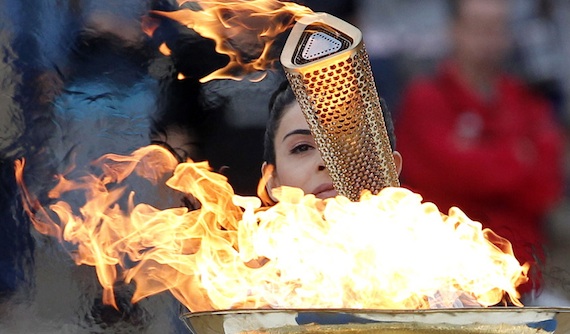 If you're planning to watch tonight's Opening Ceremony of the 2012 Summer Olympic Games in London, you can expect America's delegation to sport red, white and blue. But inside those uniforms — and the uniforms of several other nations — will be athletes who bleed black and gold. Eight current or former Wake Foresters are Olympians!
They're "constant and true" in red, white and blue — or any other colors!
Read about them here, and Go Deacs!
Jack Shearin ('50) and his band of carpenters ramp up to help disabled
Pro Humanitate inspires Jeannetta Craigwell-Graham's ('06) leap of faith
Sign up for Homecoming & Reunion Weekend. All fun, all the time!
Filmmaker Sam Smartt ('09) captures sounds of Chi Rho trip to Zambia
---
June 2012 @WAKE: The Alumni Newsletter:
From 'Pro!' in L.A. to 'Humanitate!' in Richmond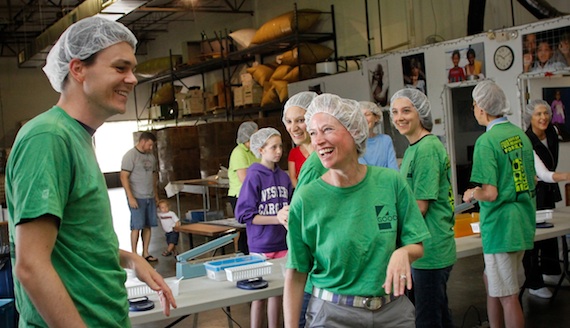 A tip of the hard hat and a wave of the hairnet to the more than 400 Wake Foresters who showed their Pro Humanitate Spirit this month.
The first Pro Humanitate Days, also known as "4Good," saw Deacs from 18 Wake Forest clubs across the country respond to the call to volunteer en masse. Coast to coast, they pounded nails to build a house in Palm Beach, prepared food in Houston, organized a Habitat for Humanity ReStore in Richmond and cleaned a park in Atlanta.
Gaye Taylor Upchurch ('96) has more drama in her life than most of us
For Susan Brinkley ('62), the Old Campus is the "holy land." She means it
Life's big questions? WFU Chaplain Tim Auman walks the talk – and sleds
All are invited to share stories for "Faces of Courage" celebration
---
May 2012 @WAKE: The Alumni Newsletter:
Commencement: A day for memories and memorable quotes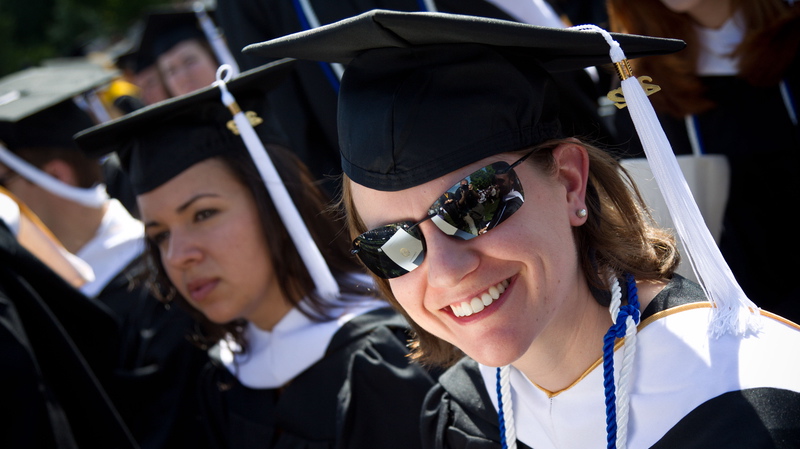 Among the fun aspects of being back at Wake Forest is hearing how visitors view our traditional campus events. At Commencement Monday, happy quotes were flying. Here's one of my favorite exchanges:
"Our grandson's girlfriend is graduating summa cum laude."
"What about your grandson?" asked a WFU staffer.
"He's thank the laude!"
Enjoy reading more about Commencement and seeing photos
First came Rhodes and Truman scholars. Now add seven Fulbrights
Case closed. A prankster from the 1978 Mickey Mouse caper fesses up
Revelations about acclaimed writer Laurence Stallings (1916) in two trunks
Pro Humanitate spirited? Volunteer nationwide with alumni June 1-4
---
April 2012 @WAKE: The Alumni Newsletter:
Wake Forest as 'idea factory'


In Wait Chapel earlier this month, former U.S. Secretary of State Condoleezza Rice called American colleges and universities "centers of creativity and innovation" and the "idea factories for our country and world." She kicked off the national conference "Rethinking Success: From the Liberal Arts to Careers in the 21st Century," examining the value of a liberal arts education in the workforce. The conference on April 11-13 attracted presidents, career officers, deans and faculty from more than 70 colleges and universities.
Words Awake! brought home writers, showcased Ed Wilson ('43)
Wake Forest's remarkable trees (toilet paper preferred)
Federal Judge Frank Whitney ('82) conducts last military trial in Iraq
Pro Humanitate spirited? Sign up to volunteer in June with alumni nationwide
---
March 2012 @WAKE: The Alumni Newsletter:

Extreme explorer with Pro Humanitate spirit


Meet an intrepid Demon Deacon. Carlton Ward Jr. ('98), an eighth-generation Floridian, imagined bringing attention to conservation and habitat issues in his home state. He envisioned a 1,000-mile journey over 100 days, and it has come to pass. An environmental photojournalist, he credits Wake Forest with giving him an undergraduate education that he calls "a process of discovery." He also got a professional start here by shooting Wait Chapel during a perfect crimson sunset.
Jenny Puckett ('71) reveals "shocking" perfume bottle scandal, other Wake Forest tales
Discovery: Power Felt's electricity from body heat
Best law school experience? Graduation, joked Justice Clarence Thomas
Barbee Myers Oakes ('80, MA '81): Among "25 Women Making a Difference"
Trash talk from Allison Orr ('93) at SXSW in Austin
---
February 2012 @WAKE: The Alumni Newsletter:

Our newest Distinguished Alumni share WFU memories


As Cherin C. Poovey (P '08) writes in this month's newsletter, the newest recipients of Wake Forest's Distinguished Alumni Award embody the spirit of Pro Humanitate through service to the community and their alma mater. Humanitarian, public servant and entrepreneur — they are friends many of you might remember.
Meet Brandon Turner, our newest Rhodes Scholar. Read his winning oration
Kevin Dias ('06) scores big with Putter King app
Interfaith pilgrimage to the Holy Land
Lucy Lan ('12) brings TEDx ideas confab to WFU
---
January 2012 @WAKE: The Alumni Newsletter:
Rogan Kersh: 'You had me at hello'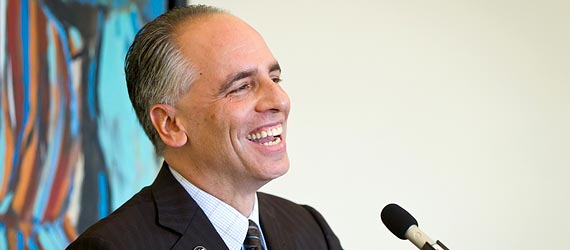 There, on the local front page Saturday, was Wake Forest's new provost visiting with our esteemed provost emeritus, the self-proclaimed romantic. Befitting a storybook moment, Rogan Kersh ('86) will walk in the footsteps of Edwin G. Wilson ('43), who couldn't stop smiling about Kersh's appointment Friday to his former job as chief academic officer.
Face Time: He did a 'tough mudder' for his student
Legendary North Carolinian Bill Friday got his start at Wake Forest
From dancing to debates, these dates changed WFU history
Carol Barbee ('81) partners with Kiefer Sutherland on new Fox drama
---