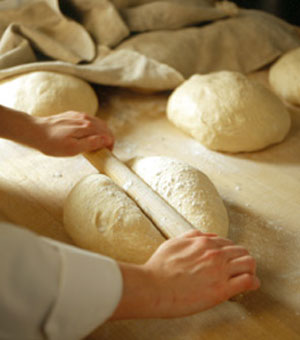 Lucky for Alison Shermeta Gentry ('06) that she has an active dog who needs a 45-minute walk each day. This brisk exercise routine enables her to regularly indulge in sweet treats without worrying too much about the calories.
Shermeta, whose hometown is Detroit, Mich., recently became executive pastry chef at Dewey's Bakery, a Winston-Salem institution undoubtedly remembered by many alumni for its Moravian sugar cake, hot cross buns and decadent tarts. She researches food trends, creates new recipes and develops them in the Dewey's test kitchen downtown.
"I knew that I loved pastry since I was a freshman in high school," says Shermeta, who was a psychology major/French minor at Wake Forest. "I was the girl who always brought cookies." Describing herself as a woman with a thousand different passions, Shermeta spent a semester abroad in Dijon and fell in love with French bakeries. "I ate bread, cheese and pastry for an entire semester."
In her senior year Shermeta and two Wake Forest friends decided to enroll at Johnson and Wales University's Charlotte campus. Culinary school, and a subsequent internship at a busy hotel, taught her not only how to plate a wicked dessert but also discipline and composure under pressure.
Shermeta and her husband, alum and filmmaker Cagney Gentry ('06), moved back to Winston-Salem in 2008 so he could attend graduate school in film at UNC-Greensboro. She worked for a time in sales at Graylyn International Conference Center but longed to get back into the kitchen planning menus and most of all,  "getting a little messy" by creating unique recipes for cakes, cupcakes, muffins and cookies.
When she learned that Dewey's was looking for a pastry chef, she sent an e-mail inquiry one Friday and was invited for an interview the following Monday. Shermeta says the locally famous bakery wants to modernize its image with more gourmet items while at the same time staying true to traditional delights upon which its reputation is built.
She's looking to create gluten-free, and even vegan, pastry options. "We're doing research—what will be hot and trendy, or what we can make hot and trendy," says Shermeta, adding that one of her favorite tactics is to spend time in Dewey's shops listening to customer comments. "In early 2011 there will be some new items on our shelves that have my fingerprints on them."
If she were to design her own signature cupcake, Shermeta says it would probably feature a confectionary depiction of Greene Hall on top since that's where she spent most of her time as a student. She dreams of one day having her own bakery and pastry line, and who knows, a cooking show might not be out of the question. After all, her husband is a filmmaker and foodie (they have a blog at threehundredfiftydegrees.wordpress.com) and her dog will make sure she stays fit.