April 2023

| | |
| --- | --- |
| April 28, 2023 | News & Notes from Wake Forest Magazine |
Photo: Ken Bennett
Beth Norbrey Hopkins ('73, P '12) and J.D. Wilson ('69, P '01) received Distinguished Alumni Awards.
FROM THE EDITOR
Celebrating star alumni
Last Friday night guests stepped into the Sutton Center to a gym festooned in black and glittering gold and transformed into hallowed ground. The 2023 Distinguished Alumni Awards found its home for the evening, and all who entered eagerly came to honor two of Wake Forest's finest: Life Trustee Beth Norbrey Hopkins ('73, P '12) and J.D. Wilson ('69, P '01).
The event remains one of my favorite traditions. The video tributes to the winners reveal ways the alumni have served and mentored others throughout their lives. The winners' speeches remind us that in a world shaken at times by chaos and conflict there are humans who hold tight to a vision of what the world could be and what they can offer as their authentic, best selves.
As a Black woman who helped integrate WFU dormitories and with the attendant hardship, Hopkins left after graduation vowing never to return. Her faith, her friends and her husband's devotion to Wake Forest led her back. She became a law professor, mentor and a change agent for pro bono and public interest programs.
Wilson crossed the Appalachian Mountains from Kentucky to attend Wake Forest and discover a spark that would motivate him forever. He was selected as one of four students to travel to New York for the student art-buying program. He's been a patron of the arts on campus and in the city ever since. Never missing an opportunity, he used his platform Friday night to implore donors to support improved teaching, learning and exhibition spaces.
Read more about these distinguished alumni here, and join me in congratulating them. I am proud to call them both friends.
Sincerely,



Maria Henson ('82)
Associate Vice President and Editor-at-Large
magazine.wfu.edu
AND DON'T MISS THESE STORIES
March 2023

| | |
| --- | --- |
| March 31, 2023 | News & Notes from Wake Forest Magazine |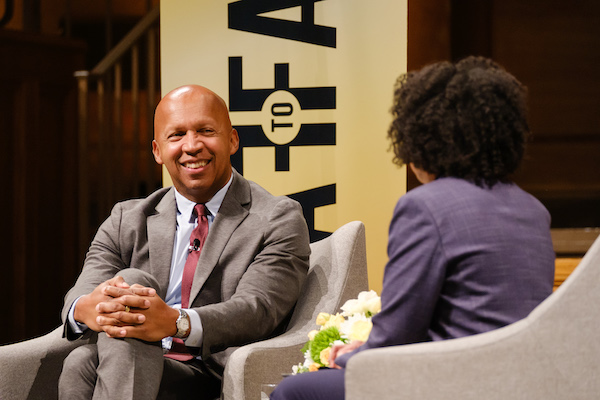 Photo: Ken Bennett
Bryan Stevenson (LL.D. '17) with Vice President for Campus Life Shea Kidd Brown
FROM THE EDITOR
Banking on hope
Bryan Stevenson (LL.D. '17) returned to Wake Forest a few weeks ago to deliver potent messages about hope, love and healing to a multigenerational audience in a sold-out Wait Chapel. He was the first speaker in 2023 in the Face To Face Speaker Forum, which has graced our community with such notable guests as former President George W. Bush and Grammy Award-winning cellist Yo-Yo Ma.
Stevenson did not shy away from the difficult topics of mass incarceration or a moment that shaped his life that could have meant death. He stayed in his car one night too long listening to music in his apartment complex parking lot in Atlanta. Suddenly, the police were there, demanding that he get out of the car. His hands shaking, the officer pointed a gun at him, and Stevenson — a Harvard man — had to talk him down.
Stevenson went on to become a public interest lawyer and the founder and executive director of the Equal Justice Initiative in Montgomery, Alabama. The nonprofit's National Memorial for Peace and Justice is dedicated to the victims of lynching in the United States with the hope its markers "can help transform our national landscape into a more honest reflection of the history of America and reflect a community's ongoing commitment to truth-telling and racial justice."
This National Humanities Medal recipient and MacArthur Foundation "Genius" Prize winner traced his belief in hope back to his enslaved ancestor who learned to read despite his circumstances. The endeavor meant he had a hope one day to be free, and he was right to hope. After slaves were freed, the man would read to them and teach them. It was an act of love, then passed on to Stevenson's grandmother, always a domestic worker but one who believed in better things to come for her grandchildren.
You can read about Stevenson's discussion with Wake Forest students who met with him before Face to Face here. This 2020 interview on "On Being" also provides a rich conversation with insights into Stevenson's unwavering commitment to human rights and justice. I recommend them both for a dose of hope.
Sincerely,



Maria Henson ('82)
Associate Vice President and Editor-at-Large
magazine.wfu.edu
AND DON'T MISS THESE STORIES
February 2023

| | |
| --- | --- |
| Feb. 24, 2023 | News & Notes from Wake Forest Magazine |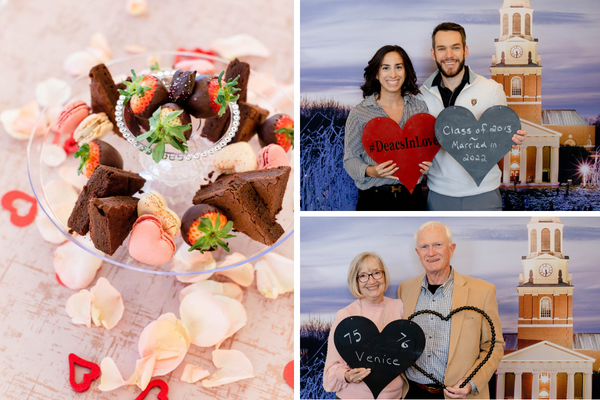 Photo: Lauren Olinger ('13), Red Cardinal Studio
Top, Lauren Hiznay ('13) and JP Rotchford ('13, MSA '14), bottom, Karen Grove Sherman ('76, P '06, '10) and Keith Sherman ('75, MBA '78, P '06, '10)
FROM THE EDITOR
Here's to love!
You never know how a Deac will meet another Deac, fall in love and marry. No matter your class year, you've seen cupid's dart hit Deac couples through the years, and occasionally, as certain Valentine's Days draw near, you are able to learn how the love stories from long ago — or recently — are going. We had the privilege this month to see hearts still aflutter.
Alumni Engagement team members welcomed 50 alumni couples back to campus for "Deacs in Love" festivities. Who met in line at the bookstore back when students had to haul heavy textbooks to their dorms? Who met at romance central, Venice? Who met via "step-step-step-step-close" on the dance floor? (Yes, you can find love in a Wake Forest tango class.)
Enjoy a sample of Deacs in Love stories, and know that with every graduating class there will be more tales to tell. As novelist Paulo Coelho wrote, "I love you because the entire universe conspired to help me find you." Sometimes that universe exists just outside a dorm window with a view across the Quad.
All best wishes,


Maria Henson ('82)
Associate Vice President and Editor-at-Large
magazine.wfu.edu
AND DON'T MISS THESE STORIES
January 2023

| | |
| --- | --- |
| Jan. 27, 2023 | News & Notes from Wake Forest Magazine |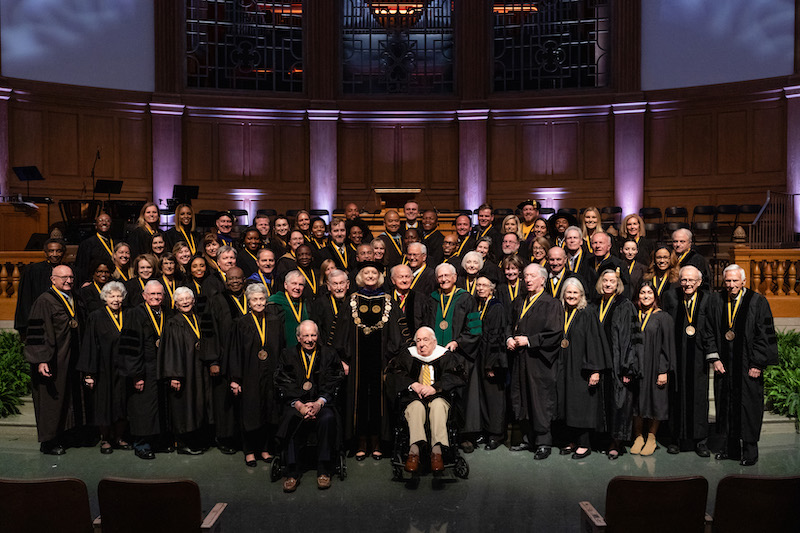 Photo: Lauren Olinger, Red Cardinal Studio
Provost Emeritus Edwin G. Wilson, center, represents the class of 1943 among alumni delegates at the inauguration of President Susan R. Wente on March 25.
FROM THE EDITOR
Happy 100th!
I'm calling for the bells of Wait Chapel to ring out mightily and joyfully on Feb. 1. Provost Emeritus Edwin G. Wilson ('43, P '91, '93) turns 100.
Many of you know him for the steady hand he employed as a visionary leader of Wake Forest for decades. Others know him from listening to the pleasing timbre of his voice as he read aloud passages from the poems of William Butler Yeats, Dylan Thomas and William Blake in his famed poetry classes. Younger alumni, alas, might not have had the privilege of meeting the man whose devotion to this campus community is woven like shimmering threads into the tapestry of Wake Forest's history. But his mark is not to be ignored. Nor are his words.
When I first returned to Wake Forest in 2010, I listened as Provost Emeritus Wilson delivered a speech titled "The Essence of Wake Forest." He recollected the days of his freshman orientation and a vital symbol in use for generations. "When I begin to think of the Wake Forest I know and love," he said, "two words come at once to my mind: friendliness and honor." He shared how for years freshmen wore badges that displayed those two words. And he went on to speculate whether a third word should be added in the mix: "friend."
There has been no better friend — a constant and true friend — to Wake Forest than Ed Wilson. I hope you will read this tribute by a former trustee who is one of Wilson's former students. And join me in wishing Provost Emeritus Wilson a happy birthday. If you'd like me to pass along your wishes, email us at magazine@wfu.edu. I will print copies of the messages and deliver them in person.
Applause for our favorite centenarian,


Maria Henson ('82)
Associate Vice President and Editor-at-Large
magazine.wfu.edu
AND DON'T MISS THESE STORIES
November 2022

| | |
| --- | --- |
| Nov. 25, 2022 | News & Notes from Wake Forest Magazine |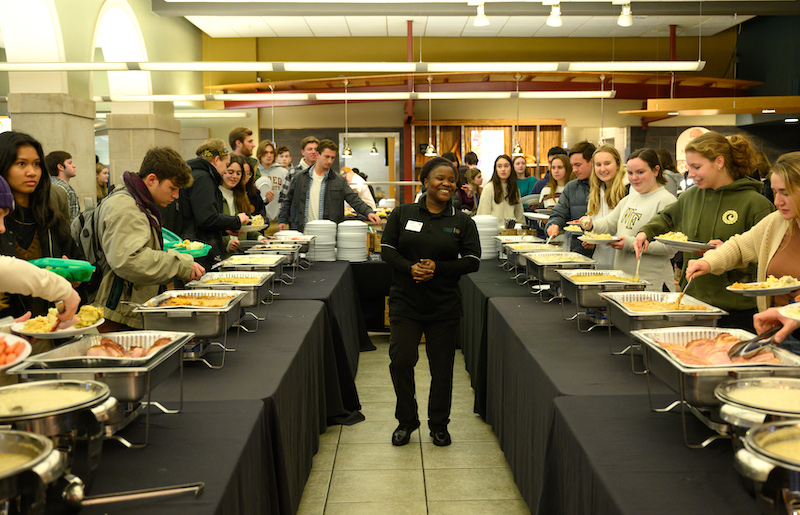 Photo: Lyndsie Schlink
Pitsgiving 2022
FROM THE EDITOR
Breaking Bread Together
As they settled into their desks, students in my 11 a.m. journalism class last Thursday announced the first report. The line to enter The Pit, they said, was already winding outside Reynolda Hall and down the stairs. Pitsgiving was on!
Some of my students had worked out their plans for having friends hold tables for them for the all-day parade to the turkey and fixings. In some cases, my teaching was the only thing standing between them and the pie. Sorry about that.
I always look forward to hearing the excitement about this Wake Forest tradition. It's the pre-game warmup of what's to come wherever and however students celebrate Thanksgiving on the official holiday. (Hope you had a great one yesterday.) Studies have shown communal meals serve as a social glue. There are mental health and productivity benefits as well. But, most of all, the communal meals are fun and give people a sense of belonging and mattering to others.
Pitsgiving is a microcosm of some of the best things about the Wake Forest community. It showcases traditions such as Turkeypalooza, rituals and a tight social bond. We matter to each other. Wearing our sweatshirts or caps, we Wake Foresters recognize our tribe anywhere in the world. Immediately, we extend a greeting. It's even better if we have a chance to break bread together, for old times, for Mother, So Dear.
With gratitude,


Maria Henson ('82)
Associate Vice President and Editor-at-Large
magazine.wfu.edu
---
Wake Forest Magazine
University Advancement
Box 7227, Winston-Salem, NC 27109
1.800.752.8568
---
October 2022

| | |
| --- | --- |
| October 28, 2022 | News & Notes from Wake Forest Magazine |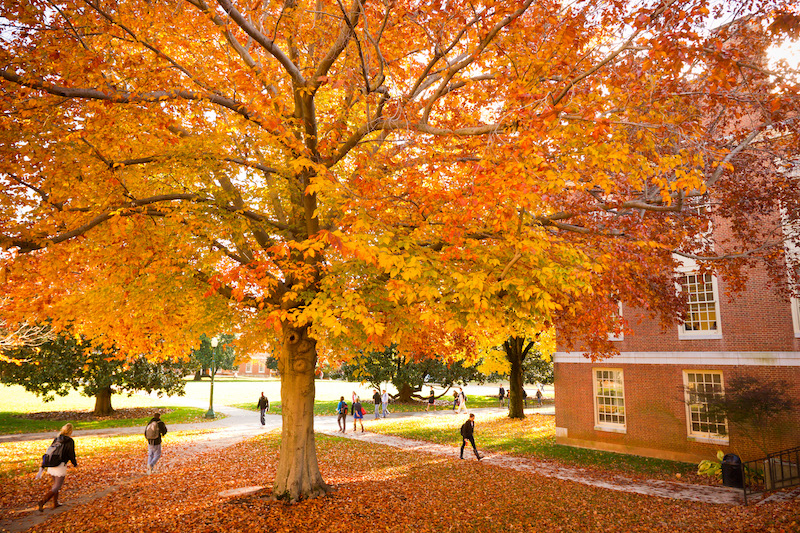 Photo: Ken Bennett
This 2010 photo is one of our favorite iconic shots of autumn on campus.
FROM THE EDITOR
Embracing fall in the Forest
The leaves of Wake Forest shiver with that shimmering red and gold that marks autumn in Winston-Salem. You will remember the blue skies, crisp air and crunch of fallen leaves as you walked to class. (More recent grads, like those in the Class of 2016, might have slightly different memories. Their October time meant rain boots and slosh-sloshing their way to Tribble Hall.)
This month has featured fall in its full glory along with the traditions that delight us. Hit the Bricks brought out the runners, the walkers and the costumes. If you missed last month's story about how that fundraiser for cancer research got its start after rumors abounded about an impending boot to fraternities, here it is. Project Pumpkin's fun on the Quad was on tap as I prepared this newsletter. Concerts and speakers filled our calendars. And proud families stopped by on Family Weekend to be awed by the more than 150 students displaying posters about their original research in collaboration with faculty members. Heads and hearts? We've got it covered.
This is one of the best times of year to be on campus, and I'm betting you remember. Come back soon. It's still a home away from home for all seasons.
Go Deacs!


Maria Henson ('82)
Associate Vice President and Editor-at-Large
magazine.wfu.edu
AND DON'T MISS THESE STORIES
---
September 2022

SHARE THE BEST OF WAKE FOREST WITH A FRIEND!





| | |
| --- | --- |
| | The Alumni Newsletter of  WAKE FOREST UNIVERSITY |

Kool & The Gang puts the "party" in "Party So Dear" on Manchester Plaza. Photos by Lyndsie Schlink.

EDITORS' PICKS

Yahoo!

Kool & The Gang knew how to write a classic with these peppy lyrics: "Yahoo! This is your celebration. Celebrate good times, come on! There's a party goin' on right here. A celebration to last throughout the years. …"

And Wake Forest proved it at Homecoming this month. Crowds returned to dance and sway to the band on Manchester Plaza. Little folk proudly wearing Wake Forest clothes came out to play at Festival on the Quad on Saturday morning, and the game was a sunny-day sellout that gave fans a win.

My class marked its, ahem, 40th reunion year, which seems impossible to fathom. That's especially true when many of us can recall that it feels like only yesterday that we were dancing to DJs playing the "fresh, exciting" Kool & The Gang on a De-Lite record at T.O.G. and Oscar's. I snapped out of it at Party So Dear when I realized that I was seeing some of my journalism students on campus to celebrate their fifth and 10th reunions, but even they seemed to get a kick out of the "old-school" tunes and the alumni who graduated decades ago still trying to boogie. Take a look at the happy scenes here.

We won't have a date until later in 2023 for next year's Homecoming, but it's worth rounding up your friends to make a pledge to come back next year. You will notice the changes — more buildings and students on campus — but no difference in the ties that bind. Coming home to celebrate friendship and college milestones is always worth a "Yahoo!" to last throughout the year.

Go Deacs!


Maria Henson ('82)
Associate Vice President and Editor-at-Large
magazine.wfu.edu

AND DON'T MISS THESE STORIES:
August 2022
SHARE THE BEST OF WAKE FOREST WITH A FRIEND!





| | |
| --- | --- |
| | The Alumni Newsletter of  WAKE FOREST UNIVERSITY |

New students "launch" their journeys by turning worksheets of their skills and career interests into paper airplanes during orientation with the Office of Personal and Career Development. Photo by Ken Bennett.

EDITORS' PICKS

Move-in Memories

They rolled up, just like old times. Parents inched toward "Freshmanland" with their car trunks overflowing with their first-year students' bins, mirrors, pillows and clothes. SOTOGAB played with extra vigor to enliven the scene. The Deacon mascot made the rounds. Student-athletes and staff members were quick to lend a hand for the trips up and down steps.

I couldn't help but smile upon seeing the renovated Bostwick and Johnson dorms. When my friends and I arrived at all-female Bostwick, our parents helped us unload, gave us a hug after inspecting our dorm rooms and said, "Good luck. Love you." We cranked up our window fans, decorated our bulletin boards and thought about the upcoming dinner with our "brother hall" at The Pollirosa: Home of Grandma's Country Kitchen. We waited in line for the hall phone to call our parents and tell them how things were going those first few days. Parents these days stick around a lot longer and exchange minute-by-minute texts with their students about what's next for orientation.

No matter the era, though, the excitement about the start of the fall semester crosses generations. You can see that in our magazine story about alumni who returned with their children for move-in day on Aug 17.

This week I thumbed through a Wake Forest Magazine from my first semester and realized these words of Provost Emeritus Ed Wilson ('43, P '91, '93) ring true today. He hoped Wake Forest in 1978 would be what it was when he first saw it: "a place where reason, imagination, and faith flourish, a place eternally and fearlessly in pursuit of truth; a place which is open, hospitable, generous, loving and free."

Here's to the start of a great year,


Maria Henson ('82)
Associate Vice President and Editor-at-Large
magazine.wfu.edu

AND DON'T MISS THESE STORIES:
---
July 2022
SHARE THE BEST OF WAKE FOREST WITH A FRIEND!





| | |
| --- | --- |
| | The Alumni Newsletter of  WAKE FOREST UNIVERSITY |

Photo by Ken Bennett

EDITORS' PICKS

Rethinking a cultural touchstone

Summer is the best time to savor a few moments to relax and catch up on reading. These days the books on my list also need to make room for podcasts, and I have one to share with you today.

Have you ever thought about the line "what doesn't kill you makes you stronger?" Kanye West sings about it, and so does Kelly Clarkson. Movies about superheroes only reinforce this American cultural touchstone. But NPR's "Hidden Brain" podcast a few weeks ago made me stop and question the "superhero trope" that suggests if something bad happens to you, something good is going to come out of it and you'll be better than ever.

The podcast featured Eranda Jayawickreme, the Harold W. Tribble Professor of Psychology and the senior research fellow at the University's Program for Leadership and Character. His insights challenge how post-traumatic growth has been measured and how the research has caused us "to jump ahead" to conclude that trauma is an automatic catalyst for positive personality changes. Jayawickreme argues for a nuanced view of how someone emerges from adversity. There might be an increase in compassion or creativity, while simultaneously there might be mental health challenges. He's already won multiple awards for his research, and my bet is there will be more to come as he works on developing interventions to help people manage and recover from different types of adversity.

Here's to our professors and their groundbreaking research.

Sincerely,


Maria Henson ('82)
Associate Vice President and Editor-at-Large
magazine.wfu.edu

AND DON'T MISS THESE STORIES:
---
May 2022
SHARE THE BEST OF WAKE FOREST WITH A FRIEND!





| | |
| --- | --- |
| | The Alumni Newsletter of  WAKE FOREST UNIVERSITY |

Photo by Ken Bennett

EDITORS' PICKS

An end is the beginning

Here's to pomp and circumstance! The big news in May was that Wake Forest conducted its array of Commencement events right on time and with all the ceremonial, in-person joy we should never take for granted. Blue skies. Sunshine. Chairs aligned with precision. The Quad abuzz.

When I looked out over Hearn Plaza on Monday, May 16, and at the photos afterward, I saw the graduates in goofy sunglasses, some wearing bedazzled mortar boards, some wearing chucks, one wearing a kilt. All were beaming. I saw parents sporting Panama hats, at least two waving huge "faces on sticks" and all looking proud.

It's the first Commencement I remember that can boast this singular tweet: "Louisa and Summertime Graduate College!" Louisa is wearing her cap and tassel as she poses near a barn with a horse. Summertime, I presume? Congrats!

Take a few minutes to peruse photos from Commencement 2022. You are bound to appreciate those whose journeys are just beginning.Go Deacs!


Maria Henson ('82)
Associate Vice President and Editor-at-Large
magazine.wfu.edu

AND DON'T MISS THESE STORIES:
---
April 2022
SHARE THE BEST OF WAKE FOREST WITH A FRIEND!





| | |
| --- | --- |
| | The Alumni Newsletter of  WAKE FOREST UNIVERSITY |

Award winners to be honored tonight are Eric Olson, Donna Boswell and Rodney Rogers.

EDITORS' PICKS

A celebration delayed but not forgotten

Amid the pandemic's myriad effects since 2020, certain Wake Forest traditions were canceled or delayed in the interest of public health. One of those beloved events was the in-person dinner to honor three of Wake Forest's finest graduates.

Tonight, if all goes as planned, we will gather, finally, to celebrate the Distinguished Alumni Award winners named in 2020. We will pay tribute to Donna Boswell ('72, MA '74), the first female chair of the University Board of Trustees and a constant and true presence for the betterment of Wake Forest; Eric Olson ('77, PhD '81, D.Sc. '03), a groundbreaking scientist who leads the Hamon Center for Regenerative Science and Medicine in Dallas; and Rodney Rogers ('94), one of the most gifted athletes to ever play at Wake Forest and someone who has exemplified Pro Humanitate in his endeavors despite an accident that left him paralyzed from the shoulders down. Read about them here.

I don't know about you, but for me the gatherings after the isolation of the pandemic have been more vibrant, more meaningful and more cherished. It seems there is a stampede to the dance floor at weddings. Hugs last longer. Enthusiasm abounds at concerts, and on campus I can't help but notice how students are fervently back to ticking off items on their senior bucket lists.

I am expecting tonight's celebration to reflect the appreciation not only of our honored graduates but also of our good fortune to be together again. Wake Foresters understand the value of community. Wherever you live, I will lift a glass of the finest to you in that spirit.

Here's to our Distinguished Alumni Award winners –


Maria Henson ('82)
Associate Vice President and Editor-at-Large
magazine.wfu.edu

AND DON'T MISS THESE STORIES:
---
March 2022
---
February 2022
---
January 2022 
---
November 2021 @WAKE Newsletter
---
October 2021 @WAKE Newsletter
---
September 2021 @WAKE Newsletter

August 2021 @WAKE Newsletter