After eating in every single bistro, café, deli, grill, tavern and dive in New Orleans, Ray Cannata ('90) knows a thing or two about food — and about the people, culture and music of the Crescent City. The upcoming movie, "The Man Who Ate New Orleans," tells the story of the most unlikely Presbyterian minister you'll ever meet and his unusual journey to discover his new home and help it rebuild following Hurricane Katrina. Read more about Ray's incredible journey in the fall issue of Wake Forest Magazine.
"To understand New Orleans, you have to understand the food," he says. "When I moved here, I almost immediately fell in love with the city. To understand the culture and the subcultures, I needed to start at the table. You hit every table in New Orleans, and you'll hit every story in New Orleans."
Cannata shares a few (okay, actually more than a few, and be warned, the list is always changing) of his favorite joints for po boys, muffuletta, gumbo, turtle soup and the "cheapest good eats" in New Orleans. Cannata's quest ends on Oct. 21 with "The Last Supper" at the New Orleans Hilton, hosted by chef John Besh.
FINE DINING
Brigtsen's, Carrollton, Contemporary Creole fine dining
Bayona, French Quarter, Susan Spicer's Eclectic fine dining
Cochon, Warehouse District, Cajun, Southern
Clancy's, Uptown, Classic Creole fine dining
Louisiana Bistro, French Quarter, contemporary Creole
Stella!, French Quarter, eclectic
Meauxbar, French Quarter, eclectic high-end
Commander's Palace, Garden District, contemporary Creole
M Bistro, CBD
PO BOYS
Domilese's. Uptown, oyster po boy
Guy's Po Boys. Uptown, pork chop po boy
Mahonney's, Uptown, pork chop po bly
Ignatius Eatery. Uptown, roast beef po boy
Traceys, Graden District/Irish Channel
Bode's Catfish, Mid-City, catfish po boy
Zimmers, Gentilly, shrimp po boy
Liuzza's By The Track, Bayou St. John, BBQ shrimp po boy
Domilese's, Uptown, meatball po boy
MISCELANEOUS PO BOYS
Peacemaker @ Mahonny's, Uptown, bacon, oysters, cheddar
Cochon du Lait @ Mahonny's, Uptown
El Dorado @ Parkway Bakery, Bayou St. John
Surf & Turf @ Parkway Bakery, Bayou St. John
PO BOYS, Overall
Parkway Bakery, Bayou St. John
Mahonny's, Uptown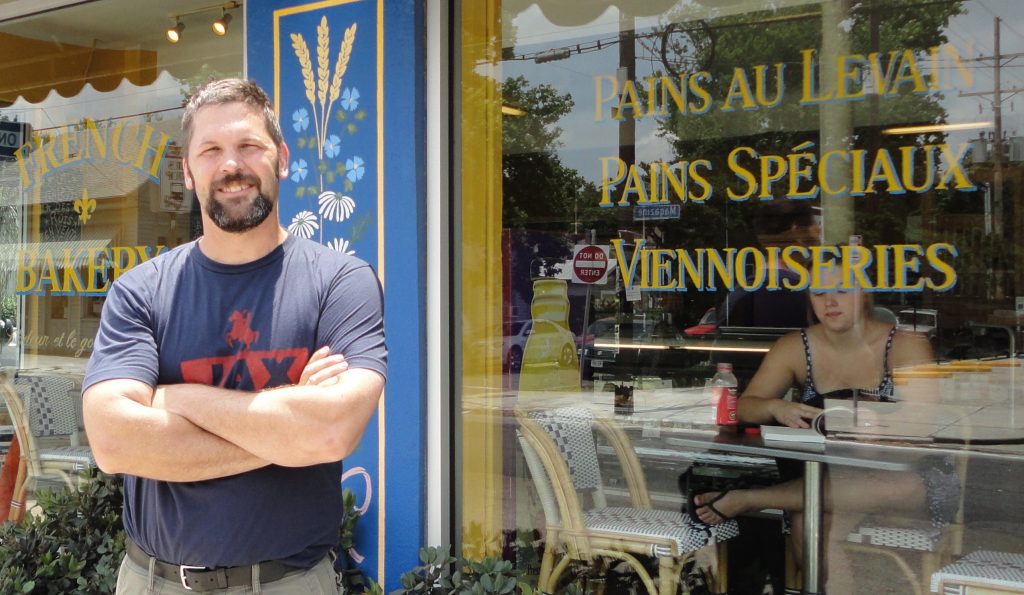 NEW YORK DELI
Welty's, CBD
GOURMET SANDWICHES (not po boys)
Tartine, Uptown
St. James Cheese Company, Uptown, casual gourmet sandwiches, cheese
Il Posto, Uptown, casual but fine Italian sandwiches, salads
Satsuma, Marigny/Bywater
Milk Bar, Uptown, sandwiches, shakes joint
J'anita's @ the Rendon Inn, Broadmoor, get St. Chuck's Duck
STEAK SANDWICH
Tartine, Uptown
Jimani, French Quarter
MUFFALETTA
Central Grocery, French Quarter, Italian deli that invented Muffaletta
Johnny's Po Boy, French Quarter
BURGERS
Company Burger, Uptown
Cowbell, Carrollton
BeachCorner, Mid-City
CUBAN SANDWICH
Tout de Suite, Algiers
Liborios, CBD
Green Goddess, French Quarter, eclectic
BOCADILLO (Spanish sandwich)
Cafe Granada, Carrollton, ribeye
MEXICAN (creative)
Juan's Flying Burrito, Lower Garden District
MEXICAN (traditional authentic)
Latino's Restaurant, New Orleans East
MEXICAN (family restaurant)
Velvet Cactus, Lakeview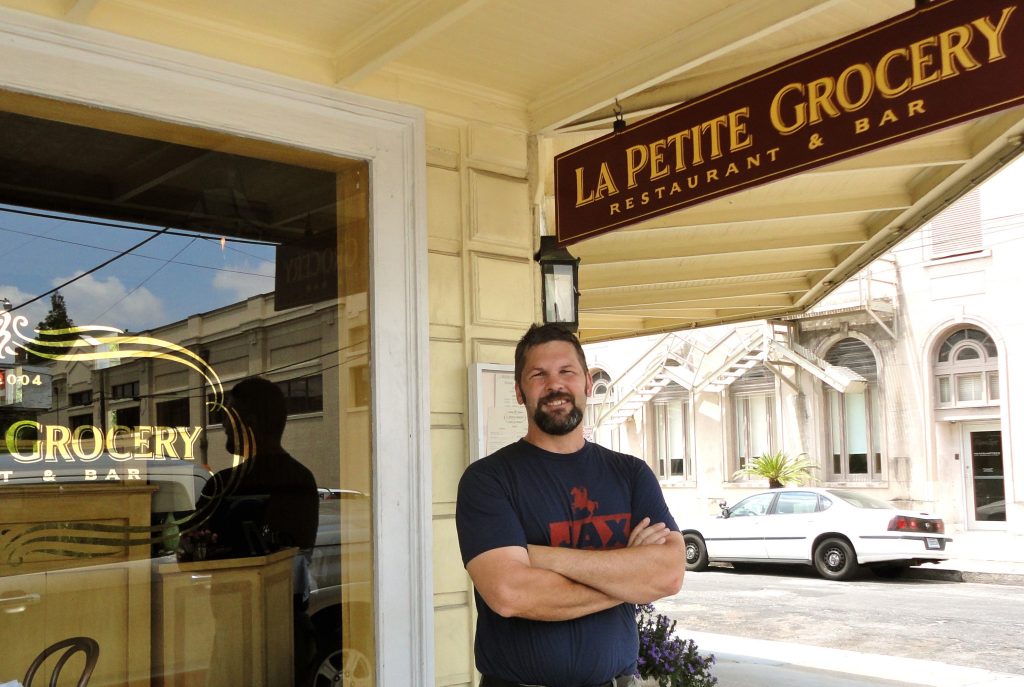 HONDURAN
Canal Latino, Mid-City
JAMAICAN
Boswell's, Mid-City
Coco Hut, Gentilly / 7th Ward
CARIBBEAN
Carmo, Warehouse
TAPAS
Mimi's in the Marigny, Marigny, Best Tapas bar
Rio Mar, Warehouse District, Spanish seafood and tapas
Baru, Uptown
VEGETARIAN DISHES
Green Goddess, French Quarter, eclectic
Nirvana, Uptown, Best Northern Indian, casual
AFRICAN
Cafe Abyssina, Uptown
CHINESE
Five Happiness, Mid-City
Jung's Golden Dragon, Garden District
THAI
Sukho Thai, Marigny
Basil Leaf, Carrollton
SUSHI
Kyoto, Uptown, Best sushi in NOLA
Sushi Brothers, Lower Garden District/Central City
Horinoya, CBD
KOREAN SHORT RIBS
Bouligny Tavern, Uptown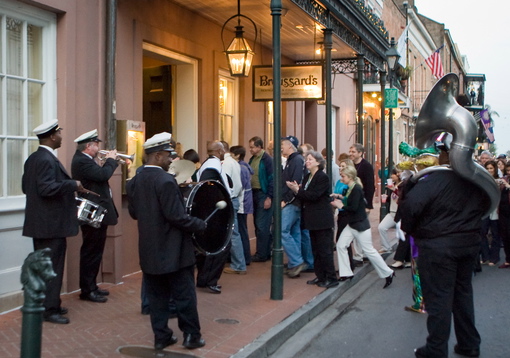 VIETNAMESE
Pho Bang, New Orleans East
Café Minh, Mid-City
INDIAN
Schiro, Marigny
Nirvana, Uptown, Best Northern Indian, casual
Sara's, Carrollton, more fusion than Indian
SOUTHERN ITALIAN
Cafe Nino, Carrollton, casual
Adolphos, Marigny, semi-casual, sit down
NORTHERN AND NEW WORLD ITALIAN
Cafe Giovanni, French Quarter, New World Italian fine dining
PROVINCIAL ITALIAN
Italian Barrel, French Quarter
A Mano, Warehouse District
CREOLE ITALIAN
Tommy's, Warehouse District, Fine dining Creole Italian
Tony Angellos, Lakeview
PIZZA, New York-style
Pizza Delicious, Marigny & Bywater, commando pizza joint
Pizzicare, Mid-City
Desperados, Marigny
Nino Cafe, Carrollton
Slice, Uptown
PIZZA, Naples-style
Ancora, Uptown (Freret)
Domenico, CBD
PIZZA, deep dish
Midway, Uptown (Freret)
BUFFET
Court of Two Sisters, French Quarter, classic Creole
Mat & Naddies, Carrollton, contemporary Creole, eclectic, healthy
Le Pavillion, CBD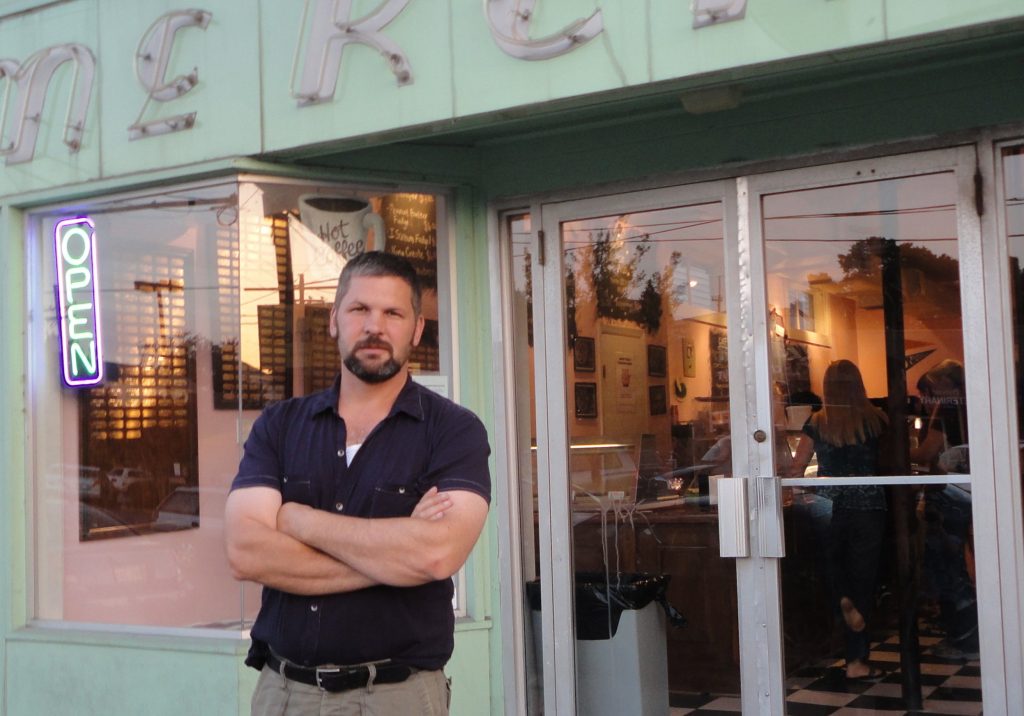 GERMAN
Jagerhaus, French Quarter
POTATOES AU GRATIN
Charlies, Uptown
MIDDLE EASTERN
Lebanon's Cafe, Carrollton
Babylon Cafe, Carrollton
SALAD — SALMON
Salads Galore & More, NOLA East
SALADS — GENERAL
Meauxbar, French Quarter, eclectic high-end
Cafe Rani, Garden District
Green Goddess, French Quarter, eclectic
CHEAPEST GOOD EATS
L'il Dizzie's, CBD, $10 huge lunch
Johnny's Po Boys, French Quarter, $8 giant muffaletta feeds three
St. Charles Tavern, Lower Garden District, $8 lunch buffet
McHardy's Chicken, Gentilly, $7 for three-piece chicken, fries, potato salad, drink
McKenzie's Chicken in a Box, Gentilly, $5 for five-pieces, best chicken in city
Zimmers, Gentilly, $4 for half of a great shrimp po boy, $2 huge hot fries
CHEAPEST GOURMET EATS
Boucherie, Carrollton, fantastic high-end food for half the price
BARGAIN FINE DINING WEEKDAY LUNCH
Dickie Brennans, French Quarter, $20 lunch
Bayona, French Quarter, $20 lunch
August, Warehouse, $20 three-course lunch
FRIES
Delachaise, Uptown, pomme frites
Bull Dog, Garden District, waffle
FRIES, Yucca
Rita's Tequila House, French Quarter
SPORTS BARS
Finn McCool's, Mid-City
Cooter Browns, Carrollton
SPANISH
Lola's, Bayou St John / Esplanade Ridge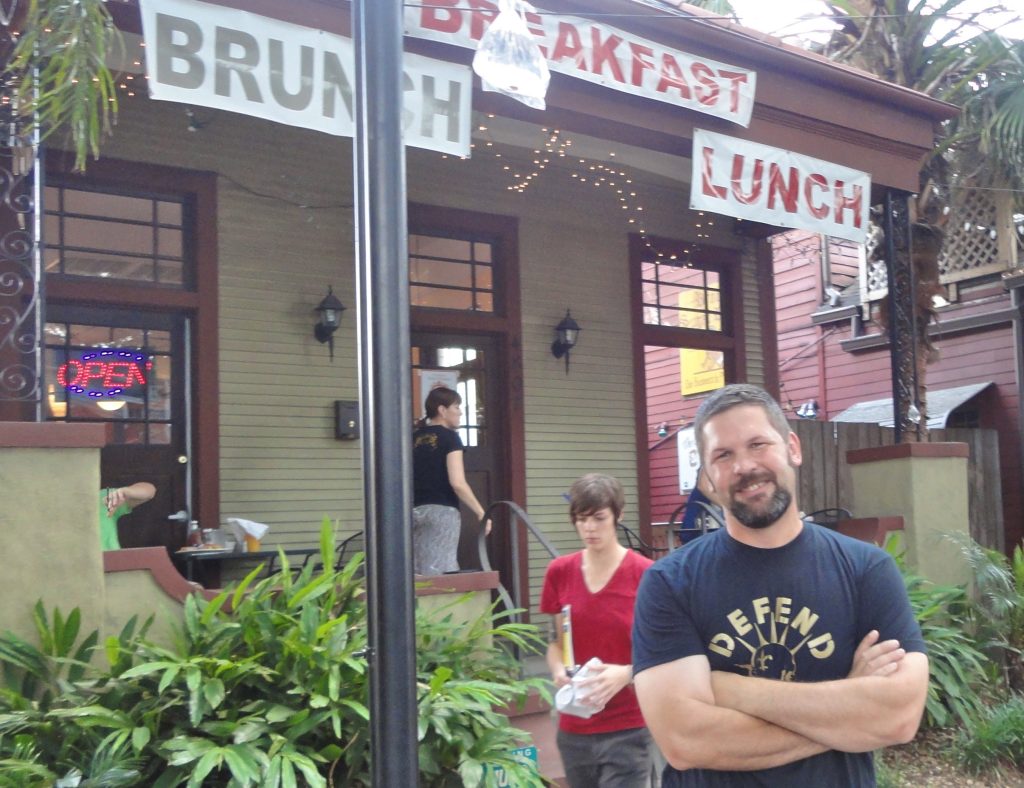 BAGELS
Surreys, Uptown
Cake Cafe, Marigny
Tartine, Uptown
Laurel St. Bakery, Uptown
Artz Bagels, Garden District
GROCERY
Verti Marte, French Quarter
GOURMET EGG BREAKFAST
7 on Fulton, Warehouse District
Begue, French Quarter
Patois, Uptown, French bistro
Tartine, Uptown
BRUNCH
Cafe Amelia, French Quarter, Creole. great courtyard
BREAKFAST (CASUAL)
Tartine, Uptown
Slim Goodies, Garden District, casual neighborhood breakfast diner
Surreys, Lower Garden District
Cake Cafe, Marigny
Oak St. Cafe, Carrollton
CROISSANTS
Merchant, CBD
O Delice, Uptown
OMLETS
Slim Goodies, Garden District
Care Nero, Marigny
PAIN PERDU (French toast)
Surreys, Uptown
SUNDAYS AFTER CHURCH
Dante's Kitchen, Carrollton, Contemporary Creole
Cafe Atchafalaya, Garden District / Irish Channel, neighborhood cafe
Patois, Uptown, French bistro
BBQ
The Joint, Marigny
Fat Hen, Uptown
Ugly Dog Saloon, CBD
BLT
M Bistro, CBD
COUNTRY FRIED STEAK
La Peniche, Marigny, diner
Joey K's, Garden District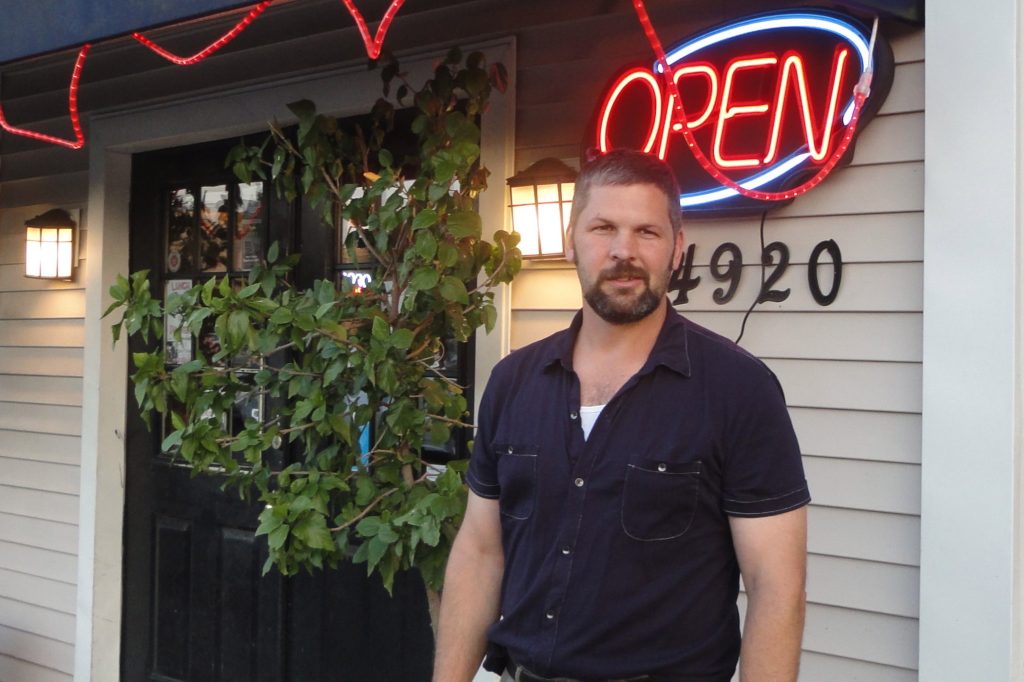 DIVE SOULFOOD
L'il Dizzies, Gentilly
Soul Purpose, Gentilly, takeout
BLACK EYED PEAS
Country Club, Marigny/Bywater
COLLARD GREENS
Fat Hen, Uptown
MAC AND CHEESE
Cowbell, Carrollton
Crescent Pie &amp Sausage Co., Midcity
St. James Cheese, Uptown
GREEN BEANS W/ BACON
Joey K's, Garden District
FRIED CHICKEN
McKenzie's Chicken-in-a-Box, Gentilly, best chicken dive
Willie Mae's Scotch House, Midcity
BUFFALO WINGS
Wing Snack, Mid-City, calls them "hot wings"
Praline Connection, Marigny
GUMBO
Mr. B's, French Quarter
Dooky Chase, Treme
Gumbo Shop, French Quarter
Praline Connection, Marigny, seafood
La Cote Braisserie, Warehouse, duck and andouille
Casamentos, Uptown, casual seafood
TURTLE SOUP
Dickie Brennan's Steakhouse, French Quarter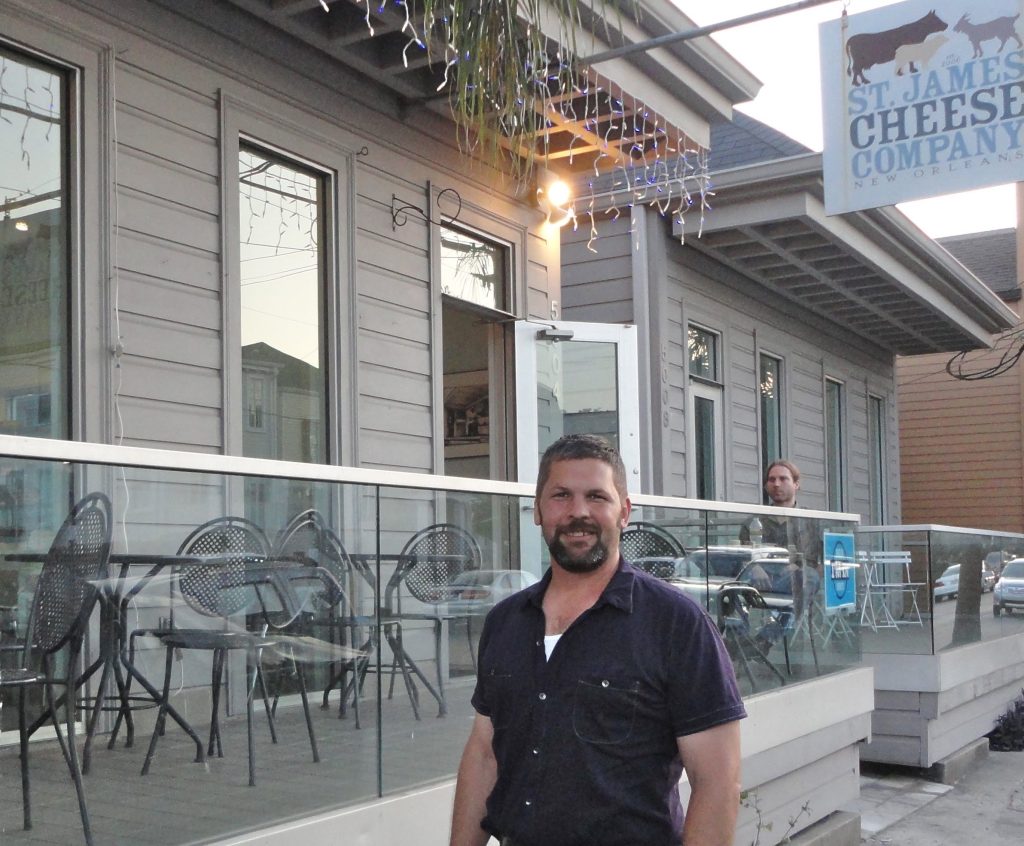 NOLA LOCAL DISHES, Casual
Ignatius, Uptown, casual neighborhood cafe
Praline Connection, Marigny
RED BEANS & RICE
Praline Connection, Marigny
Canal Latino, Mid-City
SEAFOOD
Bourbon House, French Quarter, oysters
Casamento, Uptown, oysters
RioMar, Warehouse, Spanish seafood and tapas
Alpine, French Quarter, crab cakes
Deanie's Seafood, French Quarter, stuffed crab and boiled crawfish
Praline Connection, Marigny, stuffed crab
Dick & Jenny's, Uptown, soft-shell crabs
Clancy's, Uptown, classic Creole fine dining, soft-shell crabs
Commander's Palace, Garden District, soft-shell crabs
Franky & Johnny's, Uptown, boiled crawfish
Casamento, Uptown, fried shrimp
STEAKS
La Boca, Warehouse District
Dickie Brennan's, French Quarter
Rib Room, French Quarter
Mr. John's, Lower Garden/Central City
DONUTS
Blue Dot Donuts, Mid-City
Buttermilk Drop Bakery and Cafe, Gentilly/7th Ward
Huevos, Mid-City
KING CAKES
Marguerites at PJs, Uptown
Croissant d'Or, French Quarter, French king cakes, totally different
Cake Cafe, Marigny / Bywater, goat cheese and strawberry
BREAD PUDDING
House of Blues, French Quarter
Commander's Palace, Garden District, contemporary Creole
BAKED GOODS
Croissant d'Or, French Quarter
Cake Cafe, Marigny/Bywater, cupcakes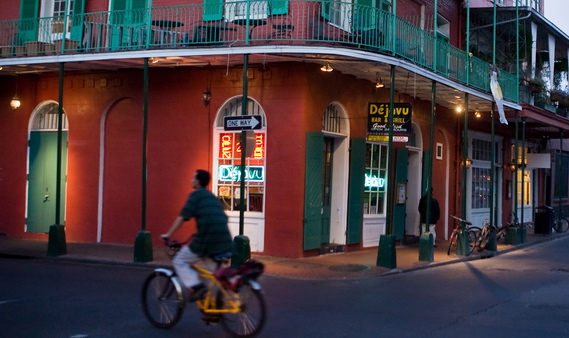 BISCUITS
Oak St. Cafe, Carrollton
DESSERTS
Sucre, Garden District
Angelo Brocatos, Mid-City
A Mano, Warehouse
Commander's Palace, Garden District
GELATO
La Divina Gelateria, Garden District / Irish Channel
Sucre, Garden District
BAR WITH GREAT FOOD
Cure, Uptown, best hip bar food
Bouligny Tavern, Uptown, wine bar
Oak, Carrollton
WINE LIST
Commander's Palace, Garden District, contemporary Creole
Brigtsen's, Carrollton, contemporary Creole fine dining
Clancy, Uptown, classic Creole fine dining
WINE PAIRING MENU
Le Meritage, French Quarter
BEER, Restaurants; not counting bars
Cooter Browns, Carrollton
Bulldog, Garden District
Delachaise, Uptown
Jaggerhaus, French Quarter
Steins, Lower Garden District
CAFÉ BRULOT
Arnaud's, French Quarter, Old School Creole elegance
FUNKIEST NOLA DECOR
Feelings, Marigny/Bywater, classic creole
Satsuma, Marigny/Bywater, café
Cowbell, Carrollton
COURTYARD
Martinique, Uptown
Cafe Amelie, French Quarter, Creole. great courtyard
Le Meritage, French Quarter, French, wine pairing menu
SERVICE
Commander's Palace, Garden District, contemporary Creole
Stella!, French Quarter, eclectic
Arnaud's, French Quarter, Old School Creole elegance