William C. "Bill" Friday has never forgotten his black and gold roots. From humble beginnings that led him to Wake Forest, Friday embarked on a remarkable lifetime of public service to North Carolina and the nation.
Although he's best known for his 30 years as president of the University of North Carolina system and as the current host of UNC-TV's "North Carolina People," he got his start at Wake Forest, an experience he still recalls with gratitude. A $50 scholarship to Wake Forest gave him the opportunity to go to college.
Friday reminisced about his time at Wake Forest in a speech this fall at the annual meeting of the Wake Forest College Birthplace Society, held at the Wake Forest Historical Museum in the town of Wake Forest.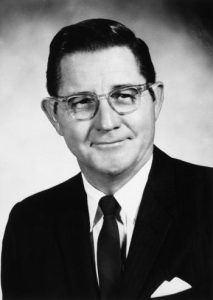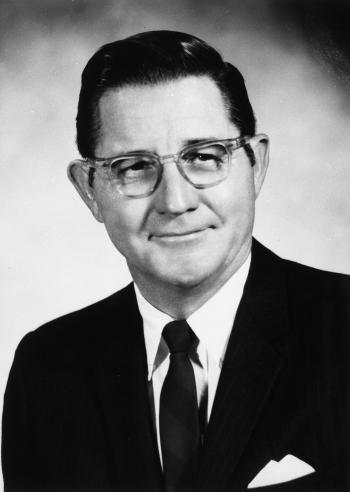 Friday grew up in the small Gaston County, North Carolina, town of Dallas during the Great Depression. He never expected to go to college until his family's Baptist minister, Hubert Huggins ('33) suggested he talk to Dean D.B. Bryan at Wake Forest.
Now 91, Friday vividly recalls meeting Bryan in Wait Hall on the Old Campus in 1937 and Bryan's question to him: " 'Son, do you want to go to college?' I said 'more than anything else, Dr. Bryan.' " Bryan then gave him a $50 scholarship, half of tuition at the time.
"That's how Bill Friday ever got any education beyond high school. He and this institution that day began to change my life forever," Friday said. "So I'm here to say thank you. What I experienced, I'm sure hundreds of others did in those very dark and hard days that were so trying for everybody."
Friday stayed at Wake Forest for only a year before transferring to N.C. State to study textiles to prepare to follow his father in the textile industry. Instead, he went on to receive his law degree from UNC and was named president of UNC when he was only 36 years old.
He is widely regarded as one of the most influential university presidents of the 20th century. During his long tenure at UNC, he transformed UNC into one of the top universities in the country and led the expansion of the UNC system from three to 16 campuses. He also played major roles in forming the Atlantic Coast Conference, the Research Triangle Park and North Carolina Public Television.
By the time he retired in 1986, he was not only the longest serving university president in the 20th century, he was also one of the most admired. In 1986, the Council of Advancement and Support of Education rated him the most effective public university president in the nation. He received the American Council on Education's Distinguished Service Award for Lifetime Achievement in 1986 and the National Humanities Medal in 1997.
(Raleigh) News and Observer columnist Jim Jenkins, who introduced Friday at the Wake Forest Historical Museum, said, with a smile, just imagine what Friday could have accomplished had he remained at Wake Forest for four years.
Friday set off on what he called a "journey of sentiment" as he described his experiences and the people he knew during his time on the Old Campus. He recalled the influence of President Thurman Kitchin (1905) and professors such as Hubert Poteat (1906), Jasper Memory ('21), Phil Utley, Skinny Pearson, Lee Russell, Hendren Gorrell, Louis Aycock ('26) and Benjamin Sledd.
"These experiences, 70 years later, are still as bright in my mind as yesterday morning. This was a place at that time that had fewer than 1,000 students, and we knew most everybody, and you had a group of professors who really wanted to be what that word was meant to be, a real teacher."
Before his speech, Friday visited the house near the Old Campus where he rented a downstairs room from Mrs. William Royall when he was a student. The house, now known as the Royall-Luddy House, is on Faculty Avenue directly across the street from the Wake Forest museum and the historic Calvin Jones House.
He remembered his roommate, Bill Ellington ('42), and two other students who also lived in the house, Joe ('39) and Bill Helsabeck. Wake Forest instilled in all of them a passion to be successful and contribute to society, he said. "That was the lesson my generation carried out of here."
Friday's three younger brothers – Rutherford ('44), David ('48) and John ('48) – followed him to Wake Forest. "The Friday family is a Wake Forest family," Bill Friday said. "Whenever I would go home at Christmas, Rudd, Dave and John would line up at the front door, and I had to sing the first verse of the Wake Forest alma mater or I didn't get in the house."
Friday reminisced more about the Old Campus when he interviewed Provost Emeritus Edwin G. Wilson ('43) on "North Carolina People" in early December. Friday has interviewed more than 1,500 North Carolinians since he began hosting the show in 1981.
Friday's contributions to society extend far beyond North Carolina. In the 1960s, he helped establish the White House Fellows Program. In the 1980s, he was a founding co-chairman (with Notre Dame President Emeritus Theodore M. Hesburgh) of the Knight Commission on Intercollegiate Athletes; he chaired the commission from 1989 until 2005, when he was succeeded by Wake Forest President Emeritus Thomas K. Hearn Jr.