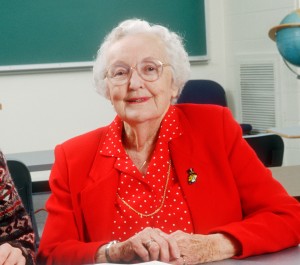 If one word could describe Beulah L. Raynor (MA '47), it would be "demanding." During her 33 years on the faculty teaching freshman composition, she was known for holding students to exacting standards in their writing. But sometimes lost in the legendary stories of Raynor's toughness are the stories of care and concern for her students.
Raynor, an assistant professor emerita of English who taught from 1946 until 1979 — the longest tenure of any female faculty member — died on Jan. 8 in Winston-Salem. She was 101. A memorial service will be held Wednesday at 2 p.m. in Davis Chapel. Read her obituary and sign her guest book.
"I don't know how many students she taught to write — and to write well — but they were many," said Provost Emeritus Edwin G. Wilson ('43). "And they thanked her and loved her because, despite her unwavering insistence on standards, she was helpful and kind, never giving up on even the poorest student. Many students looked to her as a mother and friend and became close to her."
Raynor was one of the first female faculty members on the Old Campus. She and her husband, the late Professor of Mathematics K.T. Raynor, settled into a house on Faculty Drive after the move to the new campus and frequently welcomed students, and later alumni, into their home.
Wallace Conner ('57) was one of the students who emerged from Raynor's Baptism-by-fire freshman comp class with a lifelong friend and mentor. He kept up with Raynor and her husband for the next 60 years and attended her 100th birthday party last year.
"She was a wonderful lady," Conner said. "She and K.T. both gave their students so much more than they got just by being in their classroom. She took us all under her wing and always had plenty of time for students. She wanted you to do better than you thought you could."
In addition to freshman composition, Raynor also taught advanced composition, and American literature focusing on the works of Poe, Melville, Twain and Stephen Crane. She taught a popular course on Ernest Hemingway during the January term in 1972.
Her reputation as a tough teacher and equally tough grader was legendary. When Conner told his roommates that a nice, sweet lady named Beulah Raynor had signed him up for her freshman composition class, they were aghast. "Don't you know that only half her students pass?" they asked him.
Despite the fact that he didn't do well in her class, Conner said he was inspired by her. There was no doubt she was demanding, he said, "but I never run into anyone who had her who didn't think a lot of her."
Raynor expected a lot of her students because she expected a lot of herself, said her longtime friend Louise Gossett, a retired English professor at Salem College and the wife of the late Wake Forest professor Tom Gossett.
"She grew up in a home and an environment in which people worked hard and she expected that of other people," Gossett said. "She had an everlasting interest in her students, not just while they were in her class, but thereafter."
The Raynors never had children; their students became their children, Wilson said. After she retired, Raynor traveled with the Gossetts in England and Scotland, and she once spent six weeks driving 12,000 miles across the United States and Canada with a cousin. Gossett remembers her homemade peanut brittle that she shared with her Faculty Drive neighbors at Christmas.
A native of Rich Square, N.C., Beulah Lassiter graduated from East Carolina Teachers College (now East Carolina University). She taught high school English and French for 14 years in Bladen, Bertie and Northampton counties in North Carolina before going to Wake Forest in 1945 to work with Dean of Women Lois Johnson and to teach part-time.
She married Kenneth Tyson (K.T.) Raynor in 1947. After his death in 1977, a scholarship for students majoring in mathematics was established in his name. In 1997, Conner led a fundraising effort to increase the endowment of the scholarship and expand it to honor Beulah Raynor as well.
In lieu of flowers, memorials may be made to the Beulah Lassiter Raynor and Kenneth Tyson Raynor Scholarship Fund at Wake Forest or the Beulah Lassiter Raynor Scholarship Fund at East Carolina University.