We at Wake Forest Magazine know students encounter professors on Reynolda Campus daily who have a sense of fun and strike us as quick to embrace a creative challenge. We wondered: Would some of those scholars be willing to participate in a flash fiction exercise by writing a very, very short story? The answer? Game on!
"Once the obscure little sister of the conventional 2,000-word story, flash fiction has shrugged off that obscurity to accept its new position: the intellectually challenging blurb," notes Writing-World.com. Legend has it that Ernest Hemingway penned the most famous flash fiction story, a six-word masterpiece of the genre — "For sale: Baby shoes, never worn."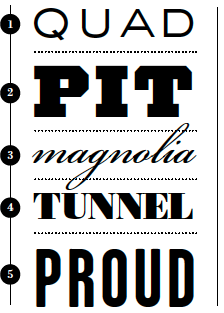 In other words, we could have made it more difficult, but our request was for a story of precisely 25 words. Writers needed to use at least one of these five words: Quad, Pit, magnolia, tunnel and proud. Here are the results (and, yes, a few faculty members played by their own rules.)
---
LOST GHOSTS
"The Quad," he said.
"Near the Pit?" she asked.
"Under the magnolia."
"Our tunnel?"
He nodded, proud. To earth and bones they returned.
— John McNally, associate professor of English, is author of six books, most recently "The Creative Writer's Survival Guide: Advice from an Unrepentant Novelist."
---
DUDE'S DEN
Hello,
Hi, … Pit's crowded.
Sitting near Quad magnolias.
Yes … security arrested them …
In the library tunnel
2am!
Cocaine?
Man … that dude is destroying her.
Bye.
— Dilip Kondepudi is Thurman D. Kitchin Professor of chemistry, whose recent work focuses on thermodynamics of complex systems. He enjoys teaching interdisciplinary honors courses with professors in the English department.
---
She already knew, in the pit of her stomach, how the story went. These things never lasted long. Still, his hand was nice to hold.
— Erica Still, an assistant professor in the English department, is at work on a book-length manuscript, "Prophetic Remembrance: Black Subjectivity in African American and Black South African Narratives of Trauma."
---
PRIDE BEFORE THE FALL
The quad filled. Security swept the tunnel and the Pit. The President spoke. Pity they missed the stranger in the Magnolia Room. Too proud, maybe?
LIFE CLASS
Briefly, they were lovers. Then for her, the Quad and chapel. For him, the Pit and tunnel. Lovers no longer. One nation, under God – divided.
— Both by David Coates, who holds the Worrell Chair in Anglo-American Studies in the political science department. His latest book is "Making the Progressive Case: Towards a Stronger U.S. Economy" (New York: Continuum Books, 2011) and updated at www.davidcoates.net.
---
UNTITLED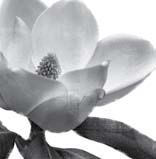 "Our love was born in the Pit, after an autumn night prowling tunnel."
"Our love was born in spring under Quad magnolia." Proud, they parted.
— Thomas O. Phillips ('74, MA '78), whose doctorate is in Victorian fiction, is director of Wake Forest Scholars and interim director of the Program in Interdisciplinary Humanities.

---
THE END OF THE AFFAIR
(with a nod to Graham Greene)
"You suffer from tunnel vision," she cried, a pang in her stomach's pit. He handed her a magnolia. "You're too proud," she said, quietly, alone.
— Scott W. Klein, an associate professor and chairman of the English department, is the co-editor, with Mark Antliff of Duke University, of the forthcoming book "Vorticism: New Perspectives" (Oxford University Press).
---
UNTITLED
"Lunch was supposed to be in Magnolia Room. A mini-debate with my students about humanitarian intervention began at the Quad. We forgot about lunch, and a colleague's intervention saved me from missing my next class."
— Simeon Ilesanmi (JD '05), Washington M. Wingate Professor of Religion, is the author of "Religious Pluralism and the Nigerian State" (Ohio University Press, 1997).
---
LOVE/HATE RELATIONSHIP
On Magnolia Quad we met. My love he is. Not a proud hatred pit, but a tunnel of love. Never shall I shun him. Eternally.
On Magnolia Quad we met. My love he is not. A proud hatred pit. But a tunnel of love? Never. Shall I shun him? Eternally.
— Eric Carlson, who preferred to submit two stories sharing a single title, is an associate professor in the physics department. His interests include numerical general relativity, particle physics and particle astrophysics.
---
Ladylike from head to toe, the proud woman died with her hair fixed … nails done … sporting high heels. It is less clear what she actually accomplished.
— Mary M. Dalton ('83) is co-director of the Documentary Film Program and associate professor of communication and Women's and Gender Studies. Her latest book is "The Hollywood Curriculum: Teachers in the Movies."
---
MOTHER
The room held the deep sweet smell her mother once held under her nose saying, "Breathe, Angel." A magnolia blossom browned by the empty bed.
— Sharon Andrews, an associate professor of theatre, teaches directing, acting and playwriting. Her latest work is "Emilie: La Marquise Du Chatelet Defends Her Life Tonight," directed for University Theatre.
---
IN ITS WAKE
On quad bikes they raced to the smoldering pit. Whatever had fallen to Earth was gone, vanished. Only a faint fragrance of burnt magnolia lingered.
— Maria Henson ('82), who couldn't help but join the fun, oversees Wake Forest Magazine and teaches journalism. She won the Pulitzer Prize for editorial writing in 1992 and edited the 2005 Pulitzer Prize-winning series about Yosemite National Park.
---