Former pastor-turned-educator David Morgan ('80) is committed to offering high-school dropouts a second chance at an education. Now the private school that he founded is getting its own second chance to reach even more at-risk youth.
Morgan opened the Winston-Salem Street School eight years ago to give teenagers who have dropped out of local high schools the chance to earn their high-school diploma. This summer, the school is moving into new quarters in downtown Winston-Salem that will enable it to eventually enroll twice as many students.
"It's a giant leap forward," says Morgan of his school's new location in the former Employment Security Commission building on Sixth Street in downtown Winston-Salem. For the first time, the school will have a permanent home and space – classrooms, offices and a large assembly room – designed specifically for a school.
First Baptist Church on Fifth Street in Winston-Salem purchased the ESC building and later deeded the property to the Winston-Salem Center for Education and the Arts, a non-profit organization that provides a facility and nurturing for other non-profits offering intellectual and spiritual growth through education and the arts. The Winston-Salem Street School will be the first tenant of this new facility. The Winston-Salem Center for Education and the Arts is raising funds to complete the Street School renovation and have it ready before the beginning of the new school year.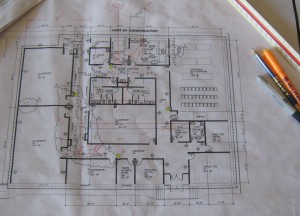 For the last several years, the school has operated out of Rosemont Baptist Church in Winston-Salem. While he's been grateful for that space, Morgan says the new location offers about five times as much space and a better location in downtown, closer to the student population that it serves. More importantly, it provides a permanent location and more legitimacy and clout for the school, he says.
The school grew out of Morgan's belief that young people who have dropped out or been kicked out of high school deserve another chance. "My faith teaches me that every person is valuable," he says. "Education is the key. We're not giving them a handout, we're giving them a tool that will be valuable the rest of their life."
The school annually enrolls about three dozen or so students; 22 graduated in May. Most come from poor, single-parent households with a family history of abuse and neglect. Many have had substance abuse problems or run-ins with the law.
There's a narrow window of opportunity to break the cycle of poverty, homelessness and hopelessness that marks many of their lives, Morgan says, and that starts with education. The school may be small in numbers, but for every young person it reaches whose life is changed, "we're making a difference to that one," he says.
Ivonne Lopez is one of the school's success stories. She dropped out of high school after she became pregnant but made her way later to the Street School. She credits Morgan and her teachers and tutors with helping her earn her high-school diploma. "Mr. Morgan has a passion for helping every single one of us," says Lopez, who will enter her second year at Forsyth Technical Community College this fall. "He never gave up on us."
The school is somewhat of a second chance for Morgan, too. He earned his master's in divinity degree from Denver Seminary and worked in pastoral care in a Greensboro church and as a history teacher at The Children's Home in Winston-Salem before finding a new calling. He became alarmed at the high-school dropout problem in Forsyth County and set out on faith to do something about it.
As a seminary student, he had volunteered at the Denver Street School, which has served as the prototype for about 40 similar schools around the country. He decided to try the concept in Winston-Salem, and with support from church groups and volunteers, he opened the Winston-Salem Street School in 2004 with three students enrolled in a summer tutoring program.
The school is faith-based, but it is not a religious school. Students are expected to pay at least $25 a month in tuition, with foundations, business, churches and individuals picking up most of the cost. "We're not giving them something free, we want them to invest in their education," Morgan says.
The school has a small teaching staff, but also relies on volunteer tutors and community leaders like Guy Morgan ('82), who serves on the school's board. "I was moved by the impact the school is having on students," says Guy Morgan, a former basketball star at Wake Forest who is not related to David Morgan. "The school provides an environment for at-risk youth that gives them the foundation and direction to go forward and make a positive impact in the community."
For more information about the Winston-Salem Street School, visit the school's website or contact David Morgan at wsalemstreet@bellsouth.net
Portions of this story originally appeared in the Fall 2011 issue of Wake Forest Magazine.