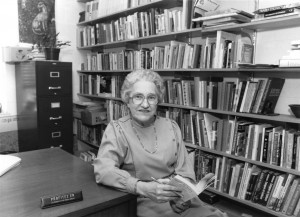 Mary Frances McFeeters Robinson, who taught French literature and grammar for nearly 40 years and took numerous students to study in Dijon, France, has died.
Robinson died on July 31 in Winston-Salem. She was 93. A memorial service will be held on Sunday, Sept. 2, at 3 p.m. in Wait Chapel.
Robinson, a professor of Romance languages, retired in 1989. She was a pioneer at Wake Forest, recalled Provost Emeritus Edwin G. Wilson ('43). She was the first female faculty member to have a doctorate and the first female department chair. She and the late Professor of English Elizabeth Phillips were the first two women to attain the rank of full professor.
She also helped establish the study-abroad program in Dijon, France, through the University of Burgundy, and she took students there seven times beginning in 1972. She was committed to "the teaching of French and learning of French overseas," Wilson said. "That may sound commonplace now, but that was not a common thing on the Old Campus or in the early years on this campus."
Robinson came to Wake Forest as a temporary instructor in 1952 but soon found a permanent home in the Romance languages department, first teaching Spanish and later French literature, grammar and 20th-century French drama. When she retired in 1989, a story in the Wake Forest Magazine honored her long service and dedication: "A line in the Wake Forest alma mater best describes Mary Frances Robinson's tenure on the faculty: 'constant and true.'"
She was married to Paul Robinson, a professor of music and longtime organist for Wake Forest Baptist Church; he retired in 1977 and died in 2007.
A native of Ithaca, N.Y., Robinson spent most of her childhood in Egypt, where her father was a missionary. She graduated from Wilson College in Pennsylvania and taught high-school French in New York for several years before pursuing her Ph.D. at Syracuse University. She completed her Ph.D. in 1954, two years after joining the Wake Forest faculty.
Robinson is survived by two daughters, Pauline and Ellen, and two grandchildren. Memorial gifts may be sent to Wake Forest Baptist Church, P.O. Box 7326, Winston-Salem, NC 27109.