ONCE UPON A TIME, a multitasking, theatrical 17-year-old named April Arden traveled with her family from their home in Dallas through the Southeast on a college tour. Auburn, Vanderbilt, Emory, Furman, Clemson, UNC, Duke — the Ardens made the kudzu circuit in a pop-up tent camper in search of destiny. At Wake Forest, they found it. Instantly, April felt comfortable on campus, as if she had visited Wake Forest in her dreams. She didn't know it then, but she would have the same feeling upon meeting her future husband. "I just knew," she says, recalling her visit and her tour guide: "A Theta Chi. I'll never forget him. He was good looking and cool … I applied early decision to Wake. I never applied anywhere else."
That was the beginning of her love affair with Wake Forest, back before she became April Arden Hess ('96, MSA '97) and before she morphed from a Wall Street banker to a skilled flipper of organic hamburgers. She was a singer then, and, according to her mother, a sporadic cook, and, according to April herself, a connoisseur of salmon croquettes and run-of-the-mill pork chops. As for organics, she says, "I didn't even know what the word meant."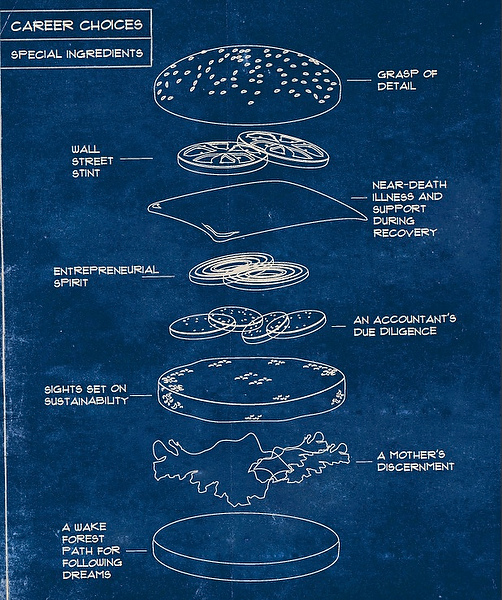 Today, she is the chief financial officer of Elevation Franchise Ventures LLC, a chain of Elevation Burger restaurants that serve burgers made of beef that is USDA-certified-organic, 100 percent grass-fed, free-range and ground on the premises. (They serve vegan burgers, too.) April, who will turn 39 in November, and her husband, Hans Hess, 40, opened their first Elevation Burger restaurant in Falls Church, Va., in September 2005 with a loan of $408,600 from the U.S. Small Business Administration and proceeds from the sale of one home and equity in the new one.
There are 29 Elevation Burger restaurants in nine states and in the Middle East. The Hesses own four; the rest are franchises. Based in Arlington, Va., the private company projects the total worldwide will surpass 40 restaurants by year's end, with gross sales exceeding $40 million, and will expand to 80 restaurants by the end of next year. Along with the burger chain, the Hesses launched enviroCAB in 2007, which ushered into Arlington County, Va., its first new cab company in 24 years and served as a pioneer nationally for its all-hybrid fleet. Along with the burger franchise firm and enviroCAB, the Hesses' holding company owns interest in six other businesses.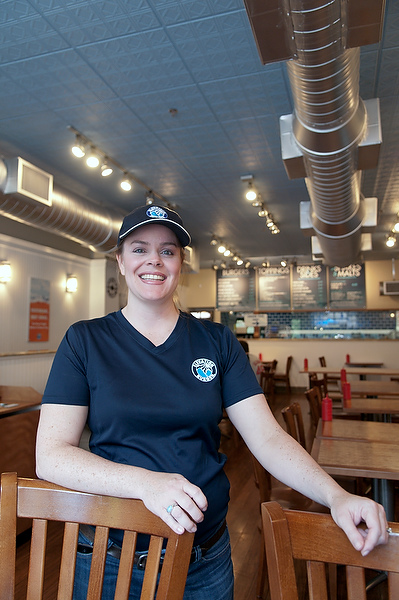 April and Hans married in 2002 and set up house in the Washington, D.C., area, where April continued a banking career as Hans hatched the idea to "elevate" the fast-food dining experience with organic ingredients and, eventually, his patented idea to cook fresh cut fries in olive oil. His inspiration came from reading research during an earlier job on Capitol Hill about risks associated with antibiotics in meat. "My mission has been to change the factory farm system," he says. April quickly came to share Hans' preference for organic food and donned her finance hat to help him determine how to make the dream a reality. "I'm the nuts and bolts," April says, "the money flow."
"I wouldn't claim that I had the idea to start a burger restaurant. I didn't," April tells me after we step out of her Toyota Prius to tour their latest Elevation Burger, this one at Tyson's Corner, Va. "But when (Hans) did, I said, 'OK,' and helped him figure out how to build. I think that's what Wake Forest did for me. When somebody I love said that they had this great idea, I didn't say, 'You're crazy, no way, I'm not going to do that!' I said, 'Ok, let me help you figure out how to do that.' "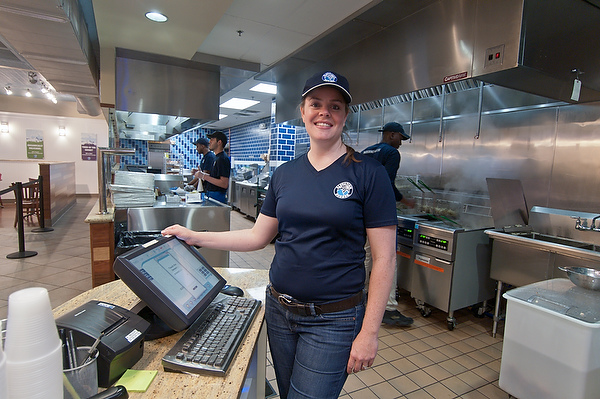 ASK APRIL FOR CAREER ADVICE, and she will say, "Don't be a one-trick pony." No one would have accused her of that at Wake Forest. There was her practical, conservative side that compelled her to earn bachelor's and master's degrees in accounting. There was her theatrical side that clinched a Presidential Scholarship in voice. The theatrical side — she sang in front of her first audience at age 4 — served her well when William S. (Billy) Hamilton (P '93, '97), a professor of Russian known for his wry asides and banjo playing, stunned her in the scholarship interview with this query: "If you could be a tree, which tree would you be?" (Hamilton says, referring to numerous interviews, "The wacky question was one way of staying alert.")
"Thank goodness I had been a thespian," April says, "because I had the habit of being able to be in front of people and think quickly, and I said, 'Well, I'd be an oak, because it's strong and it stands the test of time.' … I thought I'd blown it. I wasn't nearly creative enough."
But she hadn't blown it. She would become a scholarship student able to move with ease from finance classrooms to the Scales Fine Arts Center stage, most notably appearing in Gian Carlo Menotti's one-woman opera, "The Telephone." James Dodding, the theatre professor emeritus who directed it, replied from England recently, " 'The Telephone' will forever remain with me as a joyous and fulfilling experience due to April's performance …" When professors from the Wake Forest worlds of music and accounting recall April, they mention her ability to cross disciplines with an equal dose of seriousness and high spirits. "I remember she was very much a disciple of 'The 7 Habits of Highly Effective People,' " says Teresa Radomski, a professor of voice, referring to the late Stephen Covey's business bestseller. "She was already figuring out how to organize everything, so she could do everything she wanted to do." Music professor Susan Borwick asks, "Did she bubble? Because she used to just bubble." Borwick remembers her great range and depth of character.
It was Borwick, a fellow Texan, who in the spring of 1994 made a red-alert phone call to April's parents. She told them their daughter, then a sophomore, was in a Winston-Salem ICU with bacterial meningitis. "There was no question I was going to be at the hospital," says Borwick. To this day, April's mother, Kathy Arden, chokes up at the memory. "We almost lost her," she says. "It still gets me." Eighteen years after the illness, she remains grateful: "The University was incredible, with professors giving her time to recover, working with her so she didn't lose a semester or anything." April says she and her family will never forget "how Wake Forest wrapped their arms around me and helped me through that time." She suffered some short-term memory loss. Accounting Professor Emeritus Tom Taylor retaught her the material in his free time. "It's always easy for me to empathize with students. I just love Wake students," he says, noting that April was "a splendid student" who was "of top-notch character" and determined to catch up.
Besides with her recovery, April says faculty supported her in every way, especially her divergent interests. "The fact that Wake let me keep both of these very different tracks going is what has made me successful," she says. Her business background pushes her to produce a plan that analyzes costs and asks the due diligence questions. Her artistic side knows that something can go wrong at any moment — the baby cries at the back of the auditorium or somebody forgets a line — "so you have to figure out how to go on and improvise and create anyway."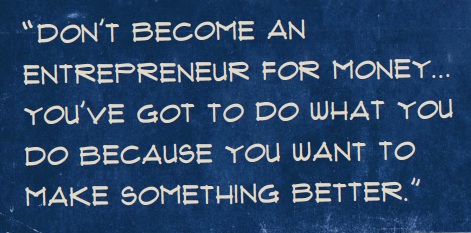 AFTER GRADUATE SCHOOL, her career began in New York at JP Morgan Inc., where she worked in internal consulting services and later in the bank's wealth management group in Dallas. It was in Dallas, through singing in the church choir, that April met Hans' sister, who soon cooked up a meeting for Hans and April. Hans was a California native with an equally diverse background. He graduated from California Polytechnic State University in physics and was studying for his master's in theology in Dallas. Hans and April shared a deep Christian faith and a love of family, the outdoors and music. It wasn't long into the marriage that April was eating healthy foods and came to share Hans' vision to offer diners a healthy option beyond eating organics at home. Like Hans, she believed their business concept, with its focus on sustainability and energy efficiency, would be better for the environment. Which brings up another piece of career advice from April: "Don't become an entrepreneur for money," she says, "because it will never be enough for the sacrifices you make. You've got to do what you do because you want to make something better."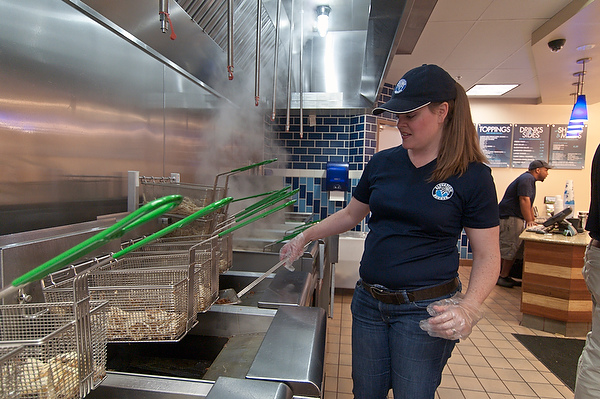 As with any startup, the opening of the first restaurant in 2005 brought grueling hours and tough lessons about management and operations. April would finish at her wealth management job at SunTrust and show up at the Falls Church restaurant at 5:30 p.m. to work until midnight. "I know how to run that grill and make those fries and ring that register and clean it all, because I did it," she says. It gives her credibility with employees and franchisees. (It also meant for a while, Wake Forest graduates in the area eyed her with sad curiosity as she rang up their orders. A few visits later they realized she owned the place.) After SunTrust laid her off in November 2007 April took over from Hans as general manager of the Falls Church restaurant for two years so Hans could attend to the expanding businesses.
"She's the one who keeps the trains running on time. Her number one skill is grasp of detail," says Hans, who also counts as critical April's ability to drill deep in asking the right questions that enable business ideas to take flight. He also calls her "a natural entrepreneur." Though April works now as an executive overseeing the holding company, she occasionally will return to an Elevation Burger to work a shift, which can include flipping burgers.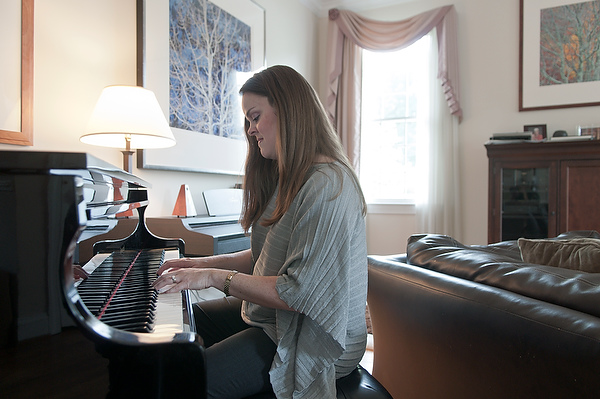 As the mother of Elizabeth, 6 1/2, and "Hanso," 5, April takes pride in providing a mother's imprimatur on the business at the highest level. There are no TVs at Elevation Burger restaurants, no music piped in, no toys or playgrounds. "Our target guest is a discerning mom," she says. "You know (children) are going to eat it all, and there's not going to be a fight."
The Hesses have hit on a timely formula with their chain of "fast-casual" restaurants. Technomic, a Chicago-based food-service research and consulting firm, says with U.S. sales of $69 billion, the limited-service burger segment is the largest menu segment by revenue in the restaurant industry. "It is driven on one hand by McDonald's, which comprises half of the segment's business, and on the other hand by a growing number of 'better burger' concepts," the firm says. It adds: Fast-casual restaurants serve as a driver of growth and "have much going for them." April estimates that, including franchises, their restaurant business employs more than 600 people across the globe. She's particularly proud of its environmental features, from the restaurants' low VOC-emitting paints to energy efficient equipment to the conversion of oil to biodiesel. "Elevate the product; elevate the experience; elevate the employees," she says.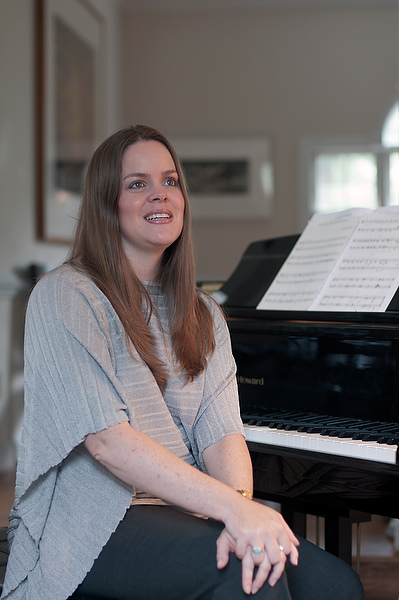 She and Hans already are considering new ventures. The supply side — a farm or ranching operation using polyculture methods — is igniting their imagination these days. Whatever the task, they expect to employ their usual yin-yang approach, meeting in the middle from their different perspectives. "He's the forest. I'm the trees," says April, forever the oak. They both agree on this: "We know that creativity and innovation doesn't have to do with your major. It's an approach to how you think about everything: 'How can it be better? How can it make a difference?' You're bringing that to whatever it is that God's given you to do."
For April Hess, count on that being one long, divinely inspired to-do list sure to impress the Stephen Coveys of the world, a list that one day will set aside a bit more time for song.
---
Photography by Walter P. Calahan @2012
---