Students happily maintain long-lived, cherished traditions, including Rolling the Quad, Springfest and the Moravian Lovefeast. But they're also inventing new ones — about three dozen in the past decade.
---
Students and alumni pack Wait Chapel the first Sunday night in December for the largest Moravian-style lovefeast in North America, begun in 1965.
---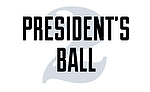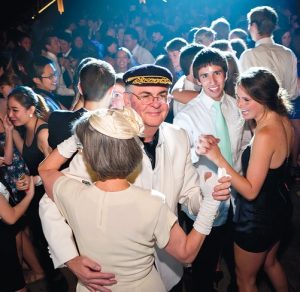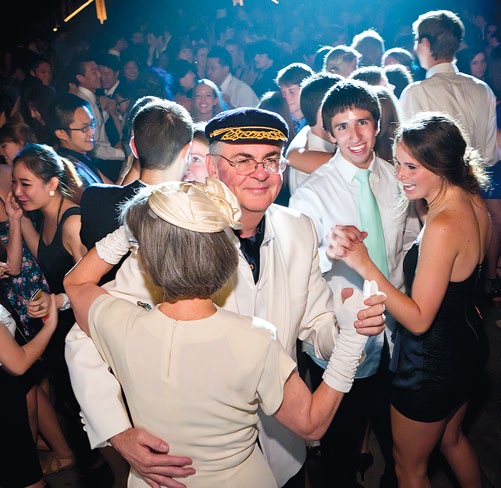 Since President Nathan Hatch rode into his Inaugural Ball in 2005 on the back of a motorcycle driven by the Demon Deacon, the biennial ball has become a don't-miss social event.
---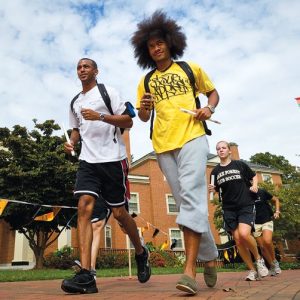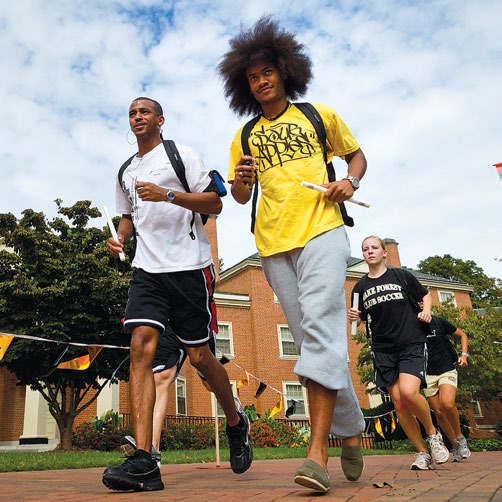 This annual philanthropy project for the Brian Piccolo Cancer Fund has been a big hit since students (along with faculty and staff) first began walking and running around Hearn Plaza in 2003.
---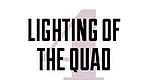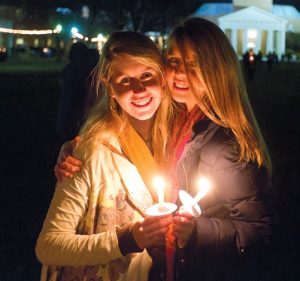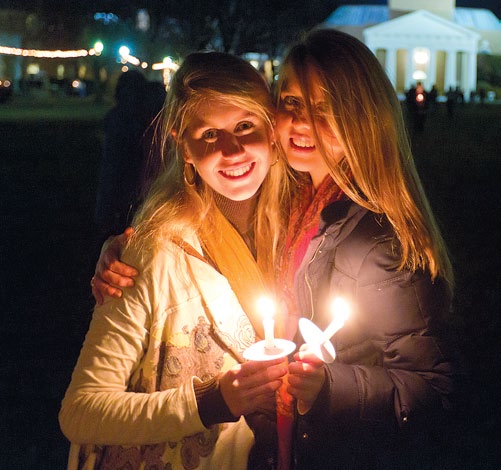 Hang the greenery and lights on Hearn Plaza, enjoy a cup of hot chocolate and cookies, sing a carol or two and bring a blanket for the less fortunate to this kickoff to the holiday season, often cited by students as their favorite tradition since its inception in 2003.
---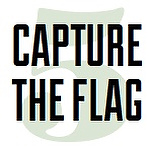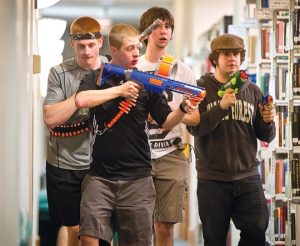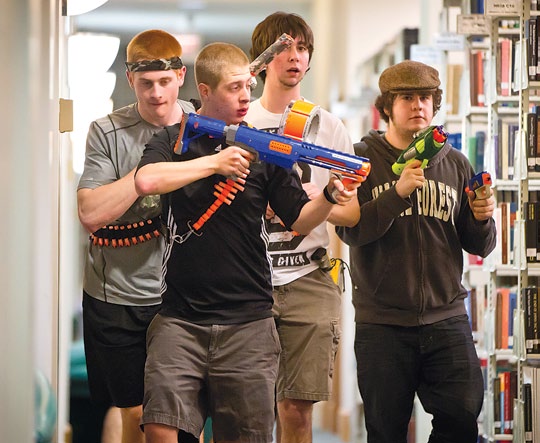 Divide several hundred students in the Z. Smith Reynolds Library into two teams and hide two flags for each team.The orientation game has become so popular it's spawned a spring "capture" open to all students and the Humans vs. Zombies game (the Zombies always win).
---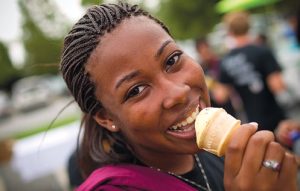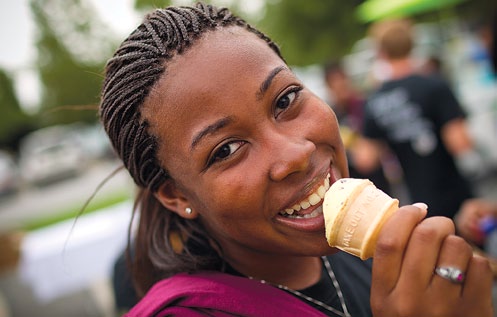 Local eateries set up a chocolate fountain and offer their best dishes at a freshman mixer so popular that upperclassmen crash the party.
---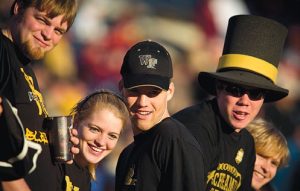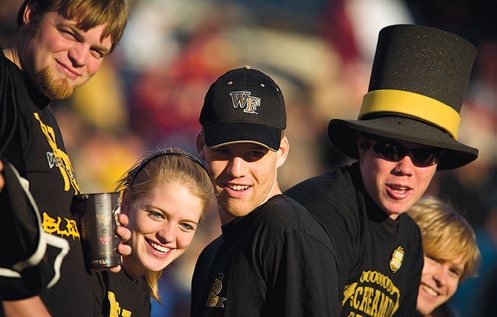 Students vie to have the best banner on residence halls, vote for Homecoming king and queen and then turn out en masse for the huge bonfire on Davis Field.
---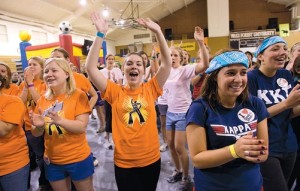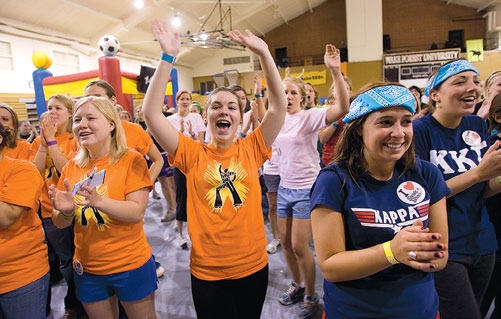 Students dance 'til they drop during a 12-hour marathon at this fundraiser for the Brian Piccolo Cancer Fund that began seven years ago.
---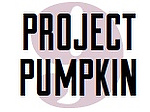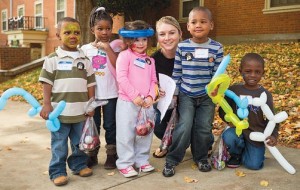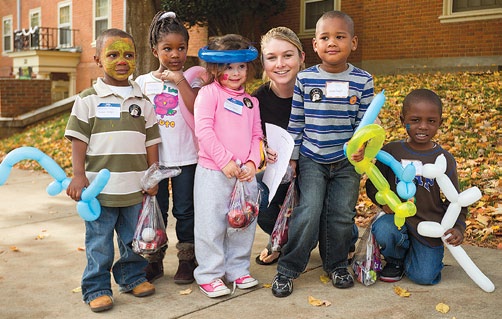 Student ghouls, ghosts and goblins have treated underprivileged children to an afternoon of trick-or-treating and carnival games on campus since 1988.
---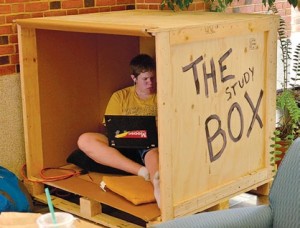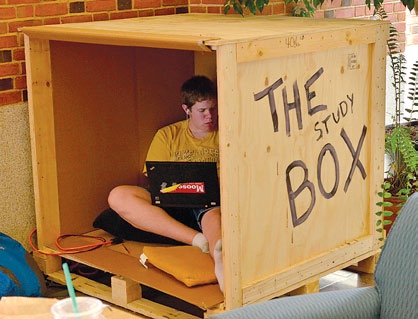 Pulling all-nighters was never this much fun. The Z. Smith Reynolds Library has lightened the exam mood since 2006 with snacks, endless coffee, a study box (literally, a box for studying) and festive decorations, including a cardboard Pres. Hatch lounging in a kiddie pool.
---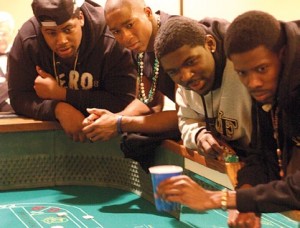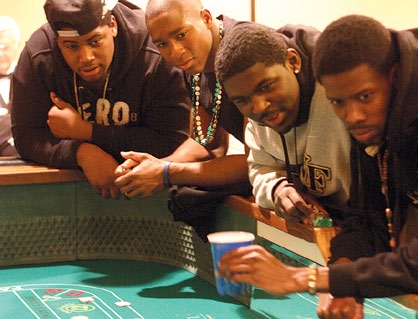 Try your chances at the casino, groove on the LED dance floor, have your fortune read, play laser tag and more in the Benson Center's once-a-semester, late-night dance party/carnival/scavenger hunt.
---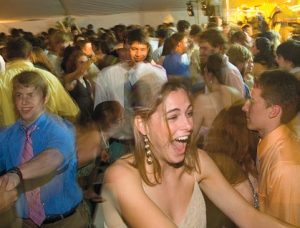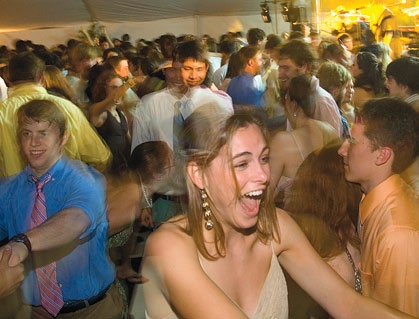 Put on your shagging shoes and sing along with the Embers (who've performed all but one year since the first Mag Shag in 2005) at a faux-beach party under a giant tent on Manchester Plaza/Magnolia Quad.
---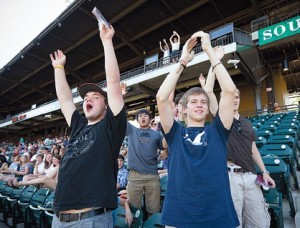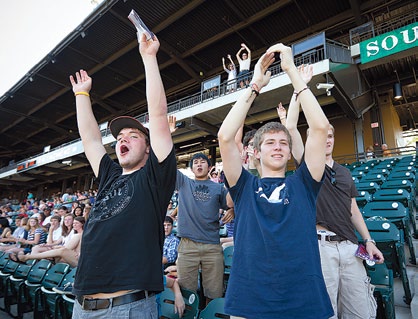 Seniors don't want to graduate after being treated to the Class of the Finest tailgate at the last home football game, a Senior Dinner at the coliseum and senior nights at a Winston-Salem Dash baseball game and at Reynolda House Museum of American Art.
---
THE BEST OF THE REST, IN NO PARTICULAR ORDER

---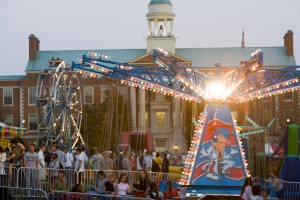 Spring Carnival
The county fair comes to Davis Field with rides, food and games.
---
Fall at the Forest
Students unwind from the first month of classes with barbecue, games and more around the Quad residence halls.
---
South Campus Lawn Party
Celebrates the end of the school year and the start of spring.
---
Seize the Quad
Students take over the Quad for the biggest party of the year, with a band or DJ.
---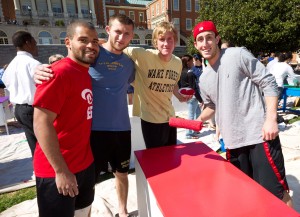 DESK (Discovering Education through Student Knowledge)
Student teams help local elementary school students design and paint desks that they take home so they'll have a place to study.
---
Halloween Orchestra Concert
For 18 years, director David Hagy and orchestra members, dressed in costumes, have offered a midnight Halloween night concert full of thrills, chills and laughs. Watch out for the tricks orchestra members have been known to play on the audience.
---
Fright Fest
Wake Forest's scary Halloween tradition includes spooky movies, a Murder Mystery Dinner and a Masquerade Ball.
---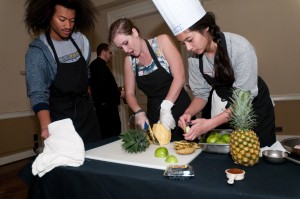 Iron Chef Competition
A take-off of the popular TV show, student teams have an hour to use a secret ingredient (last year it was pineapple) to create a delectable three-course meal in the Mag Room.
---
Tuesday Trivia at Shorty's
Trivial Pursuit comes to Shorty's each Tuesday night throughout the academic year.
---
Student Union Film Series
Harkens back to the days of film screenings in Tribble Hall, with popular movies every weekend in Pugh Auditorium.
---
Spring Family Weekend
Building on the success of Fall Family Weekend, students invite the parentals in for a February basketball game and Sunday brunch.
---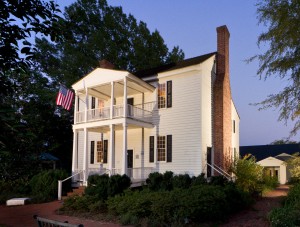 Old Campus Trek
Students can visit the Calvin Jones House and the Wake Forest Historical Museum, see the original Wait Hall and grab a hot dog at Shorty's during an annual trek to learn about Wake Forest's heritage.
---
Martin Luther King Jr. Celebration
A weekend of events, co-sponsored with Winston-Salem State University, includes Gospel Fest, a basketball tournament and a notable guest speaker each year.
---
Chinese Moon Festival
Students celebrate the fall Chinese holiday with a celebration of Asian culture.
---
Chinese New Year Festival
Since 2000, students have rung in the Chinese New Year with the traditional Lion Dance, folk dancing, martial arts demonstrations and more.
---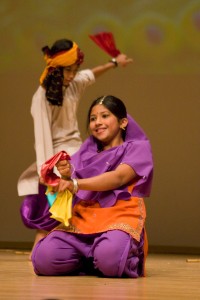 Diwali Festival
Also known as Deepavali, or the "Festival of Lights," students have celebrated the beginning of the Indian New Year with performances, music, dance and food since 2005.
---
World Cultural Festival
Students learn about food, music, games and more from cultures around the world, without ever leaving campus, every fall on Manchester Plaza.
---
Asian Spring Festival
Indian and Korean dances, an Asian costume fashion show and performances by the Bunraku Bay Puppet Troupe highlight this spring celebration of Asian culture.
---
Oktoberfest
The German department brings a bit of the old country to Magnolia Quad with live polka and beer.
---
The Unpredictable Adventure Race
There's nothing predictable about this annual race around campus "in search of muddy, mental, physical, outrageous and unpredictable challenges in search of that golden prize – finishing."
---
First-Year Tailgate
New students catch the Deacon spirit at a tailgate at the first home football game of the year.
---
Spirit of Wake Forest
Freshmen learn the fight song, alma mater and Wake Forest traditions and get rid of any "other school" paraphilia they have.
---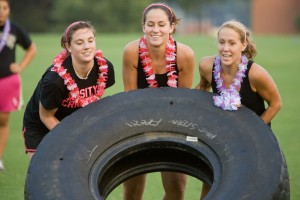 Pros vs Joes
New students bond with their hallmates in an Amazing Race type competition as they compete against older students and student-athletes during Orientation.
---
Outdoor Pursuits BBQ
An introduction to the myriad of activities offered by Outdoor Pursuits every fall during New Student Orientation.
---
Sophomore Fiesta
Sophomores turn out on Mag Quad/Manchester Plaza for a fall fiesta featuring Mexican food and bands and chili-shapped stress balls.
---
Junior Jamboree
A spring party just for juniors.
---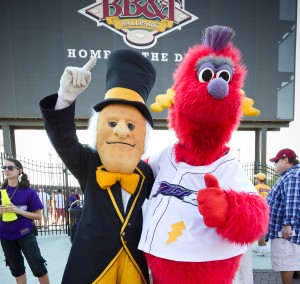 Senior night at the Dash
One of many events just for seniors, a night at BB&T Field to cheer on the Winston-Salem Dash baseball team.
---
Class of the Finest
Cocktail party for seniors at the last home football game of the year.
---
Senior night at Reynolda House Museum of American Art
Seniors explore the treasures of Reynolda House and its collections before graduation.
---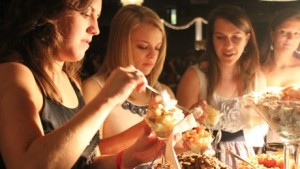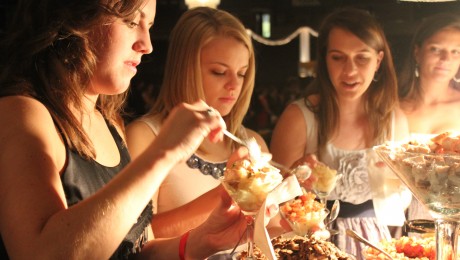 Senior Dinner
Four seniors offer toasts to their classmates at a fancy dinner at the coliseum, a final chance for seniors to say goodbye and remember and celebrate their four years at Wake Forest.
---
Wake Invasions
Pack your pom-poms and jump on the bus for an away football game.
---
Brian's Song
No Wake Forest education is complete without watching, preferably on the Mag Quad, the classic original movie on the life of Brian Piccolo.
---
Little Black Book
A fabulous source for Wake Forest's history, heritage and traditions has become a tradition in itself to pass on to future students.
---