When Wake Forest appointed Rogan Kersh ('86) as the University's new provost and professor of political science on Jan. 26, it was a happy homecoming for the former Reynolds Scholar and his professors. Kersh assumed his duties as chief academic officer, with responsibility for administering the academic programs and plans of the Reynolda Campus, in July. He supervises the deans of the undergraduate College, the Schools of Business, the Graduate School of Arts and Sciences, the School of Law, the School of Divinity and the Z. Smith Reynolds Library.
A few weeks before he and his wife, Sara Pesek, moved to Winston-Salem from NYU in Manhattan, he sat down at Graylyn with Maria Henson ('82) of Wake Forest Magazine to talk about his memories of Wake Forest. What follows are edited excerpts of their conversation.
Henson: I wonder when you left the Green Room in Reynolda Hall the day of the announcement what you thought. There were 70- and 80-year-old people in that room who had an impact on you and were there to celebrate your return.
Kersh: It felt — and feels like — a homecoming in the most powerful sense of the word. As long as there have been humans, there have been people who have gone out to fight wars or forage or find out what the next town was like or go around the world in a ship, and then they would come back. We do this in a ritualized way at colleges and universities every fall; the alumni come back. That day felt like the deepest kind of homecoming imaginable. It felt that I was exactly in the place I was meant to be. As you say, the presence of these extraordinary mentors and friends and, in some cases, figures I hadn't seen in 20 years — that's profoundly significant. Most university settings, most corporate settings and nonprofits — the places we live our lives now — people don't stay that long. But to come back and see after 25 years far more familiar faces than unfamiliar, it felt a deep testament to the enduring connectedness of this place.
Henson: Congratulations on recently receiving NYU's Wagner School of Public Service Professor of the Year award. I wonder whether professors at Wake Forest shaped you.
Kersh: Many of them, actually. I had such strong mentors here. And I think I probably sought them out in a way because I had an exploding family as I came out of junior high and into high school. My parents got divorced. My mom left the family at some point. My dad fell ill. (I had two much younger brothers, one of whom is a Wake grad, and a younger sister.) My dad moved everybody down to Mississippi, near where my mom lived in New Orleans. I moved in with a different family to finish high school, so there was all this chaos. I got to Wake and kind of reset familial life and had these very, very powerful mentors who taught me not just facts about politics, history, ecology, English and so on, but also something about how to live and how to carry oneself and how to be a member of a campus community.
I've never been far from college campuses. I think that had a huge amount to do with the teachers I had. Jim Barefield. Charles Lewis ('63) and a whole set of folks in politics — Kathy Smith (P '06), Jack Fleer, Don Schoonmaker ('60), who sadly has left us, as has Saguiv Hadari. In English, Barry Maine, Jim Hans and Doyle Fosso (P '81) — I became a lifelong reader because of these professors. Debbie Best ('70, MA '72) in psychology. Rick Matthews in physics. I started as a physics major because of Dr. Matthews, then eventually wound up in what we then called politics. I would add Tom Phillips ('74, MA '78) to that group.
Henson: Did he help you win your Luce Scholarship to study in Japan?
Kersh: Tom Phillips was helpful in all kinds of ways. Although I'd grown up in New York, we had been in Brevard (N.C.) long enough that I was a provincial kid, first generation to go to liberal-arts college. Mom attended nursing school. My dad had his schooling in World War II and went back to Life Magazine, where he started as an office boy and worked his way up to art director. Tom was another who helped teach me how to live as an adult. He would suggest classes with some of these folks who became mentors. He also helped me figure out what to do in the summers (through the Reynolds program). My world had shrunk in some ways in Brevard; we didn't get out of the mountains much, and so to have such rich possibilities of working in the British Parliament and in the U.S. Congress before that — and Jim Barefield suggested I go to Venice in a group he was leading — (it) was wonderfully life-and-mind-expanding. Tom and Professor Don Schoonmaker helped me work out a summer program where I studied in East and West Germany (back when there were two Germanys!), and that gave rise to my senior honors thesis. It was all extraordinarily influential and lasted beyond my time at Wake, when Jim Barefield along with Tom helped point me toward the Luce.
Henson: So when you began teaching other students, what lessons did you take from these mentors?
Kersh: I can think of very specific things I do still as a teacher. For example, Charles Lewis has a very powerful way of beginning class with a pointed question that helps set the arc for that day's lecture or discussion. He will raise a question with a student, and he puts it firmly and pointedly, though it's not a Socratic, embarrass-the-student-so-we're-all-terrified kind of way. But you knew it might be your day to have the question. So everybody sits up a little straighter and pays a little bit more attention. I have carried that into many of my classes: start with a question that sets the tone.
Every class that Don Schoonmaker taught had a clear, definitive ending. It wasn't just 'Oh, goodness, we're out of time. Here's some homework.' He had these stories, specific points to make … and a way of wrapping up things neatly. So I learned about introducing the class from Charles Lewis, and I learned about concluding my classes from Don Schoonmaker. I also think of Debbie Best in psychology or Rick Matthews in physics, who gave me a sense that you didn't have to be a removed, aloof authority figure from "The Paper Chase," speaking commands to your students. They were themselves these incredibly warm, rich, giving, engaged, alive teachers, and you had a sense of the enthusiasm they brought to their subject. Rick Matthews — he'd come in dressed as Darth Vader to illustrate the properties of light. Or he'd come in with a bucket of water to show us the nature of force. He'd suddenly throw the bucket at a student, and, of course, it was filled with Styrofoam. He'd somehow switched the bucket, after starting out with one full of water.
I just had such a marvelous set of Wake Forest teachers who gave me a sense of the things that matter most in a classroom: Enormous enthusiasm for the subject (and) a sense of being a person who is engaged with these students, who cares and connects, then runs a class session that uses that precious time in the most valuable way possible. I really think of Wake Forest teachers almost every time I enter a class. It's almost homage if you will … One example: Charles Lewis graded papers with a set of very specific comments in the margins along the way. He formed his "a"s in a particular way. I changed the way I write my "a"s — not the letter "A" for grade — but you know 'That was good.' The "a" — it seemed to me was the way learned people wrote "a"s, so when I write comments, to this day I have Charles Lewis' style of small quips, comments and suggestions with a Charles Lewisian "a." Jim Barefield was another whose grading style I've continued to this day. So these lessons were bred in my bones.
Henson: When you think of your favorite spots on campus, what are they?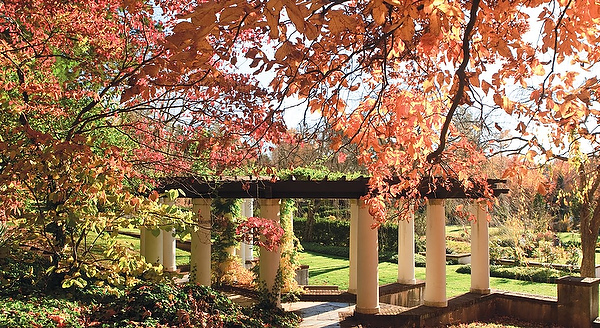 Kersh: Some of them are almost clichés, I guess. Reynolda Gardens — an extraordinary place to walk or run or lose oneself for a while when things are going poorly or going especially well. There are four or five in all, but I'm only going to tell you a couple. Some have to remain secret. I think of the honors rooms in Tribble. I tried to take an honors class almost every year. I loved the setup of the three figures — one from the arts, one from the sciences, one from the humanities. The furniture got a little shabby, but there were all these books, art on the wall. It doesn't just feel like a set of remote, distant, Olympian figures. In my first seminar, Germaine Brée, who had known Albert Camus, talked about her friend Albert Camus in there, and I've been reading Albert Camus ever since. That's where we do Reynolds interviews now, so I'm back in that spot often.
There's a piano room in Scales, where I took to studying when things would get loud elsewhere. During exam time the practice rooms weren't that utilized. I'd read and write in there, and study, and I'd play the piano a little bit. Or the Autumn Room in Reynolda Hall, where I had my first Wake Forest moment (at the Reynolds Scholarship dinner). I'd gotten off the plane. I was late arriving because of a high-school band competition. I came in, and (there was) President Scales with his forgiving smile; and Jim Barefield showed us a map of Venice held upside down, I think on purpose. There I encountered some of these extraordinary figures for the first time, professors and fellow finalists who have remained friends my whole life. It's also the room where Saguiv Hadari and Don Schoonmaker would organize voluntary book discussions (Tocqueville Forum) and invite any students who wanted to come. That room holds a lot of powerful, lifelong memories for me. …
A lot of students today might say the Lawrence Joel Coliseum, but when I was here Wake played in Greensboro Coliseum all four years. In a funny sort of way the drive back from Greensboro on Interstate 40 has a sweet place memory for me, because Wake won more often than they lost. I don't remember the games as much as the drive back — this feeling of camaraderie, having shouted ourselves hoarse. It wasn't a long trip, but I sometimes wished it would go on forever.
Henson: Are you still a sports fan?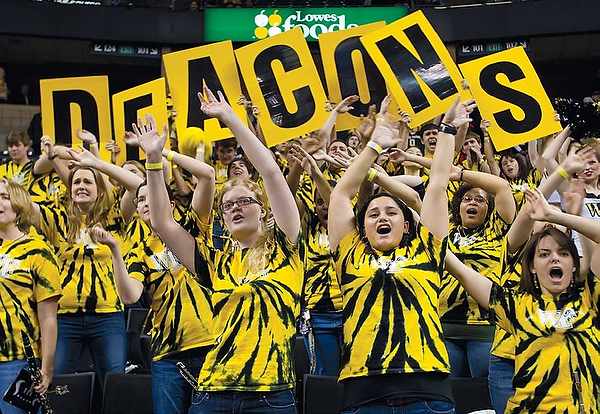 Kersh: I am. From Wake I have retained an abiding, lifelong love for college football and basketball. NYU has no football program and a Division III basketball program. I got very devoted to Syracuse when I was there. It will be difficult for me, at least for a while, once Syracuse joins the ACC. It'll be Wake and then Syracuse against everybody else. I still keep track of Wake Forest baseball and soccer — amazing how deep these loyalties run.
Henson: The national conversation has critics calling into question the value of a liberal arts education. What do you say about that?
Kersh: In the quarter-century since I left Wake, I think we've seen the commodification of more and more sectors of American life. The first question we ask is not 'Is this right or is this good,' but 'How much does this cost; what's the cost-benefit analysis?' We've seen it in government, the area I've spent so much time researching and studying. You cannot pursue a good idea — national or state or even local legislation — unless you've done a careful analysis of the costs and benefits. And that's happened to some extent to higher education. It's been commodified, so you have an exact explanation of what the average lifetime earnings benefit of a B.A. or B.S. or master's is going to be. One shouldn't ignore those kinds of arguments, but I know from my experience there is a much deeper value and truth to being educated as a whole person during one's potentially callow years when you're learning to be an adult. It's infinitely deeper than learning a trade or learning a set of skills or expanding one's toolbox.


I think universities still do a good job of providing people with the skills to negotiate not just their for-that-moment chosen profession … but some of those life-lessons are being called into question by the bottom-line types. The incomparably important aspect of college is that you learn to live a good, just, rich, meaningful, purposeful, fulfilling life as a contributing citizen, as an engaged human being. You cannot underestimate that value … I fear universities may be losing that commitment to educating a whole person, that sense of being a citizen, scholar, growing to maturity and asking meaningful questions; that's the contribution that over a couple thousand years we've honed in a global civilization. America's top universities and colleges contribute that just about better than anything at this point.
My own experience, bred very powerfully at Wake, and the experience of the thousands of students I've taught convinces me beyond the shadow of a doubt that this is an enormously, enormously valuable way to spend one's time and, yes, one's precious resources to develop rewarding habits and practices that unfold the rest of your life. I would say, with gratitude to the mentors we've talked about, that my own life is testament to that. These lessons that are inculcated in this relatively short time are going to make this a life worth living. As we've known as long as we've been a species, there's nothing more valuable than that.