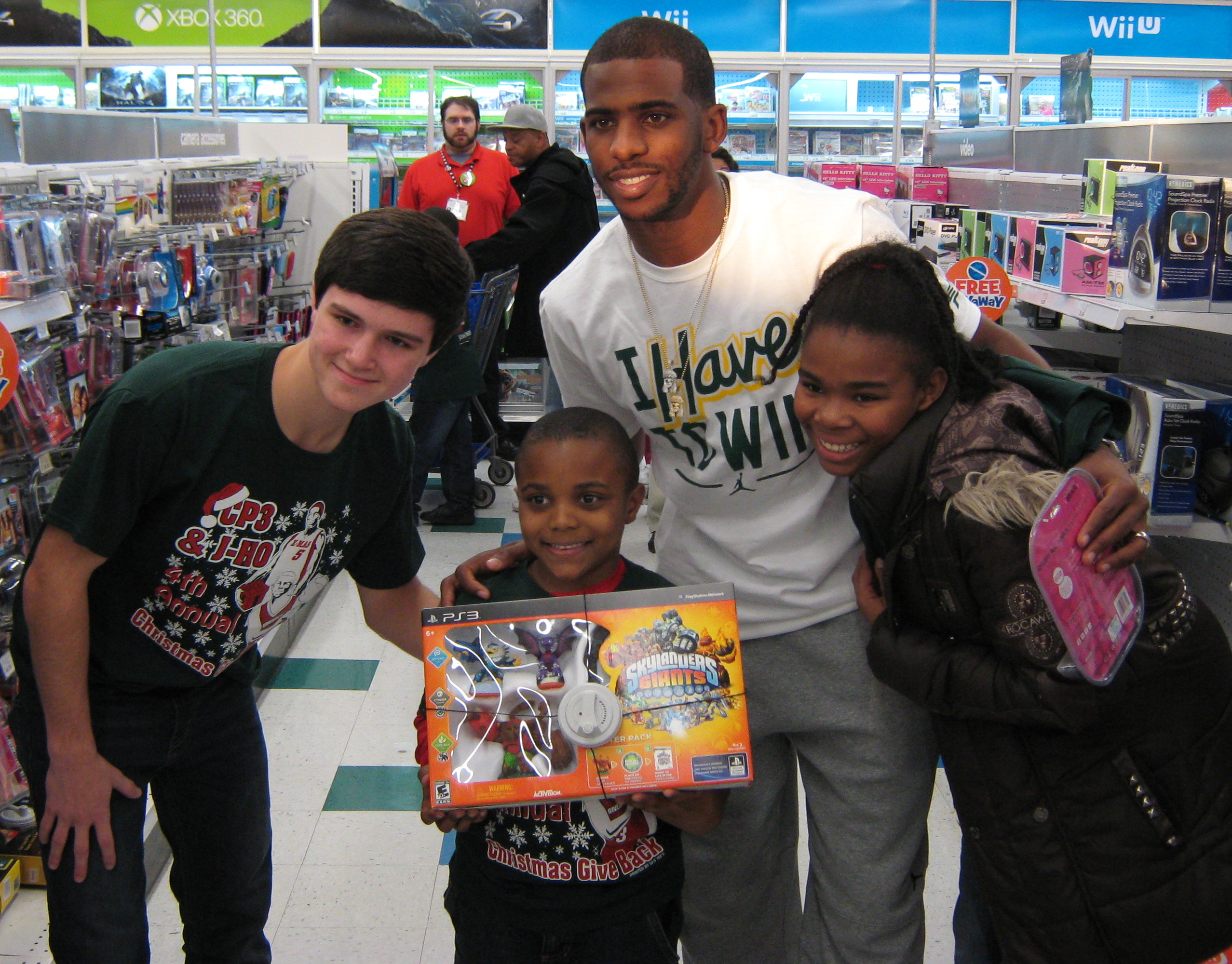 Chris Paul ('07) wasn't dressed as Santa Claus, but for the children eagerly anticipating his arrival at Toys R Us in Winston-Salem on Thursday, he was as welcome as the real thing.
Paul, a former Wake Forest basketball star who now plays for the Los Angeles Clippers, returned home to deliver some holiday cheer to 100 local children.
Paul and fellow Winston-Salem native and NBA player Josh Howard ('03) — and their foundations, the CP3 Foundation and the Josh Howard Foundation — teamed up with Toys R Us for the fourth year to offer each child a $100 shopping spree.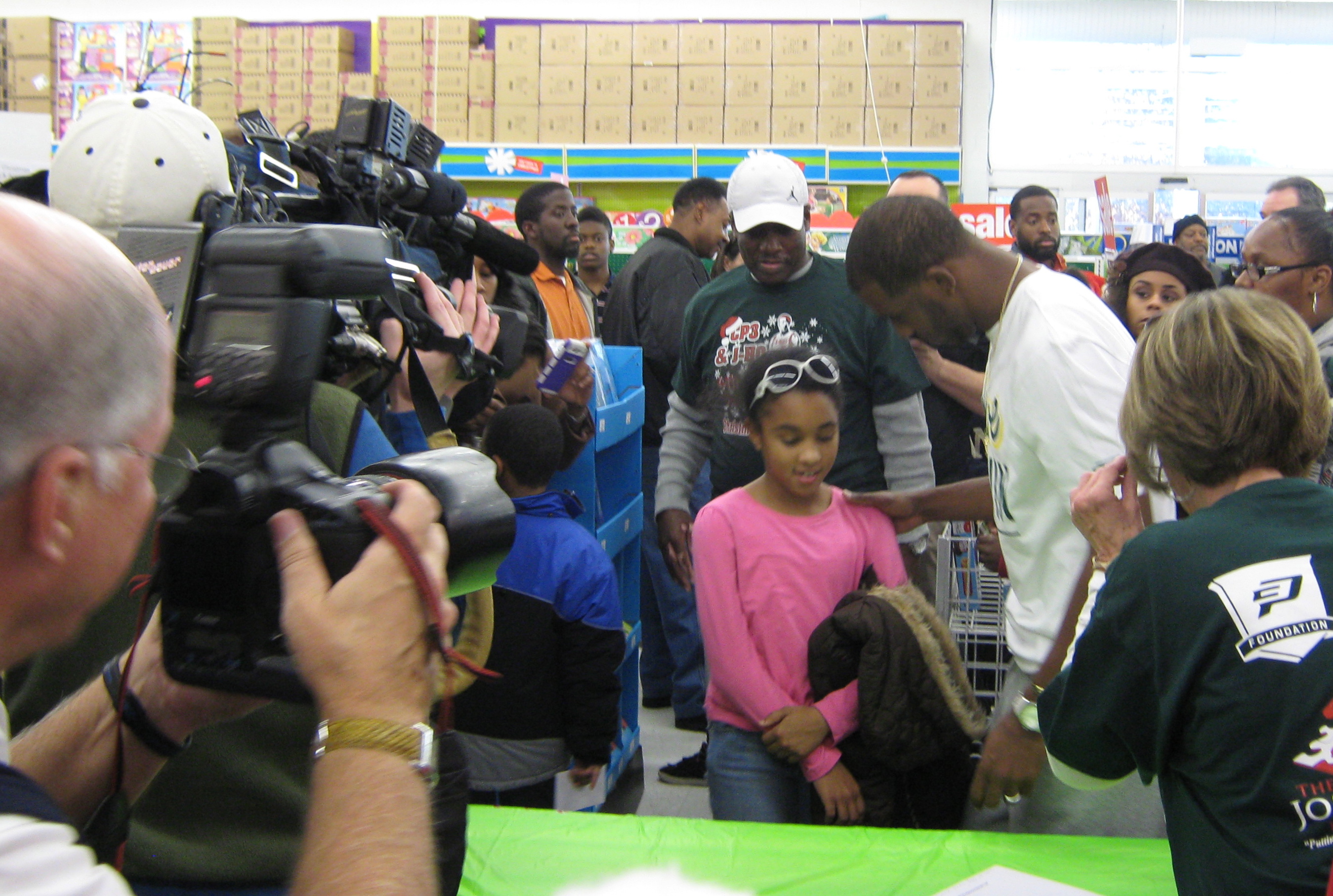 "The best thing about today is I actually get to be here," Paul said. "Everything that I've done, I've always tried to be as hands on as possible. It's a tradition for Josh and me.
"This is home for me. The thing about the holidays is everybody isn't as fortunate as they'd like to be. It's cool to give back and I love to see the smiles on the kids' faces. It's not about me, it's all about the kids."
Howard, who plays for the Minnesota Timberwolves, had a game in Minnesota and wasn't able to attend.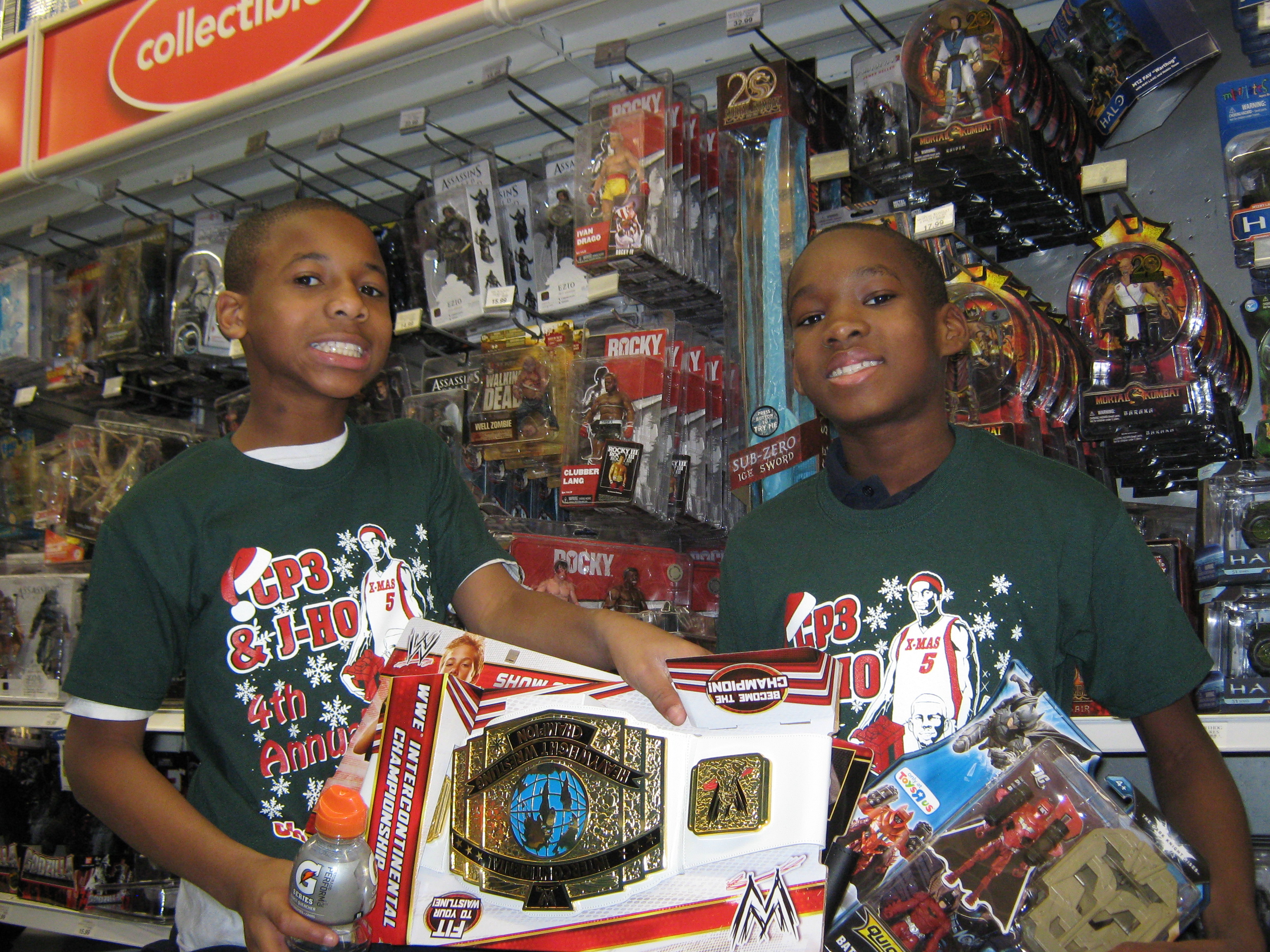 Paul, who has two young children of his own now, says his annual Christmas shopping trip is even more special now. "I wish my kids were here with me, especially my son. He's at that age now where he understands a little bit about what's going on. With kids a lot of the time, it's about what can you give me. But it's all about giving back. … I learned that at an early age and try to teach the same thing to these kids."
The 100 children invited on the shopping trip were recommended by Forest Park Elementary School, the Salvation Army Boys and Girls Club, and the Winston-Salem Parks and Recreation Department. As Paul, standing in front of a giant pink and white Barbie display, greeted the first group of 20 or so children, he asked, "How many of you have brothers and sisters?" After most of the children raised their hands, he encouraged them to use part of their $100 gift card to buy a gift for someone else.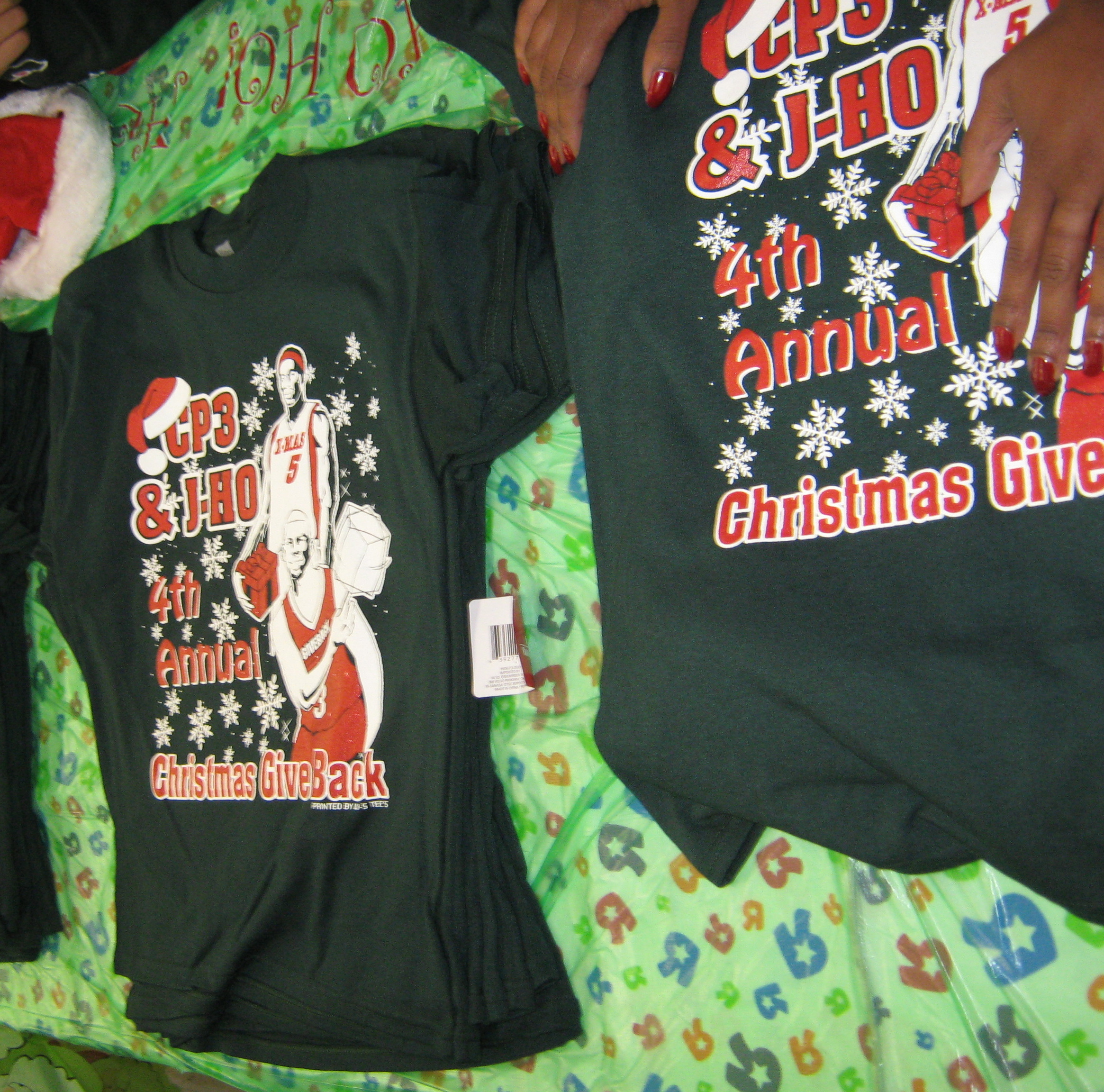 He gave each child a green t-shirt with "CP3 & J-HO 4th Annual Christmas Give Back" printed on it and then sent them off on their shopping spree, accompanied by their parents or volunteers.
He walked up and down the aisles with several children helping them pick out their gifts. When one girl took off across the store in search of a purse, Paul gamely followed. "You know Toys R Us like the back of your hand," he tells her. "You got about $50 left, let's get something for somebody else," he says later.
The unexpected sight of a hometown hero and NBA star delighted some Christmas shoppers, who pulled out their iPhones for photos, and confused others. "I don't even know who that is," one shopper said.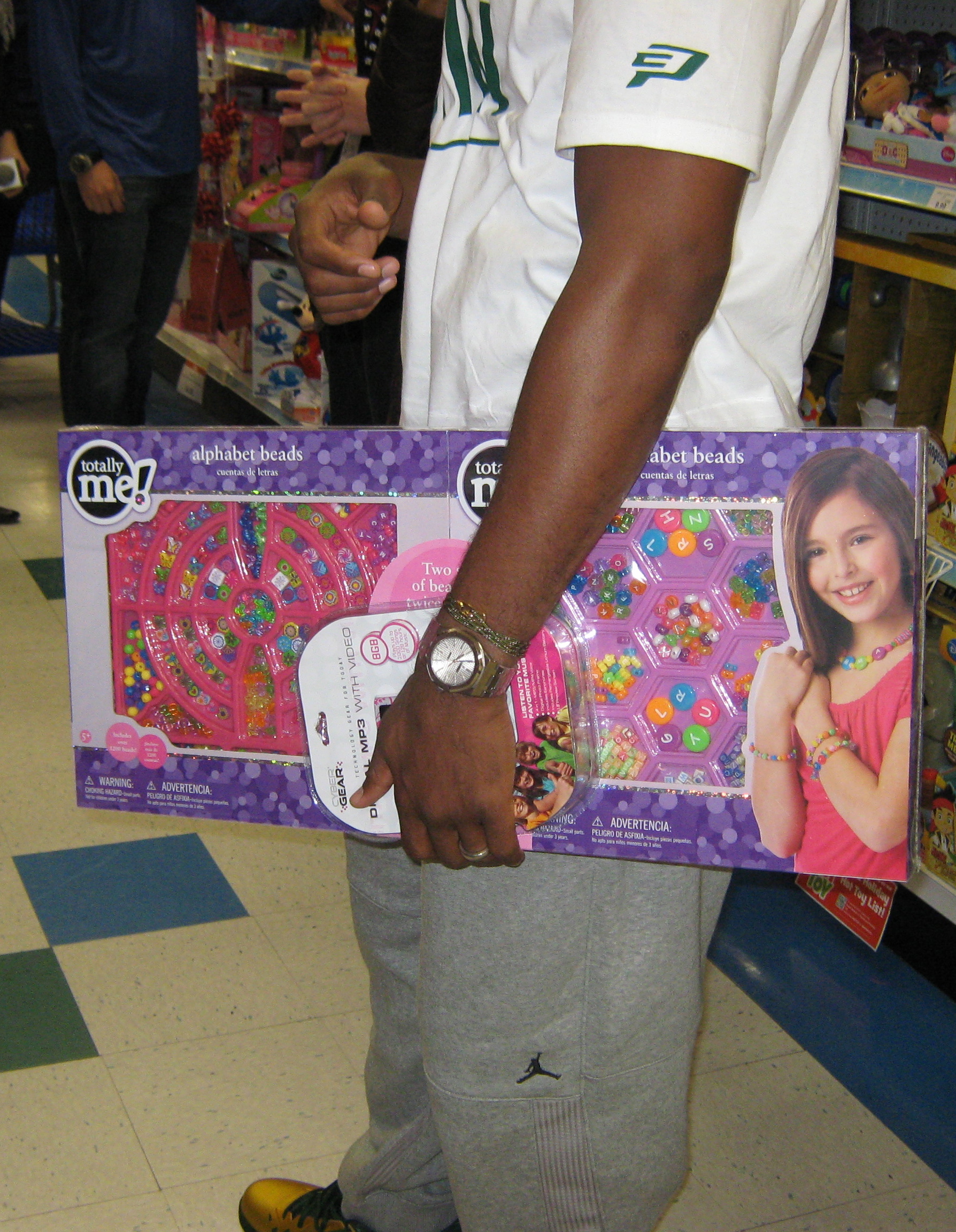 What does Paul want for Christmas? "We actually play on Christmas Day in LA against the Denver Nuggets," he said. "My Christmas gift is to have my family with me. So I've got 35 or 40 of my family members from Winston coming to LA. If I can't come home for Christmas, I'll bring them to me."