Imagination is the beginning of creation. You imagine what you desire, you will what you imagine and at last you create what you will.
– George Bernard Shaw
Though neither of my parents attended college, their belief in this principle fashioned both my infinite thirst for knowledge and the confidence that I could overcome formidable odds to succeed. You see, I grew up on a small, country farm during the height of the Civil Rights era. Though only 30 minutes from Winston-Salem, East Bend often seemed like another country.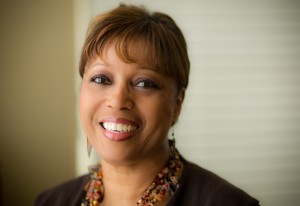 The village way of life — an intensely family-oriented culture of collective community accountability for the success of everyone's children — permeated every aspect of my childhood. The question I was most frequently asked by myriad voices was: "What are you going to be when you grow up?" Their certainty that I would thrive engendered a spirit of success within me. This pivotal message shifted my focus from the present and enabled me to envision a brighter future, ultimately allowing me to construct the pathway to become the first in my family to attend college.
Unbeknownst to me for years, my family ties with Wake Forest began before I was born. As we sat on my paternal grandfather's porch one summer afternoon in 1985, after my studies at Wake Forest, I told him about my first faculty appointment at Penn State. After rocking silently in his chair a few minutes, Grandpa said, "Girl, when they moved Wake Forest here in the 1950s, I helped clear the trees from that land. Back then, the way things were, you never coulda told me my granddaughter would be allowed to go to that white school one day." Grandpa could not envision I would have an academic journey that would take me from student and professor to administrator and now a senior leader at our premier collegiate University. But, like my parents, he did teach me to work hard and remain tenacious in the face of adversity.
I wasn't cognizant of the countless ways my Wake Forest family mirrored my biological family's tenets until I reached adulthood. Bill Starling ('57), the late director of admissions and financial aid, taught me the significance of granting admission to underrepresented students. As a first-generation college student, I knew nothing about navigating administration to find and obtain resources until then-Dean of Women Lula M. "Lu" Leake bought me eyeglasses when my family could not. The late Dolly McPherson, the first black woman on the faculty and a professor of English, fostered the belief "If no one else has ever done it … you can be the first." By encouraging me to become the first black student in the health and exercise science graduate program, Professor Paul Ribisl (P '89, '91) taught me the transformational impact of faculty mentorship. And my life today revolves around the saying of my beloved mentor Professor Maya Angelou: "I've learned that people will forget what you said, people will forget what you did, but people will never forget how you made them feel." Wake Forest is my alma mater today because such individuals not only cleared a path to open doors of opportunity for generations of people from diverse backgrounds but opened my eyes to a vision of myself in extraordinary places. Emulating my remarkable role models, I have been motivated to pay back by helping others maximize their individual potential.
Finally, the symbolism of David Lee Myers, a black man living in a segregated South, laboring to "clear the path" to build a university he did not believe his offspring could ever attend, should not escape us. I'd like to believe Grandpa is blessed to see I am now positioned to affect institutional equity because his legacy strengthened my resolve to drive our commitment to foster a diverse and inclusive Wake Forest. We are concluding our yearlong celebration of the many faces of courage who dared to make a difference since the Board of Trustees voted in 1962 to end racial segregation. Going forward, it is my greatest hope that every member of the Wake Forest family will internalize Jacques Pierre Ribault's call to action: "To the world you might just be one person; but to one person, you might just be the world." How we respond, both individually and collectively, to prepare our students to work and lead in a global society will speak to our vision for future generations about our core values.
---
Assistant Provost for Diversity and Inclusion Barbee Myers Oakes last year was named one of the "25 Women Making a Difference" by Diverse Issues in Higher Education, a magazine that focuses on matters of access and opportunity.