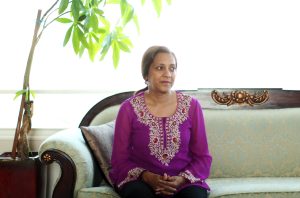 A personal loss six years ago forced Manju Seal (MA '90) to evaluate her life and what she could do to help others. She ultimately put her high-powered financial career on hold for two years to help South Asian women who were victims of domestic violence.
"When my brother died, it was a turning point," said Seal, who had been a vice president at Goldman Sachs in New York and McMorgan & Company in San Francisco before becoming a fulltime volunteer. "I felt that I needed to take some time off, travel, reassess and reflect upon life. The goal was to take a few months; now it's become a longer journey."
After a decade in the financial industry, she discovered a new purpose when she began leading Narika, a San Francisco nonprofit that provides a hotline and support for South Asian women suffering from domestic violence, exploitation or human trafficking. "That's close to my heart," she said.
Seal's journey took another turn this month when she and her family relocated to Singapore for her husband's new job. She's ready to restart her financial career now and to make a difference in her new home, but she's taking with her a different perspective on how to measure success.
"A lot of what we, as individuals and firms, do today globally is usually motivated by how to make and maximize monetary profit. When you volunteer for nonprofits, you experience that monetary profit is not the goal. But a lot is still gained by helping individuals or a community. That to me is very appealing. In fact, the term 'nonprofit' is a misnomer. It ought to be changed to 'greater profit.' "
Seal, a native of India, earned a master's in mathematics from Wake Forest in 1990. She still remembers the support of music professor Peter Kairoff and now-retired mathematics professors Fred Howard and John Baxley (P '91, '92). Kairoff encouraged her interest in music, and she earned a master's degree in ethnomusicology from the University of Wisconsin-Madison in 1993.
She joined Goldman Sachs in 1997 and eventually managed a team that provided risk and performance for institutional accounts worth $71 billion. She and her husband, Ramki, moved to San Francisco in 2002, and several years later she joined McMorgan & Company.
After her brother Arun's death in 2006 and a year of soul-searching, she left McMorgan and founded a small company, Isospinn Inc., with a stated purpose of "impact investing for planet's good." But she soon put her new company on hold to take on a much larger role with Narika.
She had volunteered at Narika for several years, teaching computer classes to help women obtain job skills and serving as a board member and treasurer. Like many nonprofits, Narika faced financial problems during the recession. When the executive director departed in 2009, Seal stepped up. She spent two years working fulltime — as a volunteer — as board president. Using her business background, she kept Narika's doors open by refocusing the organization, upgrading its infrastructure and strengthening its finances.
She stepped down as president after she adopted a baby girl, Jonaa, from India in 2011. (She also has a 12-year-old daughter, Nini.) Narika's board saluted her "tireless and selfless work"… . (She) "contributed in innumerable ways towards laying a foundation for Narika's continued growth and development."
Seal has embraced other volunteer roles as well. She returned to India several years ago to lead an effort by Friends of Live Earth to reach more than 1.1 million children in 5,000 schools to raise awareness of climate change. She was also a chapter leader in the Bay Area for 85 Broads, a global network for pioneering women, and she founded chapters of 85 Broads in Mumbai and Bengaluru, India.
Seal traces much of what she's done back to her family and her education. Her family had limited financial means, but believed strongly in education, she said. "The Wake Forest experience is something that I really needed in my life at the time. I became the first person in our extended family to go abroad for graduate studies and fund it on my own merit. So it's always been important to me to recognize that someone along the way helped me to the next step. After Wake Forest, I hoped to do a little bit of that for others, too."
Watch an interview with Manju Seal on the changing role of Indian women: