Wake Forest's Class of 2013 was reminded that timing is everything at Commencement on May 20.
Following a weekend of rain that continued into Monday morning, the precipitation stopped long enough – barely long enough – to allow Commencement to proceed as planned on Hearn Plaza. A ceremony that began with students delivering the welcome in half a dozen languages concluded with heavy rain falling, almost on cue, as it ended.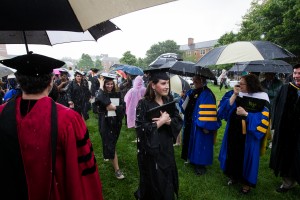 Stuck in a long line for the recessional, graduates struck up a cheer of "Wake!" "Forest!" amid the downpour. Faculty members pulled out umbrellas and gamely lined up in front of Reynolda Hall to applaud, hug and congratulate graduates. The rain ended within minutes, giving soaked graduates, family and friends time to take pictures and savor the moment.
It was perhaps the closest rain has come to disrupting the ceremony once the decision was made to proceed outside since 2001 — when light drizzle was falling as the ceremony began.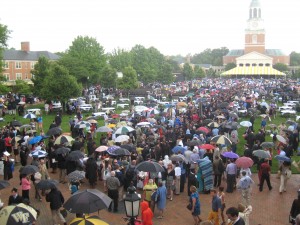 Since Commencement was held for the first time on Hearn Plaza in 1966, rain has forced the ceremony inside only four times — in 1973 and 1983 when it was held in Wait Chapel, and in 1991 and 2010 when it was held in Joel Coliseum; a wind storm in 1989 knocked down the tent the night before Commencement, but the ceremony proceeded, without a tent.
About 1,700 members of the Class of 2013 — 1,000 undergraduate and 700 graduate and professional students — received degrees during a ceremony that began under muggy overcast conditions and turned cooler as heavy clouds began moving over campus three hours later.
An hour before the ceremony began, Sydney Shirley and Meggy Hearn sat on a curb in the parking lot beside Poteat Residence Hall fighting back tears. "I'm very emotional and near tears because this has been the best four years of my entire life," said Hearn, a psychology major from Old Greenwich, Conn. "I know this is supposed to be commencing into a great new chapter in life, but I'm really sad to be closing this one."
Hearn — no relation to former President Thomas K. Hearn Jr. — and Shirley, a psychology major from Raleigh, N.C., were sporting red Chuck Taylor sneakers, worn by the graduating members of their sorority, Chi Omega. Shirley's twin brother, Jefferson, also graduated; their mother, Kimberly Boatwright Shirley, graduated in 1985.
Nearby, Austin Belcak, a biology major from Hilton Head Island, S.C., was munching a chicken biscuit and talking to friends while waiting in line. "The thing I'll remember most are the people; I've made some of the best friends I've ever had. I'm pretty happy because we made it through four years, but also sad because I'm not going to see these guys for a while. It's bittersweet."
Allison Cacich, a communication major from Libertyville, Ill., surveyed the hundreds of students milling about waiting to line up for the processional onto Hearn Plaza. She said she'll remember most the times when the student body came together as a community – for football games, Student Union events, carnivals and events such as Shag on the Mag. "I can't believe it's been four years since I started all this," said Cacich, who hopes to land a job at a magazine in New York City. It's unbelievable to see all my freshman friends and all the people I've met these past four years, and we're all getting ready to enter the real world."
Out on Hearn Plaza, Amy Forbes, an English major from Shakopee, Minn., was visiting with her parents, Jean and Dave Forbes, who had snagged good seats in front of the College Bookstore. "The best thing about Wake Forest was the ability to have small classes and get to know my professors," said Forbes, who will be staying on campus this summer as an intern in the Club Sports program. "I went over to a lot of my professors' houses for dinner a couple of times and got to know them on that personal level. That ultimately helped with my studies because I felt more comfortable talking with them about assignments because I knew them."
At Wake Forest's first Commencement to integrate social media, students and parents were encouraged to tweet during the ceremony – tweets using the hashtag #wfugrad appeared on Jumbotrons – and share photos on Instagram. Over 1,150 tweets using #wfugrad were sent before and during the ceremony, and more than 500 photos tagged with #wfugrad were posted on Instagram.
Television journalist Gwen Ifill, who delivered the Commencement address, even got in on the action, taking to Twitter several days before her speech to ask graduates for suggestions on what she should say. During her speech, she paused to take out her phone and snap a photo of the audience for her Twitter feed.
She urged graduates to find a cause that they believe in and use what they have learned to "affect the lives of those around you."
"You have to decide what you care about, and then be prepared to act," said Ifill, managing editor and moderator of "Washington Week" and senior correspondent for the "PBS NewsHour." "If you see something, do something.… I don't care if you're Tea Party or Occupy. Do something. It is not essential that you care about everything. But you have to care about something."
In his remarks to the graduates, President Nathan O. Hatch encouraged them to display "grit," persistence to master challenges and perseverance to overcome failure. "Understand how to cope with disappointment and failure. The timeless, if uncomfortable truth, is that true strength of character is almost always forged by encountering and overcoming failure."
Also during the ceremony, retiring faculty from the Reynolda and Bowman Gray campuses were recognized (see list below). Hatch recognized long-serving staff members Toby Hale, Ken Zick and Harold Holmes. Hale ('65, P '03), an associate dean of the college, is retiring after 43 years. Zick is stepping down after serving as vice president and dean of student affairs for 25 years, but he will remain on the faculty. Holmes, associate vice president and dean of student services, is retiring after 25 years.
Five honorary degrees were awarded during the ceremony. Ifill received an honorary Doctor of Humane Letters degree. Carolyn Y. Woo, president and CEO of Catholic Relief Services, received an honorary Doctor of Humane Letters; she delivered the Baccalaureate Address in Wait Chapel on May 19.
Honorary degrees were also awarded to: Janet Murguia, president and CEO of the National Council of La Raza, the largest national Hispanic civil rights and advocacy organization in the United States, Doctor of Laws; and David S. Wilkes, executive associate dean for research affairs at Indiana University School of Medicine, Doctor of Science. The late Michael A. J. Farrell (P '10), co-founder, chairman and CEO of Annaly Capital Management and the lead donor to Farrell Hall, was honored with a posthumous Doctor of Laws degree.
Retiring Faculty, Reynolda Campus
Watch a video of retiring Reynolda Campus faculty and staff
Hugo C. Lane (P '92, '95), Professor of Biology, 40 years
Paul M. Ribisl (P '89, '91), Charles E. Taylor Professor of Health and Exercise Science, 40 years
Herman E. Eure (PhD '74), Professor of Biology, 39 years
Andrew V. Ettin, Professor of English, 36 years
Robert L. Utley Jr. ('71), Associate Professor of Humanities, 35 years
Harry B. Titus Jr., Professor of Art History, 32 years
Perry L. Patterson, Professor of Economics and Lecturer in Russian, 27 years
Alix Hitchcock, Lecturer in Art, 24 years
Robert J. Plemmons ('61), Z. Smith Reynolds Professor of Mathematics and Computer Science, 23 years
M. Stanley Whitley ('70), Professor of Romance Languages, 23 years
Jenny Puckett ('71, P '00), Lecturer in Romance Languages, 18 years
Jeanne M. Simonelli, Professor of Anthropology, 14 years


---

Retiring Faculty, Bowman Gray Campus

Dr. M. Madison Slusher (P '87), Professor of Ophthalmology – Surgical Sciences, 38 years
Dr. Charles S. Turner (MD '70, P '00), Professor of General Surgery, Pediatrics – Surgical Sciences, 38 years
Timothy E. Kute, Professor of Pathology – Tumor Biology, 33 years
Dr. Ralph B. Leonard, Associate Professor of Emergency Medicine, 32 years
Dr. Kimberley J. Hansen, Professor of Vascular and Endovascular Surgery – Surgical Sciences, 27 years
Dr. Robert Chin Jr. (P '12), Professor of Internal Medicine – Pulmonary, Critical Care, Allergy and Immunologic Diseases, 25 years
Dr. Constance Ann Stanton, Associate Professor of Pathology, 23 years
Michael F. Callahan, Associate Professor of Orthopaedic Surgery – Surgical Sciences, 22 years
Dr. Margaret A. Harper (MS '02), Associate Professor of Obstetrics and Gynecology, 22 years
Claudine Legault, Professor of Biostatistical Sciences – Public Health Sciences, 22 years
Dr. William G. Ward (P '12), Professor of Orthopaedic Surgery – Surgical Sciences, 22 years
Dr. Walton W. Curl, Professor of Orthopaedic Surgery – Surgical Sciences, 17 years
Dr. Michael A. Bettmann, Professor of Radiology – Radiologic Sciences, seven years