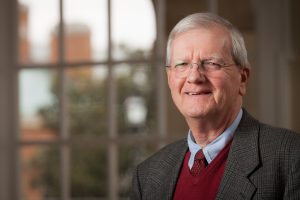 Toby A. Hale ('65, P '03) and Paul N. Orser ('69, P '01) touched the lives of thousands of students during their long careers as associate deans. Both mentored and advised students and helped them connect with faculty members.
To honor their commitment to students, as well as recognize their long personal friendship, a fund has been established in their names to provide opportunities for students to work with faculty mentors.
"This fund honors Toby's and Paul's long dedication to Wake Forest and their commitment to fostering academic and personal relationships between our students and faculty," said Dean of the College Jacquelyn Fetrow.
The Toby A. Hale and Paul N. Orser Student-Faculty Engagement Scholarship will support students working with faculty members on research and scholarship projects, such as those sponsored through the Undergraduate Research and Creative Activities (URECA) Center; summer internships with rigorous academic components and faculty oversight, such as through the WAKE Washington program; and other faculty-mentored, academic activities.
Hale, associate dean and Dean of the Summer Sessions, is retiring this summer after 43 years at Wake Forest. During his long tenure, he chaired the Honor and Ethics Council, served as secretary of the Committee on Academic Affairs and coordinated the Wake Forest Research Fellowship Program.
Orser, who retired last year as Associate Dean for Student Academic Initiatives, also worked in the admissions, public affairs and student life offices during his 23 years at Wake Forest. As a member of the Dean's Office, he served as Dean of Freshmen for 16 years and directed the London (Worrell House) Program, founded and directed the WAKE Washington Program, and coordinated the URECA Center and Richter Fellowship Program.
Gifts to the Hale/Orser Fund may be made online or sent to the Office of University Advancement, P.O. Box 7227, Winston-Salem, NC 27109