A program from the 1951 groundbreaking ceremony and a fundraising brochure for the new campus. Invitations to the Magnolia Ball and Homecoming Dances. A 1952 commencement program. A postcard assessing a demerit for speaking to her boyfriend from her dorm-room window.
Those were among the treasured keepsakes from her student days that Audrey Caison Bridger ('52) rediscovered recently when cleaning out her attic. Bridger shared those items, and memories of her student days, with Wake Forest Magazine.
"The University is beautiful, but when I hear the Wake Forest alma mater, my heart and mind turn to that lovely campus in Wake Forest, N.C.," she wrote in a five-page handwritten letter that she sent in a large envelope filled with memories. "Without the history of Wake Forest College, there would be no University."
Bridger's package was an unexpected, but fascinating, glimpse into the life of a student on the Old Campus and the things that meant so much to her that she glued them into a scrapbook and saved them for 60-plus years. I wanted to learn more about Bridger so I called her at her home in Wrightsville Beach, N.C.
(She and her husband, Dewey Herbert Bridger Jr. ('52), split time between Wrightsville Beach and Bladenboro, N.C. If the Bridger name sounds familiar, it should: Dewey's father, Dr. Dewey Herbert Bridger, and Dr. Bridger's cousin, James Albert Bridger (JD '21), were among the donors for the construction of the original Bridger Field House in 1968.)
She was more than happy to share her memories. "The campus was so lovely with all the magnolia trees. It was a wonderful place to be."
Many of her memories revolve around the boy she met her sophomore year, Dewey Bridger; he "swept me off my feet," she said. Once, when Dewey arrived to pick her up for a date, she leaned out her second-floor window in Johnson dorm to tell him she was on her way. That was enough in 1952 to earn you a "call down," or demerit.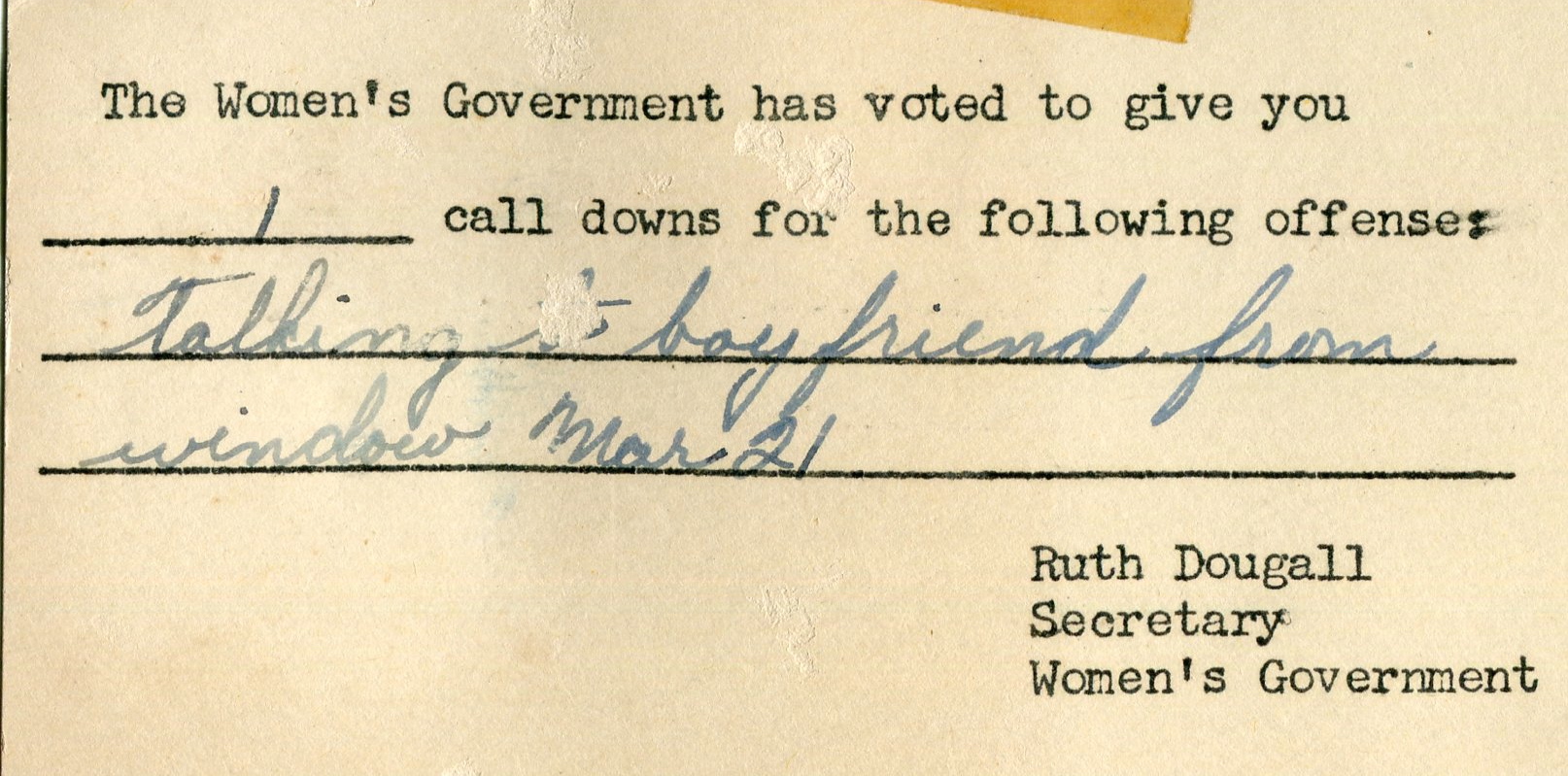 She saved the now yellowed postcard sent to her a few days later that reads: "The Women's Government has voted to give you 1 call downs for the following offense: Talking to boyfriend from window Mar 21." She only received one other call down: for missing mandatory chapel. Too many call downs and you'd be "campused," or restricted to campus for a certain amount of time. "Times were so different," Bridger says simply.
It was a time when you could smoke in class, although she never did much of that; "smoking and taking notes just did not go together." It was a time when you had to go to chapel three days a week, but you could slip off on the weekends to fraternity dances in Raleigh or Durham or football games in the original Groves Stadium.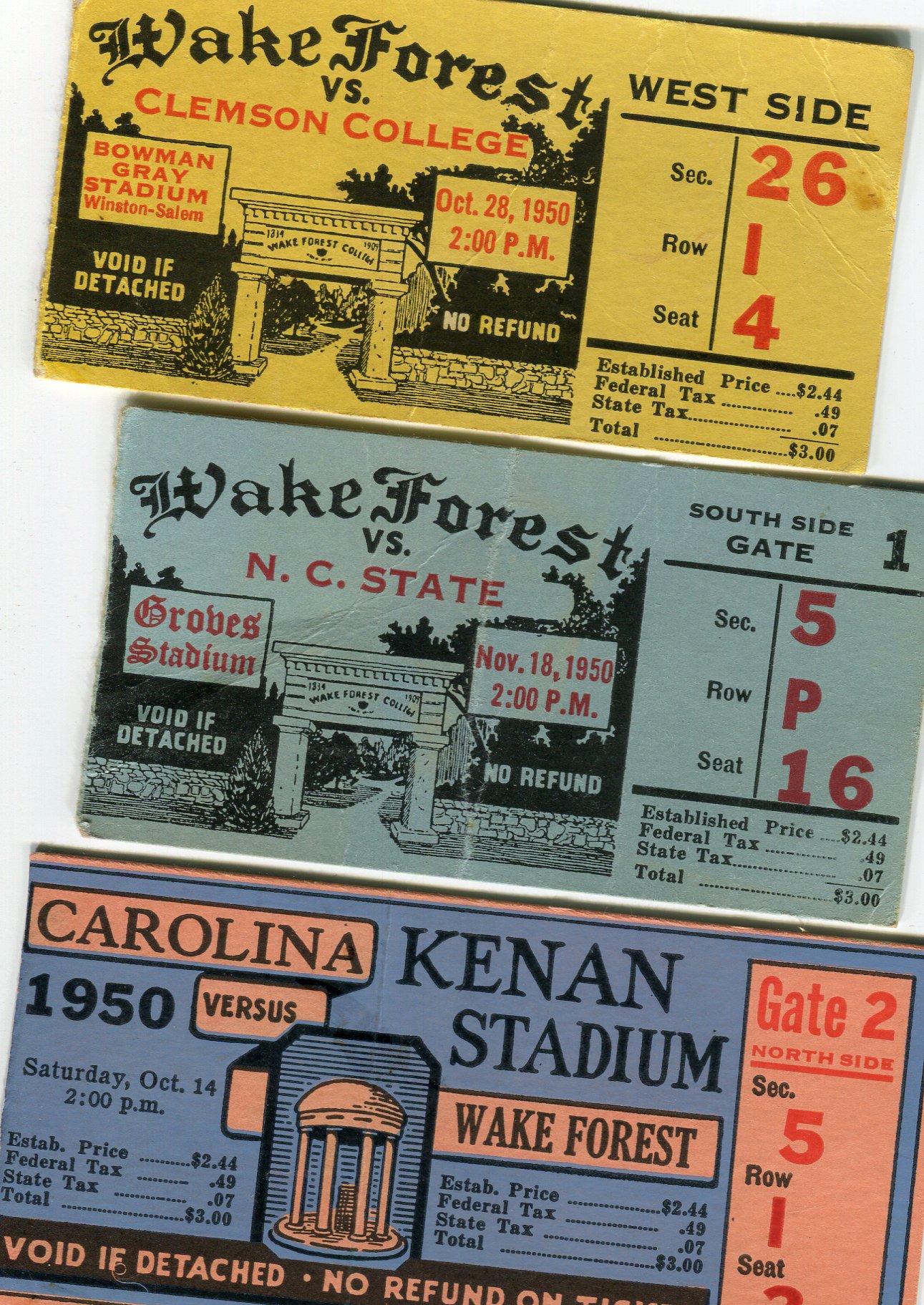 Bridger sent a dozen football tickets for home and away games. Note the ticket prices! $3 for games at Wake Forest and Carolina and $3.50 at Duke. On the back of a ticket stub for the Wake Forest – William & Mary game in 1950, she had written "Us 41 Them 0." She also saved a program from the 1951 Wake Forest – William & Mary game (W & M won that one, 7-6), played during Richmond's Third Annual Tobacco Festival, which also included a parade, a Queen of Tobaccoland beauty pageant and a theatrical presentation on the history of tobacco.
An English major and history minor, she took classes with professors E.E. Folk ('21), Henry Snuggs ('26) and Gerald Grubb (MA '34) in English; Marcel Delgado in Spanish; and George Griffin ('35) in religion. She still keeps in touch with her roommate, Virginia Smith Williams ('52), and she still remembers walking into town to eat at different restaurants, but not at Shorty's because "it was a little rowdy."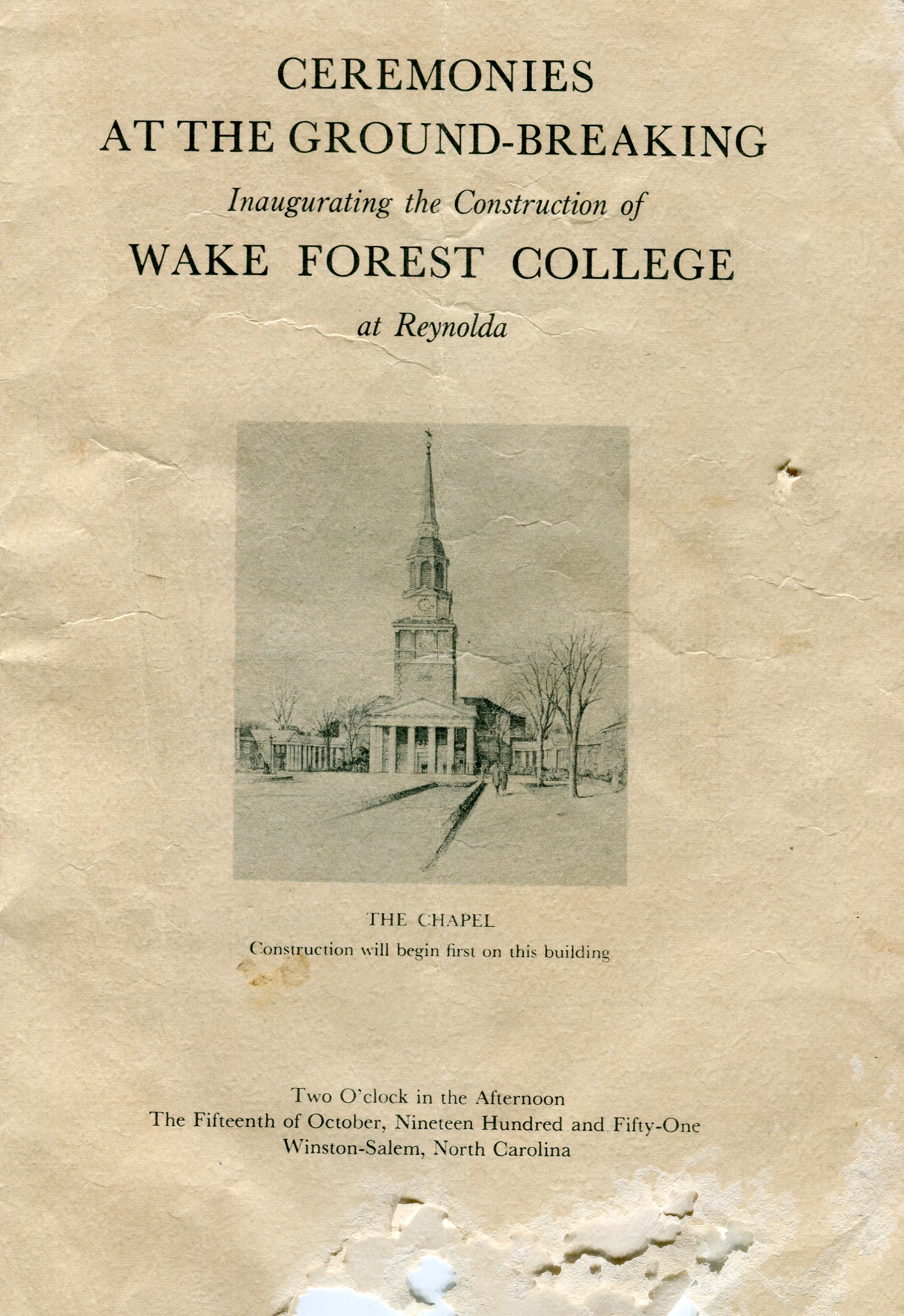 She went to the groundbreaking for the new campus on Oct. 15, 1951, in Dewey's turquoise green Ford convertible. She saved the program from the ceremony and a commemorative gold pin. The now-tattered program has a drawing of The Chapel (later named Wait Chapel) on the front and a photograph of benefactor William Neal Reynolds, who had just died the month before, on the back.
Standing in the fields of Reynolda, she couldn't visualize how the new campus would look. She saved the special groundbreaking issue of the Old Gold & Black and a 30-page fundraising booklet with architectural drawings of the new campus by Jens Frederick Larson. The booklet – boldly titled "North Carolina's most significant enterprise" – offers gift opportunities to name new buildings: $1.5 million for the chapel, $2 million each for the library and gymnasium, and $2.5 million for the main building (later Reynolda Hall), astonishing sums for the day.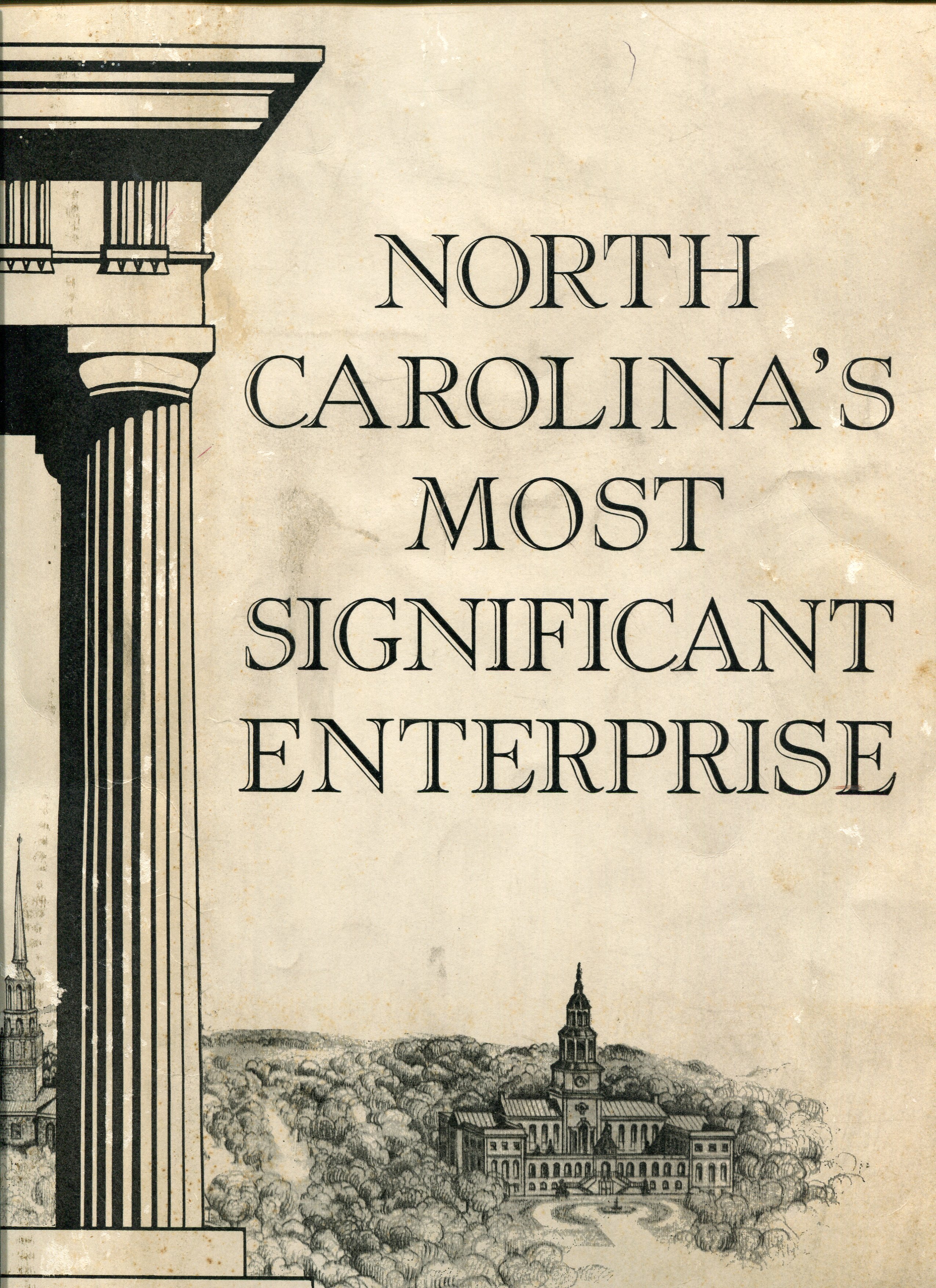 Bridger also kept the simple program from her graduation in Wait Chapel on June 2, 1952. Two months later, she and Dewey got married and settled in Dewey's hometown of Bladenboro. They have three sons who followed them to Wake Forest: Dewey III ('76, MD '87), Claude ('80) and Dickson ('82), and six grandchildren.
It had been 20 years or so since Bridger had seen those treasures from her student days. Sharing them, and talking about those days 60 years ago, brought back many happy memories, she told me.
"It was a wonderful time," she said, "it was just a wonderful time."
The items Mrs. Bridger sent to Wake Forest Magazine have been given to the Wake Forest Historical Museum.