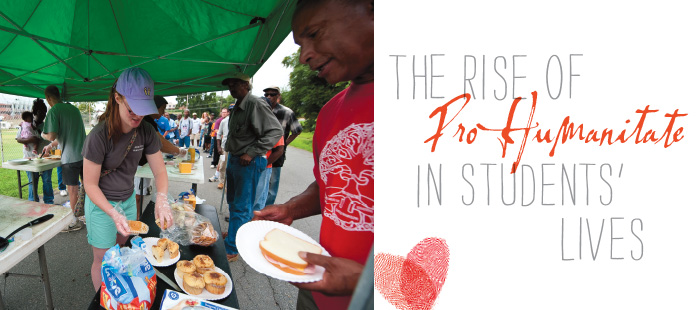 Six years ago, when they made their first foray into downtown Winston-Salem to hand out sandwiches to the homeless, Wake Forest students Jordan Jones ('08), Eric Lange ('08) and Richard Roberts ('08) had trouble breaking out of their comfort zone.
"I'll never forget how nervous we were the first time we went out," Jones said of that drive in the winter of 2007 in his VW Passat, packed with four or five loaves of bread, a large bottle of Miracle Whip, some deli meat from Sam's Club and a heaping helping of good intentions. But before they could feed the hungry, the three buddies had to overcome their apprehension and get out of their car.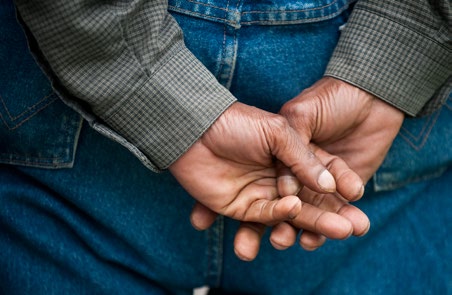 "We drove all around trying to find the 'perfect place,' but we all kept disagreeing because deep down we were nervous about stepping out of the car," Jones recalled. "After driving past the corner of Patterson (Avenue) and 11th (Street) several times, we admitted we were nervous and that we just needed to get out of the car, which kind of represented the 'Wake Forest bubble.' "
It's a journey that many Wake Forest students are taking today, breaking out of the protective campus bubble to open their car doors, and hearts and minds, to serving others. They're defining what Pro Humanitate means to them, on their own terms, in their own way. Whether it's serving the homeless in Winston-Salem or building a well in Kenya, students are discovering for themselves what stirs their passions and how they can use that passion to meet a need. In return they're gaining as much as they're giving, by learning understanding and compassion.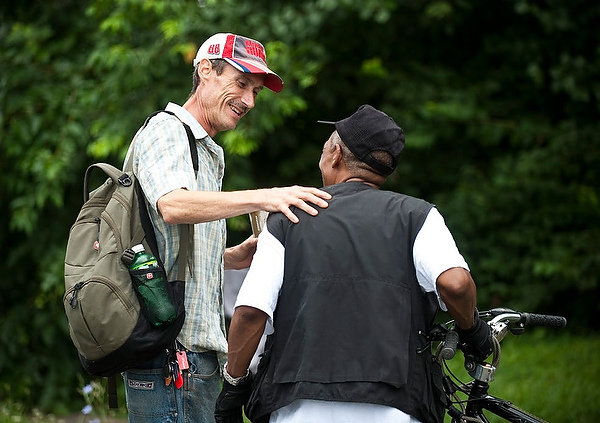 When Jones, Lange and Roberts finally opened their car doors, they discovered people who would enrich their lives. "I think most of the nervousness came from not knowing what was out there," Roberts said. "Since we didn't know any of the homeless individuals personally at that point, we instinctively portrayed them as 'the other' and were a little concerned about our own safety. Once we actually did get out of the car, we were able to connect with people pretty quickly, and they became our friends. We began to really value those relationships."
They were soon setting up tables and chairs in a vacant lot and serving 250 sandwiches, plus freshly cooked green beans and corn, along with desserts and drinks — paid for out of their own pockets with parents and friends chipping in — to anyone needing a meal. They also began advocating for the homeless, even camping out for two months in a downtown park to herald the need for more shelters during the winter.
Those three members of the class of 2008 had no idea they were planting the seeds for what would eventually become Wake Saturdays, on track this year to become an officially recognized student organization. Whether you call it volunteerism, public engagement, civic responsibility, community service or social justice, students are taking Pro Humanitate into the world.
In the 2012-13 academic year, students contributed more than 137,000 hours of community service. Many students volunteer through their fraternities, sororities or campus chapters of Campus Kitchen, Circle K International or Alpha Phi Omega, a national service fraternity. Others serve through the Volunteer Service Corps with local nonprofits including AIDS Care Services, Big Brothers Big Sisters and the Forsyth Humane Society. Law students act as court advocates for children through the Guardian ad Litem program and volunteer at a local elementary school and community center. Business students teach financial literacy programs to at-risk youth in Winston-Salem and business skills to entrepreneurs in Nicaragua. Divinity students volunteer at Samaritan Ministries and in local churches.
Mike Ford ('72), longtime associate dean for campus life, has been around campus long enough to remember when expressions of Pro Humanitate — notwithstanding intermittent individual or group efforts — weren't as prevalent (see Constant and True). Ford vividly recalls former Chaplain Ed Christman's call to service when Christman ('50, JD '53) championed the founding of the Volunteer Service Corps (VSC) in the late 1980s: "Go forth and serve humanity; this is our legacy as Wake Foresters, so own it and live it." With retired Charlotte businessman Henry Cooper ('53, P '82, '85, '89) shepherding the VSC through its early years and support from Vice President Ken Zick (P '02, '03), a wave of volunteerism swept the campus, partly reflecting a generational shift, partly the new emphasis arising from Christman's call.
It was Jessica Davey ('95) who answered the call in a most audacious way. It's hard to imagine that 20 years ago it was a radical idea for a Wake Forester to volunteer in another country. Davey blazed that path in 1993 when she travelled to Calcutta, India, to work in shelters for the homeless and dying with Mother Teresa's Missionaries of Charity. The following year, she returned to Calcutta with a dozen classmates, establishing the City of Joy program. That opened the door for U.S. and international service trips to such destinations as Vietnam, Russia and Rwanda.
Mary Gerardy (MBA '92), associate vice president and dean of campus life, counts herself among those affected by Davey's passion for service. She has accompanied students to Vietnam, India and Rwanda. Those trips inspire a life-changing, deeper sense of one's connections to the world, she said. Some students find a way to return to those countries. Others choose to do something locally. She said of the trips: "There's a real understanding of their privilege and a need to now figure out what you can do as a result. Many will recommit themselves, or commit themselves for the first time, to VSC or Campus Kitchen or with a community partner."
In the nearly quarter century since the VSC was founded, students have partnered in ever growing numbers with local nonprofit organizations — think Habitat for Humanity or Crisis Control Ministries or any one of VSC's 150 partner agencies. They've started programs to alleviate hunger (before Wake Saturdays, there was Campus Kitchen, preceded by Homerun). They've transformed the Brian Piccolo Fund Drive for cancer research to encompass some of the biggest, most popular events on campus. They've invited local children to campus for an afternoon of Halloween fun and delivered Christmas gifts to underprivileged children. They've travelled to Nicaragua to promote healthier lifestyles and to New Orleans to clean up after Hurricane Katrina.
In April about 200 undergraduates fanned out across Winston-Salem to volunteer at the Ronald McDonald House, Samaritan Ministries, the Salvation Army and other local agencies during the first of what student organizers hope will be an annual day of service, much like the Pro Humanitate Days for alumni.
Senior Mattie DelVecchio, who went with other students to the Brookridge Retirement Community near campus, said the experience opened her eyes to "a different, more interactive side of service. It made me want to become more personally involved in projects where I can build relationships with the people I am serving."
Students must discover for themselves what stirs their passions, or, in the words of one student, their own "platform." There is no how-to kit for Pro Humanitate handed out at first-year orientation, no 10 rules for a meaningful life of service.
"We get in a bind when we tell students 'this is the way,' " said Shelley Graves Sizemore ('06, MA '09), assistant director of campus life for service in the Office of Service and Social Action. "For a lot of our students this is the first time they're making their own experience. While it might be easier for them if we tell them what Pro Humanitate means, they're learning a lot more by figuring it out on their own and navigating it themselves."
Patrick Yarborough ('13) is a good example. He volunteered in high school but he had never put much thought into what service meant until coming to Wake Forest. After volunteering at the beginning of his freshman year at the Second Harvest Food Bank and Samaritan Ministries through a pre-orientation volunteer plunge called SPARC (Students Promoting Action and Responsibility in the Community), he continued to return to the two nonprofits throughout his college career.
"To come face to face with people you're serving is one of the most gratifying things about service," said Yarborough, who last year led one of the oldest and largest student service projects, Project Pumpkin. "At the most basic level Pro Humanitate is the realization that a core piece of each person's life should be some sort of effort to better his or her surroundings. I decided early on at Wake that if I only defined my surroundings as people who were as fortunate and advantaged as I am, I was living a pretty shallow life."
That sense of Pro Humanitate's being at the core of a student's life has the deep support of faculty, staff and administrators who stress that the motto can inspire a way of approaching the world. It's not about racking up community service hours, clocking in and forgetting about service until the following week rolls around. It's not about feeling ennobled by good works. It's not about being oblivious to the connections between classrooms and the world beyond the bubble.
It should be a learning experience, "the exact opposite of 'doling out charity,' " said Norma-May Isakow, associate director of the Institute for Public Engagement.
Founded in 2010, the institute connects Pro Humanitate with Wake Forest's teaching and research mission. Aside from supporting their research, it helps professors develop courses that involve a service-learning component, typically with a nonprofit or public policy agency, and it supports students interested in careers in nonprofits through internships and fellowships. "What really makes Wake special is we give students space to focus on who they want to be in the world and what broader impact that they can have," said the institute's director, Steve Virgil.
This delicate interweaving of academics, career and volunteer passions can help students discover that their commitment to Pro Humanitate doesn't have to end when they graduate. Amanda Horton, assistant director for campus life and student programs, put it this way: "Something really magical can happen when a student realizes Pro Humanitate is what I'm doing inside the classroom and what I can do outside the classroom. I can use my degree in various ways to be for humanity in a way that no one has thought of before."
Junior Ty Kraniak had just such a realization after studying in Nicaragua last summer and after hearing the founder of the Winston-Salem-based nonprofit Hydrating Humanity speak to his global-health issues class. He emerged with a laser focus: the lack of clean, easily accessible water in many parts of the world. Kraniak set his sights on a career in global health and landed an internship at Hydrating Humanity, which builds wells in eastern Africa and provides education to reduce waterborne diseases.
He didn't know it at the time, but some of his classmates had also made water their top issue. "The more we learned about it, it was hard not to be passionate about it," said Caroline Drew. Drew and fellow junior John Lineberger are the leaders of a new group that combined Hydrating Humanity's name and Pro Humanitate to form Hydrating Humanitate. "Every 20 seconds a kid dies because of unclean water," she said. "As students at Wake, we have an obligation to make someone else's life better."
When Kraniak learned of his classmates' interest in water, he joined their efforts to sponsor a fundraising dance and concert on Manchester Plaza last spring. They raised enough money to pay for the construction of a well in Kenya, where, coincidentally, Kraniak was headed for his internship. He spent two weeks there in May, scouting locations for new wells.
In a district called Kuria, he found a footprint of Pro Humanitate in Africa, a new well marked with a stainless steel plaque that proclaimed, "Wake Forest University, No. 1." "Walking up to that well was almost surreal, linking a concert we held on the Mag Quad to that well thousands of miles away," he said. As quick as a flash illuminating connections, his photos of the well zipped back to campus.
Meanwhile, a handful of students back in Winston-Salem were continuing to make food deliveries during the summer for Wake Saturdays. Their goal remained the same as in the beginning — to provide food as a bridge to build relationships. As the academic year resumed in August, more students began turning out, embarking on that now-familiar drive to the corner of Patterson Avenue and 11th Street. "We go because we care about the people there and we want to be involved in each others' lives," said senior Kate Culbreath, who is working to obtain the group's charter. "Because we see the same people each Saturday, it allows us to really develop relationships and hear about what is going on in their lives from week to week."
Today Ed Christman is in a retirement home, no longer on campus to issue the call that moves the Jessica Daveys, the Ty Kraniaks and the Kate Culbreaths to consider Pro Humanitate, go forth and live it. People like Joshua Courtney ('13) are the ones who now step up. As Courtney told his classmates in his senior oration at Founders' Day Convocation in February: "Our motto, Pro Humanitate, calls on us to shatter the illusion that knowledge is only for the privileged, that social stratification need dictate life, and that institutional injustice has to be permanent. Let's listen to our creed and then … let's act."
And do they ever.
---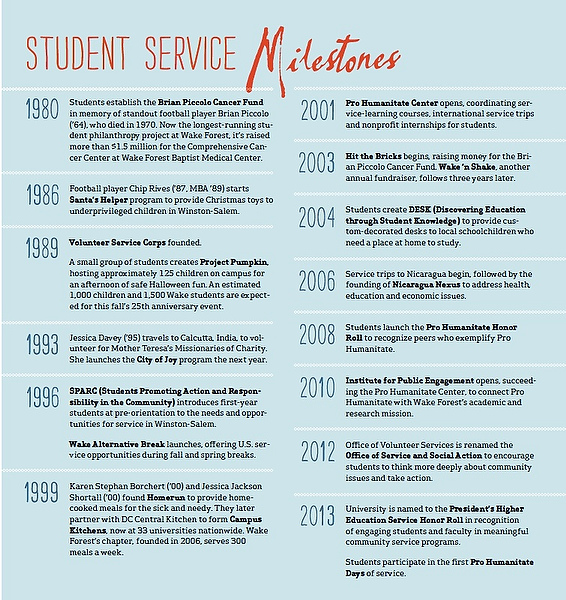 ---