Can you believe its been five years since Lummox and Goodrich graduated? William Warren ('08) chronicled the adventures of the mismatched roommates in his cartoon strip "Lummox" in the Old Gold and Black from 2006 to 2008. He won the Charles M. Schulz award for the best college cartoonist in 2008. Today, he has his own business, The Sketch Effect, and he draws cartoons on a freelance basis for Liberty Features Syndicate. With his fifth college reunion this week, he looks back at his cartoon alter egos who chronicled life at Wake Forest.
What inspired Lummox?
I've been drawing comic strips my whole life, usually ones that react to life around me and tell funny stories. I started Lummox at the beginning of my junior year, so I had two years of college under my belt from which to draw inspiration. It was simply my reaction to college — the good, the bad, the ugly and the funny. I wanted to create something that was simultaneously an outlet for my own opinions and experiences and also something that fellow students could enjoy and relate to. I wanted to tell stories about compelling characters in a similar stage of life.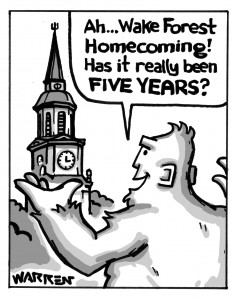 Did your freshman roommate ever resent the fact that you portrayed him as a big, clueless blob?
Well, other than a few punches and never speaking again, I'm not sure …. Just kidding. I don't think so — at least I hope he didn't resent it, and in fact, he shouldn't! Lummox is the hero of the comic strip. He's good-natured and kind, deceptively smart, witty and constantly challenging the status quo. While some of the shenanigans and stories were indeed inspired by my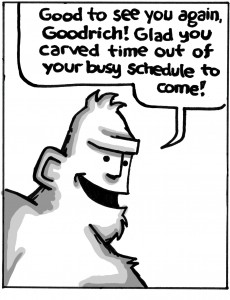 freshman roommate (and my freshman hall mates — Collins B-1 represent!), much of Lummox's personality, opinions and flaws are a reflection of my own. I put a lot of myself into Lummox.
I always thought you were Lummox's alter ego, Goodrich, the "good" student who went to class and studied?
I also put a lot of myself into Goodrich. Goodrich represents the more responsible, emotionally sensitive, rule-following side of my personality — he's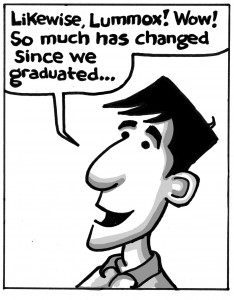 the one inside, studying in the library late at night while Lummox is outside, conniving to scale said library with a homemade grappling hook to subsequently throw things from its rooftop (both of which I did — don't tell Dr. Hatch, please). Goodrich's and Lummox's idea of "seizing the day" look entirely different, and I wrestled with that tension a lot at Wake Forest. Do I make memories diving into my books or diving into the tunnels beneath campus? Study or go on a Cookout run? Camp out in the library or camp out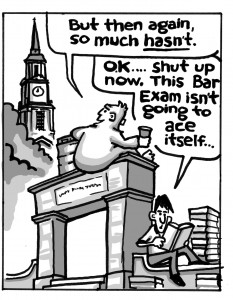 by Lake Norman? I imagine (and hope) all Wake students can relate and hopefully find a healthy balance.
It's been five years since you graduated, but the strip still holds up today. You chronicled average college life: parties, classes, cafeteria food, studying (or not). As you were sitting in class, were you always thinking "this would make a great idea for a cartoon?"
Ideas certainly came from my experiences. They also came from my opinions about college life — of which I had many. Sometimes I wanted to tell a funny story. Sometimes I wanted to vent. Lummox and Goodrich represented two different vantage points upon the same circumstances.
Lummox's best-laid plans (to get out of a test, for instance) were always thwarted by his professors; were they based on any real professors?
Not directly. The English professor was actually based on a high school teacher I had (and like Lummox, she wouldn't tolerate my shenanigans). For the most part, they were an amalgam of different professors I encountered at Wake. The professors that influenced me, however, were many – Tom Brister and Peter Siavelis (political science), David Faber (studio art) and Paul Hecht (English). The professor I bonded with the most is Dr. (Ken) Zick. I learned and experienced so much under his tutelage and consider him a good friend to this day (and check out the new "Zick's" hangout space on the Quad!).
Did you ever get in trouble for any of your cartoons?
Oh yeah. Some professors didn't like them — but most of the time that led to honest conversations with them, which led to a relationship with them. I had some of the best relationships with professors that wholeheartedly disagreed with me. I loved that. I also got some angry letters to the editor from students. Those are some of my favorite treasures from college.
If you had continued the cartoon after you graduated, what would Lummox and Goodrich be doing today?

In an effort to procrastinate, Lummox would have gotten into social media by the end of his time at Wake Forest, going on to start an immensely popular blog, leading to a successful writing and "un-motivational" speaking career. Goodrich would have moved to D.C., slaved as an intern on the Hill, burned out, and then gone to law school to slave there.
You've gone from drawing clueless college students to lampooning clueless politicians; what else have you been up to since graduating?
I moved to D.C. and worked as the creative director for a think-tank for a few years, doing some writing and editorial cartooning. (I still do cartoons on a freelance basis for the think-tank.) I moved back home to Atlanta and got a master's degree in illustration from Savannah College of Art and Design. I then changed course a bit, getting a job in the marketing department at Chick-fil-A Inc. After 2.5 amazing years at Chick-fil-A, I've launched out on my own and have started my own visual communication business, The Sketch Effect. Very similar to Lummox, the business is dedicated to communicating ideas in a visual way.