We caught up with several Lilting Banshees alumni for our 20th anniversary article in the Spring 2014 print issue and ran out of space to tell their stories. So, Banshee bonus! Here they are, in alphabetical order by last name.
Lizzie Cain ('09), Washington, D.C., General Services Admin.
Lizzie Cain says she was a bit of a goody two-shoes when she came to Wake Forest; she skipped the first Banshees show her freshman year because she had an 8 am. Spanish class the next day. But a friend did go and after seeing the show, wanted to audition, so Lizzie went along for the ride. She got in the troupe and the friend didn't. Awkward. "I was from Seattle and had never heard of Lilly Pulitzer or Vera Bradley so it was nice for me to jump right into a community of people from all different places," says Cain, whose audition included an improvisational monologue between her mother and "Wheel of Fortune" host Pat Sajak after they met at an airport. She fondly remembers marathon writing sessions and a sketch where she played an RA who discovers a dorm room with every possible infraction, including a toaster cat. "Working in federal government I don't hear a lot of funny people," says Lizzie, "and I can bring something to the group that they might not have had. I volunteer at the National Zoo, and I personally think my tours are funny."
****
Ryan Coons ('08), Atlanta, Ga., advertising senior copywriter
Do you remember a freshman show sketch called "Bert and Ernie Go to College?" That was Ryan Coons playing Bert, a curmudgeonly puppet moving into a room with someone other than Ernie. Yikes! His first two years at Wake Forest Ryan bounced from group to group trying to find a place where he fit in. He made the Banshees cast, and the subsequent two years shaped his career. Writing for high-profile clients including Toyota, Delta Airlines and Baskin-Robbins, Ryan says humor writing, comedic timing, lessons in teamwork and handling rejection are Banshees-learned skills he uses every day. "When you were in the thick of it you felt like you were being edgy and subversive," he says. "It was nice to have that secretish mentality that it was something selective people wanted to be a part of." Two big takeaways for this economics major-turned writer: the knowledge that he could make something out of his life that wasn't directly related to what he was studying in class, and lifelong friendships. "We'll have get-togethers and when you find out someone was a Banshee you 'get' that person," he says. "Suddenly you've made another friend."
****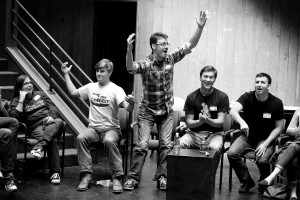 ****
Kristen Eppley England ('98), Thousand Oaks, Calif., comedian, artist, teacher
Years after graduation Kristen Eppley England was in the Denver airport when someone stopped to ask her, "Were you in that comedy show?" People remember the Banshees, she says, and notice it on a resumé. "I didn't want to study for a hard bio final so I auditioned, and it ended up being the most grounding thing I ever did," says Kristen, a comedian, artist, musician and former teacher who, along with a few other Banshees, moved to Los Angeles after graduation and performed comedy together. Kristen had been a part of other theater activities at Wake when she found herself writing brilliant jokes and performing them on stage for the Banshees. "The admiration I have for them … the ability to sink your teeth into something and not be intimidated, not to feel stupid or shy, just let your freak flag fly … it serves me on stage and in the classroom." England remembers Shane Harris' spot-on, good-natured spoof of Chaplain Ed Christman's "What's In a Name?" speech. She recalls the emotional "big email funeral" when Banshees lost a beloved colleague, James Buescher ('98), who created a character named "Rawn," a ZSR librarian. "College can be so hard and stressful and we said, 'We're all in this together' ", says England, who asked fellow Banshee and lifelong friend Jenny Harrison Bunn ('98) to be her daughter's godmother. "My whole life has changed because the troupe was my avenue to get here."
****
 Kyle Erickson ('06), Arlington, Va., writer at a software company
"Comedy is sometimes articulating that feeling of not belonging," says Kyle Erickson, who came to Wake Forest and at first felt like such a fish out of water that he considered transferring. When a friend suggested he audition for the Banshees in his sophomore year, the young man from Pennsylvania with no theatre or comedy background wrote and performed in front of a group — and subsequently found his niche. "It's the single most valuable thing I did at Wake, not just because of the friendships but also because of things it forced me to do," he says. Things like running across stage in a pair of black briefs. "Falling asleep at your laptop, throwing out crazy ideas, coming up with a bunch of prompts for the most absurd sketch we could think of just because it liberated us …" Like other Banshees, he was blown away by the intellectual and creative camaraderie as well as the thrill of connecting with an audience. "Humor helps draw people out of themselves and makes them more interesting," says Kyle. "It was a thrilling experience."
****
Adrian Greene ('00, MA '08), High Point, N.C., visiting assistant professor of English, Wake Forest University
Adrian Greene remembers a definition of satire told to him by fellow Banshee Shane Harris ('98): "Satire is a criticism made by a manifest fiction towards discernible historical particulars." It serves him well as an English professor, as does his experience writing and performing improvisational comedy. "I had to provide a definition of romantic irony — I hadn't planned to give one in that particular class — but I used an example of "Saved by the Bell" where the characters would step out and do a timeout sign and comment on the scene … I ran with the parody and the class got it," he says. The Banshees' freedom to create larger-than-life characters, often based on University figures, and to be self-deprecating about the institution made Wake Forest special because "we were willing to deflate our collective egos," says Adrian. He gleefully recalls a sketch in which campus builders were Amish and had to erect residence halls without technology. "We were gently poking fun in a way that wasn't savage or vitriolic," Adrian says. "The Banshees were all about collegiality and working together. It wasn't something we overthought or dissected. It came down to who could make us laugh."
****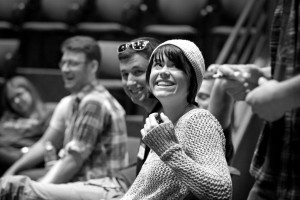 ****
Matt Jones ('96), Kigali, Rwanda, full-time father of two
A founding member of the Banshees, Matt Jones says "Being a part of a small group of crazies that were just crazy enough to want a sketch-show outlet at a school with nothing of the sort was simply thrilling." The troupe's first years were not without their rocky times, he says, and Ring Theatre shows grew so popular they moved to Brendle. His Banshees experience helped him get his former job as project manager for a San Francisco residential construction company. His future boss asked him how comedy writing and performing made him a better candidate for the position. "I told him that performing comedy and writing comedy hone your skills in improvisation, which is a skill you constantly need when fielding questions from clients or reacting to things they may throw your way. He agreed. I got the job." After four years of Banshees, any non-creative meeting is a letdown for Matt, who resists the urge to start shouting ideas and non sequiturs about random things. "Having humor as an ongoing partner, a little jester on your shoulder you might say, has only helped me to do my job better. At some point, you need to just look in the mirror and laugh at yourself or what you're doing — perspective can be a beautiful thing."
****
 Ae'Jay Mitchell ('11), San Francisco, Calif., environmental education associate and professional musical theatre performer
By day Ae'Jay Mitchell teaches school students about sustainability and how simple changes in their behavior will mean big changes for the environment. By night, he performs musical theater. Humor, as a catalyst for inspiration and change, serves him well in both. Originally from Louisiana, Ae'Jay encountered a "different" environment at Wake Forest and set about finding himself. As he defined his passions, he says, it was great meeting people who used humor to deal with their anxieties. As the sole African American troupe member during his time, his voice was important to sketch development and challenging stereotypes. "Everything's funny and everyone's funny, and that is a unique part of our human experience," he says. "We laughed at everyone and everyone laughed with us."
****
Jacob Morris ('04), Athens, Ga., musician, comedy writer
Going through a grueling audition process for the Banshees was a big step for Jacob Morris; up until then his performance experience had been a couple of high school theater productions and rock bands, one of which he started in eighth grade. Morris, an English literature major/studio art minor, handled the stage fright factor pretty well. He plays guitar, bass, keyboard and percussion on his first solo album, "Jacob Morris – Moths," released in 2012. He's also working on a pilot television show. It's premise? "It's sort of like a late-night interview show with sketch comedy but based on the college town of Athens," he says. Morris, whose sister Jess Morris Adams ('09) was also a Banshee, says he still keeps in touch with his comrades in comedy. "There was a lot of bonding in that experience."
****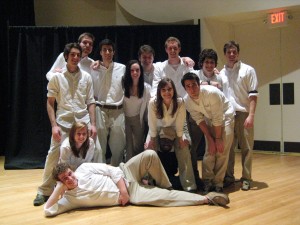 ****
Anita Woolley Nelson ('02), New York, N.Y., director of strategic planning, Tishman Construction Corp., an AECOM Company
"Having a sense of humor gets me through the day in a corporate job," says Anita Woolley Nelson. "I was very much influenced by the Banshees experience. That's not to say that English and communication were not wonderful courses, but I learned more in a room in Carswell Hall writing comedy sketches." Anita, who lived in Washington, D.C., Las Vegas, Boston and Abu Dhabi before settling in New York City, says that in the male-dominated construction industry her ability to disarm groups with a joke, "to navigate a room full of men and get them to listen," and to speak comfortably in front of crowds are talents refined during the Banshees years. "For each show you had a couple of days of brainstorming on sketches but you had to give up ownership, which in the corporate world is an everyday activity," she says. "I've watched colleagues from my generation who have had difficulty adjusting to the corporate world. From the Banshees I learned it's not always about me."
****
Elizabeth Thalhimer Smartt ('98), Richmond, Va., author and entrepreneur
"I am a mother of two, a freelance naming consultant and a writer. I use humor on a daily basis because there is no way I could get through this crazy life otherwise. Also, my daughter has named our pug Professor Fuzzy Lumpkins."
****
Wade Solomon ('96), Los Angeles, Calif., television drama writer
Wade Solomon was one of several Banshees who moved to Los Angeles after graduation to explore careers in comedy. He is among the few who never left. He had "never done anything creative" and decided to give the troupe a shot. "I wouldn't be doing what I am now if I had not done that," says Wade, who enjoyed being recognized on campus as "Angry Man," an irrational character prone to ripping off his shirt and yelling "For the love of God!" for no apparent reason. "For me it was more than an extracurricular activity; it was life-altering." Wade believes Wake Forest was the perfect place to write and perform comedy because it was a small community, everyone shared a similar experience and "a lot of silly stuff happened." Fellow Banshees from all walks of life were inspirational and supportive. "Here I worked in TV and it wasn't brand new to me because I had done it with the Banshees," he says. "Ninety-five percent of ideas are just awful, but that's how you find the other five percent. The creative process is remarkably similar."
****
Daniel Stern ('98), Los Angeles, Calif., author and screenwriter
In high school a teacher told Daniel Stern he was disruptive and needed to go into either detention or the theater. He may have gone to the former that day, but eventually he joined Wake Forest's theater community and became a Banshees writer/cast member from 1994-98. "It was very special to be around everybody that was smarter and funnier than you and be able to learn from it," says Daniel, whose wrote "Swingland: Between the Sheets of the Secretive, Sometimes Messy, but Always Adventurous Swinging Lifestyle." "The reason I was able to my write my book was because of what I did in those four years." Daniel played one of the "Glenns" in a recurring sketch about two roommates named Glenn. Half of the audience thought they were funny, and the other half despised them. "If you're not upsetting somebody you're not doing something right," he says.
****
Caldwell Tanner ('09), New York, N.Y., writer and illustrator, CollegeHumor.com
Not that he was typecast, but Caldwell Tanner seemed to always end up playing the Deacon in Banshees sketches. "Probably because of my giant chin," he suggests. "I always liked making people laugh but was very bad at taking things seriously. And even though I didn't really stick out at Wake (I could rock a polo shirt with the best of them), the Banshees were considered by most to be a bit of an alternative scene," says Caldwell, who pledged a fraternity and was active in WAKE Radio. "To its credit, though, Wake Forest has a lot of things like that."  He describes CollegeHumor.com, founded by Ricky Van Veen ('03) and former workplace of Banshees alumna and 'SNL' writer Sarah Schneider ('05), as "an alumni swimming pool of weirdos doing random things." Recalling the long hours spent writing sketches, collecting props and creating publicity flyers, Caldwell says Banshees was the toughest job he ever loved. "It helped me get in the mindset of pursuing something with 100 percent dedication."
---