The Spring 2014 issue will be in mailboxes soon. Here's a sneak peek at what's inside!
FEATURES

THE PROFESSOR IS IN
By Kerry M. King ('85)
Cover, Illustrations by Kyle T. Webster
From "resisting temptation" to "saving the salamander," faculty expertise opens doors to our enlightenment.
AN ARTFUL FRIENDSHIP
By Maria Henson ('82)
Photography by Ken Bennett
Two fraternity brothers circa 1967 renew their bond in retirement, painting and savoring life's colorful lessons.
THE PLACE WHERE I LIVE
By Julie Coyne ('89)
Photography by Joe Martinez ('06)
Julie Coyne ('89) discovered her purpose in a Guatemalan village among children who lacked educational opportunities.
ON THE MUSEUM HACK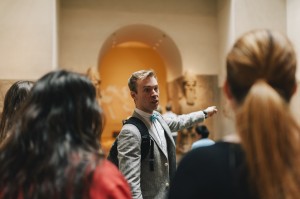 By Jane Bianchi ('05)
Photography by Joe Martinez ('06)
Some art tours are yawn-worthy, but the ones created by Nick Gray ('04) are playful, quirky and always surprising.
WHERE ARE THEY (FUNNY) NOW?
By Cherin C. Poovey (P '08)
Photography by Chris Record
Now out in the real world, former Lilting Banshees say the experience was about more than humor — it was life-changing.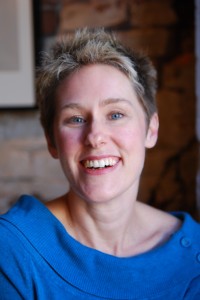 CONSTANT AND TRUE
By Jude Stewart ('96)
Wake Forest taught me education only comes by dint of surprise. I take no pleasure in admitting this.







---
DEPARTMENTS
FROM THE PRESIDENT
By Nathan O. Hatch
Wake Forest is on the move, and we have high aspirations.
AROUND THE QUAD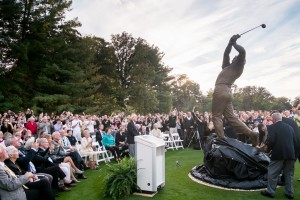 Farrell Hall dedication, Arnie's statue unveiled, our newest Rhodes Scholar and more.
PHILANTHROPY
By Cheryl Walker ('88)
The launch of 'Wake Will,' a capital campaign with a grand goal.
REMEMBER WHEN?
By Kerry M. King ('85)
How to survive a nuclear war — or at least how the campus prepared for that possibility in 1962.
CLASS NOTES
---