It was a snowy New York City day in February with freezing temperatures when Martha Napier ('07), clad in red plaid coat, sunglasses and fingerless gloves claimed a spot on the cold, hard sidewalk outside Lincoln Center.
She spread out her art paper, paintbrushes, watercolors and smartphone and amid the bustling New York Fashion Week crowd began live-illustrating the "street style" of the fashion elite. It wasn't long before the young artist, working with frozen fingers and frozen paint, drew quite a bit of attention. But more about that in a minute.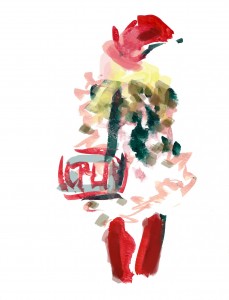 Thinking outside the box is nothing new for Napier, a Presidential Scholar in Art at Wake Forest who created her own knitwear line as a fifth-year student for the Kemper Fellowship in Entrepreneurship. While at Wake she was approached by a breast cancer prevention organization, Be Bright Pink, to illustrate their promotional materials. After graduation Napier worked for a year in Chicago, married Zachary Nippert, and in 2009 the couple moved to New York, where she attended Parsons The New School of Design (Fashion Design Studies) before going to work for top American sportswear designer Michael Kors. As a senior designer in women's wear, she not only managed a design team but learned all aspects of the fashion industry, from designing to merchandising and marketing, often working with buyers to develop key styles.
So how did a young woman whose goal was to go to New York, learn from the best and go out on her own end up on the celebrity-studded sidewalk outside Fashion Week? Because she rethought her goal, thanks in no small part to the wise words of Wake Forest mentors.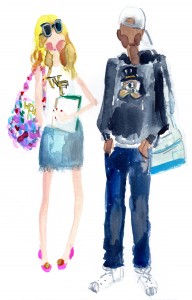 In high school she wanted to be a psychiatrist but a counselor recommended she apply for the Presidential Scholarship in Art. "I met with Professors (David) Faber and (Paige) Laughlin, who gave me invaluable guidance; when I received the scholarship it was a pivotal moment — Wake recognized this was something I should be doing and I started listening. I stopped seeing art as something on the side and began developing it into a true identity for myself." Last fall she left Kors after four years to pursue a lifelong love for illustration and to form Marnani Design, a lifestyle and fashionable illustration house.
The recent visit to Lincoln Center started out as a personal challenge, said Napier, to prove to herself she could paint quickly, confidently and without distraction. She timed her visit to coincide with runway shows she knew would attract the right crowd — fashion show attendees including editors, celebrities and fashion mavens clad in interesting color, patterns and sometimes sparkle (Napier's favorite.) "I got up there and when I came back two hours later, I had been interviewed and photographed," she said. "I got a fabulous response; I didn't think anyone would even talk to me."
It was when she went downtown to live-illustrate outside Michael Kors' show that she noticed a man in a blue coat standing over her. It was photographer Bill Cunningham of The New York Times, and he was snapping away. "I was freaking out inside but I kept painting," Napier said. "I didn't prepare myself for the performance part of it. People were responding to me because I was doing something unique." Two weeks later a photo of her appeared in Cunningham's "On the Street" collage in the Times Sunday Styles section.
"I love people and engaging with them — building relationships and learning their stories," said Napier, who is from Cincinnati and lives in Manhattan. "Being in a studio would be tough for me. Live illustration is the best of both worlds." In addition to fashion illustration, she is branching out into the bridal industry by illustrating wedding gowns, couples portraits and even the events themselves — she will create her first-ever live-wedding illustration at a sorority sister's marriage in May. "I want to help couples capture the sense of something precious in the moment, she said. "The bride will get a book of little gems that capture her wedding day."
Thanks to publicity surrounding her sidewalk-sit, Napier says word of her work is spreading through social media. She hopes to launch a full Marnani product line including tote bags, home goods, cosmetic bags and apparel, all featuring her distinctive illustrations in unconventional ways.
Perhaps her marketing plan will include painting them while sitting on a New York sidewalk. Why not? "I really think Wake instilled in me to think differently and outside the box," she said. "There's no reason you can't do something another way."