A coastal city in Argentina may seem an unlikely place for a private school modeled on Wake Forest. But Cecilia Rapela Silva ('74) has built a thriving school in her native country based on what she learned at her alma mater.
"Wake Forest was part of forming who I am," said Silva, who with her husband, Ricardo, is the founder and headmaster of Northern Hills Bilingual School in Mar del Plata, Argentina. "It taught me that values are very, very important. That's what we try to do with our students. You can't separate the mind from everything else."
Northern Hills celebrated its 25th anniversary last year. The school has about 450 students from 2 years old up to 12th grade. Half of the school day is in Spanish and half in English. The school's motto — integrity, commitment and wisdom — along with a commitment to educating students for a diverse world, reflect what she learned at Wake Forest, Silva said.
She is especially proud of the school's exchange program with half a dozen high schools in Winston-Salem. Every fall, 20 or so Northern Hills' students attend Winston-Salem high schools for a month. In the summer, students from Winston-Salem spend a month in a Spanish–immersion program at Northern Hills.
Silva has also worked with Professor of Education Mary Lynn Redmond to welcome education-graduate students to Northern Hills.
Michelle H. Bennett (MAEd '01), a Spanish teacher at Reagan High School in Pfafftown, has known Silva for years. She received a Richter Scholarship to study in Buenos Aires when she was a graduate student and spent some time at Northern Hills. Four of her students participated in the exchange program last summer. "I tell all of my students, if you have the opportunity and finances to do this, you should definitely do it," she said. "Cecelia and Ricardo are phenomenal leaders. They have really tailored the program to give students an authentic experience."
Although Silva was born in Argentina, she moved to Winston-Salem as a child when her father, Dr. Carlos Rapela, accepted a position as a physiology professor at the School of Medicine. She followed her older sister, Cristina Rapela ('71), to Wake Forest, where she was influenced by professors including Robert Shorter in English and Phil Perricone (P '91) in sociology, something that she's never forgotten, she said. "As an educator, it's nice to know when you have influenced someone's life, and that's what Wake Forest did for me," she said.
After graduating with a degree in sociology, she returned to Argentina to teach English in Buenos Aires. In the early 1980s, she started teaching English to 3 year olds in her home. Two years later, she had a hundred students. In 1988, she and her husband started Northern Hills on a picturesque, pine tree-lined campus in Mar del Plata, a city of 600,000 about four hours from Buenos Aires.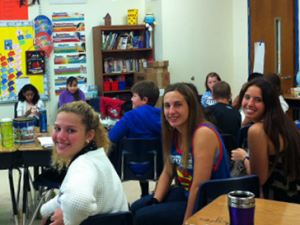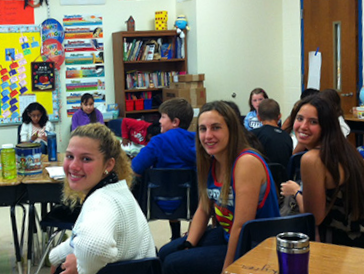 The Silvas' youngest son, Francisco, is general coordinator of the school. Their daughter, Lucia, is head of the school's public relations department and a professional singer and actress. Their oldest son, Agustin, is an industrial engineer in Minnesota.
Silva's ties to Winston-Salem still run deep. Two of her sisters still live here: Virginia Spaventa, an elementary school teacher, and Ines Rapela, an interpreter at Wake Forest Baptist Medical Center. Her other sister, Cristina Rapala ('71), founded "Connecting Schools to the World," a company that recruits recent American college graduates to teach English in schools in Argentina. She also has two brothers who live in Argentina.
During a recent visit to campus while she was in Winston-Salem to recruit high school students for the exchange program, she becomes emotional when she tries to explain how Wake Forest has influenced her. "As the years go by, you realize the things that have marked your life, and they take on more value," she said.