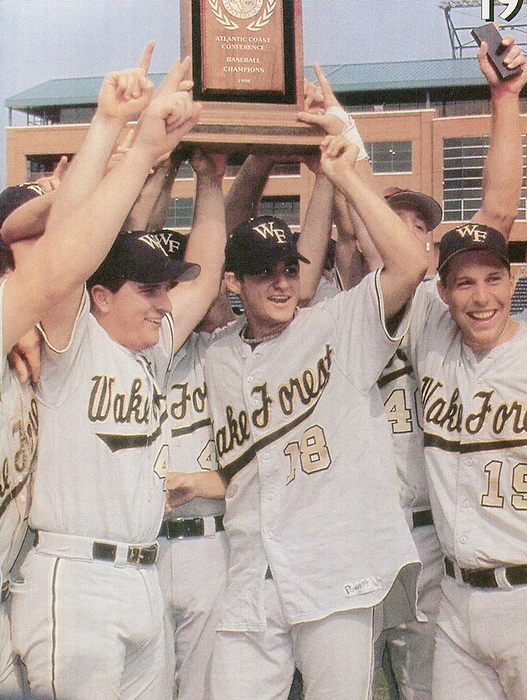 Former Wake Forest pitching ace and professional baseball player Danny Borrell ('09) is used to being in the limelight. But it was an entirely different feeling when he walked into Yankee Stadium with Zasheed McNeal, a 14-year-old with sickle cell anemia, and his 9-year-old brother, Zebulon, who has cerebral palsy.
Borrell realized his childhood dream of playing professional baseball when he was drafted by the New York Yankees in 2000. Now, he's helping make sports dreams come true for children with serious health problems through a family nonprofit, Dream On 3, based in Charlotte.
The McNeal brothers' dream to attend a Yankees game came true last fall. After a first-class plane ride from Charlotte to New York City, Borrell was their guide for the day as they donned Yankees hats and replica jerseys to tour Yankee Stadium, meet some of their favorite players and cheer on the home team.
It was an unforgettable day for the brothers – and for Borrell, now a pitching coach for the Tampa Yankees. Borrell played in the minor leagues for seven seasons with the Yankees and two with Oakland before injuries ended his career in 2008.
"When you play professionally, it's all about you," he said. "It's great to be part of something for someone else. It's so much more rewarding to see the kids, and they're star-struck, and to see how thankful their families are. The most rewarding thing is to see the faces of these kids."
Dream On 3 partners with Charlotte-area hospitals to grant sports wishes to children with chronic illnesses, developmental disabilities or life-altering conditions. In its first year, Dream On 3 granted wishes to five children to attend, in addition to the Yankees game, a Miami Heat basketball game and a NASCAR race, and to meet retired NFL quarterback Doug Flutie and Georgia Bulldogs star Herschel Walker. Borrell hopes they can double that number this year.
Borrell's brother-in-law, Brandon Lindsey, founded Dream On 3 in late 2012. Lindsey and his wife, Elizabeth Hart Lindsey, who live outside Charlotte, pitched the idea to Borrell and his wife, Martha, who is Elizabeth's sister. Both couples love sports and have children — the Borrells have a 6-year-old son, Logan, while the Lindseys have two young daughters — so it seemed the perfect outlet to help others.
Dream on 3 is supported by sponsors — sports teams, hotels, restaurants and other businesses that help make individual dreams come true — and donations. Borrell, 35, is director of strategic partnerships, a volunteer role that allows him to leverage his contacts in the sports world to facilitate wishes. Earlier this year, he organized a fundraising youth baseball clinic in Tampa with instructors from the Yankees. That helped fulfill the wish of Zachyus Bowers, an 11-year-old boy with severe chronic asthma, to attend a Miami Heat game.
The "Dream Kids" are treated like all-stars from the time they're picked up in a limousine, to VIP treatment and special tours at a game or event, to a hero's welcome when they return home. "We want to make it as special as it can be for each kid," Borrell said.
A native of Sanford, N.C., Borrell led Lee County High School to the state baseball championship in 1996. Wake Forest fans likely still remember his clutch performance against Florida State in the 1998 ACC Baseball Tournament. He pitched a complete game to lead Wake Forest to a 6-3 win and its first ACC Championship since 1977. He earned freshman All-American honors that year and second team All-American honors the next year, when Wake Forest repeated as ACC Champions.
The Yankees drafted Borrell in the second round following his junior year. He quickly rose through the minor leagues before arm injuries sidelined his major-league hopes. After finishing his career with Oakland, the Yankees signed him again as a pitching coach. He's in his first year with the Tampa Yankees after previous stints in Charleston, S.C., and Staten Island, N.Y. He has lived in Tampa since 2003, even as his playing and coaching career sent him to different parts of the country.
Borrell completed his degree in communication in 2009 with help from Professor of Communication Mary Dalton ('83). "That was my ultimate goal," he said. "I came back at the ripe old age of 29. When I turned professional, I promised my mom I would go back. There was no way I wasn't coming back."
Despite the distance from Tampa to Charlotte, he's committed to bringing some joy to children who won't have the chance to fulfill their childhood dream as he did. "Most of these kids haven't had the opportunity to play sports. There is nothing more rewarding than to see a kid who has been dealt a bad hand and we get to take away their sickness and pain for at least one day and make their sports dream come true."