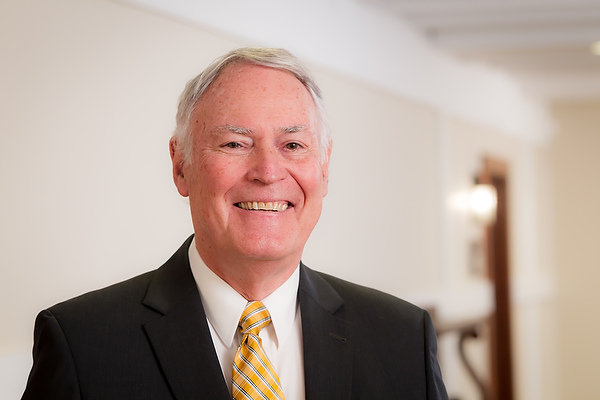 As a standout tackle on Wake Forest's football team in the early 1960s, James T. "Jim" Williams ('62, JD '66, P '89, '92) once considered pursuing a career in the NFL until Professor of History Forrest Clonts (1920) encouraged him to attend law school.
Williams, who was a first generation college student, said he was inspired by professors to broaden his horizons. Wake Forest is more than buildings or even lifelong friendships, he said at the distinguished alumni gala. It is "a state of mind."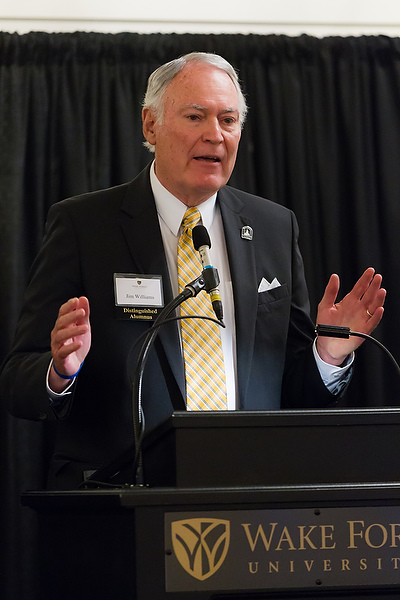 A partner with Brooks, Pierce, McLendon, Humphrey & Leonard, LLP, Williams has developed a reputation as a civil, honest, hardworking advocate for his clients who has been named North Carolina's best corporate trial lawyer several times.
He brought those same traits to serving Wake Forest — as a member of the alumni council, College board of visitors and the School of Law's board of visitors. He was first elected to the University's board of trustees in 2002 and served as vice chair from 2007 to 2009 and chair from 2009 to 2012. He was named a Life Trustee in 2013. He serves on the cabinet for the Wake Will capital campaign and on the boards of Wake Forest University Health Sciences and Wake Forest Baptist Medical Center.
"Jim embodies the spirit of Wake Forest as well as anybody I know," said President Nathan O. Hatch. "His service has been exemplary in every respect."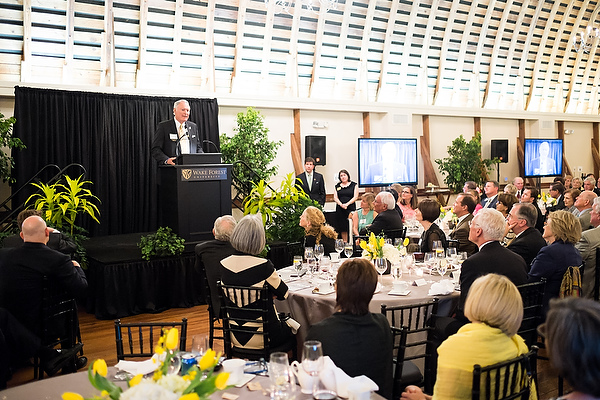 Williams has consistently been recognized by legal publications and his peers as one of the top lawyers in North Carolina and the United States. In 2012, he received the North Carolina State Bar Association's highest award for distinguished service. In 2010, he was honored as only the third person to receive the bar association's Advocate's Award, given to recognize superstars in the legal profession.
Williams also has served his community as chair of the Community Foundation of Greater Greensboro and on the boards of BlueCross BlueShield of North Carolina and the Greensboro Area Chamber of Commerce.
A fellow attorney once described Williams as "the perfect example of the lawyer leader, committed to serving his clients, his profession, his community and his family."
Williams and his wife, Barbara, have two children, Anne ('89) and Patricia ('92, JD '96).
---