Editor's note: George Faithful ('01) is a postdoctoral teaching fellow at Seton Hall University. At Wake Forest he was a member of the men's a cappella group Chi Rho. His first book, "Mothering the Fatherland: A Protestant Sisterhood Repents for the Holocaust," will be published in May by Oxford University Press.
Based in Darmstadt, Germany, the Evangelical Sisterhood of Mary is a group of Protestant nuns. Since their 1946 founding, they have promoted a collective vision of national guilt, emphasizing the guilt of all Germans against Jews in the Holocaust and the need for an elite force of "priestly Christians" to intercede in repentance on behalf of their sinful nation. In my book I argue that this vision is rooted, in part, in the founding mothers' immersion in German nationalism in the early 20th century. While the book is a revised version of my doctoral dissertation, in many ways it even more directly represents the fruit of specific mentors at Wake Forest, without whom the project would have been impossible.
During my first semester as a freshman in 1997, Rebecca Thomas insisted I apply for the W. D. Sanders Scholarship to fund a two-month summer language study in Germany. I offered some lame excuse, but Dr. Thomas would not accept it. I received the award and during my time at the Goethe-Institut Mannheim I not only refined my language skills, I first heard about and visited the nearby Evangelical Sisterhood of Mary.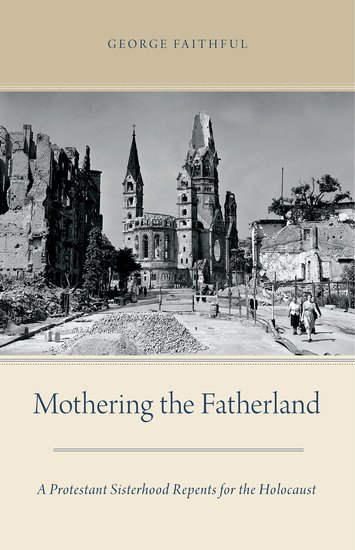 Shortly after my return, I took Larry West's early German literature survey, which laid the foundation for my understanding of German nationalism and the diverse ideas about what might constitute the German Volk – the entity that was guilty, according to the sisterhood.
Tim Sellner's supervising of my senior honors thesis in German provided helpful insight into the hymns of Paul Gerhardt. This was not only his favorite hymn writer, but also that of the Sisterhood's founding mothers, whose frequent allusions to Gerhardt I might have otherwise missed. Perhaps even more importantly, the process of writing a substantial academic piece (auf Deutsch, no less) prepared me to write even longer work and to do so quickly.
My time in the Department of German and Russian prepared me to analyze other people's ideas in the context of language and culture. Also contributing to this was my time in the Department of Romance Languages, where I was one course shy of a French minor. At the center of my language education were my semesters in Nantes, France and Berlin, Germany.
Many members of the Wake Forest community beyond the language departments prepared me for my future, as well. Conversations with Ken Zick about German and Lutheran identity helped me begin to think critically about how history factors into individuals' and communities' self-understandings. Similarly, Lillian Shelton encouraged me to consider the global history of the Moravians. As one of the earliest communal Protestant groups — keeping in mind that the label "Protestant" is still an awkward fit for the Moravians, depending on how you define it — the Moravians served as a constant point of reference for the Sisterhood of Mary. Also, when I failed to secure funding to support research directly, I succeeded in receiving a scholarship to study manuscripts at the Moravian Archives in Herrnhut, Germany, which allowed me to research my book as part of the same trip.
Although we have never met, Stephen Boyd also served as an inspiration for my work. Although my second major was in his department (Religion), he and I kept missing each other by being overseas at different times. His example taught me that it was OK for me, as a man, to research women's history and to allow gender a central place in the analysis of religious practices and beliefs.
Finally, the centrality of Pro Humanitate in Wake Forest's identity and discourse encouraged me to explore the various ways in which one might live for humanity. Robert Ulery's analysis of the University seal at the Preschool Conference helped me add an intellectual edge to what I had previously considered a more personal, emotional matter. In short, Wake Forest helped me not only to live more fully for humanity myself but also to better understand and appreciate the ways in which others might do so, however differently from me.
George Faithful ('01) is a theologian, historian and religious studies scholar. He holds a Master of Divinity degree from Covenant Theological Seminary and a Ph.D. from Saint Louis University.