Hidden behind the preserved 18th-century colonial buildings of Winston-Salem's Old Salem Historic District is a haunted history of spine-tingling tales. English major Guy T. Montgomery ('09) is the author of "Ghosts of Old Salem, North Carolina" recently published by The History Press.
Tell us about your new book and how you came to be interested in ghost stories from Old Salem.
My new book is a collection of Old Salem's most well-known ghost tales that have been passed down from generation to generation. Upon graduating from Wake Forest in 2009, my first job was with Old Salem Museums and Gardens, and once I began working in the historic district, I developed a greater appreciation for just how long the town has existed.
The more time I spent in Old Salem walking its streets, learning its buildings and passing its numerous cemeteries, the more I considered how many people have come and gone from Old Salem since its founding 1766, and I could not help but wonder, "Of all the people this town has known, might a few of their spirits still linger here?"
I should also mention that a number of my co-workers shared personal stories with me about their own unusual experiences while working in some of the buildings, which — inevitably — piqued my interest and made me want to further investigate.
What were some of your "hard-to-explain" experiences there?
Of my personal hard-to-explain experiences at Old Salem, the one that gave me the most goosebumps occurred one evening about 6 p.m. I was alone in a building dating back to the 1860s and was checking to make sure all the lights were off before I went home for the night.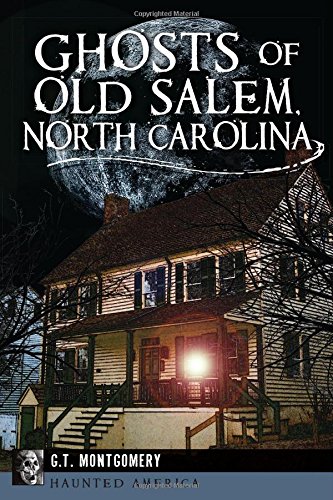 At some point in more recent history, the building had been outfitted with a mechanized dumbwaiter for moving things from floor to floor in the three-story building. I happened to be in the storage room where the third-floor access to the dumbwaiter is, when, as I looked around to make sure the lights were off and everything was in order, I heard behind me a loud "DING!" When I turned, the yellow "CAR HERE" light was illuminated in the semi-darkness of the storage room, but I knew I had not called for it, and I wondered who (or what) had.
As for my co-workers, they reported a variety of strange happenings — one co-worker consistently saw someone out of the corner of her eye even though she was the only person in the room; another co-worker saw a strange white mist drift slowly across a storage area; and even a security guard I spoke with said he would see curtains in some of the buildings' windows seemingly shuffle on their own as he patrolled the district.
Why do you think ghost stories fascinate people?
I think one of the reasons ghost stories fascinate people is because we fear the finality of death. While some believe in heaven, hell, reincarnation, et cetera, for many, our final existence is as a skeleton trapped under 6 feet of "cold, cold ground," as John Prine refers to it. By passing on ghost stories or having seeming spirit experiences of our own, we open the door to the possibility that our souls do carry on even after our bodily death.
What role did the English department play in your desire to write a book?
My experience as an English major at Wake Forest helped me come to this conclusion: literature is a means to come to terms with the world in which we live. While on the surface being an English major is about reading stories, then subsequently talking about them and writing about them, I feel I took away so much more from my time in the department.
When I look back on what I learned from my English professors, I think less about the technical breakdown of this poem or structural analysis of that play, but instead, the conversations we had about the questions of existence through which so many writers have tried to work. Of course, one such question that arises again and again is, "What happens to us after we die?"
Were there professors/mentors, in English or elsewhere, who influenced your academic and personal choices while at WF?
Needless to say, every professor I had at Wake Forest had a unique influence on me so I am grateful for the opportunity I had to learn from all of them. I do owe a special debt of gratitude to Dr. Eric Wilson for fostering a deeper appreciation of literature within me. In the two courses I took with him, we studied some challenging texts — "Moby Dick" for example — but the discussions in the classroom, led by Dr. Wilson, always came easily.
He made it evident within his courses that studying literature is much more than enjoying a good "yarn" — it is a way to better understand the human condition. (I might add, if I recall correctly, that Dr. Wilson told us he wakes up extra early to do his own writing, which, I have learned, is necessary if one wants to write with a fresh mind.)
As for my actual writing style, I would have to thank Vona Groarke and Conor O'Callaghan, two professors with whom I took poetry workshops, for their pointers. As poets, the two of them encouraged me to see (and describe) the world with unique eyes. A persistent refrain within their workshops was, "Avoid cliché!" I am grateful to them for reinforcing the fact that we all have a one-of-a-kind voice within us, and should strive to find it. Also, I recall Vona giving my class a handout at the last meeting of our workshop that semester. It listed a number of magazines that accept poetry submissions. While I cannot claim to have had any poetry published, by giving me that handout I felt Vona gave me a vote of confidence (that I could — one day — be a published writer.) Her unspoken encouragement with that handout helped spur me to reach out to The History Press about writing "Ghosts of Old Salem, North Carolina."
Where are you from, and do you have another profession in addition to writing?
I was born and raised in Louisville, Kentucky, and came to be a Demon Deacon by following in the footsteps of two older sisters and one brother-in-law who also attended Wake Forest. After I graduated, my wife. Genevieve, and I lived in North Carolina (aside from a nine-month stint I did in New Orleans rebuilding homes damaged by Hurricane Katrina) another four years. We realized we wanted to be closer to family, and moved to Louisville, where we are both Realtors. We have two dogs and one cat, but we're very excited because we are expecting our first child next February.