y and by, they put down their plates and pick up their instruments. It's a Friday night in March and there's a big crowd at the home of Provost Rogan Kersh and his wife, Sara Pesek. Billy Hamilton, professor of Russian, gets out his banjo. Martha Allman, dean of admissions, situates her autoharp. Her husband, Joe, a Winston-Salem lawyer, lifts his standup bass. Eight or 10 others tune their mandolins and fiddles and guitars. They form a loose circle. Those who came to watch, and maybe sing a little bit, draw together around them.
Martha Allman waits a beat.
"OK, everybody, let's start — 'Rollin' In My Sweet Baby's Arms' in A," she says. "Page 1 in your hymnal."
That last line is a joke. There's no hymnal — just some sheets of lyrics and chord changes floating around the room. This is not officially a religious experience. But it's most definitely a spiritual one. The Unbroken Circle has gathered again.
For nine years now, a loose-knit group of Wake Forest administrators, faculty members, staffers and students have met once a month to play acoustic music. It's usually bluegrass or folk or country — although, as you'll find out, they can end up playing just about anything. Over the years the group has grown from three or four folks to three or four dozen. They've even played a few shows around Winston-Salem, raising money for charity. But the core of it is still these Friday night potlucks. The regular gatherings have taught some of the Circle, and reminded others, of the power of music — especially when it's shared.
None of this was anybody's plan. But sometimes the best things in life just happen. It's like a good jam session. The music keeps going, and everyone finds a place inside it. "Good dear friends, and people I enjoy spending time and making music with," says Linda Luvaas, assistant vice president for corporate and foundation relations. "Without sounding too mystical about it, this just resonates in my soul."

ou probably know where the name comes from. "Will the Circle Be Unbroken" started out as a hymn written in 1907. The Carter Family rewrote it and turned it into a country standard in the 1930s. Then it was resurrected in the '70s as the title track of the Nitty Gritty Dirt Band album that brought together country and bluegrass greats from Doc Watson to Roy Acuff to Earl Scruggs. When all those stars got together to do their version of "Will the Circle Be Unbroken," they made sure Mother Maybelle Carter got the first verse.
Martha Allman ('82, MBA '92) is the mother of sorts for the Circle — she organizes the monthly gatherings. So within the group, she's known as Marthabelle.
In a way, Martha and Joe ('82, JD '86) Allman's daughters brought the Circle together in 2005. Their oldest, Bailey, a Wake Forest senior, was in sixth grade then, and Martha's mother bought Bailey a fiddle. Her sister, Ella, who was 8, felt left out. So the Allmans bought her a mandolin. Ella learned it in a heartbeat: "It turned out," her mother says, "that anything this child picks up, she can play."
So the Allmans started looking for people their kids could play music with. Right away Martha Allman thought of Linda McKinnish Bridges (MBA '04, P '09).

Bridges, former associate dean of international admissions, grew up in Henderson County as the daughter of Harold McKinnish, a mountain preacher who picked guitar and sang gospel. When Bridges came to Wake Forest to work in 2001, her dad started coming over to visit, and they'd sit around and play songs together. That caught the attention of Billy Hamilton (P '94, '98).
Hamilton has been playing banjo for half a century, sometimes professionally. When he was a student at Yale, he had a bluegrass band called the Gray Sky Boys that played at Carnegie Hall. He also crashed on the occasional apartment floor with a young guitarist who ended up founding the Grateful Dead, which means Hamilton can say this and have it be the truth: "I've slept with Jerry Garcia."
Hamilton has played bluegrass in one group or another at Wake Forest since he arrived in 1982. He'd often put together a band to play at Homecoming. That connected him with Linda McKinnish Bridges, and when her father started coming over, she'd call up Hamilton to join them. The three of them played in various groups around town, or sometimes just by themselves at home. (Hamilton's wife, Cindy, used to sit in on bass.) Harold McKinnish was on one of his visits when Martha Allman brought her kids over with their instruments.
"It was so much fun, when everybody started playing together, that Martha and I said to each other, we've got to keep going with this," Bridges says.
"We all started playing together, and it was just such a pleasure to play all these old songs and sing the harmonies," Allman says. "So we decided to keep it going. And we agreed that everybody would bring a friend."
The old-timers in the Appalachians used to call that frolic. When the Wake Forest folks got together, they called it homegrown. But after awhile, a more natural name came to mind, once they realized they always gathered in a circle.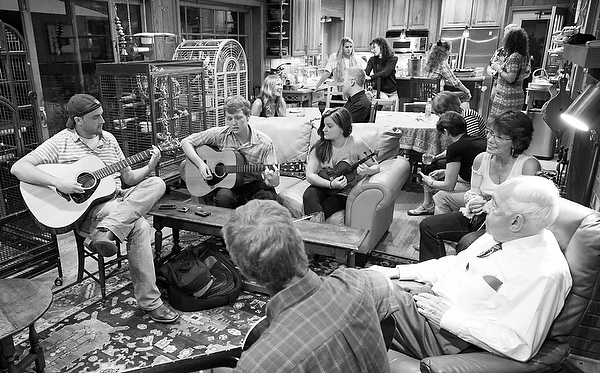 fter "Rollin' In My Sweet Baby's Arms," The Unbroken Circle does "Jambalaya" and "Long Black Veil" and John Prine's "Paradise." They go around the room, and whoever's up next chooses the song. Some people play and sing every tune. Some step in and out. Some just watch. Some hang out in the kitchen, where every inch of counter space is covered with potluck dishes — everything from a homemade Ethiopian vegetable stew to storebought cookies.
A couple of student regulars take their turns in the Circle. Law student Jordan Lee ('09, MA '13) does the Steve Earle love song "Galway Girl." Junior Will Huesman, a flatpicking guitarist, does the Felice Brothers' modern murder ballad "Whiskey In My Whiskey":
I put some whiskey into my whiskey

I put some heartbreak into my heart

I put my boots on that ole dance floor

I put three rounds, Lord, in my .44 …
Nobody plays alone. Even if no one else knows the song at first, someone always picks up on the chords, or sings harmony, or takes a solo. Bill McIlwain (MAEd '94), an English teacher at the Winston-Salem/Forsyth County Schools' Career Center, jumps in on mandolin or guitar or whatever else is handy. When it comes time for him to pick a tune, he chooses a bawdy number called "The Scotsman," which involves a kilt and a well-placed blue ribbon.
Billy Hamilton leads the group through the bluegrass standard "Foggy Mountain Breakdown," which almost breaks down toward the end. Hamilton laughs: "It had a gravity. It slowed down to a certain lumbering rhythm."
Later on, as they finish "Wagon Wheel" — an Old Crow Medicine Show song based on some unfinished Bob Dylan lyrics — Hamilton notices the song ends on a chord that's different from the one you expect.
"What does that mean?" Martha Allman says.
"It's like you're walking around in the woods and you end up in the wrong place."
"Oh. That's not good."
"Well, in music it's good sometimes.

ne more thing about the song "Will the Circle Be Unbroken." In the original version, it's about reuniting in heaven with all your loved ones. But the Carter Family grounded it on Earth, in a story of losing a parent. The change makes all the difference in the song. It's still beautiful, and the melody still lifts you up, but it's cut with the hurt of the undertaker and the hearse and the grave.
For a while, Linda McKinnish Bridges couldn't bear to hear it. Her father died in August 2013. Harold McKinnish was 80, had preached more than 17,000 sermons, and had sung Lord knows how many songs with his daughter. As part of her mourning, she stayed away from The Unbroken Circle. She knew that if she went, she'd hear his chords in her head.
"He was so delighted when this group took hold," she says. "You're truly unplugged from the world, but you're plugged in, too — you're plugged into this ancient sound. Some of the songs we play have been played for hundreds of years. It connects us all like one big family."
This summer, Bridges went through another change — she took a job with Shorelight Education, which helps U.S. universities reach international students. But she gets to stay in Winston-Salem. And her year of staying away from the Circle is over: "I plan on staying close to the dear hearts and the wonderful music."

ow it's May, and the Circle has gathered at Linda Luvaas' house. People have brought new songs to test out. Sara Pesek takes the lead on "Cups," the song from the movie "Pitch Perfect" (When I'm gone, when I'm gone, you're gonna miss me when I'm gone. …) Somehow the group ends up playing "On And On," the Stephen Bishop hit from 1977. Luvaas walks back in the room just in time to hit the high note at the end.
As all this happens, a white-haired man in a seersucker jacket and black Nikes sits on the edge of the circle, watching. Then he leans in and says: "I have a poem, if that's all right."
This is Ed Wilson ('43), 91 years old, provost emeritus, Mr. Wake Forest and a longtime member of the Circle. His contribution is poetry — sometimes read, sometimes sung. On this night he's singing, with Bill McIlwain on harmony. They do William Butler Yeats' "Down By the Salley Gardens":
Down by the salley gardens
    my love and I did meet;
She passed the salley gardens
    with little snow-white feet.
She bid me take love easy,
    as the leaves grow on the tree;
But I, being young and foolish,
    with her would not agree.
In a field by the river
    my love and I did stand,
And on my leaning shoulder
    she laid her snow-white hand.
She bid me take life easy,
    as the grass grows on the weirs;
But I was young and foolish,
    and now am full of tears.
This kind of night doesn't happen just anywhere. Think about it for five minutes and you could figure out a dozen ways it could fall apart. Too many rules on what to sing and what not to sing. Too much worry about not all the musicians having the same skill. Somebody wanting to take over the show. Somebody not willing to get the thing organized. Time pressures. Schedules. Indifference.
But for nine years now it has all hung together. And once a month everybody in the Circle knows they'll get to eat a good meal, sing a bunch of old songs, learn a couple of new ones and maybe hear Ed Wilson sing Yeats.

hey've done good works along with the good music. Members of the Circle have put together a band to play two benefits for the Shalom Project — a nonprofit through Green Street United Methodist Church that offers services to the West Salem neighborhood. The Circle also did a show at St. Anne's Episcopal last year to raise money for a hospice in Botswana. "We sang for an hour and a half," Martha Allman says, "and it funded the hospice for a whole year."
But no one in the Circle plans to make it a full-time band, or do a tour, or play more than the occasional gig outside these living rooms. The music is like the food — each person brings a little something to share with the group. It's bigger than it used to be, but it's still intimate.
"This group got me to start playing music again," Linda Luvaas says. "I went so many years without a group or a venue for playing or singing. Now every week I'm thinking about the music and practicing. It's just good for me. It's good for all of us."
The May gathering is winding down, and the circle has come back around to Billy Hamilton. "This is my going-home song," he says, and starts to pick it out on his banjo. It's an old Irish song called "The Parting Glass":
Of all the money that e'er I had
I've spent it in good company
And all the harm that e'er I've done
Alas it was to none but me
And all I've done for want of wit
To memory now I can't recall
So fill to me the parting glass
Good night and joy be with you all.
McIlwain picks it up on the mandolin, and a few others find the harmony.
Of all the comrades that e'er I had
They are sorry for my going away
And all the sweethearts that e'er I had
They would wish me one more day to stay
But since it falls unto my lot
That I should rise and you should not
I'll gently rise and I'll softly call
Good night and joy be with you all.
It's quiet for a moment. Then Martha Allman looks up and smiles.
"Circle," she says.
They start to play their closing song, and the circle is unbroken by and by.
---
Tommy Tomlinson is a writer in Charlotte. He was a longtime columnist for The Charlotte Observer and has also written for ESPN, Sports Illustrated, Forbes, Southern Living, Our State and many other publications.
---