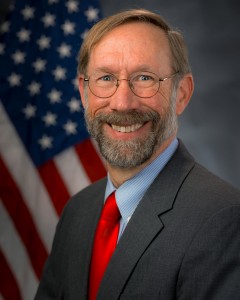 Stan Meiburg ('75) never gave much thought to environmental issues when he was a student in the 1970s. Now, he's poised, pending U.S. Senate confirmation, to become the second-highest official at the Environmental Protection Agency.
President Barack Obama has nominated Meiburg, a veteran EPA administrator, to serve as the agency's deputy administrator. His nomination requires approval by the U.S. Senate; a date has not been set for his confirmation hearing. Meiburg has filled the position on a temporary basis since last fall when he was summoned out of retirement to rejoin the agency.
As the EPA's acting deputy administrator, Meiburg has spent the last four months leading efforts to fight climate change, protect the nation's air and water, and clean up hazardous and toxic waste sites. It's a "tremendous responsibility," he said in a telephone interview from his office at EPA headquarters in Washington, D.C. "The EPA has a broad mission. My job is to help save the planet. That's pretty cool. The work of the EPA affects everyone in the country, from the time you get out of bed to the time you go to sleep, and while you're asleep."
"His experience spans the agency, having worked closely on air, enforcement, toxics, operations and countless other EPA issues. He's literally done it all."
Meiburg, 61, retired last spring after 36 years with the EPA, including the last 18 years leading the Southeastern office in Atlanta, before he rejoined the office last October. He's quick to mention that as he moved up the ladder at EPA and worked in different cities around the country, he always displayed a photograph of Wait Chapel and his Wake Forest diploma in his office.
Wake Forest was "imprinted" on him at an early age, he said. When he was 4 years old he lived in what were then the Faculty Apartments while his father, Albert, was associate director of pastoral care at North Carolina Baptist Hospital. He still remembers the impression Wait Chapel made on him as a child. "The most vivid memory I have is driving up over the hill (from Silas Creek Parkway) and the steeple is right in front of you. When you're 4 years old, that steeple is huge. That has stayed with me to this day."
Meiburg's family later moved to Philadelphia, Pennsylvania, and Rochester, New York, but those early memories led him back to Wake Forest as a Carswell Scholar and politics major. His sister and brother-in-law, Kathy ('77, P '11) and Michael ('78, P '11) Whatley, are also alumni.
Stan Meiburg ('75) was so fond of Dean of Admissions Bill Starling ('57) that he once played a joke on him, declaring Starling's notoriously messy desk an EPA Superfund site.
After graduating, Meiburg was an admissions counselor for eight months under Dean of Admissions Bill Starling ('57). He was so fond of Starling that he returned to campus in 1983 for a roast celebrating Starling's 25th anniversary in the admissions office. Members of the admissions staff moved Starling's desk — infamous for the jumbled mess of papers and files on top of it — to the East Lounge of Reynolda Hall, where the roast was held. Meiburg, who was already working at the EPA, declared Starling's notoriously messy desk an EPA Superfund site.
Meiburg never expected a career at the EPA. After his stint working in the Wake Forest admissions office, he went on to study American foreign policy at Johns Hopkins. He was finishing his Ph.D. in political science when one of his professors there received a call from a former student working at the EPA who needed some help with a project. Meiburg jumped at the chance to assist when he found out that it paid $1,000 a month. "I was a starving graduate student," he said. "I thought I would be rich."
He became a program analyst with the EPA in Washington and later moved to Durham, North Carolina, where he received the EPA's Gold Medal Award for his work on the 1990 Clean Air Act Amendments. He served as director of the air, pesticides and toxics division in Dallas, Texas, and later as deputy regional administrator in Dallas before serving in the same role in the Atlanta office. He's only the second person to serve as deputy regional administrator in more than one region.
"I'm very fortunate," Meiburg said. "The EPA was a new agency at that time (that I joined it). Once you become aware of the importance of the mission of the EPA, it just brings you in. That compelling mission and the people at the agency created quite a wonderful experience. It became pretty easy to develop a career affinity, and I still feel that way."
Meiburg was happily retired in Atlanta when EPA administrator Gina McCarthy asked him to rejoin the agency as acting deputy administrator, essentially the agency's chief operating officer. "His experience spans the agency, having worked closely on air, enforcement, toxics, operations and countless other EPA issues," McCarthy said in announcing his appointment in October. "He's literally done it all."
Now that he's back at the EPA, Meiburg hopes to remain at the agency until the end of the Obama administration. He remains grateful that Wake Forest prepared him for a meaningful career he knew nothing about when he was in college. "One of the great values of a liberal arts education," he said, "is it helps you be prepared for things you don't anticipate you are going to do."