Wake Forest Magazine has been honored by its peer institutions in the 2014-15 District III (Southeast) competition of the Council for Advancement and Support of Education (CASE).
"An Artful Friendship," written by Editor Maria Henson ('82) and published in the Spring 2014 issue, received an Award of Excellence in feature writing. The touching story is about college roommates Dick Peterson ('67) and Charlie Stott ('67), who reunited after many years apart and re-established their friendship through art.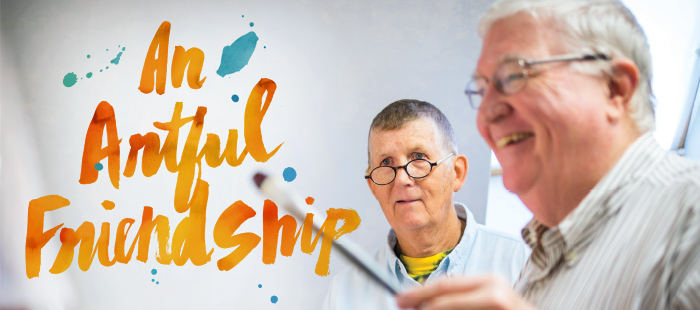 "When I moved back to Winston-Salem it was Charlie, the painter, who put a brush in my hand and said, 'Why don't you come over and paint with me?' I had never painted before, but Charlie gave me a gift that has greatly enhanced my life and deepened our friendship through art," Dick said.
Charlie said of the article, "Beyond the obvious story, you recognized that there was something more to our friendship. As I went missing for three months of cancer treatments, you told the story of how cancer has impacted our friendship. It's a story that has resonated with many others."
The alumni magazine, which is published three times a year in print and year-round online, won an Award of Excellence in print/digital publications. In addition to Henson the magazine staff includes Cherin C. Poovey (P '08), managing editor; Kerry M. King ('85), senior editor; and Janet M. Williamson (P '00, '03), deputy editor. Members of Wake Forest's creative group on the magazine production team are Hayes Henderson, creative director; Jill Carson and Kris Hendershott, graphic designers; Gretta Kohler, project manager; and Ken Bennett, University photographer. Julie Helsabeck, a freelance designer, is also part of the team.