Playwright and director Marc Palmieri ('94) brought his newest play, "The Groundling" — which premiered in New York in February — to campus Tuesday.
Palmieri's inspiration for the play came from the last scene in one of Shakespeare's earliest comedies, "Love's Labour's Lost." His visit coincided with the Wake Forest Theatre's production of "Love's Labor's Lost," which debuted last weekend and continues this weekend on the Mainstage Theatre in the Scales Fine Arts Center. (Wake Forest's version of the play uses the modern spelling of "labor.")
The cast of "Love's Labor's Lost" staged a reading of Palmieri's play in the Ring Theatre. Palmieri takes a page from Shakespeare, ending with an unexpected revelation, which left some members of the cast in tears. "That was amazing, thank you so much," Palmieri said after the reading. "This was my last chance to see if anything jumps out at me and make changes." Palmieri is working with a publisher who expects the play will be popular with community and college theatres.
Palmieri, 44, lives in Queens, New York. He was invited to campus by Director of Theatre John E.R. Friedenberg ('81, P '05), who is directing "Love's Labor's Lost." Palmieri arrived on campus Sunday to see the matinee performance of "Love's Labor's Lost." "This play follows me around," said Palmieri, who has been in the play in various roles four times. He also met with theatre students while he was on campus and visited the drama club at Paisley IB Magnet School.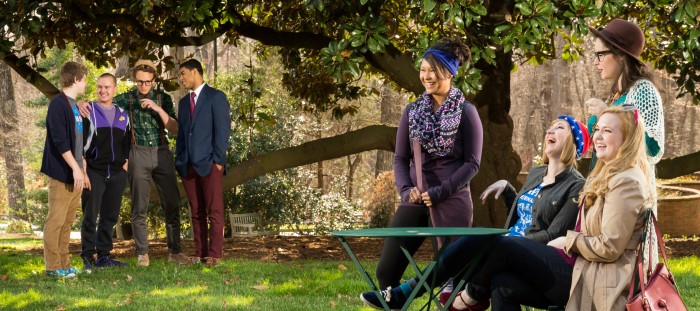 "The Groundling" features a constantly bickering Long Island landscaper and his wife. ("Groundling" refers to audience members in the standing-room-only section of an Elizabethan theater.) After the husband happens upon a production of "Love's Labour's Lost," he's inspired to write his own play — in perfectly awful rhyming couplets — to remember the happy times he once shared with his wife. He hires two New York theatre professionals and colorful local actors to produce the play in his own garage.
Like "Love's Labour's Lost," Palmieri's play includes a play-within-a-play and ends with a messenger delivering devastating news. "I love plays within a play. That's something I've always wanted to try," Palmieri said. "And I've been fascinated by the ending of "Love's Labour's Lost" for a long time. Those ideas kind of came together with this concept."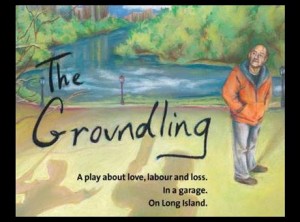 "The Groundling" ran for a month at New York's Axis Theatre and received good reviews before closing last month. The New York Times described the play as "half comedy and half tragedy, half verse and half prose. Though it begins as a formulaic showbiz farce, it takes an unexpected swerve toward heartbreak. … Borrowing a neat trick from Shakespeare, Mr. Palmieri tops off the saccharine comedy with a nicely bittersweet finish."
A native of Long Island, Palmieri came to Wake Forest on a baseball scholarship and finished his career as the second-winningest pitcher in school history. He fell in love with theatre during an introductory class and has worked as an actor, playwright, screenwriter, director and teacher since graduating. Currently, he is writing, directing and starring in the Web series "The Thing." He also teaches playwriting and screenwriting at The City College of New York in Manhattan.