Every spring, Wake Forest recognizes alumni who reflect the spirit of Pro Humanitate through their service to community and alma mater. This year's recipients, Louis Bissette ('65, P '94) and Kathy "Killian" Noe ('80), were recognized on April 17. Watch a video on Louis Bissette.
If loyalty to one's alma mater can be measured through volunteer leadership, guidance and community involvement, then Louis Bissette's longstanding devotion to Wake Forest requires an extended yardstick. But to fully appreciate his affection for the place, one must consider how many times a year he braves Interstate 40, trekking the 150 or so miles down the mountain from his hometown of Asheville, North Carolina, to Winston-Salem — and then back up the hill, often in the wee hours — to support his beloved Deacs.
"Probably the most important entity in my life, other than my family, has been Wake Forest and the friends I made there," said Bissette ('65, P '94), noting it's not just the friends he met as a student but those made serving on the Alumni Council (three terms), College Board of Visitors (one term), president of the National Alumni Association, chair of the College Fund, member of the Board of Trustees (now in his fifth term and having served as vice chair) and the Deacon Club. "Most of my best friends today are people who I went to school with at Wake Forest."
Bissette, an attorney with McGuire Wood & Bissette, PA, who practices in the areas of economic development, land use and zoning, grew up in High Point, North Carolina. He found his way to Wake Forest thanks largely to his close friend and Kappa Sigma fraternity brother, Life Trustee A. Doyle Early Jr. ('65, JD '67, P '94, '96). Bissette's mother taught fifth grade at a school where Early's father, a 1927 alum, was principal.
"Probably the most important entity in my life, other than my family, has been Wake Forest and the friends I made there."
After his arrival, Bissette recalls, there "were a few incidents when most schools would have shown me the door," but Wake administered a little tough love. "I hung in there and Wake Forest hung in there with me, and in about four years I was a different person from when I arrived. I was making good grades, got into UNC law school (JD '68) and then went to business school at UVA (MBA '70). Without Wake Forest that probably would have never happened." While at Wake he met his wife, Sara, a student at Salem College; they have five grandchildren. His son Thomas ('94, JD '97) has also served on the Alumni Council.
Fifty years after he enrolled, Bissette remains grateful for the guidance of then-Dean of Students Mark Reece ('49, P '77, '81) and the personal interest shown to him by Professors John Earle ('58) in sociology and David Smiley (P '74) in history. To this day his palms get sweaty when he thinks of Professor Cronje Earp's ('26) Latin classes. "Once Wake Forest admits a student there's a bond there, and I think Wake Forest did then, and does today, everything it can to make a student successful. They did for me."
"I hear this every time I go to an alumni event: there is something special about Wake Forest."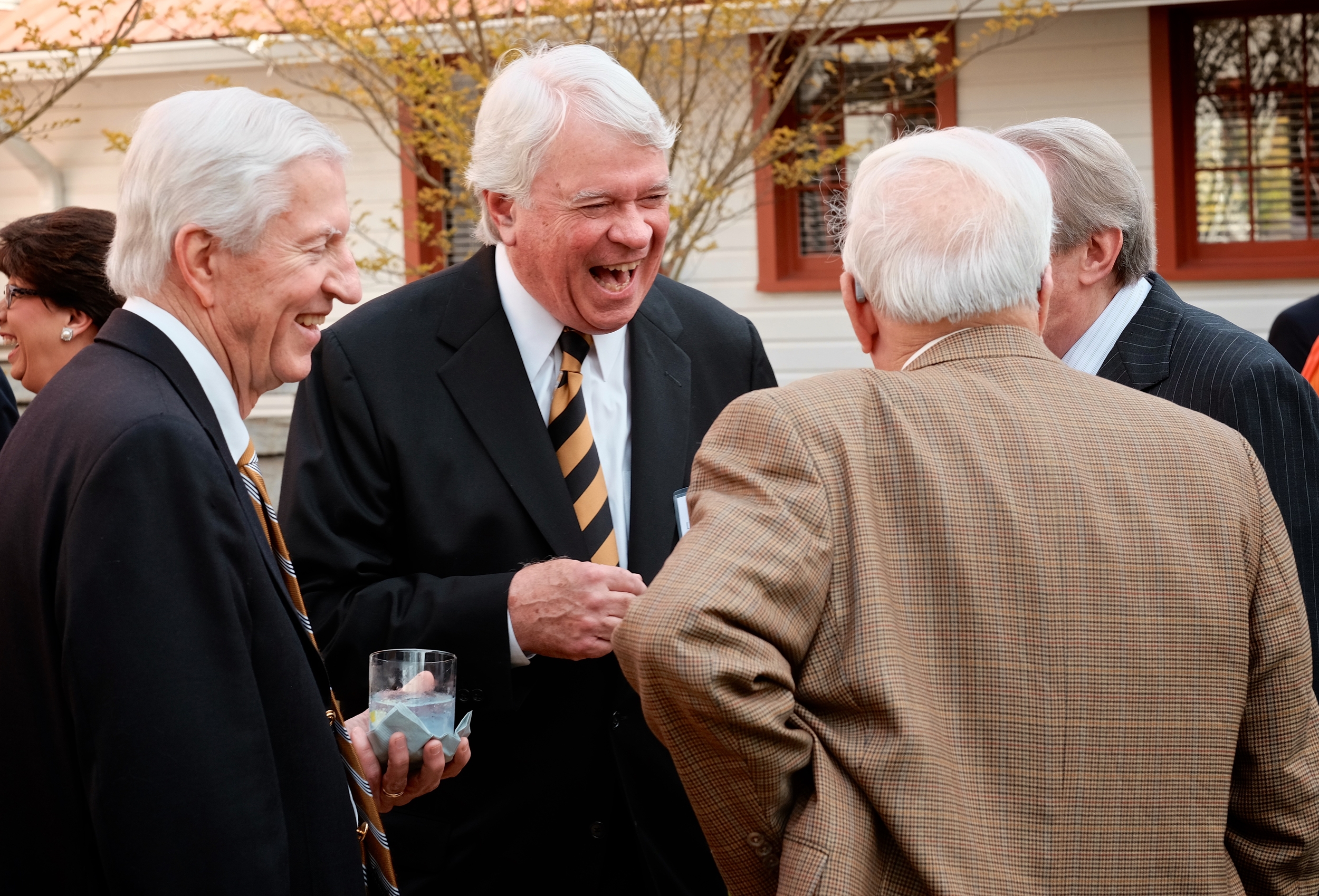 In addition to his many leadership positions at the University, Bissette's community service includes two terms as mayor of Asheville from 1985-89; eight years as a trustee for Western Carolina University; and vice chair of the UNC System Board of Governors. The Distinguished Alumni Award is the most recent among recognition he's received, including the Dr. I. Beverly Lake Public Service Award, the Centennial Award from the North Carolina Bar Association and the Asheville Area Chamber of Commerce Excellence in Public Service Award.
Bissette plans to continue making that I-40 road trip to Winston-Salem as long as he can. "I hear this every time I go to an alumni event: there is something special about Wake Forest," he said. "To have watched it evolve from 2,500 students and a mainly Baptist institution to a Top 25 national university … being a part of that over a 50-year period has been moving and satisfying. To go from where we were in 1960 to where we are now … is an exceptional story."