For alumni of a certain age — those of us who came to Wake Forest before cell phones, email and texting — the post office was our link to friends and family back home.
The walk to the post office, known as Reynolda Station back then, was a daily ritual, much anticipated, even if often disappointing when you received only "air mail." Coming up on my 30th reunion, I still remember my box number: 6945.
Lisa Ashburn Collins ('84) remembers that daily walk to the post office, too. She grew up in nearby Mount Airy, North Carolina, and visited her parents most weekends. But she still looked forward to opening the brass door to box 9210 to find frequent letters from her mother.
"She might send a short note in a card, a newspaper or magazine clipping, an anecdote about what one of my pets was getting in to, or just a reminder that I was in her thoughts and prayers," Collins said. "Walking around the Quad and going by the post office and getting mail from home is a special memory of my time at Wake Forest."
Collins saved all those letters: "They were just too sweet to throw away." Now she has another reminder of a simpler time when getting a letter from back home would lift your spirits. She has a unique piece of Wake Forest history and a keepsake from her college days: the brass door to post office box 9210, the box that was "hers" for four years. The brass door now opens a wooden coin bank on her desk.
---
"My dad used to send me at least a letter each week. They were all handwritten, and most of them had a few comics enclosed, cut out from the newspaper. My dad and I shared a love for reading the comics every morning, and he used this to keep us close. I treasured each letter he sent me, and I still have every one." Allison Kiehl Beck ('97), PO Box 8754
---
When the Wake Forest post office moved from its longtime home in Poteat dormitory to the Benson University Center in 2013, new boxes were installed. The brass doors to the old boxes — most dating back to 1974 and 1975 — were likely headed to the junk pile.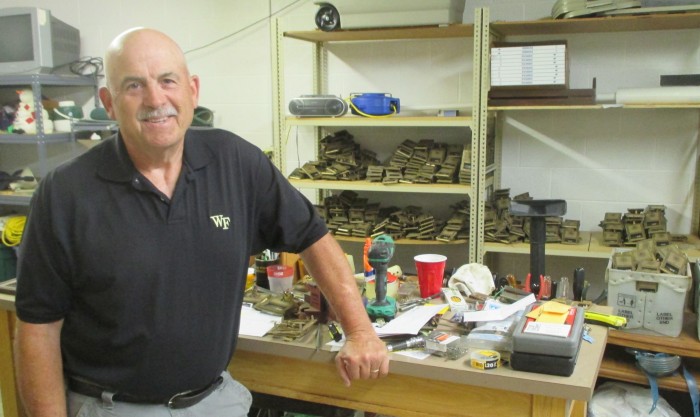 Enter Errol Hill, a woodworker from Collins' hometown. After years of training school-bus drivers, Hill has a stress free hobby now: repurposing old post office box doors into wooden coin banks. He bought the Wake Forest doors, some 7,000 in all. Oddly enough, they're not the only Wake Forest post office box doors he has. Years ago, he found a stash of doors manufactured in 1958 in a friend's backyard junk pile. Those doors have combination locks rather than keyed locks.
Chances are good he has your box door amidst the piles and piles of doors spilling off shelves and filling storage tubs in his basement workshop. He usually doesn't clean the doors; most alumni prefer the "aged" look. He has three or four keys for most every door, some 30,000 total, hanging in two large cabinets.
Hill has sold several hundred coin banks; he also sells just the doors. There's a story behind every door, he says. Alumni have bought them for college friends, parents have bought them for their children. "To hear the stories (of alumni) and the pleasure they got from going to that post office box everyday, it's a pleasure to be a part of that and give it back to them."
---
"My sister, Jennifer Greer Gilley ('98), was also a student at Wake during my first two years. While we were there, our mom faithfully wrote us notes so we would have something in our mailbox from home. I think my freshman and sophomore years, she wrote both of us a handwritten note or letter of some sort every single day." Julie Greer ('00), PO Box 9063
---
Ernie Accorsi ('63) has a story behind his post office box that in a round about way ties into Wake Forest's appearance in the 1962 Final Four basketball tournament. In the Sweet 16 that year, Wake Forest trailed St. Joseph's by two with 13 seconds remaining before St. Joe's Bill Hoy missed the front end of a one-and-one free throw attempt. Billy Packer ('63) scored with five seconds left to tie the game at the end of regulation, and Wake Forest won by 11 in overtime. Wake Forest went on to beat Villanova in the Elite 8 before losing to Ohio State in the Final Four.
The following year, St. Joseph's and Wake Forest met in the old Memorial Coliseum. Wake Forest students greeted Bill Hoy with a derisive cheer when he was introduced. Accorsi, then a sports columnist for the Old Gold & Black, was embarrassed at the poor sportsmanship and wrote a letter to Hoy apologizing. Hoy wrote back to thank him. Accorsi stuck the letter in a textbook he was using in E. E. Folk's journalism class. Fast-forward 50 years.
Accorsi went on to a long career in the NFL as general manager of the Baltimore Colts, Cleveland Browns and New York Giants. Last year, he bought one of Hill's coin banks with his post office box door, number 7643. Even after 50 years, he still remembers that number. When a friend questioned his memory, he said, "I can prove it." He found his textbook from E.E. Folk's journalism class (yes, he's saved it all these years) and pulled out the letter from Hoy addressed to box 7643. He's since framed the envelope from Hoy.
The bank has a place of honor in Accorsi's New York City apartment, alongside mementoes from his long NFL career, including a picture of George Halas, a Johnny Unitas jersey and NFL game balls. He only keeps things in his apartment that mean a lot to him, he said, and his post office box door brings back fond memories. It was a highlight of his week to stop by the post office after Tuesday and Thursday chapel, hoping for a letter from his mother or the sports section from the newspaper back home.
"For people like me — I was from Hershey, Pennsylvania — your only link to the world you grew up in was your mail. I went home three times a year, and called home — collect — twice a month. There was nothing like getting something from home."
Lisa Collins agrees that it's about more than a brass door with a number on it. "It brings back good memories of my college years (and) of a faithful and loving mother."
Errol Hill can be reached at (336) 406-6809 or eshill87@gmail.com A cherry or walnut bank is $100, plus $12 shipping; an oak bank (made from wood from the ZSR Library) is $110, plus shipping. A post office box door by itself costs $15, plus $8 shipping. Be sure to specify your box number. If you're not sure of your box number, you can contact Kerry M. King ('85) at kingkm@wfu.edu. Note: Because campus is closed because of the coronavirus, we are unable to access records (paper, believe it or not) of old campus post office box numbers. You may still send a message, and we'll get back to you as soon as campus reopens.