After completing military service in Iraq, Nate Witmer ('06) was offered a job working with comedian Jon Stewart through "The Daily Show" Veteran Immersion Program. The mentoring program allows veterans to explore the technical, logistical and creative opportunities that exist in the industry and gain practical resources to help them pursue future employment. Wake Forest Magazine caught up with Witmer to discuss his experience.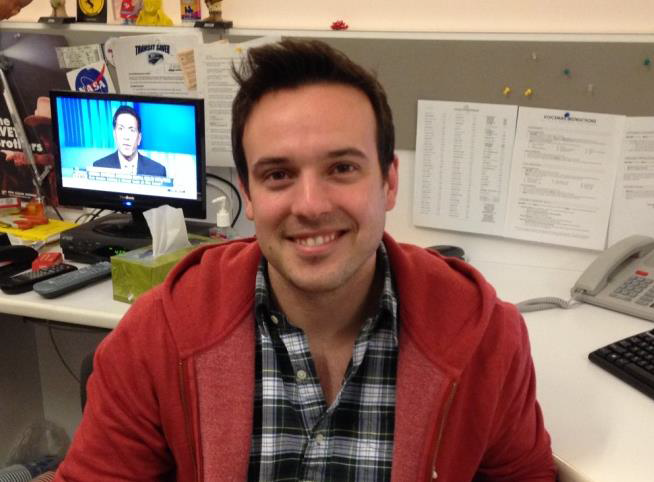 What path did you take after you graduated WFU? Did you enter the military right away? Did you have in mind what career you'd like to pursue?
In a way my post-graduation path was set the day I stepped foot on campus. I came to Wake on an ROTC scholarship with the goal of obtaining an active duty commission upon graduation. Two weeks after I graduated I was off to Fort Benning, Georgia, to start four years of active duty service in the Armor branch of the Army.
However, I didn't intend to make the military a career. So, while at Wake, I still had to consider what I could study to prepare myself for the workforce upon the conclusion of my military service. I had always enjoyed making films and jumped at the chance at a film studies minor. That course of study really helped me decide that I'd like to pursue a career in film or television.
How did you ultimately arrive at the "Daily Show"?
The opportunity came out of the blue. One of my best friends and classmates from Wake sent me an application for a veteran's mentorship program with an unnamed show in New York. He got the application from a veteran's organization affiliated with his graduate program and, knowing I was interested in the entertainment industry, figured it might be a good opportunity for me.
I applied and, upon acceptance, found out that the program was with "The Daily Show." At the conclusion of the program I got a job with a cable network. Several months later there was an opening at "The Daily Show," and I was invited to interview. I've been a fan of the show for a long time but never imagined I'd actually get to work here.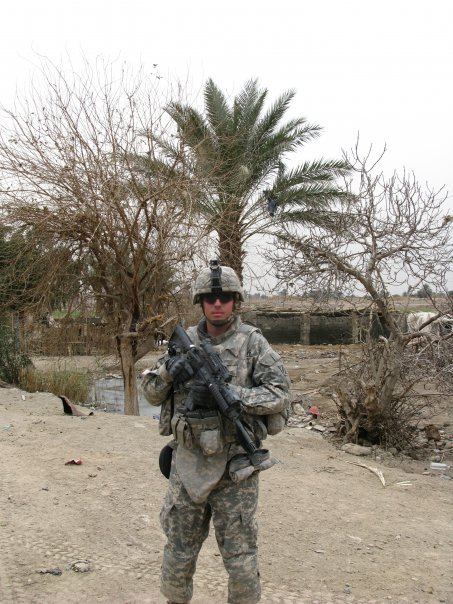 How did your military experience prepare you for the world of television/media?
Getting the job done, in both the military and the media, requires collaboration. Individuals with a wide variety of skill sets in either field must work together to accomplish a mission. In the Army that mission might be a patrol, while in television the objective is to get an episode on the air. Accomplishing either task requires teamwork, effective planning, communication, and follow-through.
What are your responsibilities with the show?
I'm an associate segment producer in the field department. For those who don't watch the show, most episodes involve Jon discussing stories from a desk in the studio. However, once or twice a week there's a story that requires reporters in the field. That's when I get involved. As a segment producer I pitch story ideas for these field reports. Once a story pitch is approved I get started on pre-production, which consists of in-depth research, securing on-air interviews with subject matter experts and booking locations.
Throughout this process I'm also working with the correspondent, producer/director, writers and other production staff to help with any miscellaneous needs that might arise. After the basic elements are shot, I work with the producer/director and editor to secure any relevant news coverage or b-roll that's needed for inclusion in the final cut of the story.
How do you think the program benefits veterans and helps them transition from the military back into civilian life?
The program is a fantastic resource for any veteran who's interested in television. It's designed so that participants get face time with people who are involved in every aspect of production, from the camera crews all the way to network executives. It provides an opportunity for vets to learn more about their particular field of interest and exposes them to a wide variety of career paths they may not have considered. Finally, "The Daily Show's" program concludes with a career fair that provides veterans with incredible employment and networking opportunities.
The show finally decided to go public with the program hoping that other shows, networks, or studios would start programs of their own. There are many veterans interested in pursuing careers in entertainment, but it's a hard industry to break into without any connections.
What is Jon Stewart "really" like? We have to ask.
What you see is what you get. He's down-to-earth, brilliant, hilarious and a great boss.
Where might you see yourself going career-wise?
I haven't been at the show very long, so I'm perfectly content in my current job! However, employees are encouraged to work on side projects. Right now I'm doing some writing on the side and trying to dust off my old video editing skills.
Were there particular classes, professors, experiences, etc. at Wake Forest that prepared you for the life you're leading now? Do you have any fond memories of the place?
Professors in the film studies program were very influential. One of my first professors, Curtis Gaston, provided excellent practical instruction and was a great source of encouragement. Dr. Mary Dalton's ('83) knowledge and passion were contagious, and the production classes allowed me to participate in every aspect of the film making process.
Premiering my student film shortly before graduation in one of Wake's auditoriums was a highlight of my college experience. Back then the minor was a recent addition to the curriculum, but I graduated with valuable writing, producing, directing and editing experience. Years later, when I finally had opportunities to apply for jobs in the industry, those experiences were invaluable.