Tyrone "Muggsy" Bogues ('87) was an unlikely basketball star. At only 5 feet, 3 inches tall, he was constantly told that he was too short to play with the big boys. But what he lacked in size, he more than made up for with an unwavering belief that he could do anything he wanted to do.
That was the lesson his mother instilled in him when he was growing up. He's passing on that lesson today to encourage young people to believe in themselves to overcome whatever challenges they may face. Bogues and his daughter, Brittney ('09), run a nonprofit organization, Always Believe Inc., that supports underprivileged middle and high school students in Charlotte.
"I tell every kid that I meet that they can be anything they want to be in life," Bogues said recently, sitting at his kitchen table at his home outside Charlotte where he's lived for the last 25 years. Although he's 50 and a grandfather now, he still has the infectious smile and attitude that made him one of the most popular Deacons of all time. "Don't let anyone get you off that path and destroy the dreams that you have."
The kids he's reaching are much like he was when he was their age. "Yea, I was a mess, a handful," he laughs. He grew up in the rough and tumble Lafayette Court housing project in Baltimore, Maryland. Even if you weren't doing anything wrong, trouble could still find you if you were in the wrong place at the wrong time. He has vivid memories of being shot when he was 5 years old. A shop owner, irate that someone had broken his store window, grabbed a double-barrel shotgun and fired at Bogues and other kids playing in the street. He shows off the scars from the buckshot on his arms.
When he was 12, his father was sent to prison for armed robbery. When he was 13, he was outside a neighborhood recreation center when two young men started fighting; one grabbed a baseball bat and killed the other. "God had his hands on me," Bogues said. "I saw a lot of things at a young age." He learned early a sense of fearlessness and resilience that he could overcome anything. "Even when I was young — I didn't really understand it at the time — that allowed me to withstand a lot of those negative comments trying to pursue a sport that came with certain criteria."
In other ways he knows he was fortunate. He had a strong mother and older sister and uncles who kept him on the right path. He had a recreational league coach, Leon Howard, who believed in him. He was becoming a pretty good basketball player, even if he was the shortest kid at the rec center. "I remember coming home and telling mom how cruel the kids were. She would say, don't worry about that, no one is an expert on your life. No one knows what your potential is. You have to believe in yourself."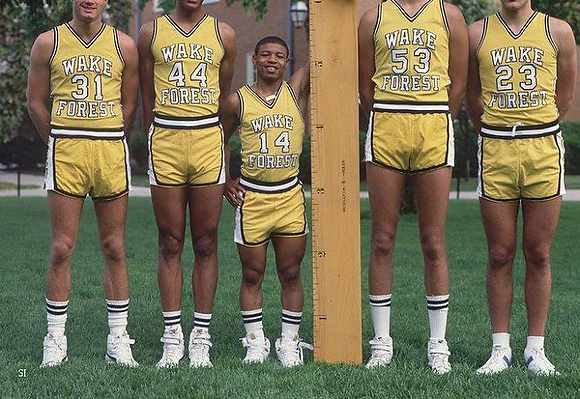 Bogues took his mother's message to heart and turned his supposed weakness — his height — into a strength. (He's not short, Bogues insists; he's "fun-sized" or "bite-sized.") Following his record-breaking career at Wake Forest, he surprised critics again with a long career as the shortest player ever in the NBA. He left Wake Forest a few classes short of graduating when he was selected 12th in the 1987 draft, but he finished his degree in 1999.
His nonprofit organization, Always Believe Inc., provides an after-school program for about 140 middle and high school students. They receive help with homework; tutoring in math and reading; enrichment activities, such as trips to museums; an afternoon meal; and transportation back home at the end of the day. The Always Believe MB1 program supports an AAU basketball team for eighth-graders.
But Bogues emphasizes that he's not training future NBA players; he wants to inspire young people to succeed at whatever they choose to pursue in life. He's clearly proud of the academic improvement students in the program achieved last year. Despite a hectic schedule of travel, personal appearances, coaching clinics and occasional acting gigs — most recently on USA's Royal Pains — he meets with students about twice a month.
If he can make it, they can, too, he tells them. Most probably know him more from the 1996 movie Space Jam, than his long NBA career.  "I was once one of you guys. I grew up in a housing project. I was raised by a single parent for the most part. I had people who were there for me and allowed me to become a better individual. We're here for you. We're giving you an opportunity to grow; take advantage of it."
Bogues originally set up Always Believe in his native Baltimore in the late 1990s. But his mother's death in 2001 shook him so deeply that he lost interest in the program. He retired from the NBA the same year after a 14-year career, mostly spent with the Charlotte Hornets.
Brittney Bogues, who has her own public relations firm, All in PR, encouraged her dad to revive the nonprofit last year. "He's touched so many lives I thought it would be a good way to get him involved (again)," she said. "He taught me that you can do anything that you set your mind to, as long as you believe in yourself and put in the hard work."
Brittney Bogues, 28, moved from Washington, D.C., back to Charlotte to help run Always Believe. As she talks about her dad, he walks into the kitchen, sweating, after playing a pick-up game with his son Ty on the half-sized basketball court with concrete bleachers behind the house. Bogues still has the swagger that endeared him to Deacon fans 30 years ago. "He thinks he has game," he says of his 24-year old son who works in marketing for Bogues' old team, the Charlotte Hornets. "No matter how old I get, I'm still going to come out on top."
Bogues wife, Kim, comes into the kitchen, too. She's a professional chef who helps out with Always Believe, too; she teaches a summer cooking school to teach healthy eating and cooking habits. (Bogues' oldest daughter, Tyisha, lives in Baltimore with her two children.)
Bogues' appeal extends far beyond Charlotte. He's travelled to India and once appeared on The Doctors television show to encourage a young man who was worried that he was too short to play basketball. He's going to Japan in August. He'll deliver the message that he learned from his mother long ago. "You can accomplish anything you desire. You have to dream it first. A lot of people say they want to be something, but the activity and behavior doesn't indicate they're going to do it. You have to be a doer and constantly take steps to make your dream a reality."