Back in the day when Joette Horton Seniff ('90) was an energetic cheerleader for the Demon Deacons, her challenge was to keep the crowd engaged, inspired and enthusiastic. Today, as a Navy spouse, she's a cheerleader of a different sort but her challenges are much the same: connecting families of Navy service members worldwide and offering them support and camaraderie during extended deployments, much-anticipated returns and in hardship, illness or even loss.
Seniff has experienced firsthand the highs and lows facing military families. She and her husband, Navy SEAL Captain Todd Seniff, and their two sons, 17-year-old Jackson and 16-year-old Blanchard, have been stationed around the world. Currently they live in Coronado, California, but have always considered themselves members of a global community.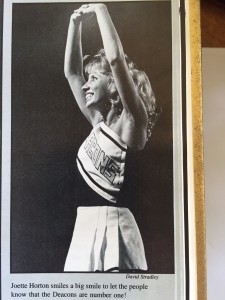 A business major at Wake Forest, Seniff went to work in consumer food marketing for General Mills after graduation. She was transferred to Norfolk, Virginia, and wasn't sure what to expect in a military town. But there she met some of the smartest people she'd ever known, including her future husband, Todd, a graduate of the University of Vermont and Oxford. "It was a nice balance," she says. "I majored in business and accounting and he majored in English." After four years of marriage they moved to Italy, where their oldest son was born.
What followed were deployments that crisscrossed the globe including Florida, California, Hawaii, Guam, Thailand, Rhode Island, Bahrain and back to California. But Seniff sensed that often communication lines between Coronado and Bahrain, or Rhode Island and Thailand, didn't lend themselves to over-the-fence conversation. She began channeling her cheerleader enthusiasm into a leadership role, creating and improving support programs for Navy spouses — not just those in California or the United States, but around the world — to share common issues, experiences and stories. "It's important to create programs that connect these families and to have opportunities to connect kids with parents who are deployed," she says. "I want to instill a sense of belonging in Navy families and to help spouses know, 'You're important to something greater than yourself.' Having that quiet network makes such a difference."
Seniff draws on her business education to identify opportunities to link organizations with families who need a particular resource, as well as bring issues to the attention of appropriate staff at the Department of the Navy. In addition she was instrumental in revamping the West Coast Children's Holiday Party into one of giving and providing for the greater community need. Military families donated unwrapped items to Toys for Tots, coats for homeless youth and more than 11,000 pounds of food to the local food bank.
In recognition of her advocacy and service the U.S. Naval Special Warfare Command recently honored Seniff with a Navy Superior Public Service Award, a rare recognition for a civilian. "Mrs. Seniff distinguished herself by energetically revamping the Naval Special Warfare Command and Commander, Naval Special Warfare Group ONE family support networks into programs whose policies and practices stand as a model for the entire Navy," read the citation presented to her by Rear Admiral B.L. Losey, Commander of the Naval Special Warfare (NSW) Command. "She was the impetus for laying the groundwork of a family organization that identifies issues, brings them to command attention and engenders follow-up to ensure resolution."
Seniff, a SOPH who plans to return for her 25th class reunion during Homecoming Weekend Sept. 25-26, says Wake Forest instilled in her a sense of community and family that has remained important. She draws upon her experience in everything she does. "I didn't realize at the time how important that period of your life is," she says. "Use that time as a trampoline to open doors and make connections." It's advice she may well give her sons one day — both have already fallen in love with the school.
"So many doors have opened up to me by moving around the world and meeting highly educated people who are making incredible differences," she said. "Getting to know the spouses of these warriors and encouraging them to share common interests … being involved with kids and their schools … supporting corporate interests and military interests … my role is to continue to be an advocate for the families."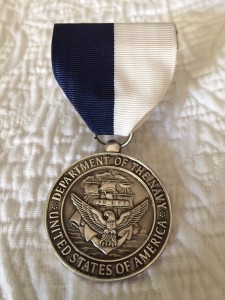 In reading the public service award citation, Admiral Losey noted that Seniff's tireless dedication to families set a lasting example of compassionate and selfless care and has transformed the NSW family program into a well-organized, vibrant family support network. "Her personal initiative, inspirational leadership and total dedication to duty reflected great credit upon her and upheld the highest traditions of the Department of the Navy."
And of her alma mater. Pro Humanitate.