This story originally appeared in October 2015.
When the Magnificent Seven get together, there's plenty of love and laughter to go around. The friendships formed 50-plus years ago in Bostwick and Johnson halls have grown stronger with the passage of time.
The seven — Carole Hendrix Grady, CeCe Budd Grimes, Jane Edmunds Novak, Lineta Craven Pritchard (P '93), Sara Webb Rogers (P '90), Betty Lewis Richwine (P '92, '93) and Donia Whiteley Steele — all graduated in 1965.
They gathered Homecoming week in a sprawling rented ranch house, the "Outrageous Cabin in the Woods," not far from campus. The cabin's owners came up with the name, but it was an appropriately named setting for the "Mag" Seven's yearly reunion.
"These are absolutely my closest friends," said Jane, who lives in Ponte Vedra Beach, Florida. "We share so many things. This is like our family."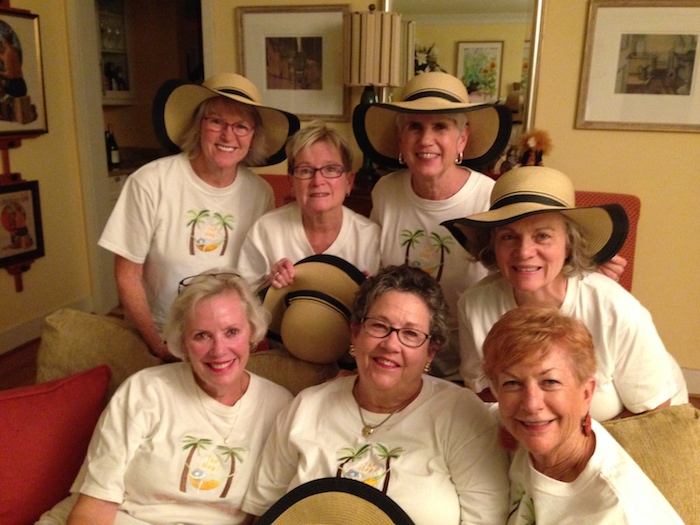 They were in high spirits after having brunch with their favorite professor, Provost Emeritus and Professor of English Ed Wilson ('43), when they welcomed me out to the cabin's rustic porch. Stories about boyfriends and archaic social rules and panty raids and a pair of men's boxer shorts came fast and furious.
They've gotten together once a year for the last 10 years, but this year's reunion was extra special: It was their 50th Wake Forest reunion, and it was the first time they've met in Winston-Salem. They didn't come to town just for the Homecoming football game or even their introduction into the Half Century Club (a name they don't like by the way, it just sounds so old). They came a week early to talk and reminisce and laugh, and then talk and reminisce and laugh some more.
They have a lot to talk about. The seven met freshman year; several were roommates. Betty and Sara were cheerleaders; so were their future husbands, Marty Richwine ('63) and Jimmy Rogers ('63). Several were Fideles. Lineta was editor of the Old Gold & Black; Donia was editor of the Howler. Carole was Student Government secretary.
They were in each other's weddings; several married Wake Forest men. Several of their children followed them to Wake Forest. As the years went by, they stayed in touch through Christmas cards and phone calls, but didn't see each other that often other than at the occasional football or basketball game.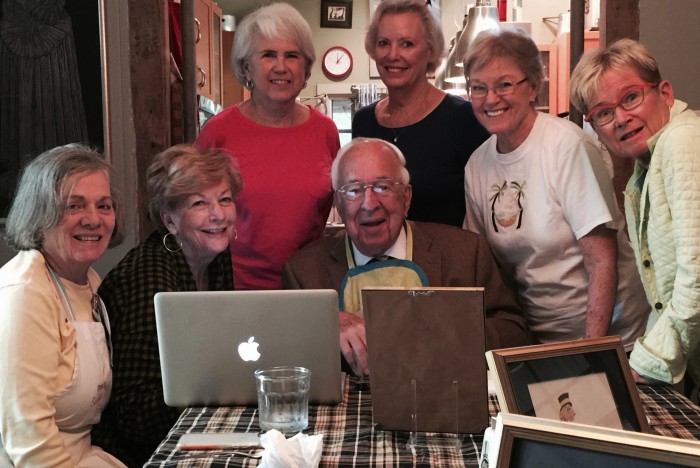 That changed 10 years ago as their 40th reunion approached. Inspired by some friends in the Class of '64 who got together regularly, Carole thought: we need to do that too; too many years have already passed by.
Carole was a physical education major, the only non-English major in the bunch, but it was her idea to start the group, so she gets a pass for her major. And she hosted the group's first reunion at her house on Lake Norman. When her husband, Tom Grady (JD '66), heard there were seven of them, he dubbed them the "magnificent seven." The name stuck, although they often shorten it to Mag Seven, which is embroidered on the matching t-shirts they're wearing this day.
Since then they've met at Jane's house in Florida, beach houses in North and South Carolina, and a hot springs resort in New Mexico near Donia's home in Albuquerque. No husbands allowed – except once several years ago when husbands were allowed to join them to watch a Wake Forest football game on television. Never again, they laugh.
They laugh hysterically when they recall dressing as "saloon girls" for a photograph when they met in St. Augustine, Florida. They were given extra large boxer shorts to wear under their outfits, and Jane being Jane kept hers. Betty disappears into a back bedroom and reappears modeling the boxers. Now it's a treasured gag gift passed around each year, the Sisterhood of the Traveling Boxer Shorts, you could call it.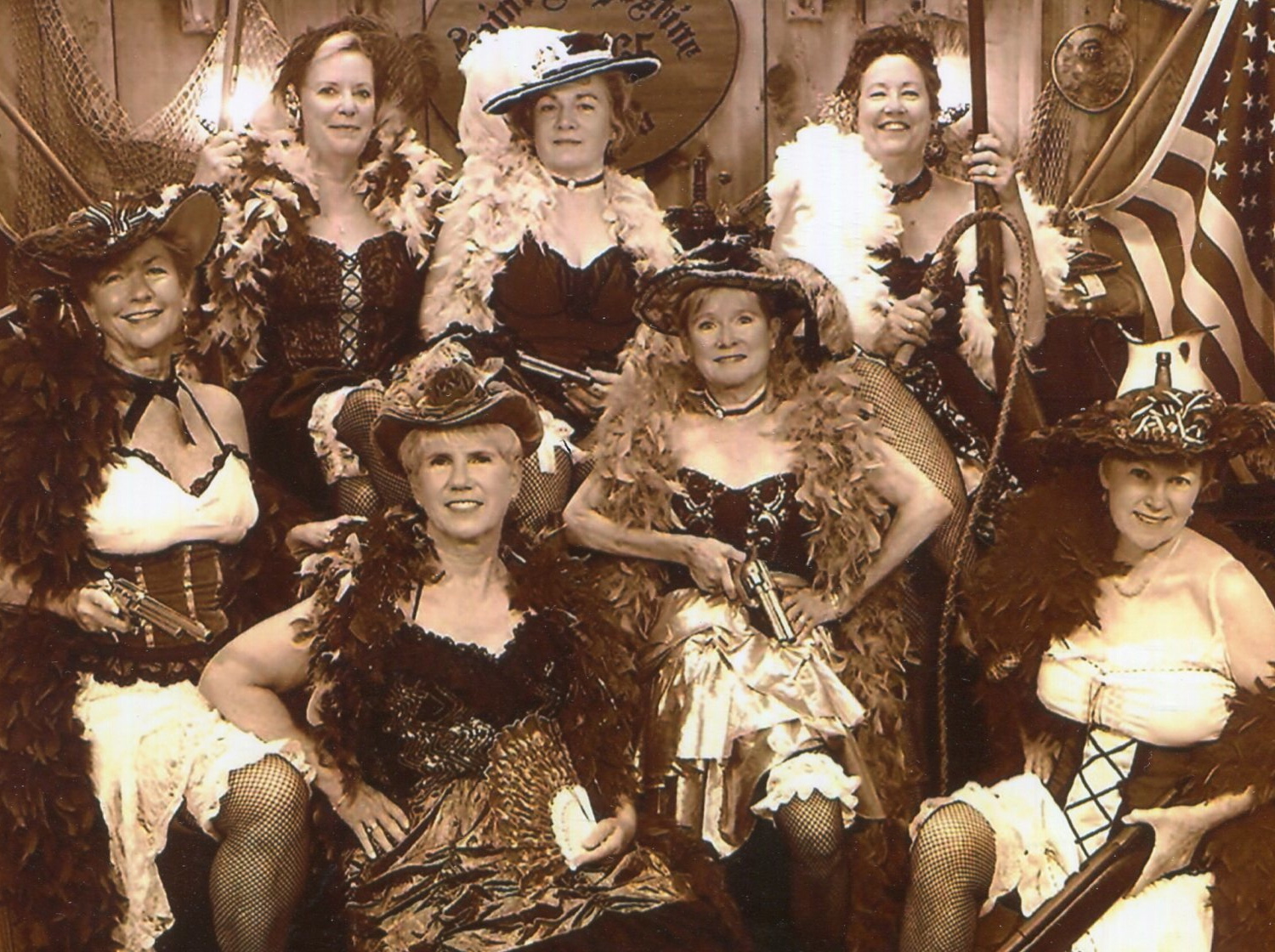 It's a sisterhood built on "shared experiences from 50 years ago," Donia says. "We'll say do you remember the time we did such and such?" Others jump in to finish her thought. Remember the time that Jane and Sara went away for the weekend and we moved all the furniture out of their room and filled the room with crushed newspapers? They all laugh.
For this year's reunion, Donia flew in from Albuquerque, and Jane from Florida; the others drove from their homes in North and South Carolina. They take turns sharing what's happened in their lives the past year, and not in a quick drive-by way. "It's our third day and we've only gotten through four of us," Jane says. It's their annual therapy session. "Who needs a psychiatrist?," Betty laughs.
CeCe, author of a series of books on 'What It Means To Be Southern" included the Mag 7 in her book on Southern girlfriends. "Sharing the college experience and building upon mutual interests and values, we had bonded in a way that time had not diminished," she wrote. "We've reached back in time and resolutely reclaimed this magnificent gift of friendship."
As I leave the Outrageous Cabin in the Woods, we gather in a circle and join hands and they send me off with a blessing that came from CeCe's grandchild: "Everybody loves everybody. I love you, you, you, you, you, you, you." In case you weren't counting, that's "you" seven times.