What do you do after winning what Teacher magazine describes as "the Oscars of teaching"? Lauren Jensen ('02) went right back to doing what earned her a $25,000 Milken Educator Award: teaching her English students in the same classroom where she fell in love with learning when she was a high school student.
Jensen didn't know she had even been recommended for the Milken Educator Award when she walked into a special assembly two weeks ago at her school, Glen Cove High School on Long Island, New York. She was visibly stunned when Superintendent Maria Rianna announced that she had won the award. Students and colleagues packed in the school's gym cheered and gave her a standing ovation as she was congratulated by Milken Family Foundation co-founder Michael Milken.
With her proud mother, Leslie, a retired third-grade teacher, looking on, Jensen thanked her students. "You give my life meaning and you give me purpose, so this award really should be for you guys, not for me," she said. "There isn't anything that I can imagine doing other than teaching. I live and breathe it."
As soon as the ceremony was over, Jensen walked back to her classroom with her students, skipping the reception in her honor, so she could teach her 10th-grade English honors class. Michael Milken followed to watch her teach for a few minutes. "It was a lesson that I really loved, and I didn't want to miss it," she explained.
Jensen, 35, returned to her hometown three years ago to teach 10th- and 12th-grade English Language Arts. She is the only graduate to win the Milken Award, according to the Wake Forest education department.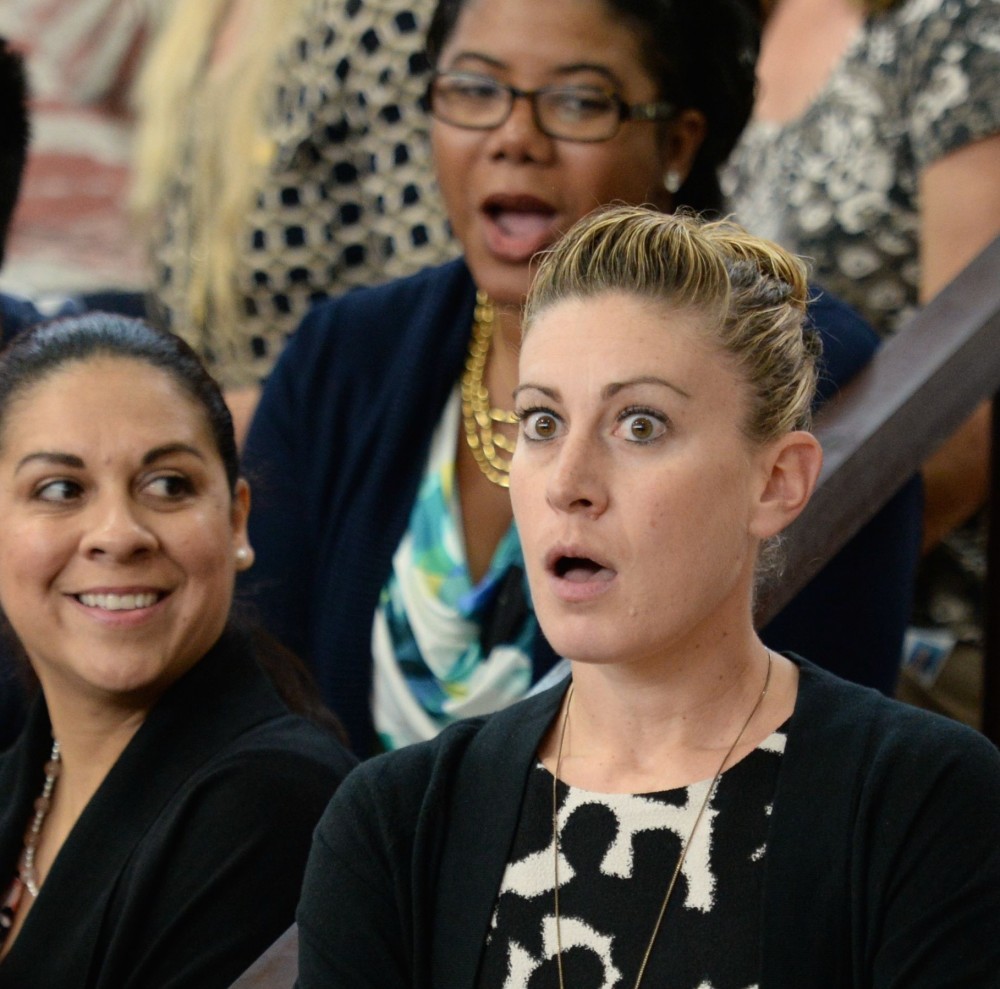 The Milken Family Foundation established the award in 1987 to recognize and reward early- to mid-career educators. Departments of education in each participating state appoint blue-ribbon committees to recommend candidates to the foundation. As many as 40 teachers will be honored this year in surprise ceremonies across the country.
Michael Milken praised Jensen's commitment to education. "Lauren is a lifelong learner committed to improving the way English is taught and learned," he said. "She challenges her students to think more analytically and express themselves in writing more clearly and persuasively — core skills that endure for a lifetime." (Read more about what the Milken Foundation said about Lauren Jensen.)
Jensen never expected to be back in her old high school, but she credits the teachers she had there — especially social studies teacher Melanie Arfman and English teacher Kathy McNamee — with inspiring her. "The reason I became a teacher is the teachers I had at Glen Cove High School," she said. "I wanted to be a mentor to teenagers as these two women were to me."
She teaches in the same classroom where Arfman taught her social studies in 10th grade. Jensen's known for being a tough teacher — students in her honors class once had t-shirts made that said, "I survived Ms. Jensen's class." But she's also known for creating a welcoming environment in her classroom where students come to hang out after school. "You can't just care about the content, you have to care about them as human beings," she said. "Kids are smart; they know if you care about them or not."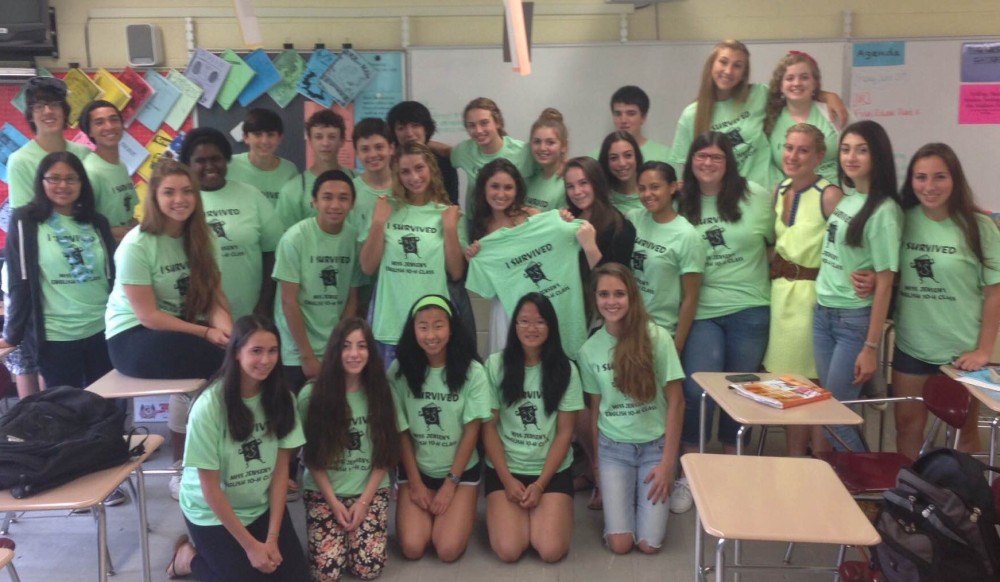 As much as her high school teachers inspired her, Jensen didn't plan to follow in their footsteps when she came to Wake Forest. She wanted to become a doctor until she had to admit that she wasn't passionate about her science courses. She decided to pursue what she was passionate about — literature and education — and majored in English and minored in education.
She credits Professor of Education Ann Cunningham (P '13) and now-retired Professor Joe Milner (P '90, '93, '95) with guiding her to become a teacher. She completed her student teaching at Mt. Tabor High School in Winston-Salem and received the education department's Jerry A. Hall Award for excellence in student teaching. (Her brother, Chris, graduated from Wake Forest in 2004.)
After graduating, she taught for nine years at a high school in Fairfax County, Virginia, and earned a master's degree from Columbia University Teachers College. Then she took what she thought should be her next career step — and regretted it almost immediately. She quit teaching after receiving a full research fellowship to pursue a doctorate in education at New York University.
"It was the worst two years of my life," she said. "Every single day I missed being in the classroom. I couldn't bear being out of the classroom. I missed the connection with high school students; there's something unique about the mentorship at that age."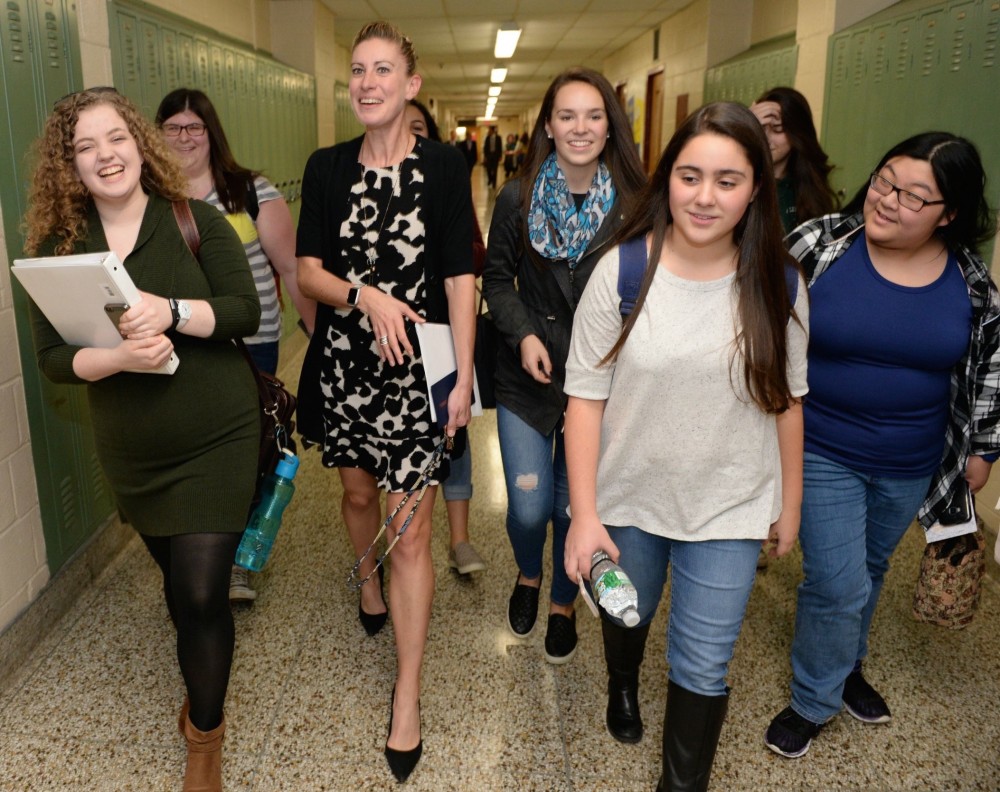 When her former teacher Melanie Arfman called to tell her about an opening at her old high school, she left the Ph.D. program and jumped at the chance to return to the classroom. Sometimes, there doesn't have to be a "next step," she said. "I tell students that story, that you have to follow what you're passionate about. I had to be back in the classroom."
Jensen is also the Glen Cove school district's writing coach, and she has shared best practice teaching practices statewide and nationwide. She was featured in a state-produced video highlighting her work as an exemplar for Common Core Learning Standards..
She acknowledges the irony that she probably wouldn't be the teacher she is today — or have won the Milken Award — if she hadn't left teaching. "Leaving the classroom made me more excited to go back to the classroom," she said. "I've almost experienced a rebirth of being a teacher."
Jensen hasn't decided how she will use her $25,000 prize. She may use some of it to finish her Ph.D., but she'll do that part-time so she doesn't have to quit teaching again.
She's modest about being recognized as one of the top teachers in the country. "I really don't feel I'm anything without my kids. They make me a successful teacher. And the people that I've learned from, I wouldn't be the passionate teacher that I am if I hadn't had mentors — the Joe Milners and Ann Cunninghams — along the way."