David Buie ('75), Brian Tolleson (MBA '08) and Crystal Redfern (MBA '15) don't know each other. But every Tuesday morning, the three Deacons meet at a Charlotte elementary school for a common cause: helping children improve their math skills.
They're among the 47 alumni who volunteer once a week with Heart Math Tutoring, a nonprofit that recruits, trains and supports tutors in high-poverty elementary schools in Charlotte. Alumni make up about 10 percent of the 455 volunteers serving in eight schools. The Charlotte alumni club has helped recruit volunteers the last two years.
Volunteers work one-on-one with the same student for 30 minutes each week. Buie, a retired letter carrier, tutors two students, a second-grader and a third-grader, in back-to-back sessions. "I think I get as much out of it as they do," he said. "In those 30 minutes, you can see where they are, and by the end of the session, they understand the concept that you've been teaching. That's rewarding."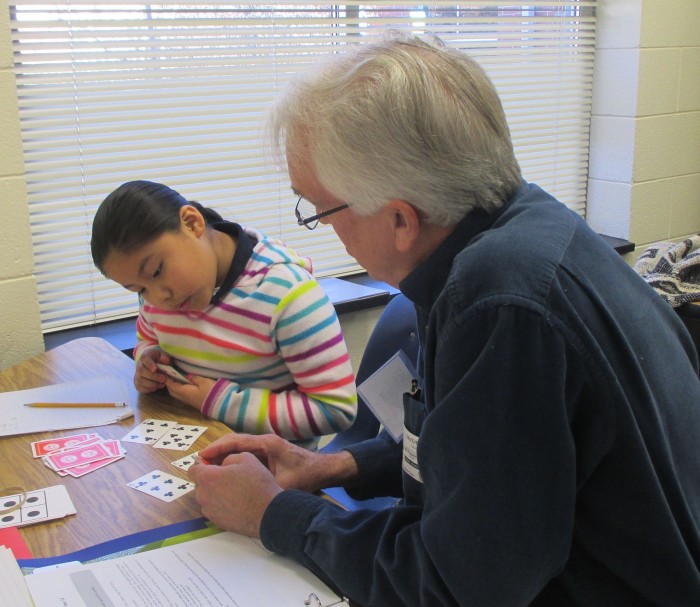 It's rewarding for Padgett Sullivan ('12) to see so many fellow Deacons volunteering. Sullivan, an elementary education major, taught second and fifth grades in Charlotte before joining Heart Math Tutoring's staff as program coordinator. "It makes me so proud to be part of (Wake Forest's) tradition of serving the community," she said.
Alumni collectively contribute more than 1,000 hours of tutoring a year, Sullivan said. "That's a large impact … of well-trained, dedicated tutors coming to schools each week that schools wouldn't have otherwise." Sullivan hopes to have more events like last year's holiday party for volunteers so that alumni can meet each other and see the difference they're making as a group.
On a recent Tuesday morning, Buie, Tolleson, Redfern and a handful of other volunteers scurried into a small classroom in Highland Renaissance Academy. They eased into plastic chairs at tables and desks and went right to work with their students. Heart Math Tutoring provides detailed lesson plans and hands-on activities so each volunteer knows exactly what they're supposed to work on with their student. It's engaging for the students and easy for even the most mathematically challenged volunteer to use.
Buie, an English major at Wake Forest, taught third grade for a year after he graduated before going to work for the postal service. Forty years later, he's happy to be back in a school. It may look like he's just playing cards with his third-grade student, but she's learning to add numbers up to 20. They took turns drawing two cards at a time and explaining to each other how to add the value of the cards. "How'd you get that?," he asked her. If she got an answer wrong, he'd gently guide her to study the cards again. "I really enjoy working with children, especially one-on-one," Buie said.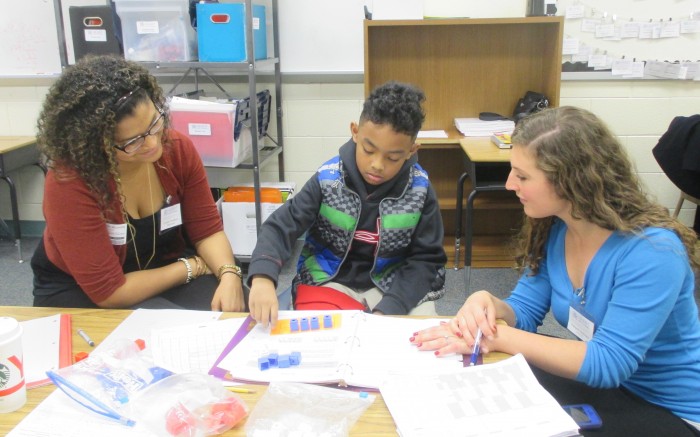 Because volunteers work with the same students each week, they can get to know them and not just what math skills they need to master, Redfern said. Her third-grade student likes Japanese anime comics, so when she visited Nashville recently she brought back a comic book that she thought he'd enjoy. "You never know what kids are going through … they know we're coming just for them each week," she said. "This is something very small that I can do to make a big difference. It's very easy to take 30 minutes or an hour."
At a nearby table, Tolleson and his third-grader took turns rolling dice to see how fast the student could add the numbers on the dice. Tolleson, CEO and co-founder of Loop Communications, a telecommunications service provider in Charlotte, has three young daughters of his own but still makes time to tutor every week.
"This is a well-structured, well-organized program, with a track record of success. I like spending every week with the same girl. It's really fulfilling to see how she progresses," he said. "I enjoy making a difference, even if it's just for one person. I think it's important to give back."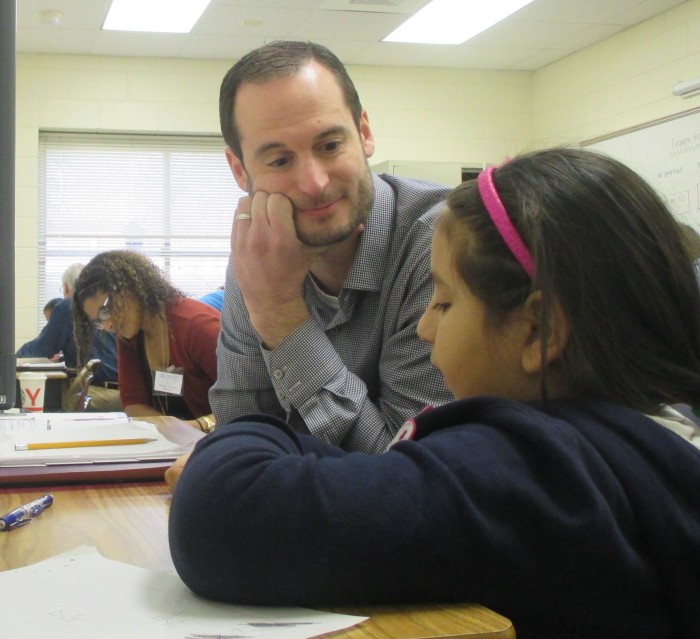 Heart Math Tutoring was founded in 2010 as an initiative between community leaders and Charlotte Mecklenburg Schools. (The program was originally called HEART — Helping Ensure Academic Results through Tutoring — before being renamed last year.) Corporate, foundation and individual gifts fund the program. The need is significant, Sullivan said. Sixty percent of economically disadvantaged elementary students in Charlotte score below grade level in math; 97 percent of students in the program have shown significant growth in understanding math concepts, she said.
Nicole Barrow, the math facilitator at Highland Renaissance Academy, said the one-on-one attention helps students learn concepts that they haven't grasped in their regular classrooms. "I have seen their confidence in math 'fly through the roof.' It's amazing to see the smiles on some of the faces of students who once struggled," she said.