It's easy to find Jackie Murdock's home on a tree-lined street in Raleigh, North Carolina. Just look for the black and gold house.
I've come here on a picture-perfect spring morning to see his Deacon Den and his collection of Wake Forest pennants, prints and photographs. I wasn't expecting to see a black and gold house. "I just got tired of a white house," Murdock ('57) says simply, before making sure that I noticed that it's painted old gold, not some gaudy shiny gold.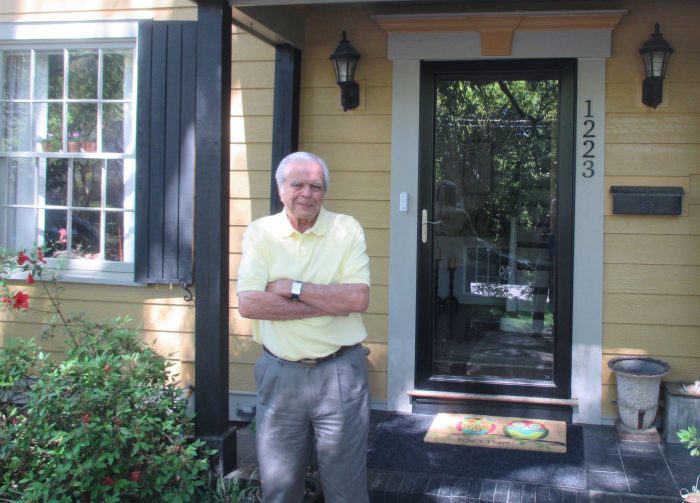 The former Wake Forest basketball star and coach first lived here when he was in 10th grade until he took Wake Forest Road, a block away, 19 miles to the Old Campus. The Hall of Famer — he's in both the Wake Forest and North Carolina sports halls of fame — had an all-star career at Wake Forest, setting ACC and national records, then coaching with "Bones" McKinney on the 1962 team that advanced to the Final Four. He eventually made his way back to the 1920s house, painted white then, and raised his three children here.
When Murdock, 81, and his wife, Mary, added on to the house a few years ago, he decided to make the addition his Wake Forest room. Son Jack built the room, with black and white walls, gold trim and crown molding, and gold carpet. Wake Forest pillows rest on black leather couches. Walls are covered with vintage pennants, prints and assorted other Wake Forest stuff that Murdock buys on eBay or at auction sales.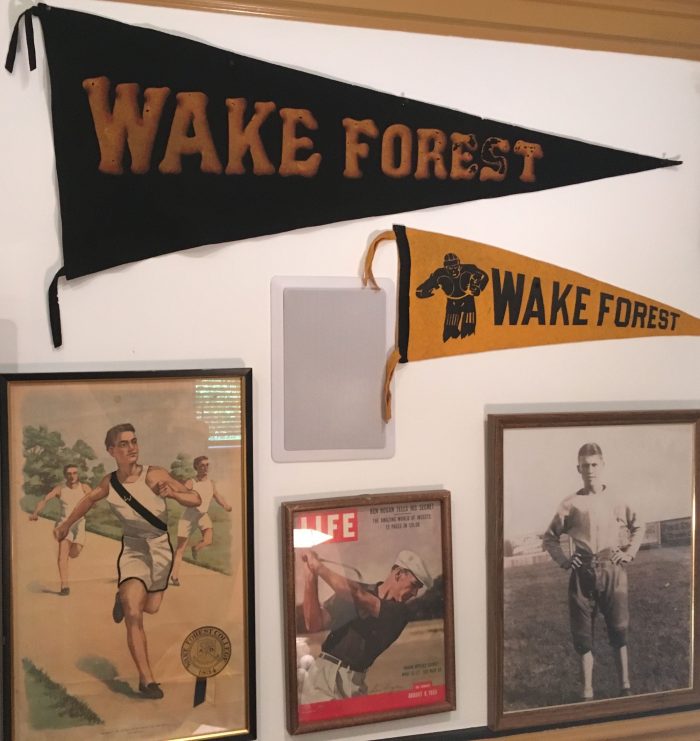 An enormous black pennant, a good 5 feet long, with gold-stitched letters "Wake Forest College '22," hangs on one wall. A number of other pennants, including several more from the 1920s, hang on two other walls. His favorite immortalizes a 1927 football victory: "Wake Forest 9 NC 8." When I ask him why, he gives me a quizzical look and replies as if it needs no further explanation, "Wake Forest 9, Carolina 8."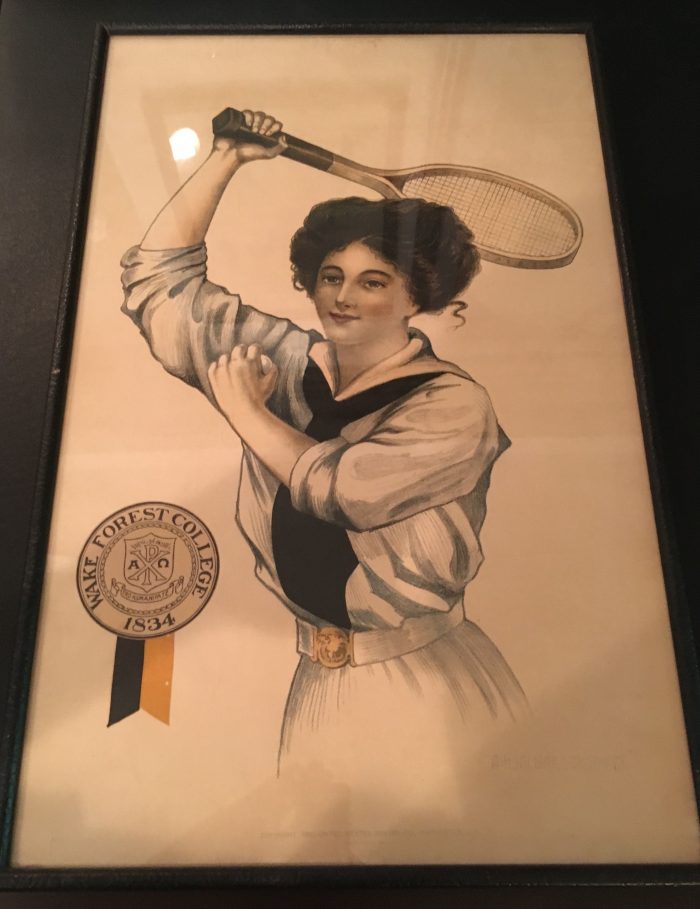 The oddest item has to be the 1910 print of a female tennis player wearing a black scarf and a gold belt buckle; the Wake Forest seal gives it an air of authenticity. But that was a good 30 years before Wake Forest admitted women. A similar print shows a male runner with a black "W" sash across his chest. Both prints were mass-produced, Murdock explains, and then customized with a school's colors and seal; the printer probably didn't know, or care, that Wake Forest didn't even have female students at the time.
Bookcases on each side of a stone fireplace are filled with old football helmets, footballs and basketballs, trophies and pictures.
Pennants from Duke's appearance in the 1942 Rose Bowl stick out in Murdock's black and gold haven. Murdock didn't go to the game even though it was played in nearby Durham — he was only 8, he points out — but he once was a "Duke man." A multisport star in high school, he wanted to play for Duke, but the Blue Devils weren't interested. He ended up at Wake Forest instead, "about the only place that wanted me," he told me.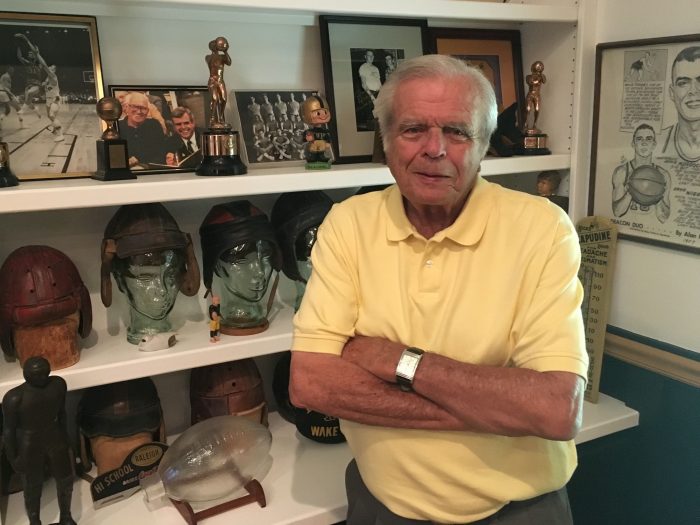 Coach Murray Greason ('26, P '59) had found a star. Playing alongside Dickie Hemric ('55), Lefty Davis ('57), Jim Gilley ('57, MBA '73, P '81, '83), Ernie Wiggins ('57), Wendell Carr ('58), Jack Williams ('58) and Olin Broadway ('59, P '97), Murdock became one of the top shooting guards in the country. He set the major college record for career free throw percentage and an ACC record by converting 39 straight free-throw attempts.
As a senior, he was named to the All-ACC first team and earned All-American honors, while leading Wake Forest into the national top 20. He remains one of the few players in ACC history to lead the league in field-goal percentage and free-throw percentage in the same season. To cap off his senior year, he was also a catcher on the baseball team, which finished second in the ACC.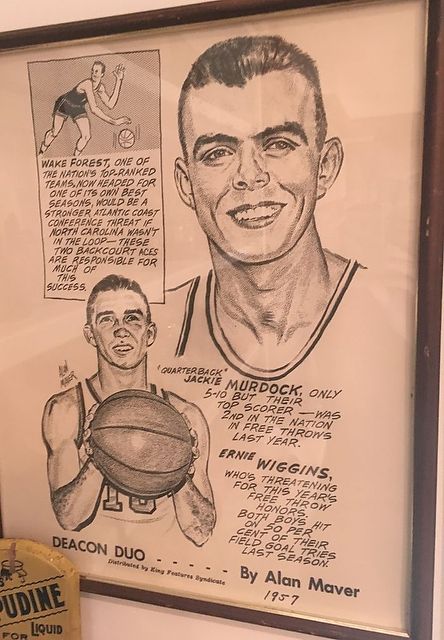 Murdock returned to Wake Forest in 1960 to serve as freshman coach and an assistant coach under McKinney. The 1962 team, with Len Chappell ('62) and Billy Packer ('62), advanced to the Final Four and, after losing in the semifinals, defeated UCLA in the consolation game to finish third in the country. When McKinney retired in 1965, Murdock served as head coach for a year before leaving college athletics behind for a 30-year career with the North Carolina Department of Transportation.
But if his black and gold haven is any indication, he never left Wake Forest, and the many friends he made, behind. Not everyone can have a Deacon Den, but he hopes there's one thing alumni can share. "I would hope people going to Wake Forest now will have strong feelings" like I have, he says.
Do you have your own Deacon Den? Let us know.