Wake Forest continues to be a leader in global education. By the time they graduate, 60 to 65 percent of undergraduates will have had an international for-credit experience, says David Taylor (MALS '11), director of global abroad programs. What's next? More of what he calls "embedded programs" in which students attend classes taught on campus that incorporate an international, academic component to complete the course. "The option or opportunity to do a 10-, seven- or five-day international component is really appealing," he says. "I think we will see more, and frankly, we're open to it."
Last spring, Professor of English Dean Franco taught a three-credit-hour course called "Secular Cultures of the Jewish Diaspora" on campus, capped by 10 days in Venice with his students. By design his course coincided with Venice's yearlong commemoration of the establishment of the world's original ghetto 500 years ago. What follows is Franco's account of a global microexperience, a form of study abroad growing nationally.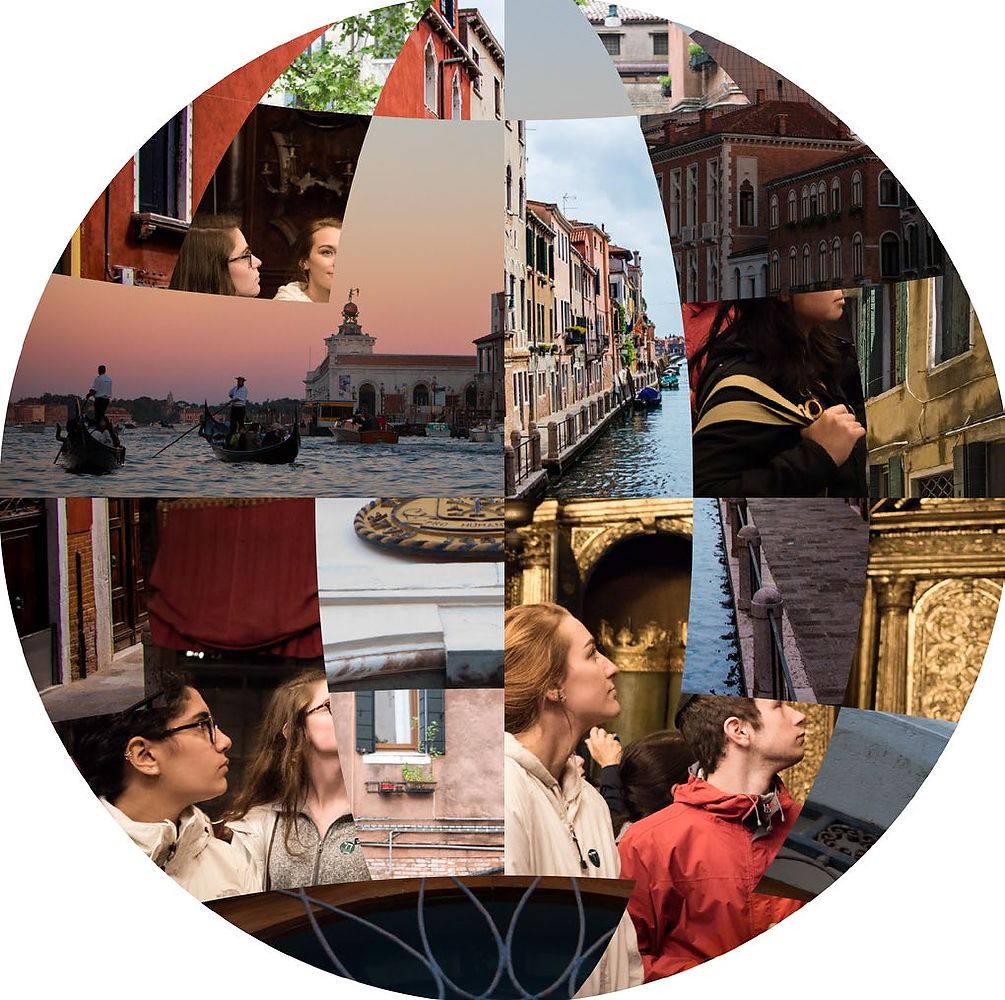 IN MAY 2016, I traveled to Venice with my students as part of a unique approach to study abroad. My students and I learned about Jewish history in Venice and in Italy at large, and we contributed to the ongoing vitality of Venice as a crossroads of Jewish cultural practices.
The Venetian Ghetto — named for the geto, Venetian for "metal foundry" — was the first such walled, segregated sector for Jews in Europe. The name and the practice were subsequently implemented in Rome later in the 16th century, and then across Europe in the 17th and 18th centuries. The Jews of Venice were forced to live in the Ghetto until Napoleon's conquest, and Jews continually inhabited Venice's Ghetto through the 20th century. Home to five synagogues, and a melting pot of Jewish traditions from Italy, Germany, Spain and the Levant, the Ghetto was the site of intensive Jewish cultural innovations in poetry, philosophy, liturgy, music, language and food.
Today the Ghetto is a site of renewed Jewish artistic and intellectual activity, organized by The Venice Center for International Jewish Studies, headed by Wake Forest's Shaul Bassi. Charismatic and exceedingly energetic, Shaul teaches Italian language classes at Wake Forest's Casa Artom in Venice and literature at Ca' Foscari University. He is also the lead organizer of a variety of Ghetto commemoration projects, including the first staging of Shakespeare's "The Merchant of Venice" in the Ghetto in July.
Shaul and I had formed a great rapport when I taught at Casa Artom in fall 2009 and spring 2015. He and I share an interest in understanding the political and cultural history of the Jewish diaspora, and we both approach Jewish Studies as a crossroads for encountering the ethics and politics of racial and ethnic identification. When I learned of his plans for the Ghetto anniversary, I knew it would be a rare opportunity for Wake Forest students to study the unique cultural heritage of Jews in Venice. Thinking broadly, I also anticipated that the experiences and cultural practices of the Jews of Venice could teach students about contemporary crises of migrants and refugees.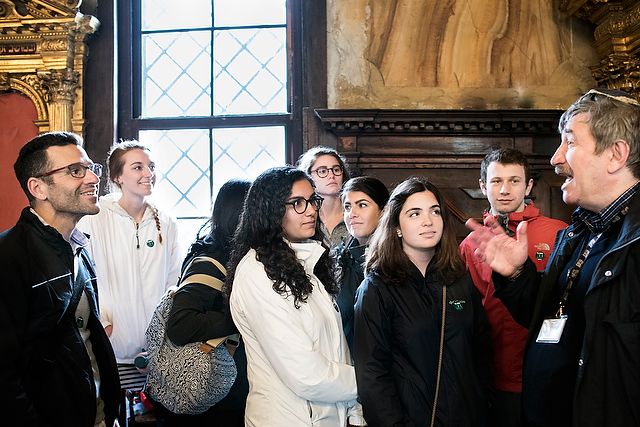 I organized the course to address a basic question, which the students turned over and over across the semester: how do secular expressions of Jewish culture produce Jewish belonging across history and geography? Our question was aimed at understanding the interplay of continuity and change in Jewish history, and we were also mindful of the broader frame of racial and ethnic identities in general. We asked: how do Jews claim belonging amid displacement, cultural continuity in contexts of persecution and a sense of peoplehood beyond the borders of any given nation? Students read about traditions of Jewish secularity, watched Jewish films such as "The Jazz Singer" and "A Serious Man," sampled the neo-Klezmer musical movement and read literature by Emma Lazarus, Sholem Aleichem, Philip Roth and Gary Shteyngart.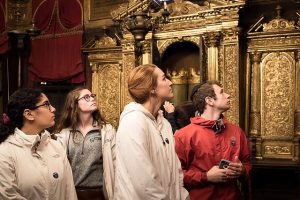 The visit to Venice included history, the artistic and intellectual future of Jewish Venice and global Jewish cultures. Still jetlagged from arriving the night before, on our first full day the students and I trekked across the city to meet Professor Monica Chojnacka, a leading scholar of Venetian history who also teaches at Casa Artom during regular semesters. She led us on a walking tour, including a study of the architecture and social contexts of Jewish, Muslim and German communities in Venice. Indeed, the architecture held many cultural stories. Ghetto buildings stood out not for their style — they are indeed rather plain — but for their exceptional height: we learned that Jews were not allowed to build out, so they built up.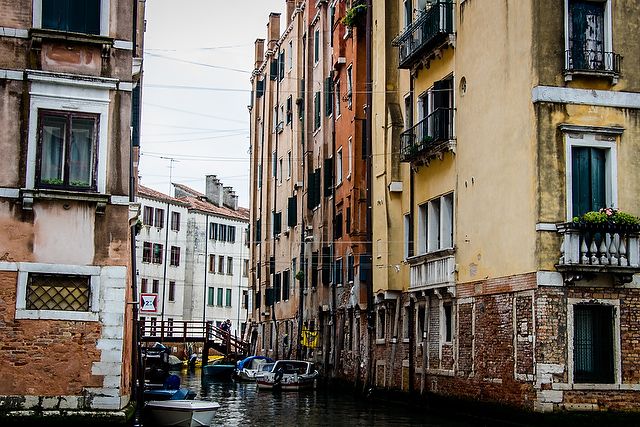 Students learned about Sara Copia Sullam (1592-1641), Venetian Jewish poet and philosopher, known for her cultural salon in the Ghetto.
We visited the Banco Rosso, the sort of bank where Shakespeare's Shylock would have set up shop. We traced the path of Jews who were transferred to concentration camps during World War II and mapped the path surviving Jews walked back to their neighborhood at war's end.
Later in the week, Shaul came to Casa Artom to teach us more about the Ghetto's 20th century history and his family's having fled just before the deportation of Venice's Jews. He also treated us to an insider's view of rehearsals for "The Merchant of Venice."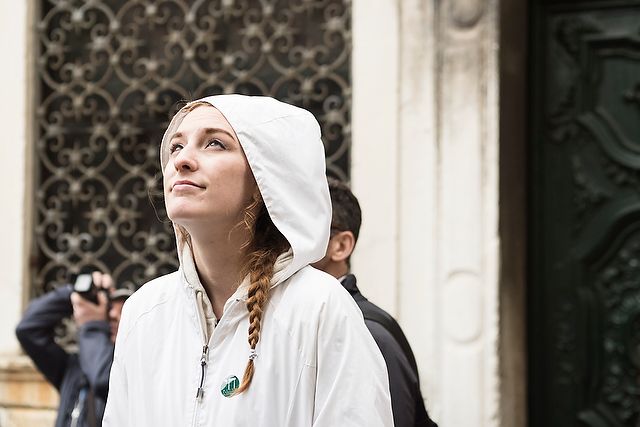 The highlight of the program was the residency of two renowned Jewish artists, whose visit to Venice was supported by grants from the Humanities Institute and the Provost's Office for Global Affairs. Gary Shteyngart, whose best-selling books include the novel "Absurdistan" and the memoir "Little Failure," guest-taught a class at Casa Artom and gave a public reading and interview, co-hosted by Shaul and me. Shtenygart's writing, about post-Soviet Russian Jews in America, provides insight into yet another dimension of the international Jewish experience.
That same week our second guest, the musician Josh Dolgin, who performs as "Socalled," flew to Venice for a class-session and public concert at the trendy arts venue Spazio Aereo. Dolgin performed at Wake Forest in 2011 as the leader of Abraham Inc. A beat artist and Yiddish culture revivalist, in his Venice concert he rapped, played a variety of instruments, improvised with the house Klezmer band and gave shout-outs to professors and students. Both Shteyngart's reading and Dolgin's concert were part of the "Beyond the Ghetto" cultural event series, the leading events organized for the Ghetto's 500th anniversary. My students and I were proud to have an active role in that commemoration, and equally proud to introduce these energizing, eclectic, and creative Jewish artists to Venice.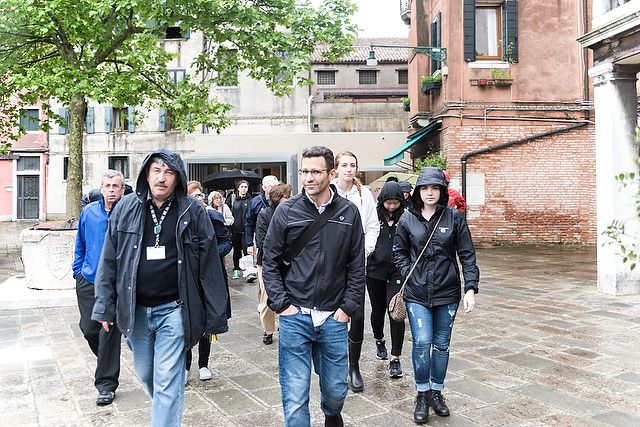 I must add, along with the studies, we made sure to enjoy the many splendors of Venice. In case you were wondering, 10 days is indeed enough time — perhaps just the right amount! — to sample and rank every gelato shop in town. Great espresso, pastry and spritz kept us moving (or slowed us down), and nights were filled with communal cooking and festive rounds of Bananagrams.
Though the class is over, we're not quite done. This fall, the students will showcase their final projects at a symposium on "Diaspora and Race" sponsored by the Humanities Institute. Projects include investigations of Jewish culinary identities, photographic comparisons of Jewish neighborhoods, studies of migrant communities in Europe, even a short story meditating on Jewish belonging. The symposium will showcase how Jews continually reinvent the bases of belonging, suggesting how social identities may persist even as they transform. We hope to add a new dimension to campus conversations about race and ethnicity.
I'll be teaching this class again, taking more students abroad to study Jewish Venice. I expect the course to become a popular staple of the curriculum for the recently established, interdisciplinary Jewish Studies minor. Things are changing at Wake Forest: new students, new curriculum and new models for study abroad. But as our course investigation of Jewish Venice showed us, change and innovation are the lifeblood of continuity.