With thousands of alumni coming to campus for Homecoming this weekend, it's the perfect time to share Rob Hord's homecoming 1977 love story.
Fall 1977 was a time of change for Hord ('75). For a couple of years he had dated a girl named Betta who attended Lenoir-Rhyne College in his hometown of Hickory, North Carolina. But by the time fall rolled around that year, they had broken up. Betta had moved to Greensboro, and Hord was moving to the Midwest to pursue a new job.
Homecoming was his last chance to see his Wake Forest friends before he headed west. But he had something else in mind, too. He hadn't seen or talked to Betta in months, and he was still bothered that they never really said goodbye. Homecoming was the perfect "cover" to prevent his friends and family from knowing what he was really up to: a quick side trip to Greensboro to find closure. "This is the last time we'll see each other," he remembers thinking.
He doesn't really remember much about Homecoming itself. The Old Gold & Black tells us that Wake Forest lost the game to Duke on Nov. 5 that year. Professor of History David Smiley (P '74) spoke at the alumni banquet at the Benton Convention Center downtown. When Hord left campus that Sunday, he didn't head west back home to Hickory; he headed east to Greensboro to find Betta.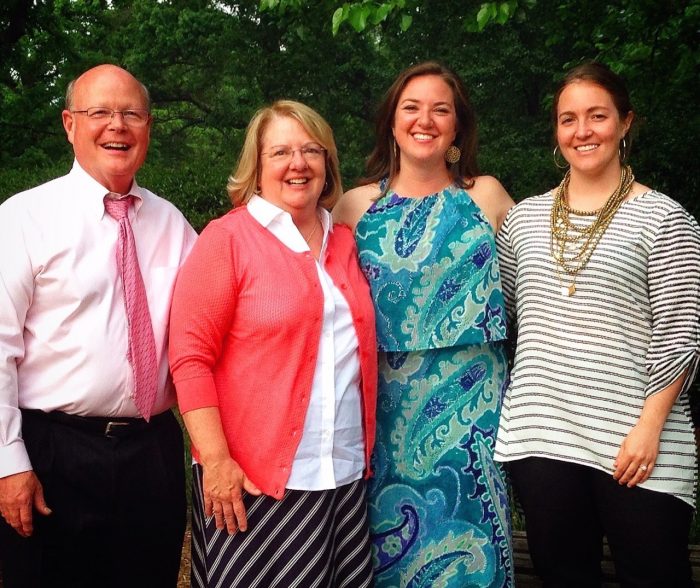 There were a couple of problems with his plan. He knew what apartment complex she lived in, but he didn't know exactly where she lived. And he had no idea if she'd be there, and if she was, if she'd even be happy to see him. "I didn't have any expectations," he said. "The only thing on my mind was to tell her goodbye."
When he got to her apartment complex, he drove around the parking lot until he found her car. She was there, but how to find her apartment? He walked around a bit until he saw her roommate through a window. "I finally found her apartment, pushed my heart back down my throat and knocked," he said. The roommate answered the door and went to get Betta. "I was waiting on pins and needles," Hord said.
When Betta came into the room, fireworks went off. "I saw the most beautiful woman I had ever seen in my life," Hord said. "Something amazing happened when we saw each other, and that became the best day of my life."
They talked for hours and went to see Betta's parents, who also lived in Greensboro. When her cocker spaniel, Gretchen, jumped in his lap, Hord knew everything was good. "I was home free," he laughed.
They started dating again and got married a year and a half later, in April 1979. They settled in Hickory and had "two beautiful daughters who look just like their mother," Kathryn, 34, and Sarah, 29. He never did make it to his new job in the Midwest.
Hord won't be able to attend Homecoming this year. He's in his third career after working in his family's automotive-parts business and owning a Mail Box Etc. store. He's now a truck driver for Tyson Foods, and he'll be on the road hauling poultry, beef and pork from North Carolina to Virginia.
But he'll never forget Homecoming '77, he told me from somewhere along the road in Virginia. "If not for homecoming, there would have been no reason to be in the area and it's doubtful the trip to Greensboro would have happened. I am the luckiest guy ever."