ARNOLD PALMER
1929 — 2016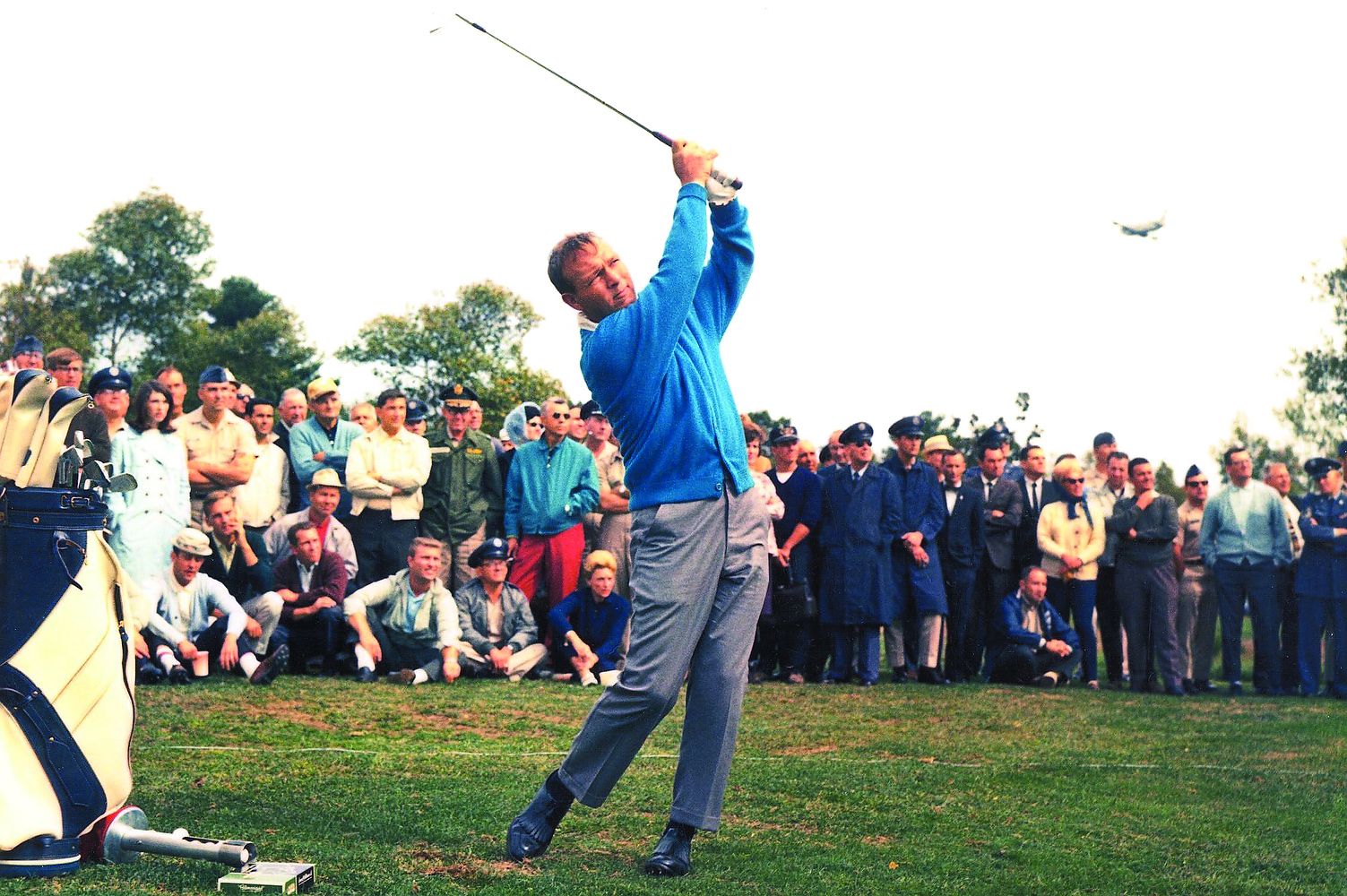 EVEN AS HE BECAME ONE OF THE TOP GOLFERS AND WORLD FAMOUS, ARNOLD PALMER ('51, LL.D. '70) NEVER FORGOT WAKE FOREST.
PALMER CAME TO WAKE FOREST BY CHANCE, FOLLOWING A BUDDY TO THE OLD CAMPUS. "FRIENDSHIP BROUGHT ME HERE AND FRIENDSHIP HAS KEPT ME ASSOCIATED WITH THE UNIVERSITY SINCE MY STUDENT DAYS," HE ONCE SAID. "I HAVE HAD A LOVE AFFAIR WITH WAKE FOREST SINCE MY UNDERGRADUATE DAYS, BUT I DIDN'T REALIZE UNTIL MANY YEARS LATER WHAT I HAD TRULY LEARNED AT WAKE FOREST, BOTH IN AND OUT OF THE CLASSROOM, ABOUT THE MEANING OF A PRODUCTIVE AND MEANINGFUL LIFE."
When he died September 25, 2016, at the age of 87, Palmer was remembered as one of golf's greatest players, of course, but as an even better human being. He transcended the sport to become an American icon. He played golf with presidents, from Eisenhower to Bill Clinton, and celebrities, from Bob Hope to Vince Gill. But it was his gracious personality and common touch that endeared him to the throngs of fans in Arnie's Army who continued to cheer him on long after his PGA days were behind him. "Here's to The King who was as extraordinary on the links as he was generous to others," tweeted then-President Barack Obama.
Wake Forest students paid tribute to his legacy by leaving flowers, golf balls and a can of iced tea beside the statue of Palmer swinging his golf club at the Haddock House Golf Center on campus. The men's golf team toasted him with glasses of "Arnold Palmers," his signature drink of sweet tea and lemonade. All athletic teams wore a patch with "AP" on their jerseys, and athletic fields and other venues sported Palmer's distinctive multicolor umbrella logo.
Carillonneur and business professor Matthew T. Phillips ('00, JD '06) played a tribute to Palmer on the carillon in Wait Chapel with an improvisation on the name K-I-N-G, featuring the low B-flat bell, commonly called the "Arnold Palmer Bell." The bell is inscribed "I celebrate the Deacons' achievements on the playing fields: winning baskets, home runs, and touchdowns; long drives and short putts."
At the Wake Forest-Syracuse football game two weeks after his death, a video tribute played on the Jumbotron. Then the Demon Deacon mascot, as is tradition, opened the gate. He rode a motorcycle onto BB&T Field, this time with no passenger behind him. In 2009 and 2013 Palmer had been that passenger.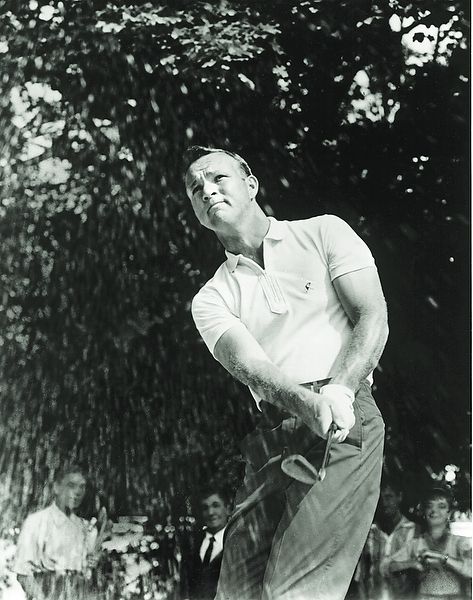 Palmer died in Pittsburgh, Pennsylvania, not far from where he grew up in Latrobe. His father, a golf course superintendent and pro, went by the nickname Deacon. The pint-sized future Demon Deacon picked up his first golf club, a shortened women's club, when he was 3 years old. As a teen, he won several amateur tournaments and became good friends with another promising young golfer from Maryland named Buddy Worsham. When Worsham received a scholarship to Wake Forest in 1947, Palmer asked if he could tag along. Worsham referred the question to athletic director Jim Weaver (P '61), who famously replied, "Can he play golf?"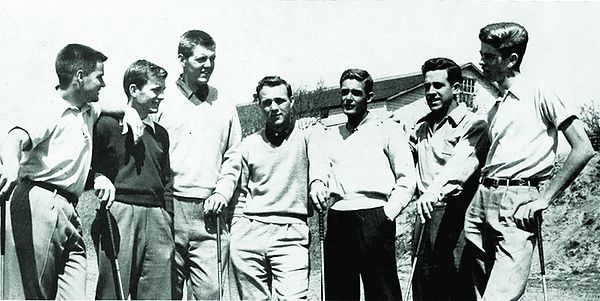 Palmer proved he could by winning the Southern Conference title as a freshman and sophomore. "I came to Wake Forest on a bus with my golf clubs and my suitcase," Palmer once said. "When Jim Weaver offered me a scholarship here, that was the beginning of a whole new life for me. Wake Forest taught me things I had no idea existed in this world."
Palmer lived in the rundown Colonial Club boarding house with other athletes, but he spent most of his time on the Donald Ross-designed Paschal Golf Course. Professor A.C. Reid (1917, MA 1918, P '48) once stopped Palmer, who was carrying his golf bag, and asked, "Mister Palmer, do you really think you can make a living playing with those sticks on your back?" Professor James "Pop" Carroll (1908) was known to tell Palmer, "Hit 'em good today, Arnie!" when Palmer would invariably slip out of his astronomy class early to head to the course.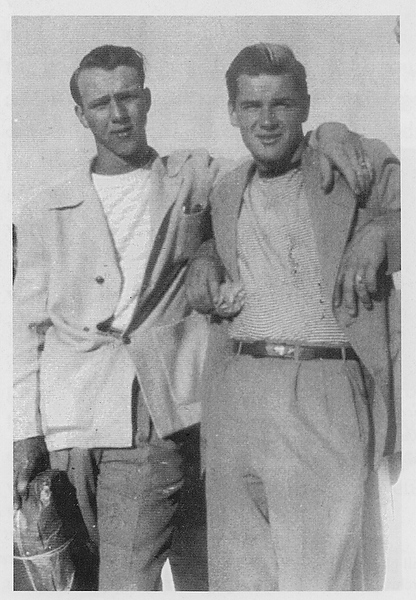 Palmer's world collapsed when, in 1950, Worsham died in a car accident on his way back to campus from a Homecoming dance in Durham. He was Palmer's best friend and roommate. Palmer had turned down his offer that night to travel to the dance. He went to a movie instead.
Palmer was so distraught by Worsham's death he left Wake Forest to join the U.S. Coast Guard. He returned three years later and won the first ACC golf championship in 1954. By the end of the spring semester, he was only a few credits short of graduating. But he already had a job lined up as a paint salesman in Ohio that would allow him time to play in more amateur tournaments. "I really did want that business degree in my pocket, and part of me regrets to this day not finishing my task at Wake," Palmer wrote in his 1999 autobiography "A Golfer's Life."
He went on to win the U.S. Amateur in 1954 and then turned pro. In his career, he won 62 PGA tournaments including four Masters, two British Opens and one U.S. Open.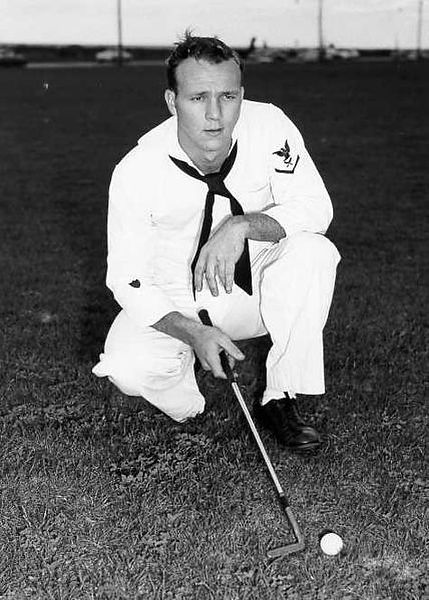 Palmer was also well known for his charity work. After touring a children's hospital in Orlando, Florida, in the 1980s, he said, "We can do better than this and we should do better than this for our children." He soon helped found the Arnold Palmer Hospital for Children. Following the death of his first wife, Winnie, from cancer, he founded the Winnie Palmer Hospital for Women and Babies in Orlando. Cancer centers in Latrobe and Rancho Mirage, California, also bear his name.
He always found time for Wake Forest, serving as a University trustee, founding the President's Club and the Arnie's Army giving clubs in the 1970s and helping lead the Heritage and Promise capital campaign in the 1990s. He established a golf scholarship in the 1960s in memory of Worsham. A residence hall and the golf practice complex are named in his honor. Two weeks before his death, he welcomed a group of trustees to Latrobe.
"I have traveled around the world, and I can tell you there is truly no place like home, and no place like Wake Forest," Palmer once said.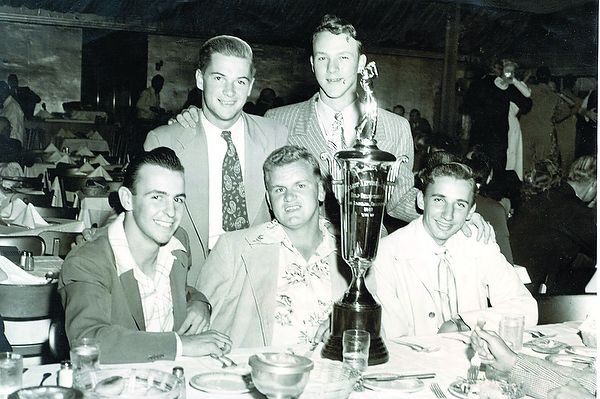 Scholarship Recipients
Some of the nation's top professional golfers got their start at Wake Forest through the Buddy Worsham or Arnold Palmer Scholarships.
Jay Sigel ('67, P '95, '97)
Jack Lewis ('70, P '96, '99)
Lanny Wadkins ('72, P '96, '10)
Eddie Pearce ('74)
Bob Byman ('77)
Curtis Strange ('77)
Gary Hallberg ('80)
Jerry Haas ('85)
Billy Andrade ('86)
Tim Straub ('89)
Len Mattiace ('90)
Eoghan O'Connell ('90)
Mark Cero ('91)
Hans Albertsson ('94)
Bobby Collins ('94)
Robert Dean ('96)
Justin Roof ('98)
Juan Vizcaya ('99)
Michael Capone ('00)
Jamie Gallacher ('00)
Patrick Damron ('01)
Brent Wanner ('03)
Bill Haas ('04)
Buck Williams ('04)
Chad Wilcox ('07)
Webb Simpson ('08)
Brendan Gielow ('10)
Lee Bedford ('12)
Evan Beck ('13)
Thomas Birdsey ('14)
Woody Woodward (currently a senior)
Will Zalatoris (currently a junior)
Kyle Sterbinsky (currently a sophomore)
— Wake Forest Athletic Communications
A WAKE FOREST FAVORITE SON
Arnold Palmer was the most celebrated and one of the most devoted sons of Wake Forest, which he attended for one reason — to play golf — almost 70 years ago.
The Latrobe native, who passed away at age 87, never graduated and liked to joke about his lack of academic proficiency. But no scholar contributed more.
Donors often are torn between what they see as a reasonable contribution and the institution's request for a higher number. Former university president Tom Hearn told me every time that would-be contributor was a golfer and he asked Arnie to play a round with them, they gave the higher amount. And even with his packed schedule he rarely said no.
No one raised more money or brought more charm and charisma to the little school where he arrived, with one suitcase and golf clubs, in 1947, a late entry to join his golfing pal, Buddy Worsham. After three years when Worsham was tragically killed in an automobile accident Palmer left to join the Coast Guard after which he returned for a year.
He led the Deacons to the first ACC golf championship and started a national dynasty in the sport.
He spent more time on the links than in the classroom and once while he was walking past the law library, golf bag in tow, a student remarked: "He'll never make a living playing golf." It wasn't too many years later that that same man picked up Palmer at the Raleigh-Durham airport for a charity event. Arnie arrived in his private plane.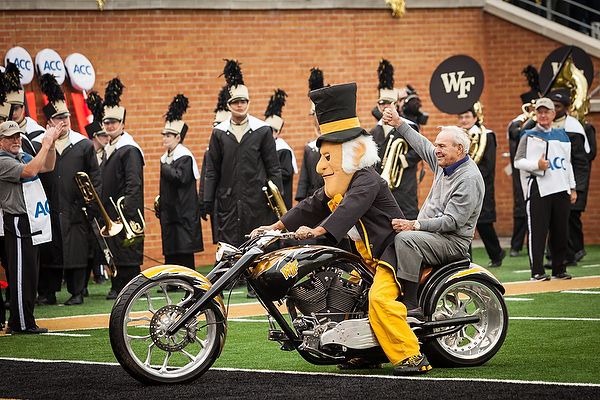 He never lost touch with his alma mater, endowing the first golf scholarship in memory of Worsham, heading the University's fundraising drive, serving on the board of trustees and often returning to regale admirers.
In 2005 — almost a half-century after the school had moved from the tiny town of Wake Forest to Winston-Salem — he gave the commencement address.
"I came from modest circumstances, and I was determined to be successful in my adult life," Palmer told the graduates. "I didn't know that golf would be my life and that the talent I had, coupled with dedication and hard work, would take me to the heights of my profession."
Like Arnie's Armies in the galleries, he had them in his hand.
Ed Wilson ('43), the university's most renowned intellectual, former-professor and provost and also a student in the 1940s, often spent time with Palmer in Latrobe or Florida or alumni gatherings or on campus. "I hardly ever knew him to talk about his exploits," Wilson recalls. Rather he preferred "reminiscing about memories off the golf course and about other Wake Foresters. I never knew a 'famous' person to be so engaging."
Wake Forest, not renowned for its football prowess, had an unusually strong season and played Louisville in the 2007 Orange Bowl. Both teams picked honorary captains to face off before the game. Louisville chose Muhammad Ali; Wake chose Arnie. What a magical pair.
——
Hunt is a former trustee, a member of the Wake Forest University Writers Hall of Fame, a Bloomberg View columnist and a regular contributor on Bloomberg Television. This column is reprinted with permission.
'ON THE MOUNT RUSHMORE OF GREAT DEMON DEACONS'
"Arnie was what every great athlete should be. A great golfer, and a gentleman who treated everyone with dignity. That's why he was so loved."
Then-Vice President Joe Biden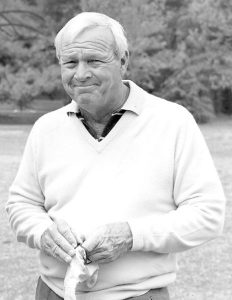 "He was a gentleman of great warmth and grace, a person who sustained meaningful friendships, and one who loved Wake Forest and did a tremendous amount to support and advance our University."
Wake Forest President Nathan O. Hatch
"WE CALL HIM A LEGEND, AN ICON AND THE KING, BUT EVERYONE WHO KNEW HIM CALLED HIM A FRIEND. ONE OF THE KINDEST MEN I'VE MET."
Webb Simpson ('08)
"Arnold held a lifelong love affair with this University and spoke frequently and lovingly of his alma mater. … His global fame and charitable nature helped create international recognition for Wake Forest."
Athletic Director Ron Wellman (P '98, '01)
"A great man, a great golfer and a true inspiration for all."
Ann R. Crowell (P '96)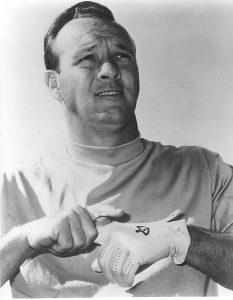 "AMERICA'S ALL-TIME GREAT SPORTSMAN, TRUE GENTLEMAN & PROUD DEACON. GOLF'S MOST BELOVED FIGURE."
Ben Sutton ('80, JD '83, P '14)
"This man was my favorite person. Not my favorite golfer, but my favorite person that I ever met."
Vince Gill, country music star
"He was, quite simply, the greatest of the Greatest Generation. It was his leadership of Arnie's Army and the President's Club that led Wake Forest to the best alumni-giving program in the nation in the 1980s."
Bill Joyner ('66, P '96), Retired Vice President for University Advancement
"Remember when Arnold Palmer touched your life, and touched your heart. Please don't forget why."
Jack Nicklaus
"THANKS ARNOLD FOR YOUR FRIENDSHIP, COUNSEL AND A LOT OF LAUGHS. YOUR PHILANTHROPY AND HUMILITY ARE PART OF YOUR LEGEND. IT'S HARD TO IMAGINE GOLF WITHOUT YOU OR ANYONE MORE IMPORTANT TO THE GAME THAN THE KING."
Tiger Woods
"Every other golfer was respected but Arnold Palmer was loved. He will be sadly missed."
Colin Montgomerie
"So saddened by the news about fellow Demon Deacon, Mr. Palmer. Thankful for what he has done for the game of golf and the WF golf program."
Cheyenne Woods ('12)
"HE IS ON THE MOUNT RUSHMORE OF GREAT DEMON DEACONS AND, MORE IMPORTANTLY, OF GREAT HUMAN BEINGS. ALWAYS A GENTLEMAN EVEN WHILE BEING A FIERCE COMPETITOR."
Joel Miller ('70, MD '74, P '98)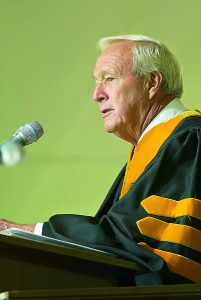 "An extraordinarily sad day for 'Deacon Nation' in losing perhaps the most iconic Demon Deacon of all time, certainly so in the sports world."
Bill Pegram ('82)
"Very sad day for the golf com-munity and my Wake Forest family. Rest in paradise Mr. Palmer!"
Chris Paul ('07)
"Arnold loved Rolling Rock beers, which were originally brewed in his hometown of Latrobe, Pennsylvania, and at a golf tournament he would keep them iced down in his locker in the clubhouse. Arnold being Arnold, he'd often offer them to the press corps gathered around him, and I cherish having shared more than one Rock with The King. After one round in Charlotte, he also invited me over for a drink to what he called his 'cottage' beside the 15th hole at Quail Hollow. I had post-round article assignments to complete and politely declined. My brother ribs me to this day over that decision. Never more than the day I learned of Arnold's passing did I wish I'd gone and had that drink!"
Richard Sink ('69)
"When our son was getting ready to turn 13, I decided to try and do something special for his birthday. Due to the fact that he played golf, I reached out to Arnold Palmer for an autograph. I never imagined that he would actually respond. However, he did respond and made a young man's 13th birthday very memorable. All of this took place long before we knew our son would end up at Wake Forest or that Arnold Palmer had attended Wake Forest. His kindness touched our hearts and our lives and we will never forget what he did for a 13-year-old boy."
Lori Kissinger (P '17)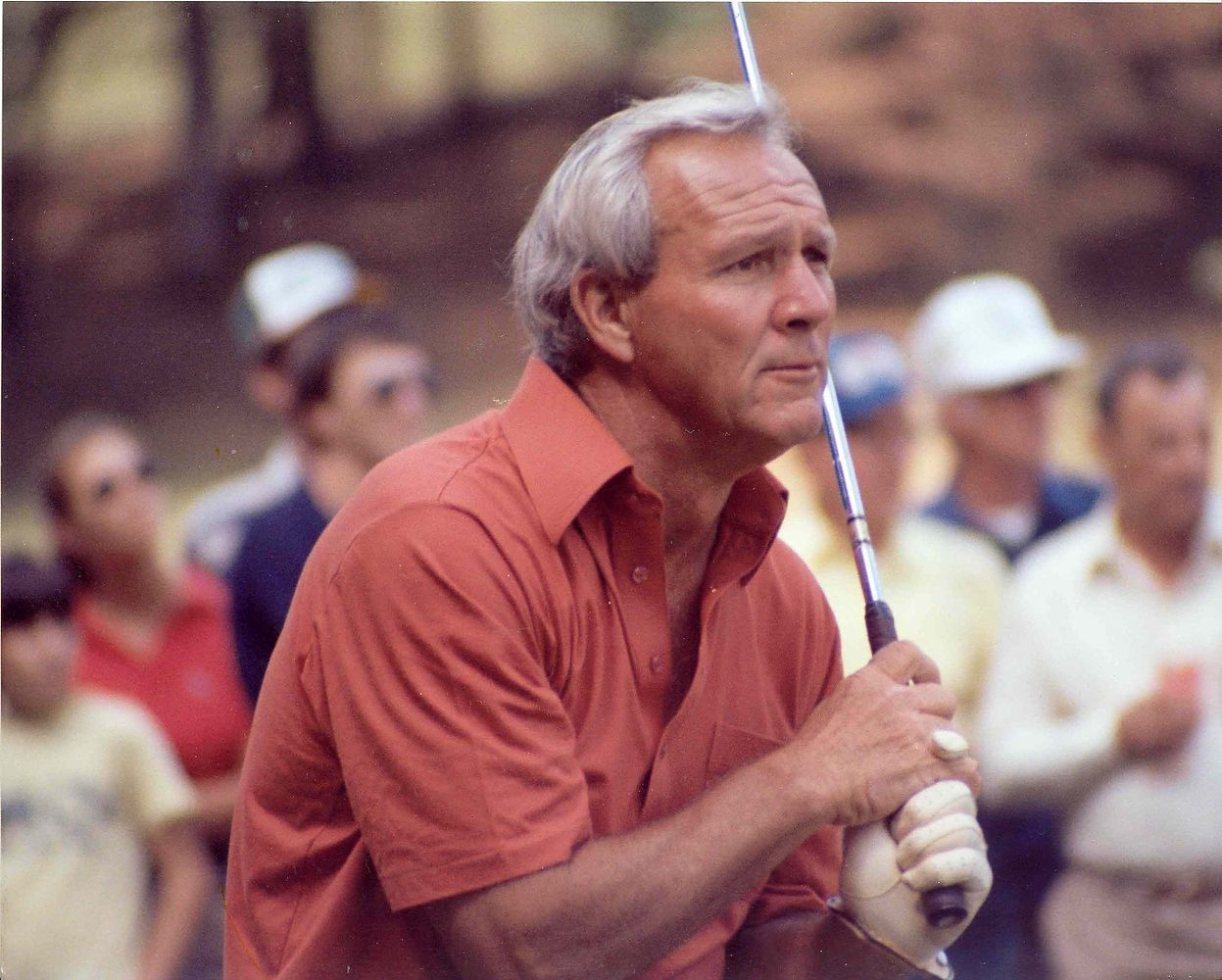 "One year at the Masters, probably around 2000, I was standing behind the rope between the 7th and 8th fairways, when Arnie's tee shot landed right in front of me. I was wearing a WAKE cap. When he walked up and saw the cap, he shouted, GO DEACS! and came over and shook my hand. Man, was I proud. Everybody around me looked at me as if I was somebody. That's the impact Arnie had on the people around him."
Don Miller ('60)
"I grew up knowing Arnold Palmer as a great golfer. However, his impact on my life was first felt when our daughter, Tara, was born seven weeks prematurely at the Arnold Palmer Hospital in Orlando. She spent 10 weeks in the neonatal. During our time at the hospital we learned firsthand of Mr. Palmer's kindness and generosity. … No matter who you were he always made you feel special when he talked to you. He would always stop for pictures with our children and sign an autograph. Despite his failing health, Mr. Palmer took the time to write a letter of recommendation on behalf of our son to attend Wake Forest. Arnold Palmer was a great golfer but I think he will be remembered best for his extraordinary kindness to ordinary people."
Susan Milanak (P '20)
"(I) WILL NEVER FORGET WHEN HE SPOKE TO THE FOOTBALL TEAM BEFORE THE ORANGE BOWL. HE TOLD THEM HOW MUCH WAKE FOREST HAD MEANT TO HIM AND HOW PROUD HE WAS OF THEM. HE HAD TEARS IN HIS EYES. HE WAS THE TEAM'S HONORARY GAME CAPTAIN AT THE COIN TOSS FOR WAKE FOREST, AND MUHAMMAD ALI REPRESENTED LOUISVILLE."
Bill Faircloth ('64, P '89, '90, '93)