During the 2012-13 academic year a group of students met regularly with administrators to share their vision for a campus wellness center. Today the transformation of William Neal Reynolds Gymnasium reflects their dreams and more.
Open spaces. Natural light. Informal gathering spaces with comfortable furniture. More treadmills and elliptical machines. Space for yoga and meditation. A rock-climbing wall.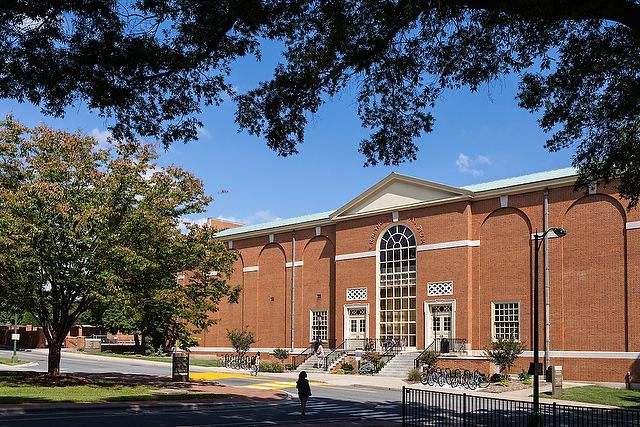 When the semester begins, the 1950s gym will be reborn as the campus health and wellbeing center with those features. Incoming students and the overall Wake Forest community have alumni, parents and corporations to thank for the $30 million raised for renovation of the gym and construction of the adjacent Sutton Center, which opened last year. But they also have undergrads — now alumni — to thank for imagination that went into the plans.
"We wanted a different type of space," recalled Blake Shue ('13) of New York City. The Benson Center, originally built as the student center, has become "task driven" — students go there to eat or attend a meeting, he said. The Z. Smith Reynolds Library, not withstanding Starbucks' popularity, is for studying. "We needed a space that was inviting and welcoming and appealing where you could just sit and have a conversation."

The students shared their insights and interviewed other students. "It was a lot of discussing the needs of the student body," said Taylor Anne Adams ('14), also of New York City. "Not having a great gym and health space was hindering the Wake Forest experience, so we knew something needed to change."
Hannah VanderWeide ('13) of New York City said better space was a priority not just for physical wellbeing. "I loved where Wake was going with a holistic education and educating the whole person," she said. "But the wellness and wellbeing programs weren't really accessible. The more that you can declare 'this is the space for that,' the more interested and curious students will be."
The process, Shue said, "became a great way for us to voice our opinion about a major project that will benefit Wake for years to come."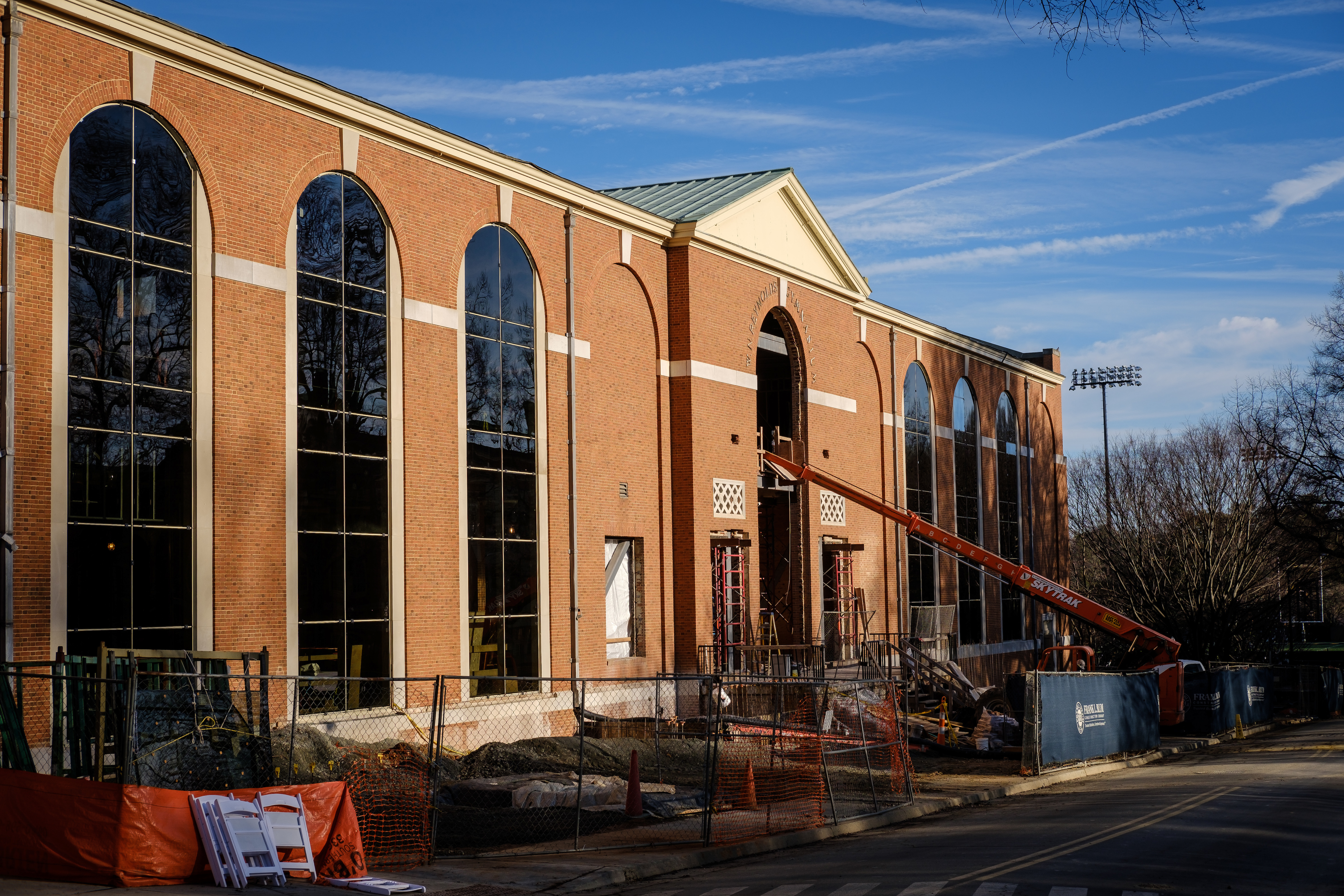 Students said the Miller Center fitness space was too small and crowded. They wanted the renovated gym to contain larger fitness spaces and more exercise equipment. But students most wanted more informal gathering spots. They wanted a place to "recharge" their bodies and minds. They wanted a place for "me time," somewhere to unwind and put aside overscheduled calendars.
The transformation began with the 2016 opening of the Sutton Center, a 46,000-square-foot addition to Reynolds Gym. It includes two full-sized gymnasiums and larger space for Campus Recreation's Outdoor Pursuits program, which sponsors adventure trips and rents outdoor equipment. Mo Earley ('13), another student who shared her opinions for the revamped gym, has visited the Sutton Center. "The new space is amazing," said Earley of Washington, D.C. "We dreamed big and thought about what we would need to serve students, and they pulled it off."
After the Sutton Center opened, contractors gutted and stripped Reynolds Gym down to the exterior walls and installed large windows to create open, airy spaces. Gone are the dark, dank hallways, gyms little changed since the building's construction, and a rabbit's warren of offices and classrooms.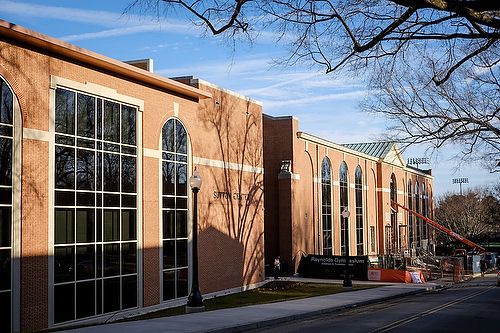 Half the gym reopens this summer. Students will enter the building through a two-story "living room" with comfortable furniture and floor-to-ceiling windows that face Reynolda Hall. The Office of Wellbeing will anchor one side of the living room. The other side will overlook the climbing and bouldering wall on the floor below. Five large fitness areas, called "neighborhoods," for different strength and conditioning activities, and two multipurpose activity gymnasiums will offer ample fitness space.
Completion of the next phase, in spring 2018, will unveil a larger pool with a whirlpool in the shape of the Wake Forest logo and an adjoining "wet classroom;" a renovated Varsity Gymnasium for the volleyball team; group fitness studios and a cycling studio; multipurpose space for intramural and club sports; and expanded space for Student Health Service.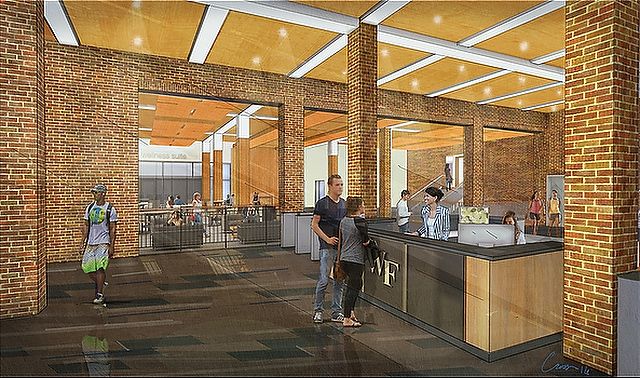 The renovated gym "will be the physical hub for everything wellbeing on campus," said Malika Roman Isler ('99), hired in 2014 as the University's first director of wellbeing. The wellbeing office will offer programs to address the eight aspects of wellbeing — emotional, environmental, financial, intellectual, occupational, physical, social and spiritual — in the Thrive initiative. "We want to take this beyond just fitness and encourage students to decompress and try something new to care for themselves," Roman Isler said. That could mean aromatherapy, a massage, wellbeing coaching or watching a cooking demonstration to learn how to prepare healthy meals.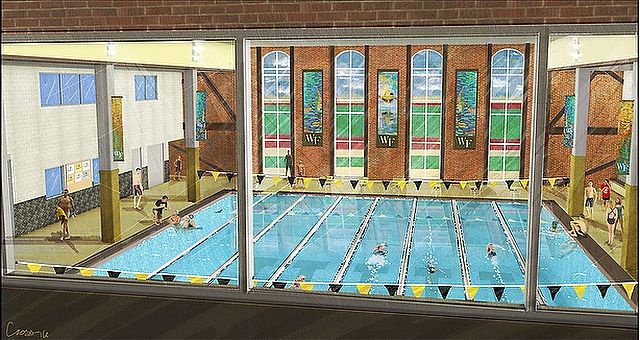 Five years after students shared their vision for the building, it's rewarding to see the wellness center become a reality, said Andy Brown ('13) of Bentonville, Arkansas. "Even though I knew that I was never going to benefit as a student, you want to look back on your college experience and think you had an impact, in some small way, that benefited future students."
Shue toured the Sutton Center at Homecoming last fall with his brother, Graham ('17). "I was blown away just walking into the lobby," he said. He's eager to return to campus to see the renovated gym and say, "That's so cool. That's exactly what I envisioned."