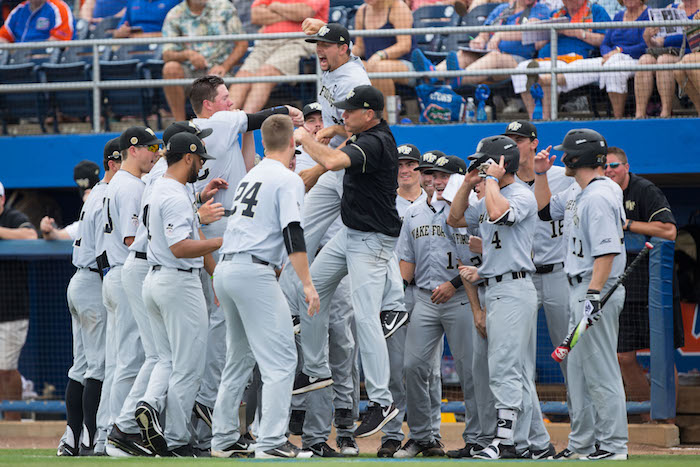 Editor's note: Dan Collins, a sportswriter for the Winston-Salem Journal, published this column to his "My Take on Wake" blog on June 14, 2017. It is reprinted here with permission.
Coach Tom Walter of Wake Forest will spend the weekend with his son Chase, who plays baseball on a youth travel team.
As much as Walter loves his son, and as much as he will enjoy the time spent together, he'd rather be somewhere else.
He'd rather be in Omaha playing in the College World Series.
Although the Deacons came up one victory short of making it to Omaha, losing to Florida on Monday night in the third game of the Gainesville Super Regional, they can take heart in knowing that what they experienced in 2017 was the season of a lifetime.
"It was a special group of guys," Walter said Wednesday morning. "These seniors, they grew up together."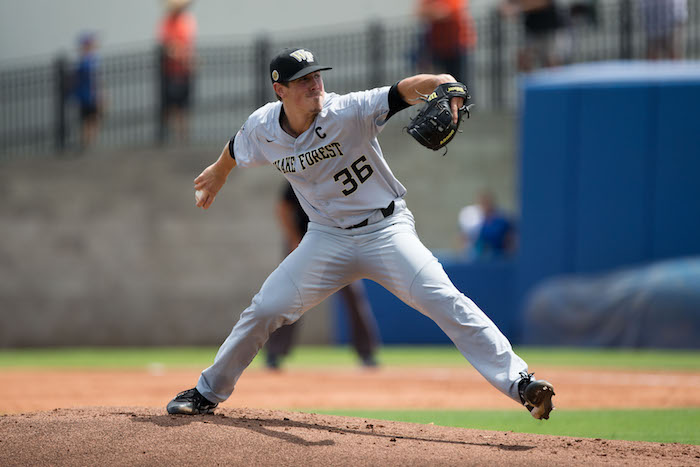 Nobody on the roster, no coach and, obviously, no player, was born in 1955, the last time the Deacons played in the College World Series. In many — if not most — cases, nor were their parents.
Never before had a Wake Forest team won 19 ACC regular-season games, as the Deacons did in 2017 to be seeded third in the ACC Tournament.
Never before had Wake Forest won a game in a NCAA Super Regional, as the Deacons did Monday to extend the Gators to a third and deciding game.
And never before had Wake Forest hit 106 homers in a season, which the Deacons did in 2017 to lead the nation.
The run that nobody associated with the team had ever experienced actually began not at the outset 2017, or even in fall ball. It began during a 2016 season in which Wake Forest returned to the NCAA Tournament for the first time since 2007.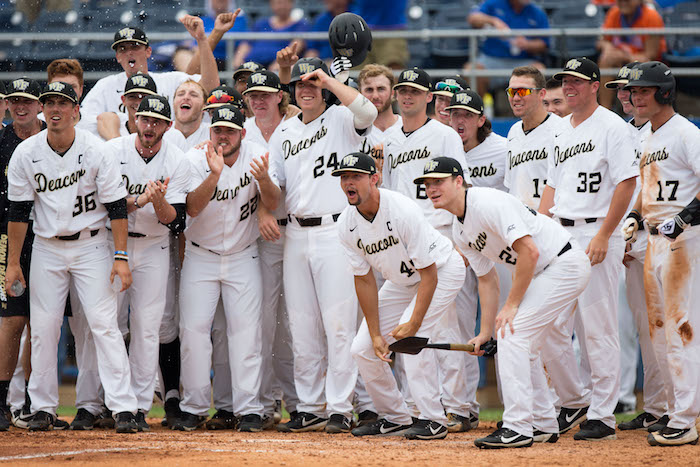 "If you look back, past the midpoint of the (2016) season, we had just gotten swept by N.C. State," Walter said. "We were scuffling.
"We had a team meeting where we just kind of brought everybody in and we just kind of challenged each other and said, 'What do we want to get out of this season?' We went out and swept Carolina and took two out of three from Florida State and kind of got hot and made the NCAA Tournament.
"And I think it's just been kind of building from there. It was just really that kind of watershed moment."
Gavin Sheets, an All-American first baseman, said the team was still smarting from not even qualifying for the 10-team ACC Tournament in 2015. Like centerfielder Stuart Fairchild, another All-American performer, he was a freshman in 2015.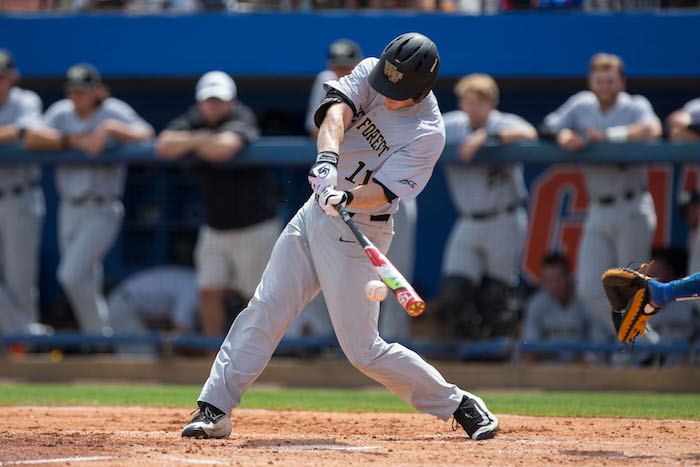 Flash forward to this past Monday, on the first day of the MLB Draft, when both were chosen in the second round — Fairchild by Cincinnati as the 38th overall pick and Sheets by the White Sox as the 49th overall pick.
"After our freshman year and getting knocked out of the ACC Tournament — and not even getting a chance to play in it — we knew we had to make changes," Sheets said. "We knew we needed a winning culture, and that's what happened. We brought in a freshman class that is now sophomores, and this year we brought in another great class, and that goes a long way.
"Once we got that taste of winning last year, we just wanted to build off it."
Talent is essential to success in any sport, and Walter felt the recruiting class of 2014 stocked his roster with the kind of players it takes to win the ACC. Two from the class, Will Craig and Nate Mondou, signed professional contracts after their junior seasons, Craig as a first-round pick by Pittsburgh and Mondou as a 13th round pick by Oakland.
But the others to stick around to help make 2017 such a special season included two starting pitchers, Parker Dunshee and Connor Johnstone, leftfielder Jonathan Pryor, catcher Ben Breazeale and relievers Chris Farish and John McCarren. Dunshee and Breazeale were drafted in the seventh round Tuesday, Dunshee by Oakland as the 201st overall pick and Breazeale by Baltimore as the 2018th overall pick.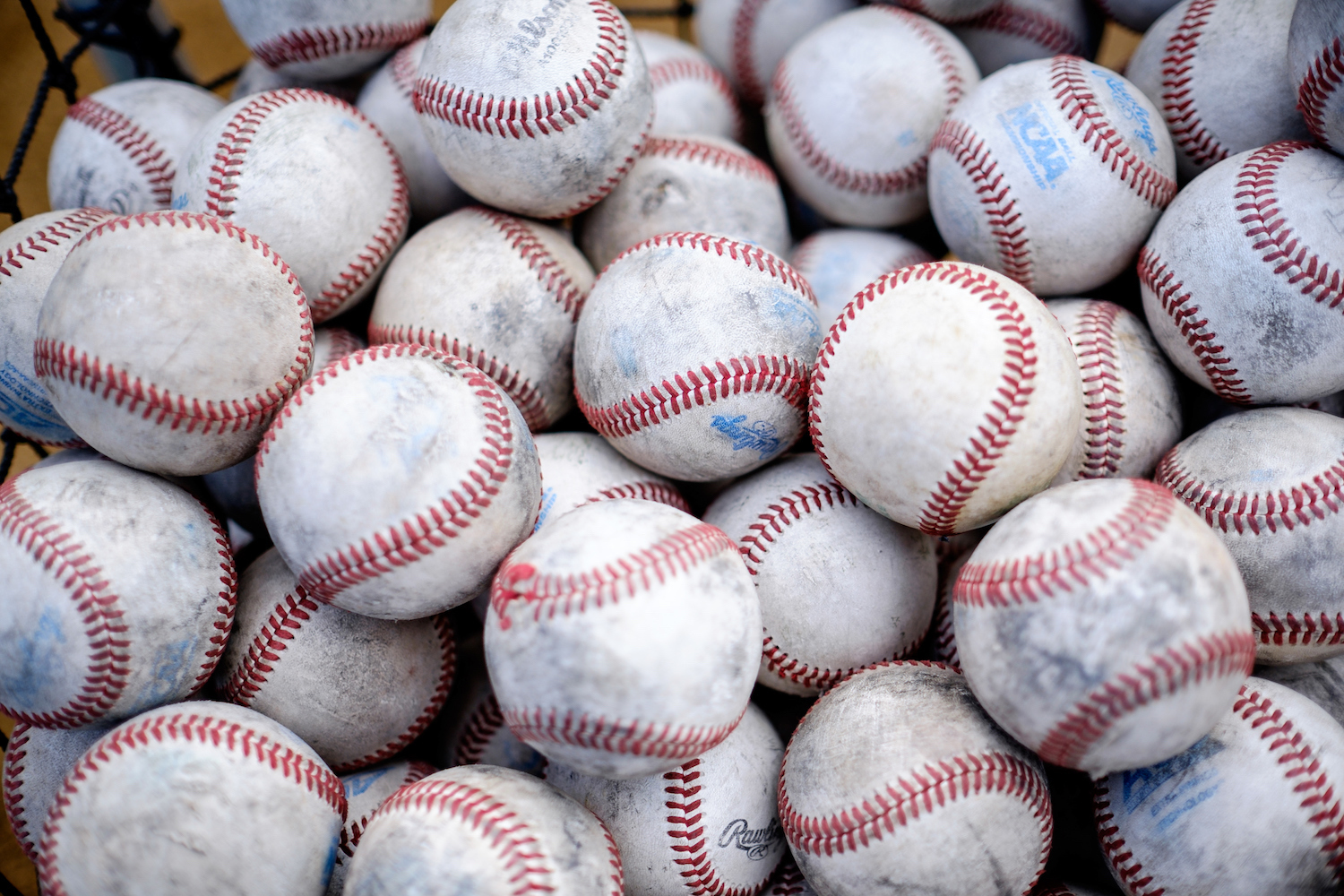 Pryor, one of nine Deacons to be named to the All-ACC team who primed the explosive offense from his lead-off spot, was drafted in the 19th round Wednesday (No. 583 overall) by Toronto and Johnstone was drafted in the 21st round (No. 620 overall) by Atlanta. Also on Wednesday, Donnie Sellers, a pitcher from the 2015 recruiting class, was drafted in the 11th round (No. 339 overall) by Toronto and Griffin Roberts, a pitcher from the 2016 class who was draft eligible, was picked in the 29th round (No. 856 overall) by Minnesota.
And to lead that talent, Walter had three of the best captains he ever had in Dunshee, Sheets and McCarren. "It always starts with talent — let's be honest," Walter said. "You don't get within an out of going to Omaha without talent.
"But the other part of it is there's a lot of talented teams that aren't playing at this time of year because they don't have the right mindset or the right leadership. And we were fortunate to have all three of those aspects."