The picture makes it sweeter for Mike Lepore. It captures his teammates on the 2008-2009 basketball team going bananas on the sidelines. One player, caught in mid-jump, is easily 2 feet in the air as he screams in delight.
The reason for their excitement: Lepore ('09) finally got his first career points in his fourth and final season as a Demon Deacon. The three-pointer turned out to be the only basket Lepore scored in his four-year career.
That sounds like an unfair exchange — he endured hundreds of practices, played in only 19 of 126 games and forfeited a normal social life, all for one measly three-pointer. But Lepore, now an assistant coach at San Jose State University, wouldn't trade any of it.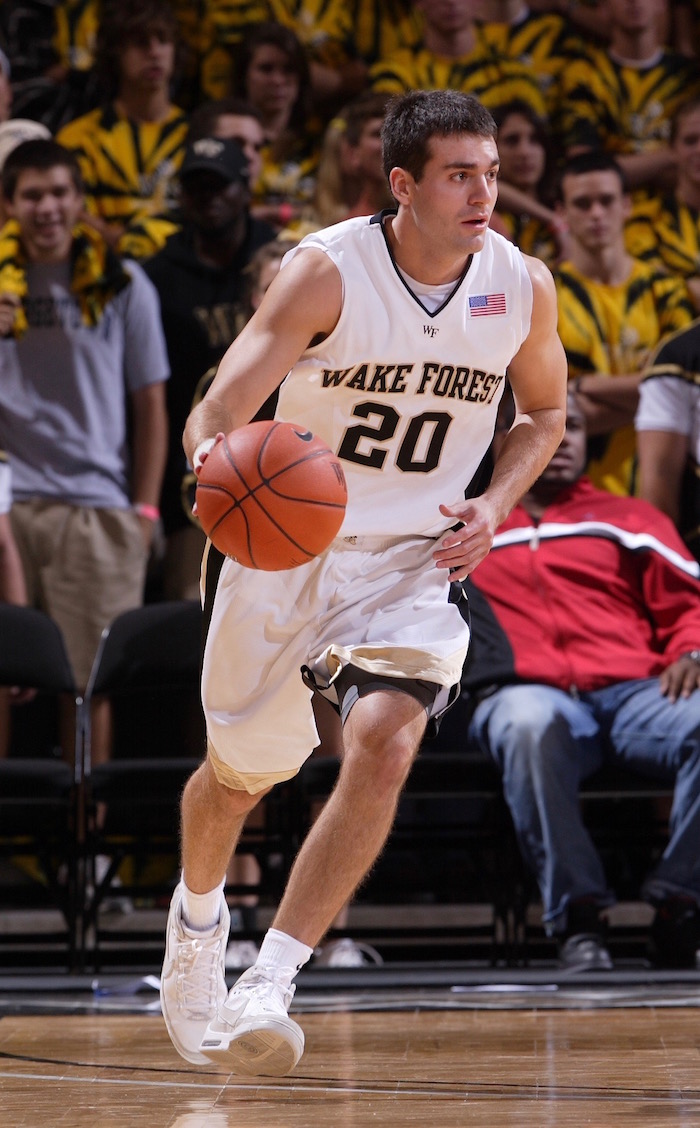 "I put all this work in for four years, busting my (butt) to get these guys better and get these guys ready for games, doing all the conditioning and not getting a lot of glory," he says. "But then you make a shot, and you see the bench's reaction, and that makes it all worth it."
Lepore wouldn't even add to his scoring total if he could. He likes the purity of one bucket … even if it was less than dramatic. It came at the end of a blowout win against Bucknell.
"I dribbled the ball up the court on the right side of the floor. No one stopped me. No one was guarding me," he says. "So I just shot it, and fortunately, it went in."
It was Lepore's job to score in practice, and he did that job well, which partially explains the reaction on the bench. "He would hit three after three in practice as we were on the scout team," says Jimmy McQuilkin ('09), a fellow walk-on. "Guys were happy he was hitting it on somebody else, too."
L.D. Williams ('10), a starter on the team and one of the players celebrating in the much-loved photograph published at ESPN.com, said Lepore hit so many threes against him in practice one day that Williams threatened to fight him if he hit another.
Lepore hit another, and Williams spent the rest of practice cheap-shoting him. They were friends then and now, and Williams laughs as he tells the story even though he was legitimately mad at the time. "He made a lot of us look bad in practice," he says.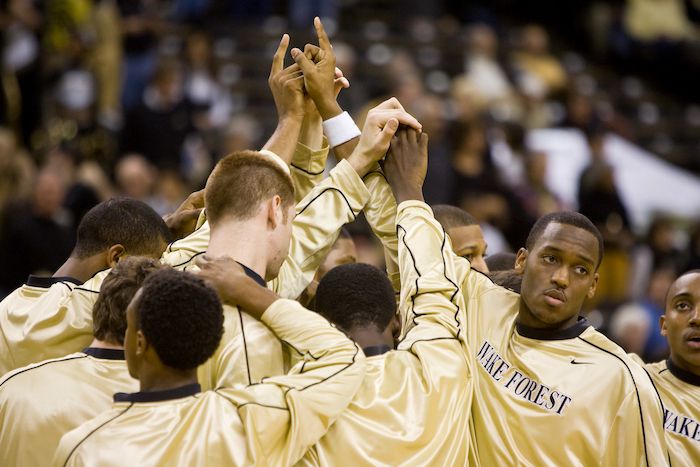 Lepore could have scored a lot more than one basket if he had played at a Division II or III school. But he opted to attend Wake Forest because it offered the best academic and social opportunities.
When Lepore tried out as a freshman, he didn't make the team. Assistant Coach Jeff Battle told him to stay by his phone, as the team was considering adding another walk-on. Soon Lepore was invited to try out again. Nobody ever told Lepore he made the team. When he found a jersey with his name on it in his locker, he figured he had made it.
"He gave of himself for the sake of the program," said Battle, who was in Lepore's wedding this spring and is now an assistant at Providence College. "He wanted to be a part of something bigger than himself. When he came in with that attitude, I was sold. It carried over and permeated throughout his four years with us."
It's unusual for a walk-on to play four seasons, but Lepore loved the game too much to stop. He says he learned lessons about perseverance, delayed gratification and taking the long view that he uses in his coaching career. This fall he enters his fourth season at San Jose State after stops at Wake Forest and St. Louis University.
"If I get interviewed for jobs, I definitely use that as a selling point for myself," he says. "Life is about dealing with different teams. Being a walk-on shows that you're willing to do whatever it takes to help the team, even though you may not get any glory for it, even though a lot of the work is the grunt work."
And Lepore did more grunt work for less glory than most. Dating to the 1992-93 season (the timespan for which stats are available at the invaluable sports-reference.com), nobody else at Wake played four years and scored only once. That makes Lepore's basket highly unique, if not unprecedented. At the very least, this can't be topped: He scored the only basket of his four-year career on the last shot he ever took.
Matt Crossman is a freelance writer in St. Louis who writes about sports, the military and the outdoors. His stories have appeared in Success magazine, ESPN.com and Southwest: The Magazine, among many others.