WAKE FOREST has been part of the fabric of my life since I was 17. My high school ambition was to play football at Wake. I did, and I was changed here. Faculty, coaches and students mentored, encouraged and pushed me, altering my life views on education, my future, our community, the world and giving back.
I met my wife, who was a Salem College student, while I was a sophomore. I spent seven years here in undergraduate and law school. An undergraduate professor encouraged me to attend law school, and later a law professor recommended me for a job at the law firm where I still practice today. Our daughters spent 11 years here at this place that feels like home.
Since graduation from law school, it has been my privilege to continue to be involved with Wake Forest professors, administrators, alumni, students, board members, coaches, projects and countless graduations. As it turns out, I have never really left Wake Forest and Wake has never stopped changing me.
So what does my Wake experience have to do with photography? Years before I ever thought about Wake, I built my first contact printer and acquired a simple camera. From that point forward, photography became a passion and medium of expression for me. Somehow, taking a photograph and turning it into a print has become more compelling than words on paper.
"As it turns out, I have never really left Wake Forest and Wake has never stopped changing me."
I am seldom without a camera and enjoy some aspect of photography nearly every day. It's strange, but I can enjoy photography without a camera in my hand: I imagine how a shot could be taken and why. Though certainly not art, my photography has become a very private medium to enjoy. For me it is far more than a hobby, never a competition. Photographs from decades ago mark my life — layering and composing a not-so-organized personal photographic journal. I remember why a particular photograph was taken, the location, something about the light, the camera, the lens, an expression, the exposure or the film.
I've not discussed it with him, but I see in his breathtaking work that the University's award-winning photographer, Ken Bennett, might share my belief that Wake Forest is more than its people, classes, buildings or celebrations. It is a state of mind, in all its complexity.
It would be satisfying if every happy photograph I have taken of Wake over the years reflected how I feel about our University. Sadly, that is not the case. Many of us remember Wake as it never was: filled with the good, but not the pain. The hardships, not captured on film, are part of our experience, too.
We do remember how Wake Forest changed our lives and how it stands for something noble. Out of the many images I have taken of the University, this single photograph speaks to me most powerfully about this special place and its nobility. I shot it with a small camera onstage during a recent graduation. Technically, it is not such a good photograph, but it somehow captures how I feel about Wake Forest: It is "Mother, so Dear" for me and countless Wake Forest generations.
Aren't we lucky?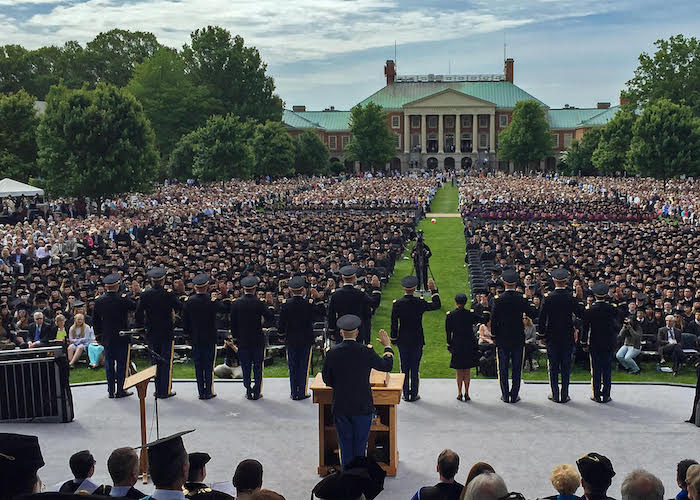 ---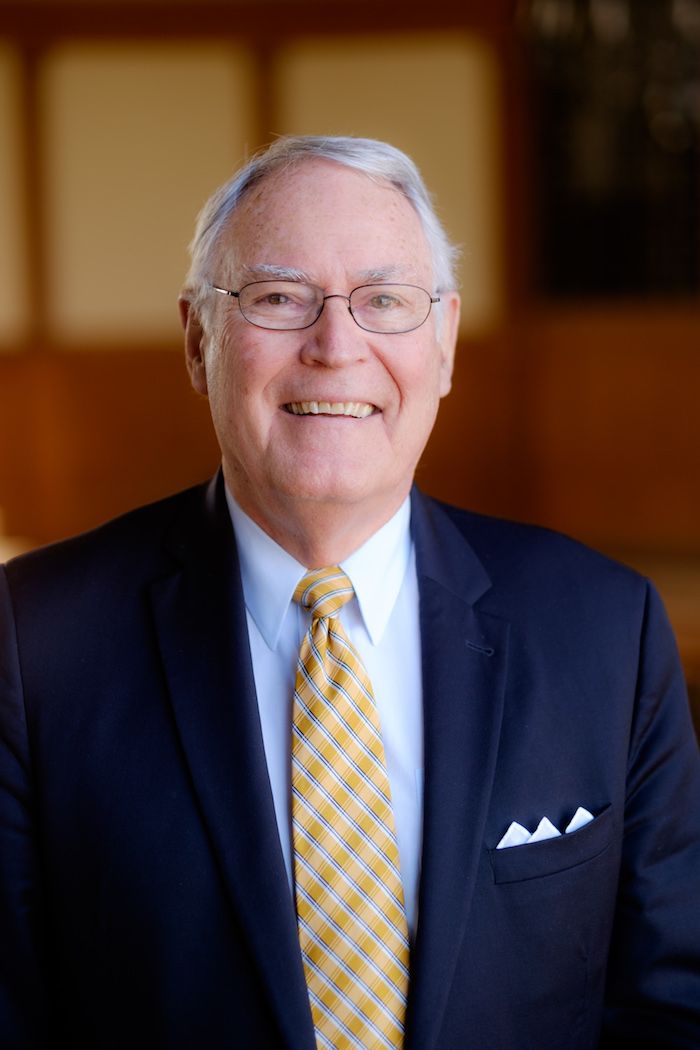 James T. "Jim" Williams Jr. ('62, JD '66, P '89, '92) of Greensboro, North Carolina, serves as a Life Trustee on the University's Board of Trustees. He received Wake Forest's highest honor, the Medallion of Merit, in 2016. He practices law at Brooks, Pierce, McLendon, Humphrey & Leonard, LLP.
Editor's note: After seeing marvelous photographs of Jim's global travels, I strong-armed him into sharing with Wake Foresters his private passion for a craft that has given him lifelong pleasure. Thank you, Jim.
– Maria Henson ('82)