In the land of the Longhorns lives a Wake Forest family that keeps on giving. In Austin, Texas, Doug ('90) and Julie Ann Mullen Hartman ('90) have raised their children to be Demon Deacons and their sights to help with scholarships for middle-class students and Alzheimer's research.
Sons Ben ('18) and Sam ('19) have followed in their parents' footsteps to Wake Forest, and son Alex has already been accepted into the Class of '22. Youngest son Thomas is still in high school.
They've "bled black and gold" since they were born, Julie Ann said. "From early on, they were Wake Forest fans." Doug puts it this way: "They saw our passion and love for the place.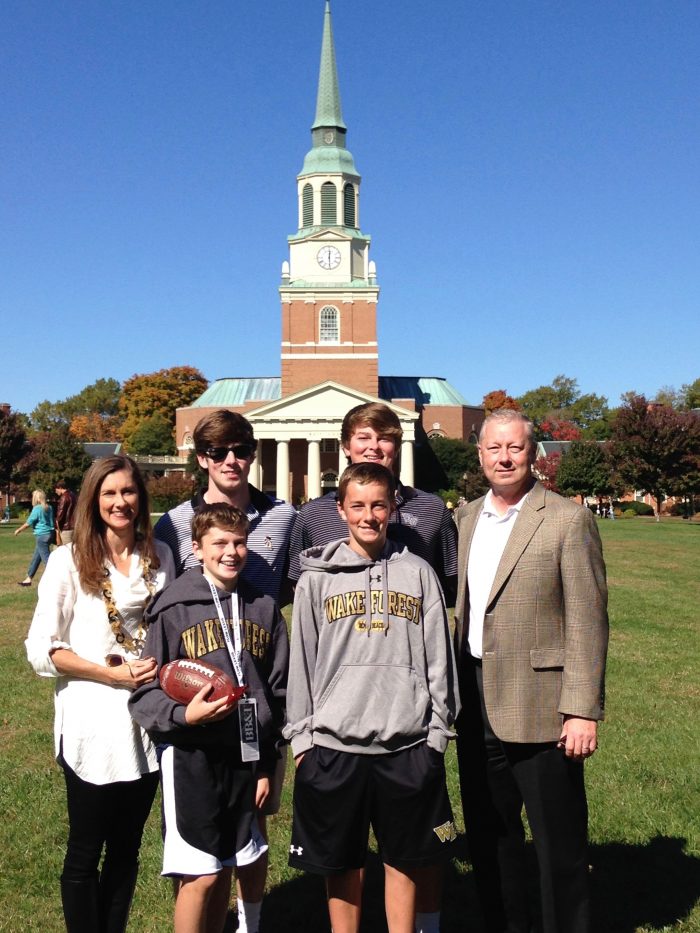 The Hartmans have pledged a substantial donation to create the Hartman Family Scholarship for undergraduates from middle-class families who can't afford the full cost of tuition but don't qualify for enough financial aid to make it possible to attend. In addition to their original gift, the Hartmans are also matching gifts from other donors to the Hartman Fund up to a certain amount. They're hoping to encourage others to build on their gift to have an even larger impact. "The middle class is getting squeezed with the cost of higher education," Doug said.
The Hartmans have also supported the athletics program, including the Sutton Sports Performance Center, and Wake Forest Baptist Medical Center. The Hartman Family Foundation, led by Doug Hartman, made a $1 million challenge grant to the Medical Center in 2014 to support Alzheimer's research. That gift sparked about $28 million in additional funding from other donors who helped meet the challenge and from the National Institutes of Health, which established the Alzheimer's Disease Core Center at Wake Forest Baptist in 2016. The disease is personal for Doug; his father, David, died from complications from Alzheimer's.
The Hartmans have lived in Austin since 1993. Julie Ann, a former Deacon cheerleader and all-around sports fan, is vice president of the Deacon Club. Doug, chairman and CEO of Hartman & Associates, an investment firm, is a past member of the College Board of Visitors.
Their love for Wake Forest began during their college days. Doug was raised in Michigan and Illinois before coming south for college. "Wake Forest is what I imagined a college should be, and it never let me down," he said. An active student leader, he was president of Sigma Chi fraternity and served in Student Government. He majored in history and economics under mentors Richard Zuber (P '82, '89) in history and Perry Patterson in economics.
Julie Ann was born in Durham, North Carolina, but grew up in Wisconsin. She was a member of SOPH society and the dance company. An elementary education major, she remembers fondly the influence of education professors Joe Milner (P '90, '93, '95) and Pat Cunningham (P '98), mathematics professor Marcellus Waddill and psychology professor Deborah Best ('70, MA '72).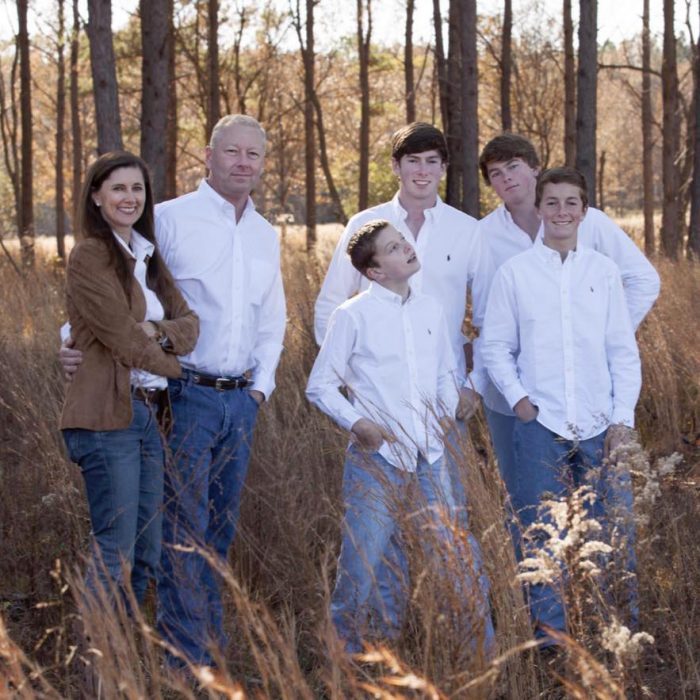 They began bringing their sons to football and basketball games when the boys were little. Flying halfway across the country to Wake Forest was a big deal because those trips also meant stops at Krispy Kreme, Village Tavern, Dewey's and Blue Ridge Ice Cream. To bond with his sons when they were little, Doug began taking them on a fishing trip in Canada each summer; each boy would join the excursion when he turned 10 with a one-on-one trip with just Doug. Julie Ann started a similar mother-son tradition, bringing each son to a Wake Forest basketball game each year.
Both Hartmans have enjoyed staying involved with Wake Forest as alumni leaders and parents. "Once you've experienced Wake, it becomes a family," Julie Ann said. "The connections and bonds with the people that we went to Wake with and the people that I've met through the Deacon Club, there's something special about the community and the loyalty of alumni."