Sometimes, you can find community in the most unlikely places, like a 25-seat black and gold shuttle bus. Students ride the shuttle to get from point A — the Reynolda Campus — to point B — Wake Downtown. But if they're open to conversation and look up from their smartphones, they may find a friend in the driver's seat.
"There are some things you do every day, like riding a shuttle back and forth every single day for five years, that you become friends," says graduate student Taylor Barrett ('17) of her friendship with shuttle bus driver Ron Tickle.
Taylor, who is from Augusta, Georgia, has ridden on Ron's shuttle bus since her freshman year. "She's a live wire," Ron says as Taylor, one of his regulars, boards his shuttle bus at Wake Downtown — home to biomedical and engineering classes as well as some liberal arts classes — for the 15-minute run to campus. Taylor settles into the first seat right behind Ron. "How's your wife, Ron?" she asks. "How's your cat?"
The two met back when Ron was driving the shuttle that took students to off-campus parking lots. As Taylor boarded the shuttle one day her freshman year, Ron was listening on the radio to news of the disappearance of Malaysia Airlines Flight MH370. "How do you lose an airplane?" Taylor remembers asking Ron. "We just started talking, and we became friends. We use the shuttle time to catch up on each other's lives."
Soon, they were swapping stories about their families and current events and Taylor's classes. About the time that Ron switched to the Wake Downtown run, Taylor started taking the shuttle to a work-study job in a research lab downtown. Now as a graduate student in chemistry, she takes the shuttle a couple of times a week to Wake Downtown.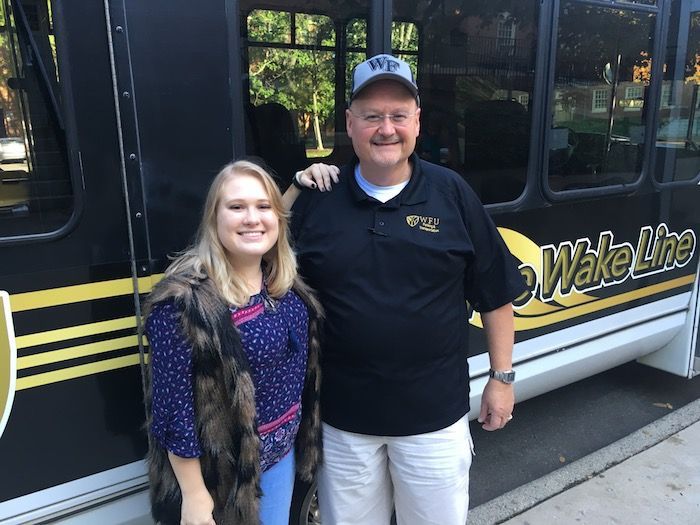 Ron, who's 58, has been a campus shuttle driver for eight years. For seven hours a day, he makes two round trips an hour between campus and Wake Downtown. His only regret about the job? "I just wish I'd found it sooner. I like this better than anything I've ever done."
Before, he was a dispatcher for a trucking company and a truck driver who hauled gasoline, heating fuel and other hazardous materials. There's much less chance that something will explode while he's driving the shuttle, he says. "You don't have to watch your cargo as closely," is how he puts it.
Wake students are unfailingly polite, he notes. As students climb on board, he says "good morning," and most respond with their own "good morning" or "hello." As students leave the bus, almost everyone says "thank you." "You folks have a good day," Ron says. "Don't work too hard."
If a student looks open to talking, Ron may strike up a conversation, but he's careful not to bother students if they're studying. "You can tell the ones that want to talk." With some students, "you can see the stress on their face," when they come on the bus, he says. "But like I tell 'em, if you couldn't do it, you wouldn't be here. They don't let just anybody in here. I always say, you're just getting your money's worth. Don't give up."
That's how he met Zach Mack ('17). When Zach was asked in a survey before he graduated last spring who had made his Wake Forest experience special, he wrote about Ron.
"Riding the Wake Line shuttles three times a week has given me the opportunity to meet some great people," wrote Zach, who's now in the biochemistry Ph.D. program at the University of South Carolina. "Ron always listens to me, and he gives me great advice if something is bothering me. … Having some company on the shuttle was what made Ron a hugely influential part of my junior year."
Ron remembers Zach well, down to the pimento cheese cheeseburgers that he liked to order from a food truck downtown.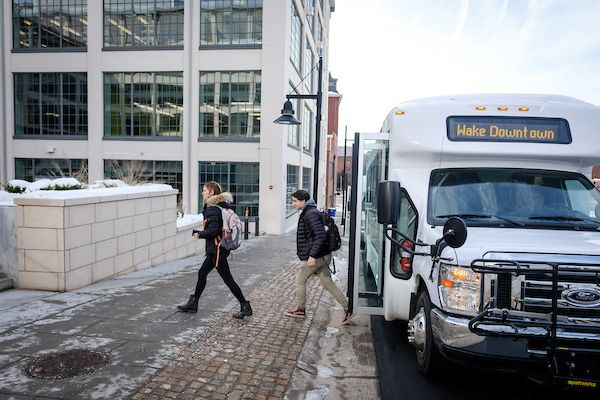 As we're driving to Wake Downtown — past Winston-Salem's Public Safety Center and the Fiddlin' Fish Brewery and the Winston Cup Museum — Ron shares stories of other students he's gotten to know. "I see a lot of the same faces, but most of them I just know their first names."
There was the student from China who explained the Chinese New Year to him and gave him a birthday card. There was the law student who used to live downtown and would catch the shuttle to campus. There was the student whose mother wanted a magnolia tree to take home to New Jersey. Ron and the student debated whether a magnolia tree could thrive that far north, but in the end, "she got one, and it's doing good, the last I heard."
Four shuttles run continuously between campus and Wake Downtown during the day. Taylor likes to time her rides to catch Ron's shuttle. On the ride to campus recently, they talked about Ron's wife's new car and Taylor's new cat — actually her roommate's new cat who's taken a shine to Taylor.
As we're getting closer to campus, Ron can't help teasing Taylor: "Which one of my sons do you want to marry?"
"Well, I'm 22, which one is closer to my age?" she replies. "I got one that's 30 and one that's 32," Ron answers.
When the bus pulls to a stop in front of the Benson Center, you get the feeling that this conversation is to be continued. Taylor stays onboard the bus. She forgot something so she's going to ride right back downtown; one more ride with Ron.